"Art is the only way to run away 
without leaving home."
Twyla Tharp 
Think about it…when you have a piece of art that you love,
you never grow tired of looking at it and it feeds your soul.  
And this week, we have SO MUCH ART to love!  
Come run away with us!  
A sight we all love…the beautiful coast where we live…
$225, 44.5×32.5.
What does this abstract canvas say to you?
Maybe it's that feeling when you're riding home on your boat after a day
on the water, when all the colors of the sky and sea
 blend together in harmony as you speed along.   
50X40 $165
"I like to cook, walk on the beach,
go to concerts and look at fine art." 
Fran Drescher
Me, too, Fran…
A striking pair of teal abstract art on canvas $85 each, 19×37.
You can discuss your latest art purchase around
this family size dining group!
Glass top table with gold base $716, 60″ diameter table top.
Six red chairs, sold in pairs only, $124 per pair. 
The chairs would love FANTASTIC paired with this POTTERY BARN
distressed chest $475, 42x20x38.5.
This nice king bed in a washed finish with brown paneled
headboard is a bargain at $425.
Lime green pierced porcelain ginger jar $50, 20″H.
And a closeup of the art…we are just crazy about the colors in this abstract,  you can build a whole room around it… $165, 40×30.
Designer textured sea motif lamp $175, 34″H.
A great place to sit and gaze at your art…
genuine leather barrel chair with wood trim, $350, 30″W.
"Fine art is that in which the hand, the head, and the
heart of man go together." ~John Ruskin
So very dramatic and framed in rich black, like the feel of the sea when
there is a squall coming…$295, 45.5×46
And yet another bold yet soothing choice, $185, 41×29
Art is not just something you put on the wall…it can be
anything that evokes a feeling… and this large blue abstract sculpture
makes such a statement, $125, 15×30.
So striking…reclaimed wood look mirror in soothing
coastal colors, $195, 12×49.
If you tend to be drawn towards geometric shapes, you'll love this 
four door credenza $695, 60×14.5×36.
Like a trip to the beach everyday…shells on a navy background,
just $18 each, 13×13 (four available).
Art in fine porcelain…
high end designer black and taupe ginger jar and vase, $95-$175.
Very large scale.  
DEAL ALERT!!
Beautiful gold beveled floor mirrors just $65 each (three available). 21×63.
"Art washes away from the soul the dust of everyday life." ~Pablo Picasso
So true…peaceful turquoise abstract $295 in a bronze frame, 48×38.
Lamps $122 each, 31″H.
And lovely accessories to complete the look…
Soft turquoise accessories $5-$72.
This nicely framed print makes you wonder what is just
beyond the horizon…
$175, 48×34.
Store all your prized art-glass and collectibles on
this great looking industrial shelf, just $295, 32×14.5×66.
Large scale washed wood credenza $795, 70x15x42.
A perfect piece of art if your taste runs to urban industrial…
muted starburst abstract art on wood $145, 39.5 square.
This won't last…
glass topped heavy chrome sawhorse desk/table $395, 54x30x30.
CLOSE-OUT PURCHASE…
Grey-washed media console just in! $495, 60x19x28.
Seascape art $175, 41×23.
Accessories range from $8-$22.
Another nice media console in a rustic dark wood finish, 
just $495, 60x19x28.
"To practice any art, no matter how well or badly,
is a way to make your soul grow. So do it."
Kurt Vonnegut 
What you waiting for?  
Just do it! $125, 40×40
And one of our faves…the colors are great!
Lily pad abstract art $125, 38″ square.
You might want to discuss the merits of your new art
purchase over cocktails…
Rolling bar cart with two trays $125, 17.5″ diameter x 28″.
Display your new art over this STUNNING 
two door credenza $495, 48x14x32.
What art offers is space — a certain breathing room for the spirit. John Updike
Colorful abstract $95, 30×30.
And the companion $95, 30×30
Get the 'Art of the Deal'…
when you buy this Uttermost console table, that sells for $833 online,
on sale for just $295!  58×16.5×33.5
Another great industrial shelf to display your treasures,
$395, 59x13x67.
Just in on consignment…pair of white twin headboards,  including metal frames, just $125 each (not sold separately).
In case you need a reminder…
ocean rules art just $52, 16×20.
Quatrefoil rope mirror, classic yet coastal… $125, 31×31.
Coral lamps $157.50 each, 26″H.
Retro lovers…your patio set has come in!
Spun fiberglass patio set in great condition just $495.
Table has a 50″ diameter. Also comes with cover. 
Check online and you'll see what a great deal this is!
 High quality stone-top coffee table with turned wooden legs, $395.
 41″ diameter x 19.5″.
We also have two coordinating side tables available for $175 each.
26″ diameter x 23.5″.
Live on island-time everyday…West Indies style palm framed art,
just $75 each, 27.5×33.
A bold sculpture…and so on trend…
Large animal skull wall art in gold,  $82.
A fine piece of jewelry can evoke the same emotion
as a fine piece of art…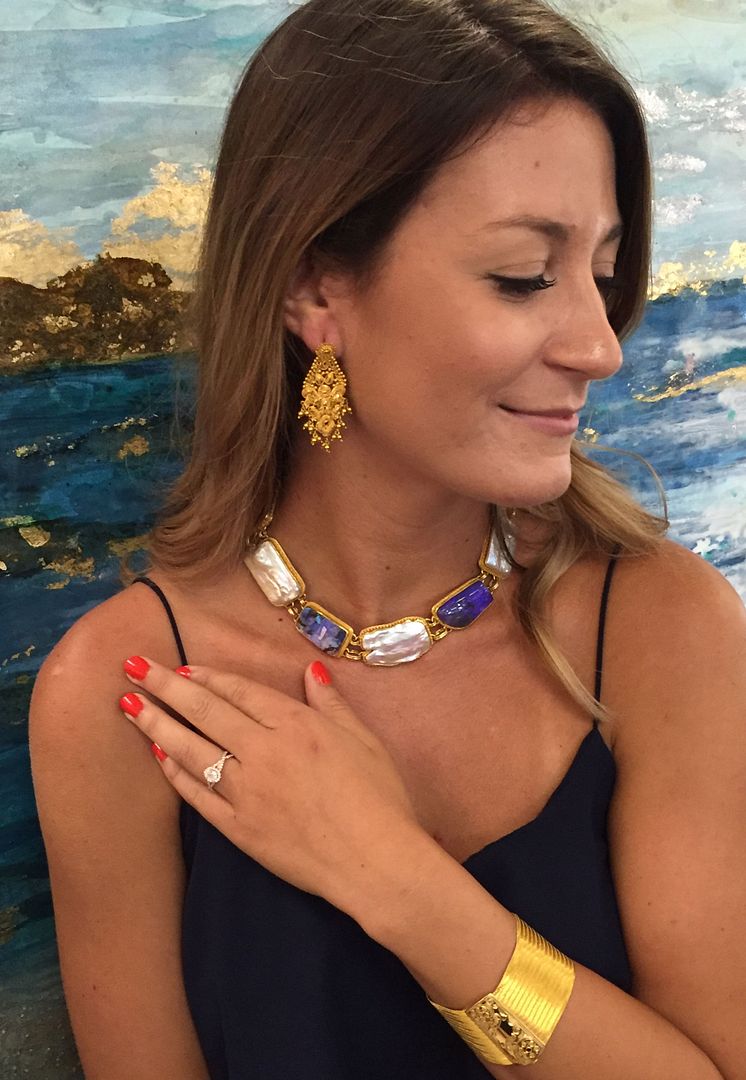 And we are so stunned by the fine pieces of art
that we receive on a daily basis…
Let's start with the necklace…opalized petrified wood and pearl
in 22ky gold with hand applied granulation. By designer Luna Felix.
Retails for $20,000 we have it for $12,900.
22ky gold cuff hand woven, $4,995.
22ky gold dangle earrings, $1,045.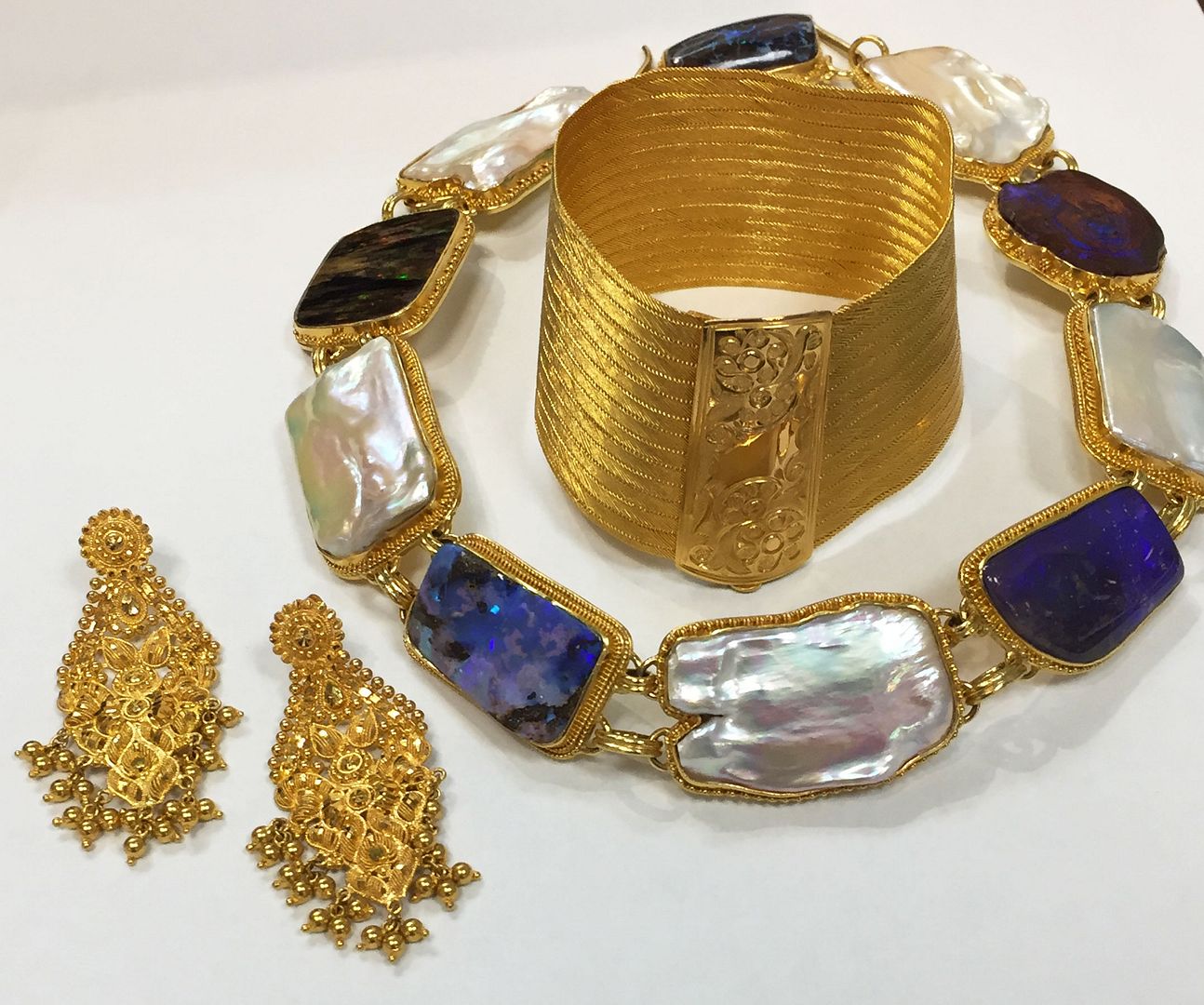 Can you imagine owning this piece of art?  You can!  This stunning dragonfly features an enamel technique that is layered in between 18ky gold with 1ctw diamonds, $3,299. It takes your breath away…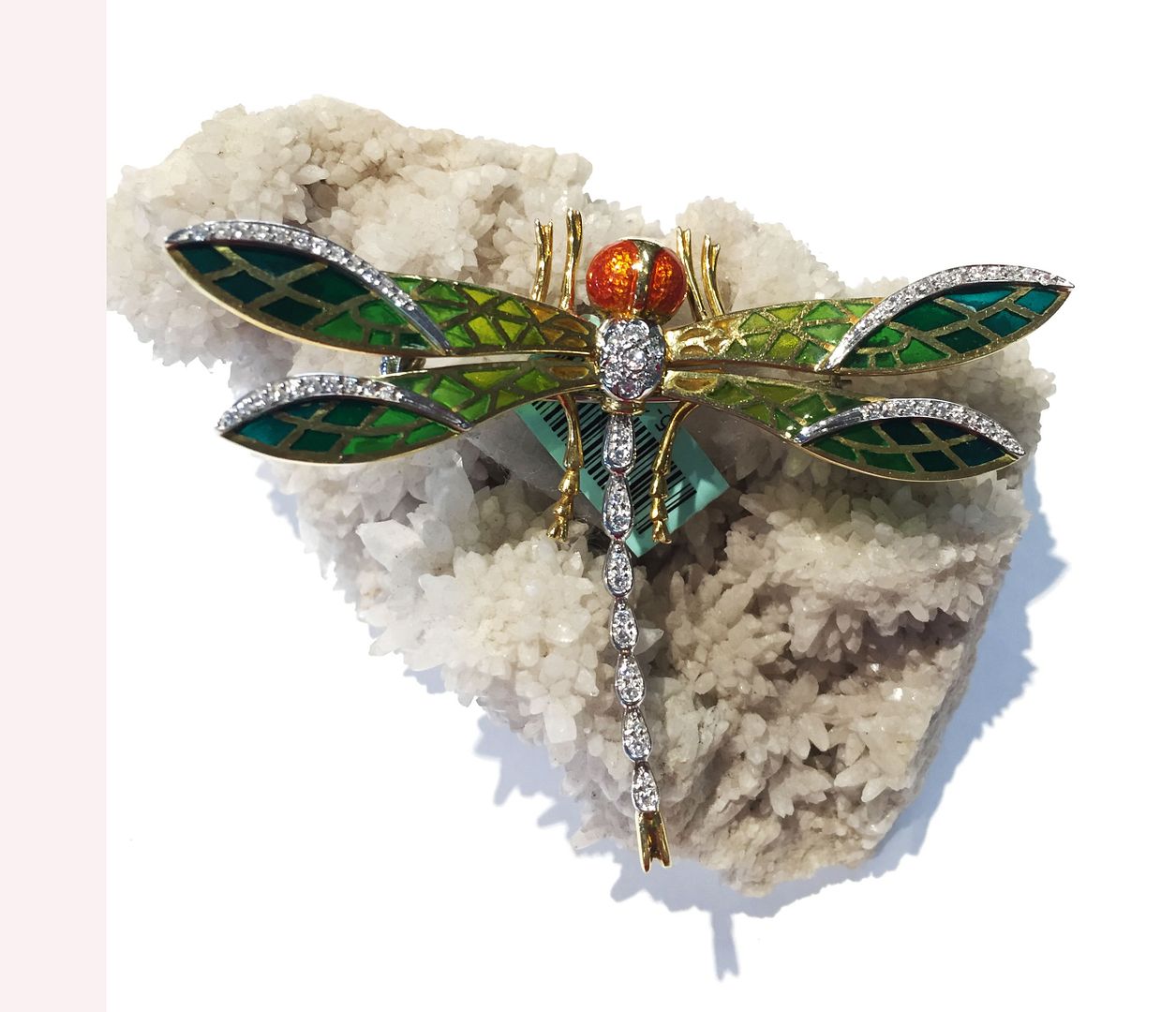 Henry David Thoreau
We would be honored to help you create your own perfect work
of art with these stones.
Tanzanite 2.00ct modified trillion, $750.
Indicolite tourmaline 5.10ct rectangle cushion, $1,930.
Yellowish-green citrine 7.28ct fancy triangle cut, $495.
Mandarin garnet 5.35ct oval, $3,995.
This watch is a masterpiece…
Corum 1904 solid gold coin automatic unisex watch in
excellent condition, $5395.
Emerald faceted beads featured in a tassel style pendant with diamonds set into 14kw gold, 16 inch chain.  One-of-a-kind necklace, $2,595.
Great art picks up where nature ends.
~Marc Chagall
Like this exquisite Calla Lily bypass 14ky gold ring
for an affordable $335.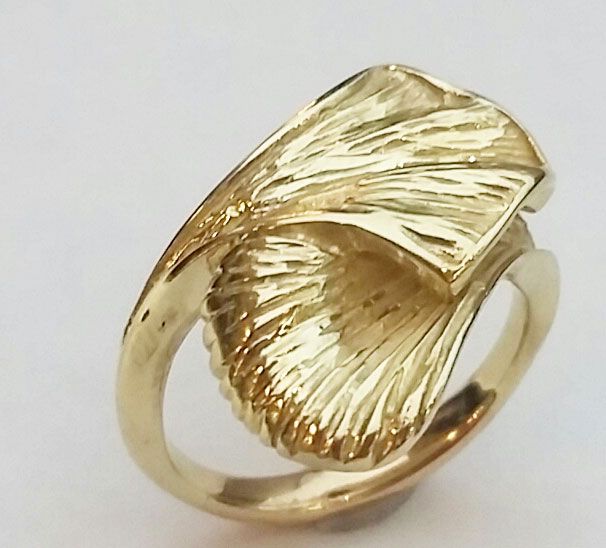 A fine example of art…
These moonstone and 18ky gold pieces were handmade in Greece.
Bracelet, $1,795.
Ring, $895.
A true piece of art for your hand…
12.04 cabochon tourmaline flower ring with 3.7ctw of
sapphires and .68ctw of diamonds in 18ky gold, $7,995.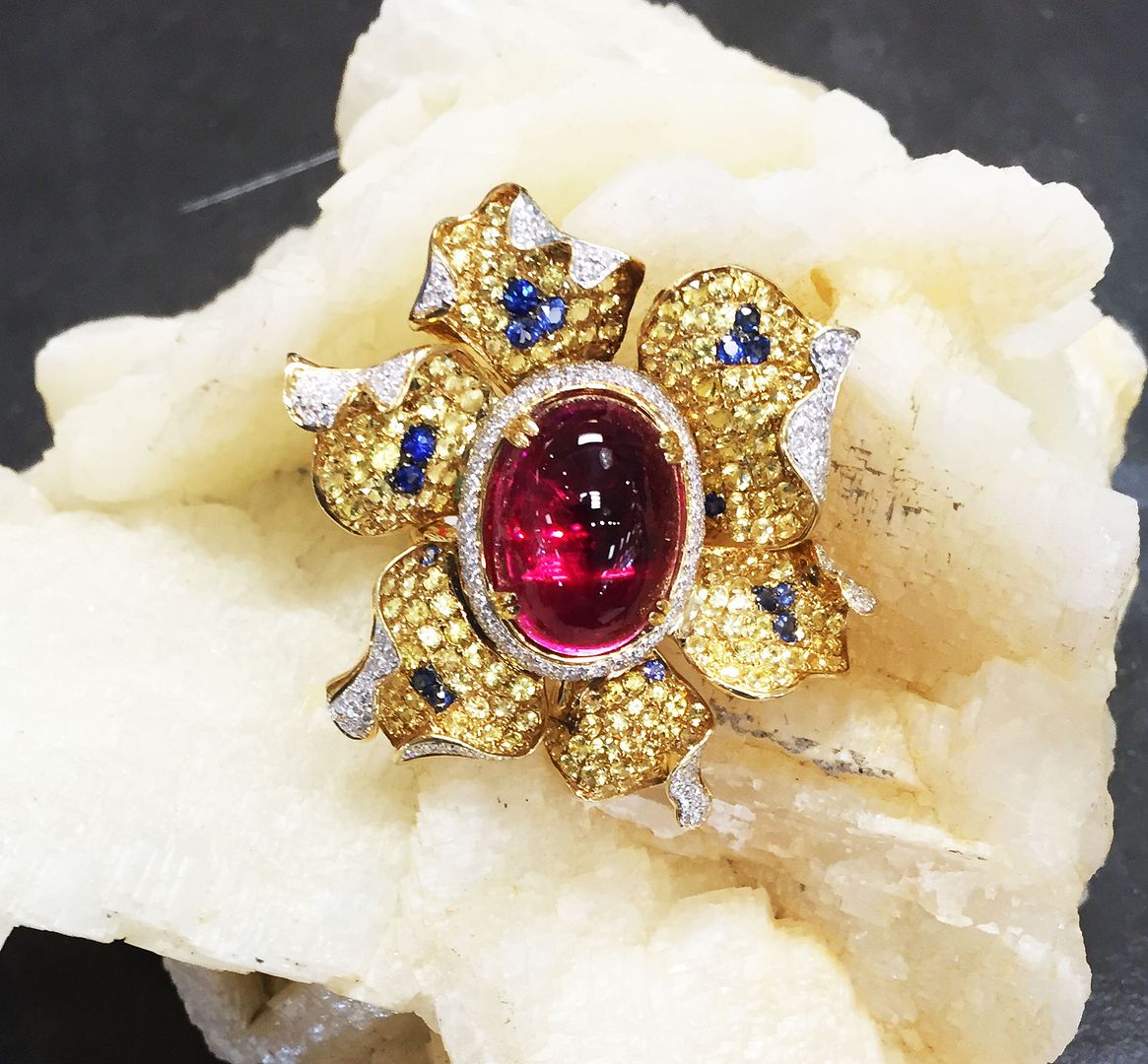 Take a look at this fancy faceted 5.76ct aquamarine by award winning  Chris Wolfsberg accented by 1.34ctw diamonds set into 14kw gold, $5,435.
Such a playful expression of contemporary jewelry design…
1.10ct Tsavorite Garnets set into a wide 3/4 inches 18kw gold designer band accented by .50ctw yellow sapphires, $1,435.
Love contemporary jewelry?  Come check out our Frank Reubel
designer line.  Exquisite gemstones set into sterling silver.
  Prices range from $185 to $425.
Created by nature, the opal is mesmerizing.
This collar style black opal necklace set into 14ky gold, 16 inch
necklace is $2,395.
Natural druzy is one of nature's artistic creations.
Druzy quartz bracelet in sterling silver, 8 inches.  $295.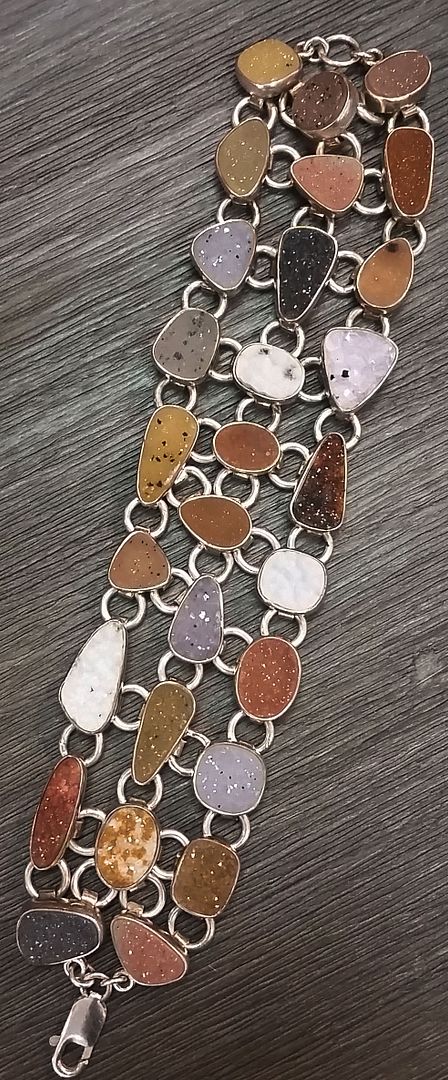 Nina Nguyen designer, Dharma druzy quartz set into sterling silver adjustable 16 inch to 20 inch necklace. $195.
Nina Nguyen druzy sterling silver pallas bangle, $495.
The Native Americans have a unique style of jewelry.  This Tommy Singer signed coral multi-strand necklace with sterling silver beads and yellow gold has intricate etched detail, 32 inches.  $995.
All of our sapphire pieces are 20% off during the month
of September. (l-r)
1.36ct ceylon sapphire and .40ctw SI clarity H/I color diamond
and 18kw gold. $3,835.
1.01ctw Sapphire accented by .44ctw of diamonds in 18kw gold. $1,835.
1.89ct blue sapphire with .36ctw diamonds in 14kw gold. $2,795.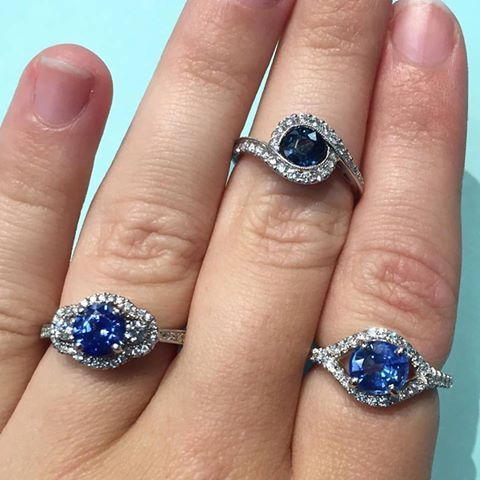 I found I could say things with color and
shapes that I couldn't
say any other way — things I had no words for.
~Georgia O'Keeffe
Come let your imagination run free and create your
own vision of colors and shapes…
Because we will create and cast anything
that your heart desires.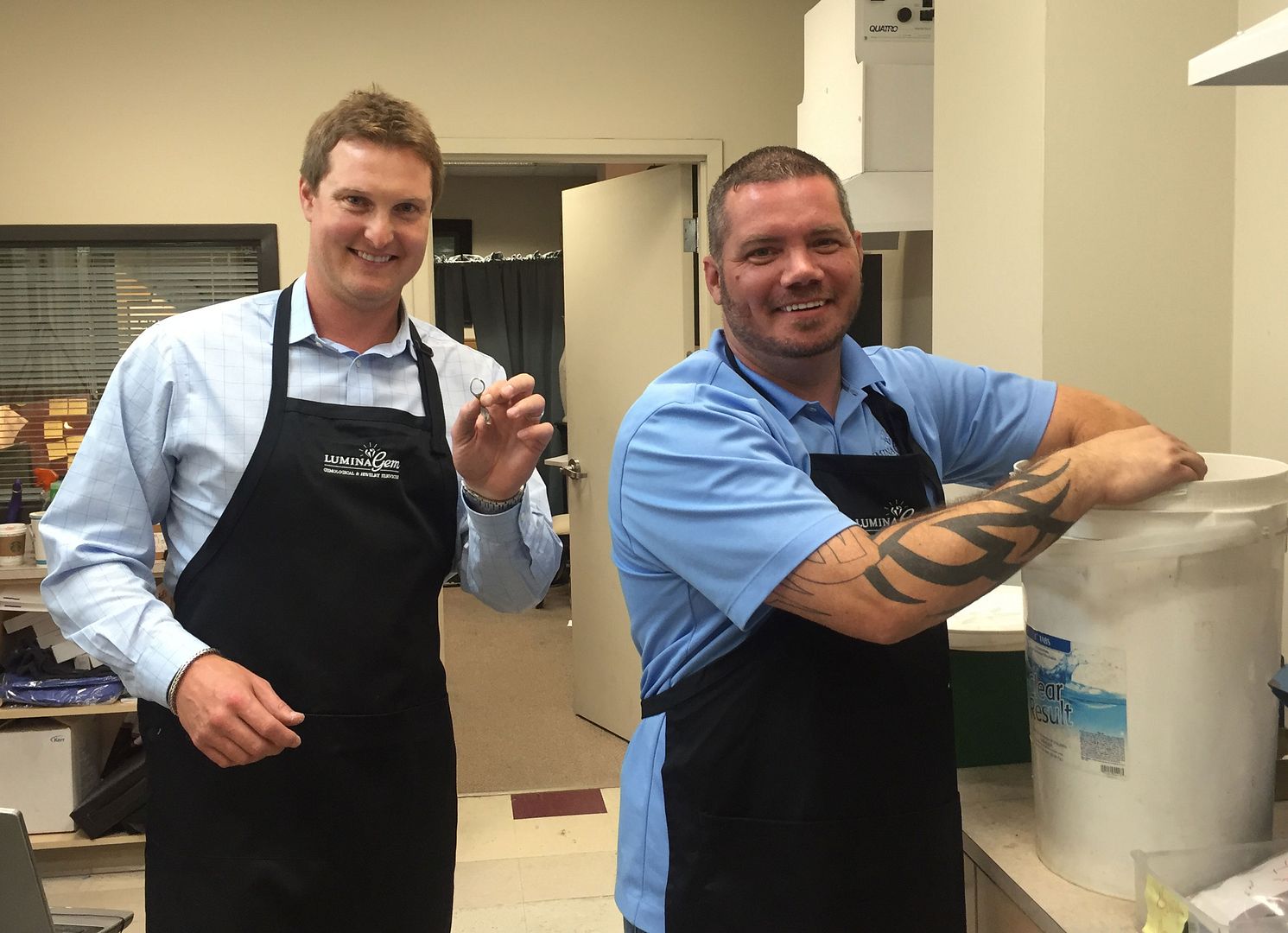 Bring in a piece of old broken jewelry like this band…
And create something that you will cherish for years to come
that shows your own true originality.