It is said that the
Dog Days of Summer
is a period marked by lethargy, inactivity, or indolence…
but from the look of these pics, these doggies 
are having the time of their lives!  
But in all seriousness, please help us find a forever home for Ally…the sweetest pup that Jenna is currently fostering.
Please call us if you can give her a good home, and if you do,
we will feature you and Ally in our blast as our HERO!
 On with the show! 
Such a great looking set…the light wood inset gives it
such a punch!  King bed $595  Tall dresser $595, 62x18x36
Chest of drawers $495, 38x18x52.5
Nightstands $225 each, 27.5×16.5×27
JUST IN ON CONSIGNMENT!
Rattan queen headboards, $195 each
twin headboards, two available, $125 ea.
Rattan, wood and leather bench with storage $245, 55″W.
Pottery Barn kilim pillows $38 each.
Just in…this sectional is brand new, but it has a faint water mark
on the chaise,  so it's priced to move at $750! 84×107
Just in from one of our favorite manufacturers, Best Chair,
brand new recliners in white, $695 each. 33″W
This nicely framed coastal village art has a lot of great
colors to work with, $125. 45.5″ square
Just in on consignment…a super nice media center
in espresso, $425. 54x19x40
Here is our own Jesse with some truly adorable pups…
Magnolia is the pit bull…and Roscoe the Pekingese…go figure…
Simply stunning…spalted maple live edge console,
$595! 80.5×15.5×30.5
Serene canoe art, $125, 34×40.
So much fun…pair of groovy swivel chairs, brand new for $445 each.
They are so comfy, too! 32.5″W
Sorry, this is not a great picture, but this custom framed marsh scene is
very rich in person, $245, 42×33.
This is a cool media center, the doors slide side to side,
from a model home, $450, 64x19x34
We've been selling lots of adjustable sofas lately because they generally will fit in dorm rooms, and the kids absolutely love 'em!  $395.  71″W
These chairs always fly out the door…brand new modern swivel
chairs from Best, $495 each.   30.5″W
This classic Bergere chair in red and gold tones is lovely and a deal at
$295.  Like new condition.   28″W
Such a cute industrial cabinet, and a great buy at $245,
35.5×15.5×25.5
Palm lamps $62 each, 31″H.
Golden plate, $22, 14″ diameter.
Black top dining table measures 72×42 with removable 18″ leaf.
A steal at $295! 
A very elegant console table with wine storage and a genuine stone top,
$475.   58×20.5×34.5.
These large monochromatic trees seem to shimmer…$165, 60×30.
Want comfort and style?  Here you go…just $375 each.   31″W
An instant update for your room…nice ottoman in blue and green tones, $295. 48x23x16
DEAL ALERT…take these freshly reupholstered accent chairs home for just $295 each.  30″W
The quality is just amazeballs on this classic brass mirror
and shelf combo, $175. 29″
Speaking of classics, the shape is so timeless and elegant, 21.5×37,
and it's a STEAL at $52.
Such a nice round pedestal accent table in rich black,
$225, 29″ diameter x 28″H.
DEAL ALERT…Taupe recliners just $395 each! 31″W
Dine on a dime…this nice quality round dining table is
just $295!  60″ diameter
So precious and classic,
pair of Staffordshire dogs, $48.
Set of three art panels in rich navy and gold,  $125 for the set.
Each panel measures 15×35.
Happy pig art $125, 40×30.
And his sister, the happy cow,  
$125, 30×40.
The consignor bought this table just last week for $1,100 and it did not work in her space…so come score it here for $895.
79×39.5×30
Here is a closeup of the very current washed finish. 
Napoleon style wooden 25″ counter stools with rush seats,
still current at Pottery Barn,
$125 each (not sold separately).
A great focal piece to hang outside on your porch…
$62, a sizeable 39.5×60.
This won't last…queen linen headboard in pristine condition, $225. 
Pair of great quality metal swivel 28″ barstools, $165 each, not sold separately.  Two available. 
This large stretched canvas abstract has some lovely cool
coastal colors, $165.  36×48
An affordable, yet stylish queen bedroom set, bed $395, dresser $395, 62x18x35.5, bedside tables $195 each, 23.5x16x24. 
A very traditional, yet timeless piece of art, $275. 
33×29
Another unique piece of art…we love this!  $125. 
29.5×55
Add the WOW factor to your room…brand new tufted club chairs in a vibrant blue/green upholstery, these absolutely won't last.  
Chair and ottoman, $795, single chair $595.  
If there is one thing that we love at Lumina Gem,
it's our precious poochies…
So we ask that you please help us find a home for the
precious Ally who Animal Avengers of NC is
hoping to find a permanent home for…
Ally is an approximately 1 year old Lab/Shepard mix.  She is spayed, up to date on all vaccines and heartworm negative.  She is an extremely lovable dog that needs basic training, but she is extremely intelligent and trainable. 
Her energy level is high, so she needs to be paired with an energetic, younger dog or with an owner that is able to run with her. She also can jump very high… so a tall fenced-in back yard is crucial! 
She knows basic commands, is potty trained, does not whine in her crate, and she loves to snuggle. Crate training is strongly suggested for Ally for at least one year. 
Ally is from a local, non-profit organization called
Animal Avengers of NC. 
Please visit their website and fill out an application for Ally
or any of the other dogs that they have rescued, or give us a call at
910 256 8150 for more details.
The DOG DAYS OF SUMMER are HOT…
but the deals at LUMINA GEM are HOTTER…
This show stopper is a David Yurman black onyx and
.75ctw diamond ring.  $1,195.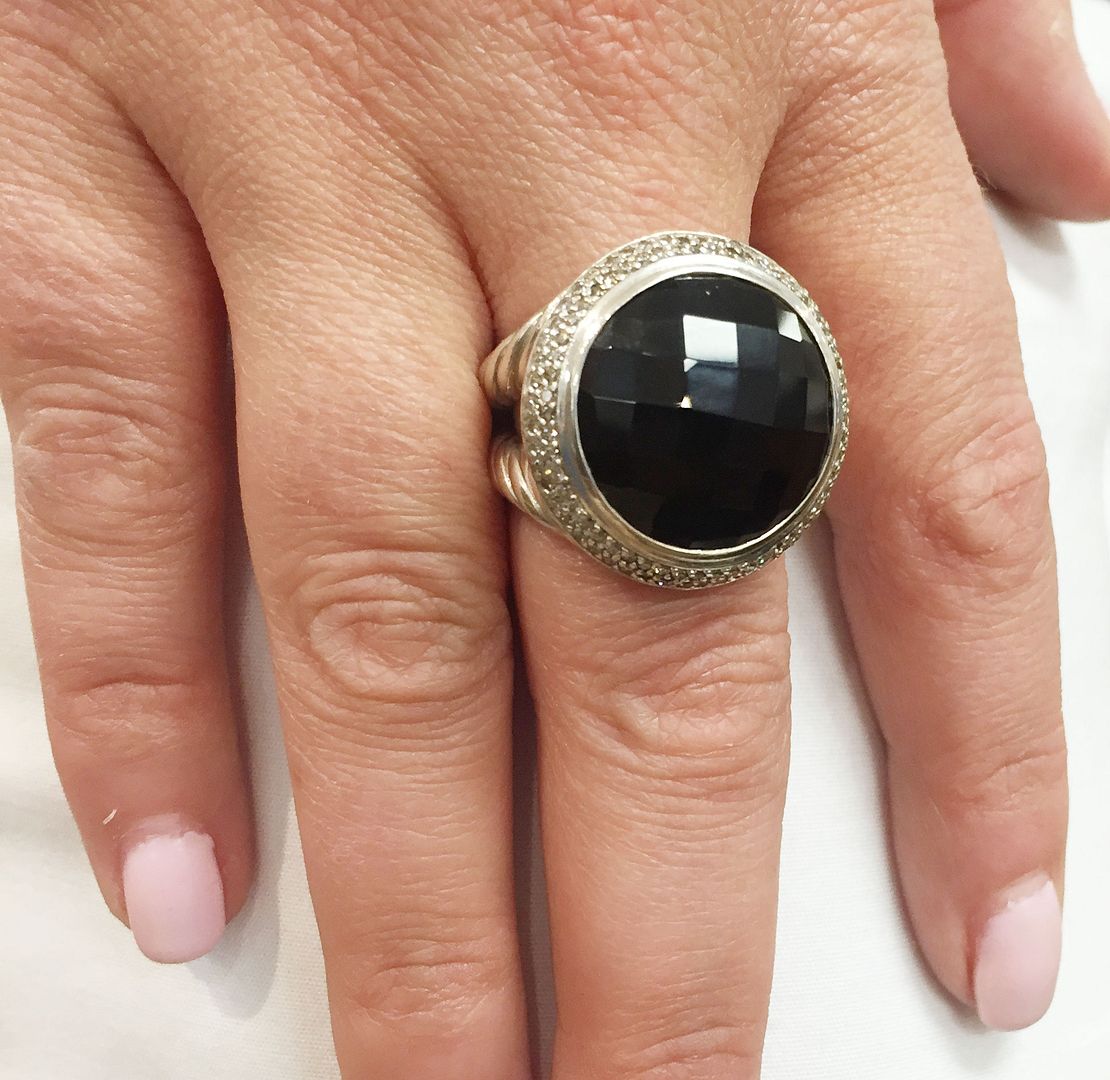 PRESENTING everyone's favorite…SLANE
White onyx bee enhancer, $395.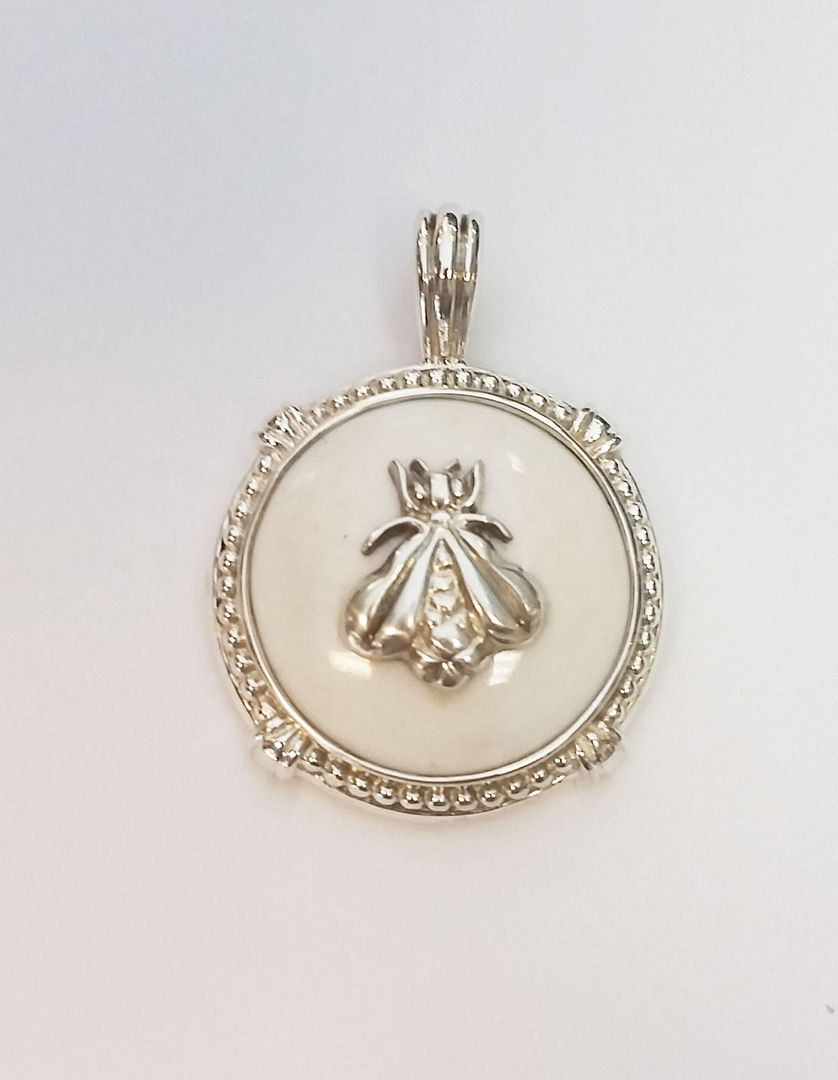 Carnelian agate bee enhancer, $345.
Seapod enhancer, $195.
Check out this awesome Tacori ring featuring rutilated quartz over onyx
inlay set into sterling silver and 18ky gold prong accents.  $645.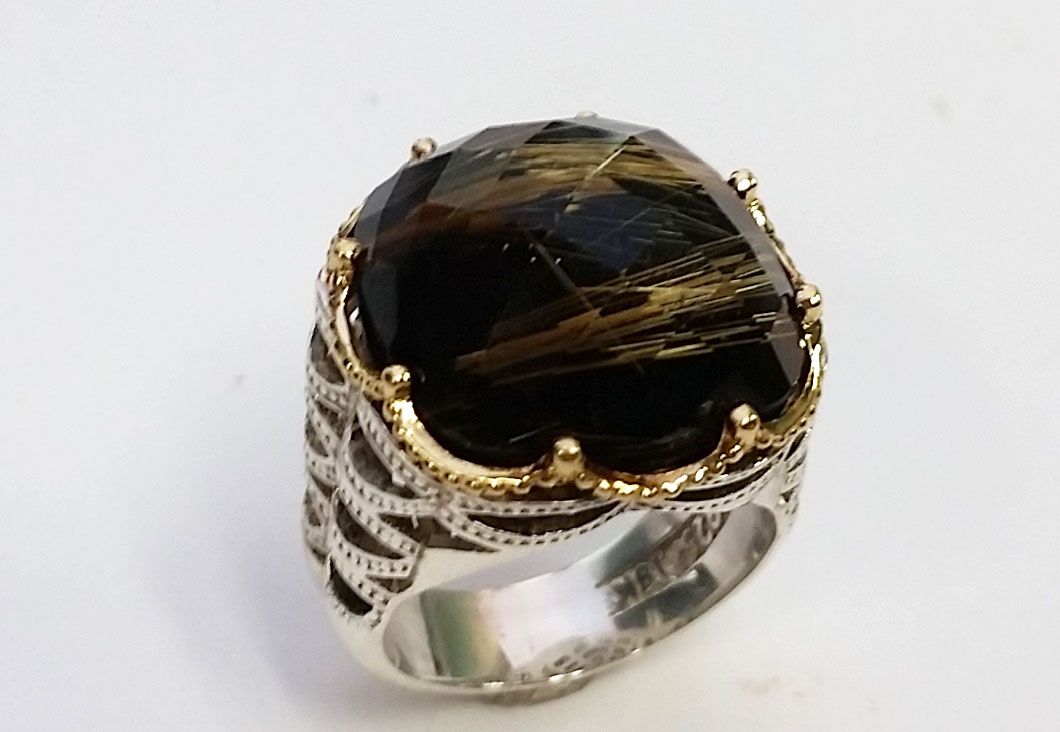 ~DURING THE MONTH OF AUGUST WE ARE OFFERING
12 MONTHS DEFERRED INTEREST ON ALL PURCHASES…
INCLUDING ITEMS ON SALE~
And DAVID YURMAN on consignment…
David Yurman blue topaz and diamond cable wrap studs in sterling silver. Comes with pouch.  Retail $750,  Here only $525.
David Yurman metro, medium hoop earrings with 18ky gold.
Comes with pouch. Retail $395, Here only $275.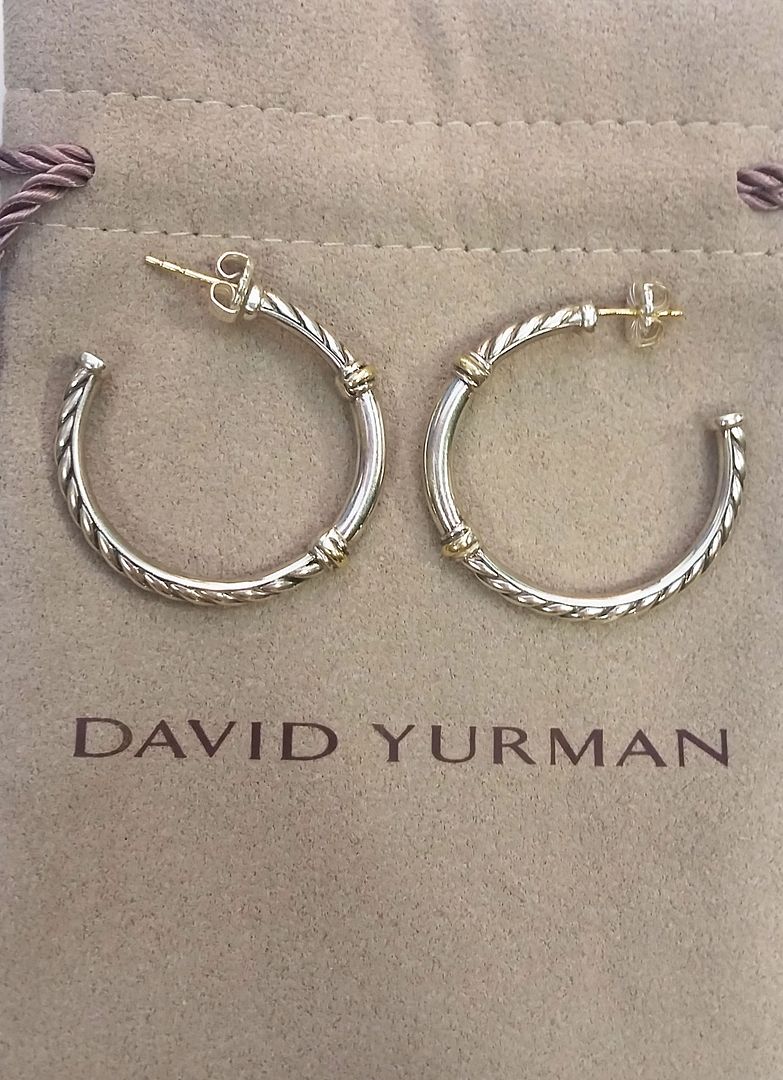 David Yurman sterling silver and 18ky gold cable classic mobile earrings. Comes with pouch. Retail $495, Here only $345.

Tiffany & Co. vintage ring JUST IN silver twist ring, comes with box.
Retail $300, Buy here $215.
John Hardy Bali Dot 18ky gold silver huggies. 
Retail $225, buy here $155.
AUGUST SPECIAL: 
12 months deferred interest on any purchase, even sale items.
These dog-gone deals from Raymond Mazza are super
HOT and perfect for Summer.
A gorgeous pink topaz in sterling silver, $235.
Go ahead and stock up now for Christmas with this great "go-to" gift. 
Freshwater pearl necklace, bracelet and earring set from
Raymond Mazza only $245.
Pearl and white mother of pearl inlay Raymond Mazza
sterling silver bracelet, adjustable 7 to 7.5 inches.  $695.
Mother of pearl inlay Raymond Mazza
sterling silver dangle earring, $195.
We love the nautical style of these two pieces from Raymond Mazza.
Necklace in sterling silver, 21 inches.  $125.
Earrings in sterling silver, $115.
Blue topaz and sterling silver Raymond Mazza ring, $65.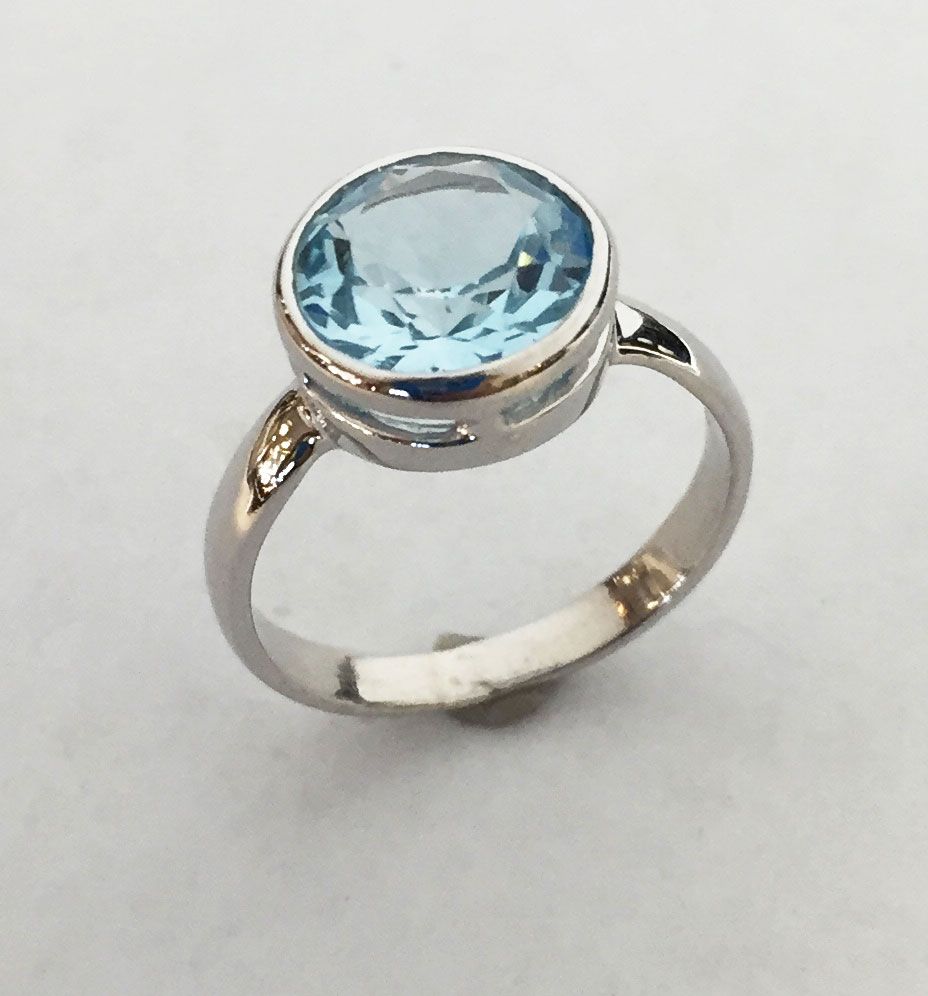 Blue topaz sterling silver Raymond Mazza dangle earring, $165.
Blue topaz sterling silver Raymond Mazza bangle, $435.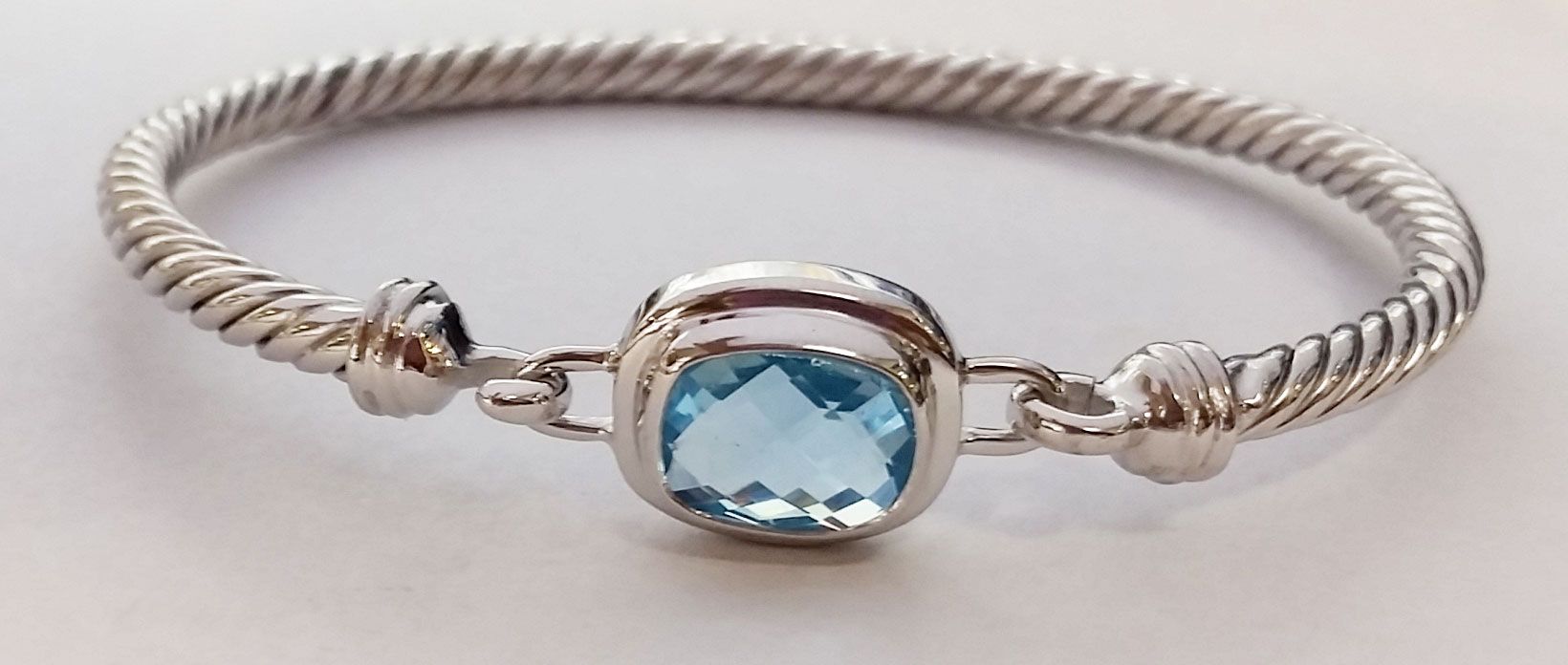 We sure do LOVE our dogs around here,
but we also LOVE our jewelry…
Jenna's precious Mabel
Tell her you love her with this Raymond Mazza LOVE
bracelet in sterling silver, 7.25 inches.  $385.
Love sea creatures?
These are the cutest little octipi Raymond Mazza 14ky gold omega back baroque pearl earrings for $3,495.
Get the matching octopus necklace in 14ky gold, 18 inches.  $1,745.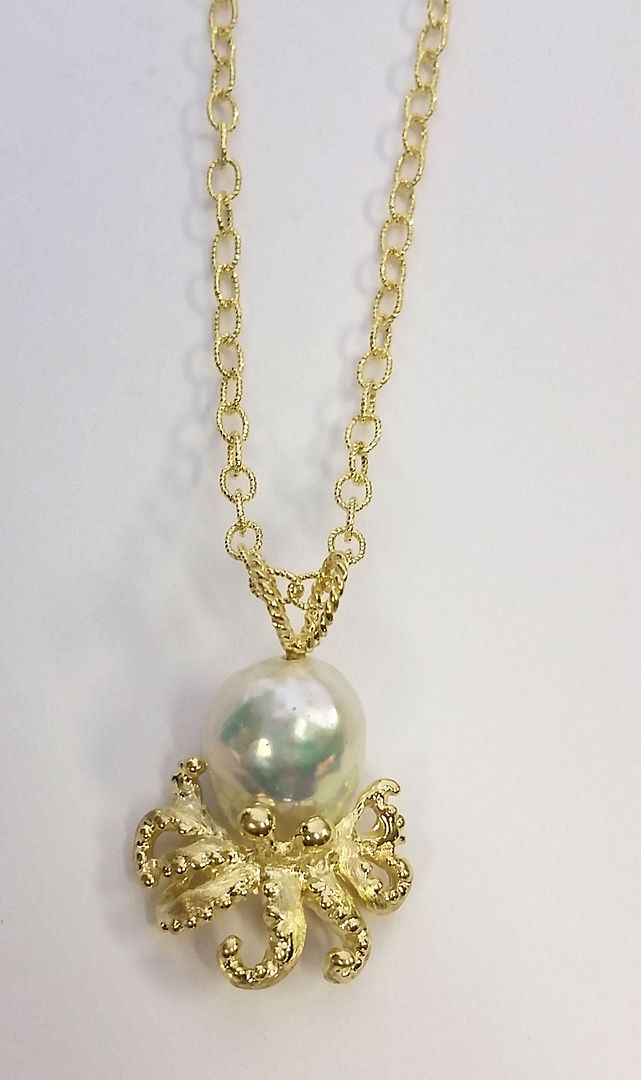 These inside outside Raymond Mazza hoops are set with .56ctw
diamond in 14ky gold, $2,295.
This monogram necklace from Raymond Mazza is the perfect gift in sterling silver, 20 inches.  $295  We offer hand engraving here at Lumina Gem.
This cigar band in 14ky gold by Raymond Mazza would look so pretty monogrammed, $1,655.
We have something for everyone here at Lumina Gem.
This charm bracelet comes with all the charms you could want, 7.5 inches.  $2,745. 
Want to start your own charm bracelet?  Check out this awesome 14ky gold bracelet with 12.5mm links, 7 inches.  $2,595.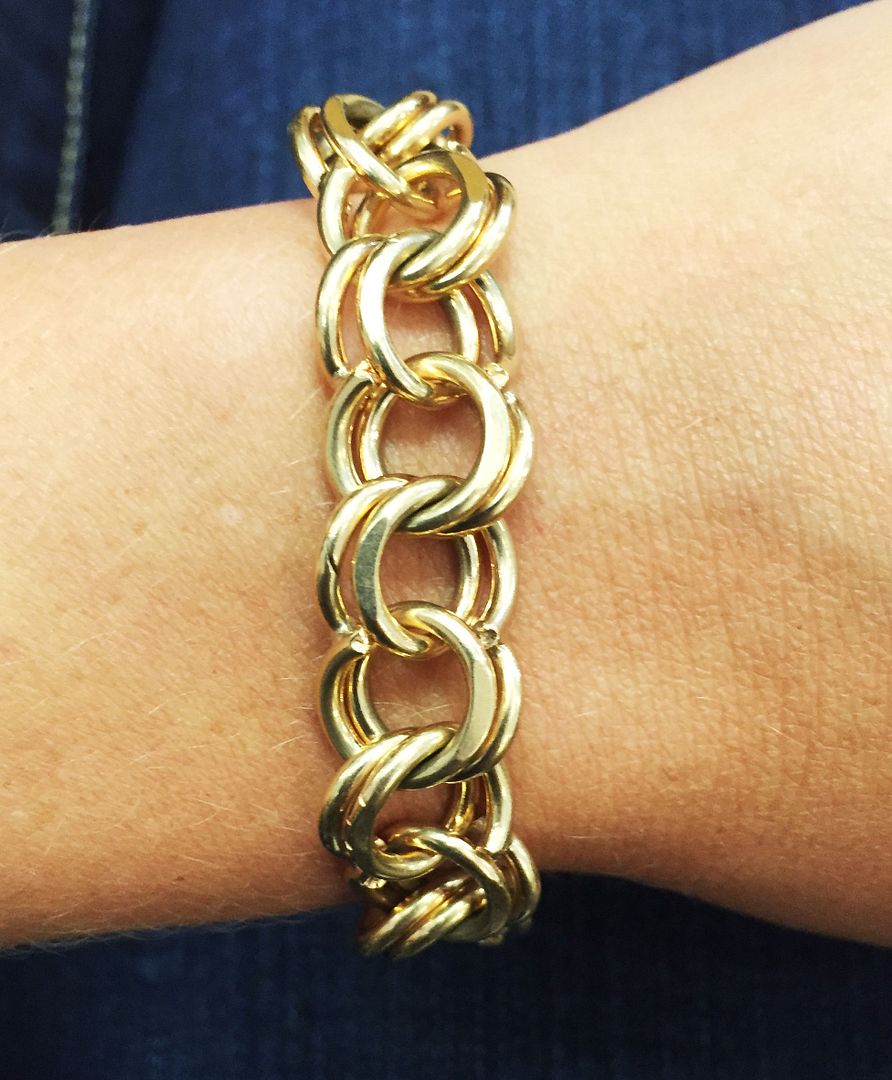 4ctw rubies and sapphires set into
moving 18ky pieces gold studs. $1,495.
This fierce cougar ain't afraid of no dog… 
This unique Michael Christoff designer piece is set with  2.30ct opal and 5.02ctw of sapphires and .38ctw diamonds in 18ky gold, 18 inches. $2,325.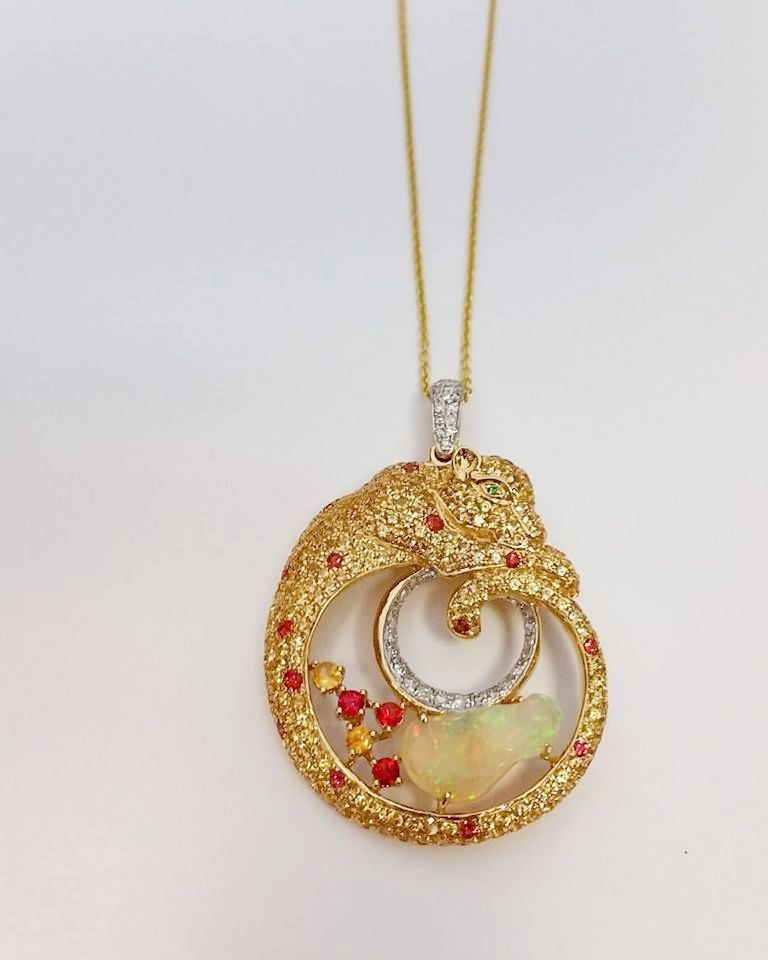 8.87ct opal with 1.04ctw diamonds in 18ky gold, size 6. $2,965.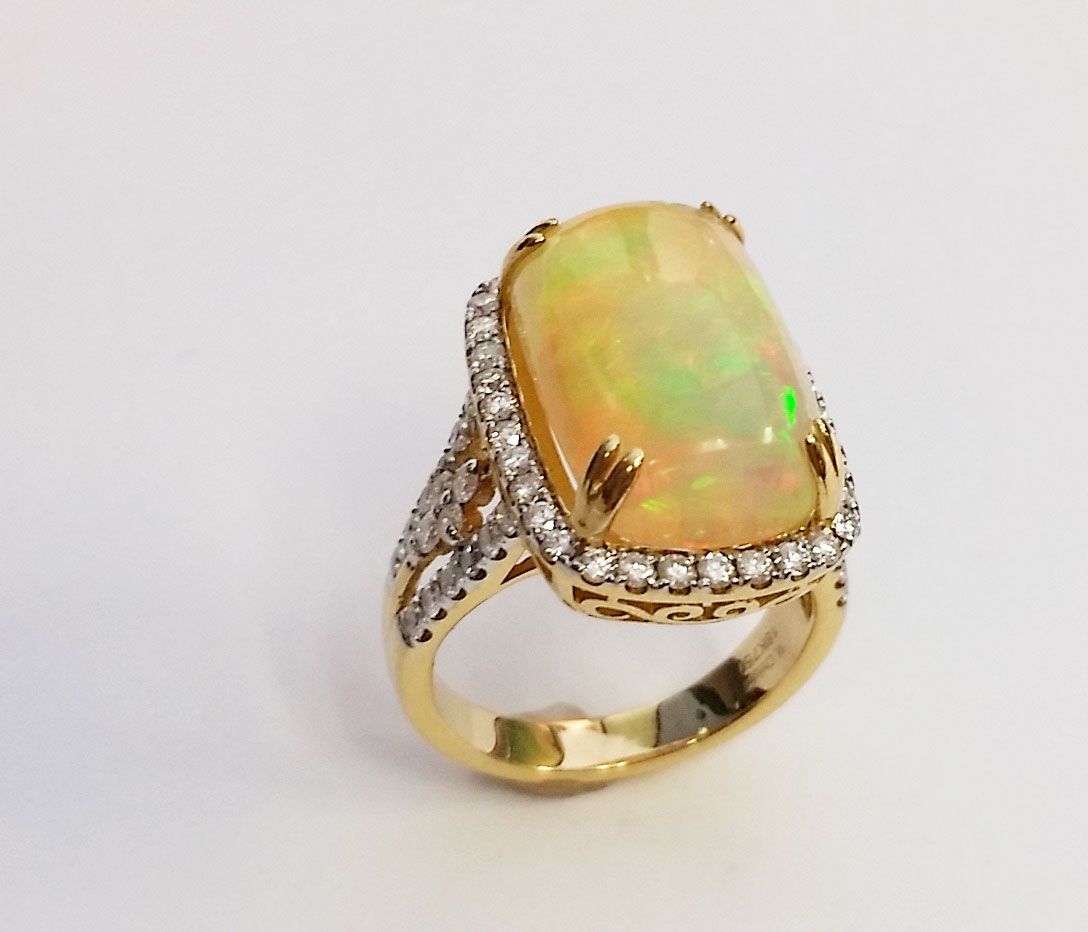 16.01ct citrine fancy checkerboard cut oval with .54ctw diamonds
set into 14ky gold. $1,495.
17.65ct kunzite with 1.57ctw diamonds in 18k rose gold,
size 7. $5,765.
62 grams of 18ky gold in a fancy woven mesh
link bracelet, 9 inches. $4,395.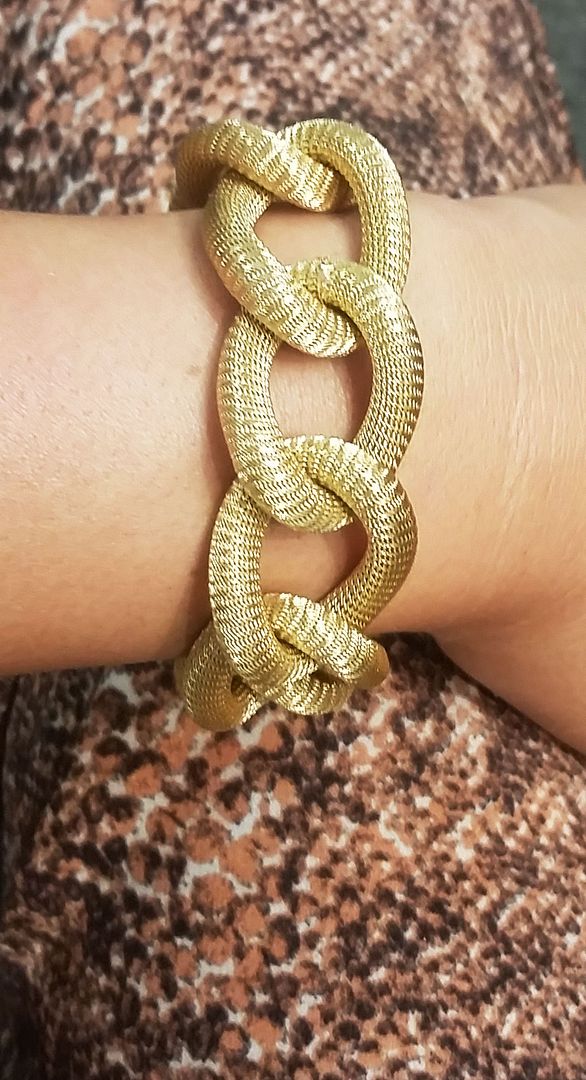 Fancy Italian 14ky gold bracelet, 10.9 grams, 7 inches. $545.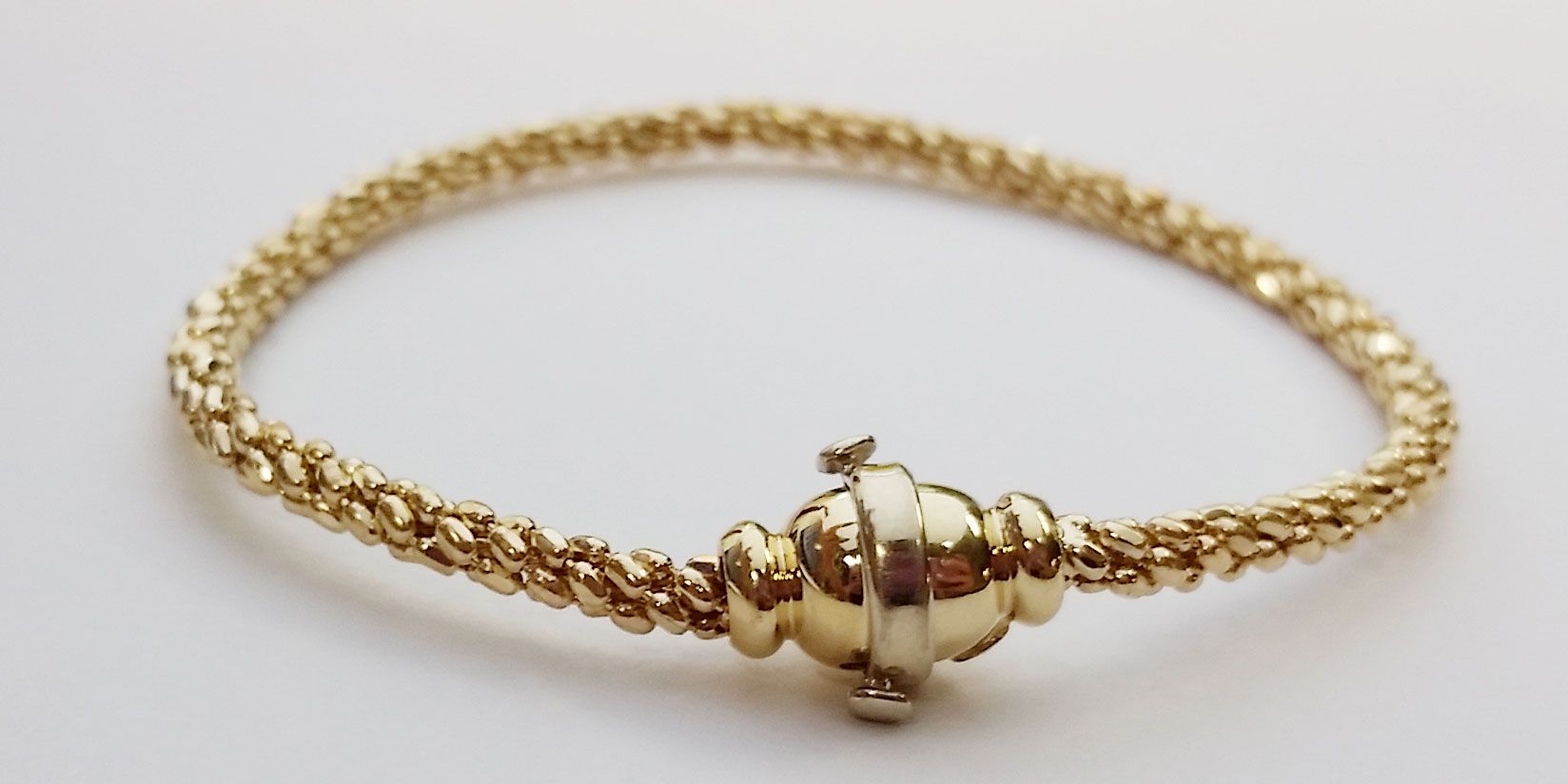 AUGUST SPECIAL: 
12 months deferred interest on any purchase.
Slane piece that CONSIGNOR reduced!
Slane green amethyst calypso ring in 18ky gols, size 6.75.
Comes with original pouch.
Retail $3,500 buy it here for only $1,345.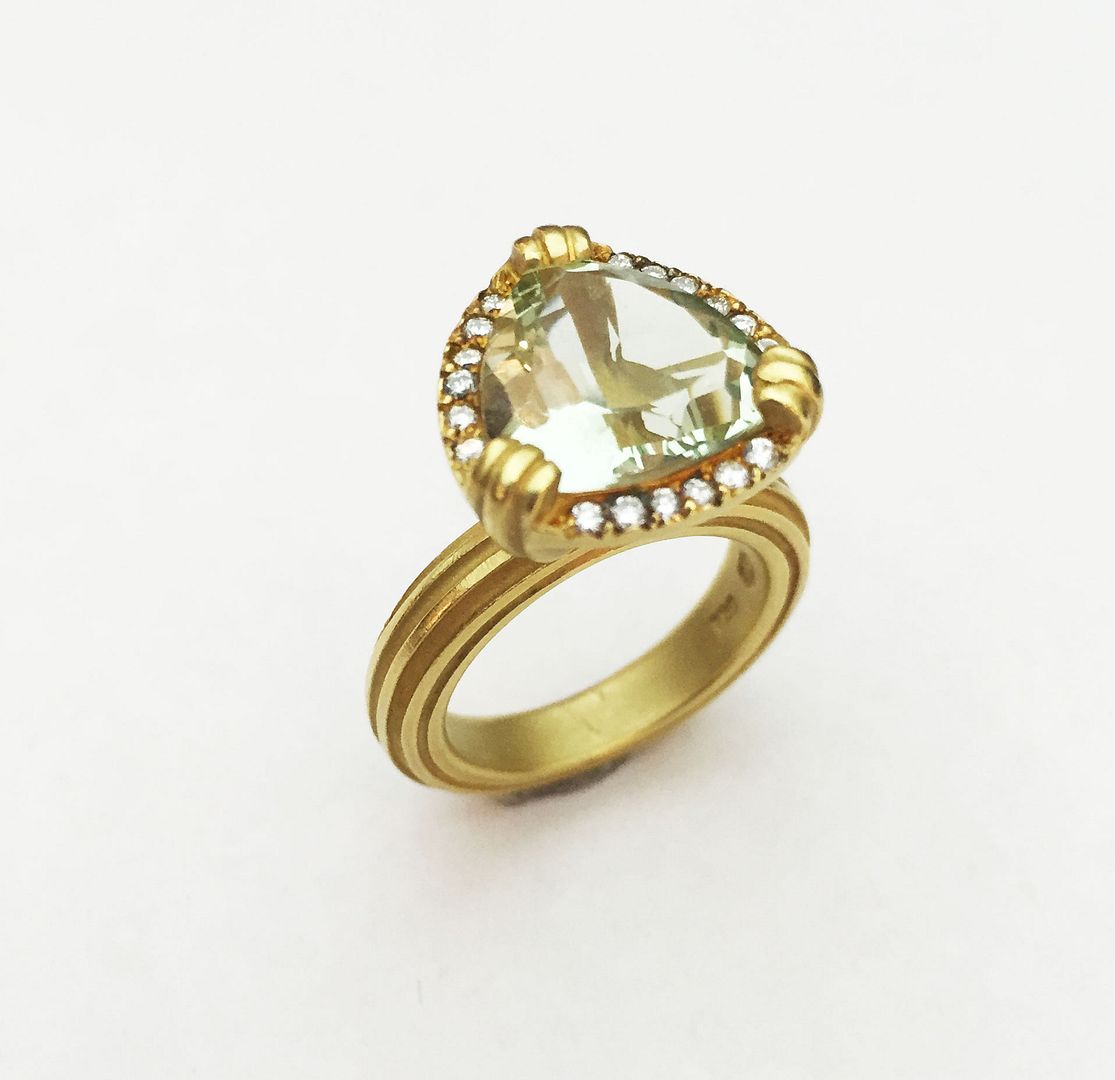 Emma is heading to Home Again & Lumina Gem
for a bargain… come join her and take the
heat out of high prices!