Sound the alert, Home Again has won the title of
BEST FURNITURE STORE in Wilmington!
We are thrilled to have this honor, and sincerely thank all
who voted in the Wilmington Magazine contest!
But we will NEVER rest on our laurels…we are doubling-down
on our mission to bring you the BEST….for LESS!  
Enjoy the show!
Va va voom…we have a total of four of these super playful
paisley dining/accent chairs, $195 each. Must be bought in pairs. 21″W
Such a nice updated look…This gold Three Hands modern gold
dining table retails for $1,500…our price, $895.  71×35.5
Geometric blue dining chairs in blue, 6 available, $125 each,
must be bought in pairs.  20″W
Just in on consignment and in PRISTINE CONDITION…
White leather sofa by Lazzaro… $795, 82″W.
Matching loveseat (not shown) $595, 64″W.
Another great sofa option… neutral sofa in taupe accented with
bronze nailheads…$795. 76″W 
This large fern art is super dramatic, $175, 59″Wx39″H.
Luxury is calling your name…brown tufted queen bed $495.
Gold chests $395 each, 30.5″Wx18.5″Dx29″H.
Bench, $202.50, 48″Wx18.5″Dx18″H.
Super luxe high-end pub height table and two barstools
with ostrich embossed leather seats and top, $795.
Table 36″ diameter.
A great multi-purpose storage piece in  coastal white,
baskets included, $425.    44″WX9″DX35.5″H
We are drawn to this vibrant abstract with so many
great coastal colors, $175.  50″WX40″H
Such a pretty console table with inlaid capiz, $375.   50″WX14″DX30″H
Shabby lovers…there is lots to love in this avocado green hutch, $325.   36″WX14.5″DX71″H 
We showed you this capiz shell chandelier last week in blue…
and here it is in natural!  $395. 34″Wx22″H
From Pottery Barn, this media console is in great shape
and a bargain at $495.    62″WX18″DX30.5″H
This Milling Road collection buffet by Baker has some scratches on top
so we priced it to move at $495.
72″x22″x38″.
We love groupings of art…they are always impactful.
Floral art gold frames, $62 each. 21″ square.
This pale green sofa is a looker and a great deal at $895.    81″W 
This seagrass bench can be at home in many
rooms of your house!  $195.  42.5″WX15″DX22″H
A great black louvered cabinet at a great price…just $265.    39.5″WX14″DX29.5″H 
KAPOW!  Mid Century style swivel chair, $295.      28.5″W
Speaking of mid-century, this chair is just in on
consignment and a SCORE
at $225!  31″W
GORGEOUS neutral striped wing chairs by high end maker
HIGHLAND HOUSE in immaculate condition, $695 each. 33″W
Another great bench, this one in seagrass with an espresso frame…
just $175.   40″WX14.5″DX19″H
Elegant silver and white scrolled chest, a STEAL at $175.
32″Wx15″Dx30.5″H
Accessories are the finishing touch that makes a house a home…
and we are loaded up with wonderful, on-trend options.
This industrial style clock is large and in charge for $95.  30″ round. 
Futons FLY out of here, and this brand new beauty can be yours for $425.   73″W  Has a pull down drink tray in the middle. 
This is  SUCH a pretty cabinet in person, and it's a GREAT DEAL
at $495.   48″WX20″DX60″H 
We are your coastal connection!  Brand new striped SLEEPER
in blue and green, $895. 80″W
This large sea-oats canvas retailed for $350, our price $175.
48″ square
We LOVE this looks of  this square seagrass coffee table, $295.
35″ square.
These lines on this red sofa are so modern and clean…$895.    86″W 
Just in and in like-new condition…these bedside tables in espresso actually light up from the bottom, $295 each.   32″WX17″DX31.5″H
This is not a great picture of this mirror…it is actually HUGE and very rich in person, $295.    56″WX45″H 
It's time for a BARGAIN!  Adorable desk clocks from $13 to $34. 
Modern lovers…this pair of art panels have lots
of life for $85 each.     20″WX60″
This clean-lined ETHAN ALLEN desk retails for $899, our price just $425.
48″Wx26″Dx30″H.
A consignment score…oversized neutral slipper chair
in taupe and gray, $295.   29″W
ON SALE…this baker's rack by high end maker CHARLESTON FORGE
has been reduced and it's a STEAL at $350.   25″WX24″DX84″H 
We have a PAIR of bamboo look accent tables for just $145 each.
Very rich in person. 19″ diameter x 28.5″H
This is a cool piece…the middle is a mirror and it has
two working shutters on either side! $175.
28.5″Wx43″D with shutters closed.
The world's most elegant garden stool, in a crisp
white and gold chevron, $85. 13″ diameter x 17″H
Jeannie's fave of the week…white ceramic
pagoda for $72, 24″H.
Lovely gateleg dining dining or console table in warm pine
in excellent condition, $495.
44″ diameter
More fun chairs…orange and ivory geometric dining chairs,
4 available, $125 each.
We absolutely love this trio of grey-washed mirrors, $62 each.
24″ square
L O O K at this mirrored chest that is ON SALE for just $295
(minor damage to mirror).
40.5″Wx22.5″Dx40″H.  This chest retails for $1,370, save $1,000!
SAVE THE DATE
for our 3rd Annual Antique Show
And to make more room for the Antique Show,
we are having a
SIZZLING SUMMER SALE
THIS WEEKEND ONLY!
Save 15% to 50% off at LUMINA GEM
New Bands 25% OFF
These bands look great stacked! .25ctw twisted diamond bands.
  Sale price $1,075 each.
.75ctw sapphire and .41ctw diamond band. Sale price $1,795!
Matching .33ctw diamond bands in 14kw gold.  Sale price $995 each.
.38ctw rubies alternated by .20ctw diamonds in 14kw gold. 
Sale price $675.
(Matching bands please reference #110-84 & #110-83)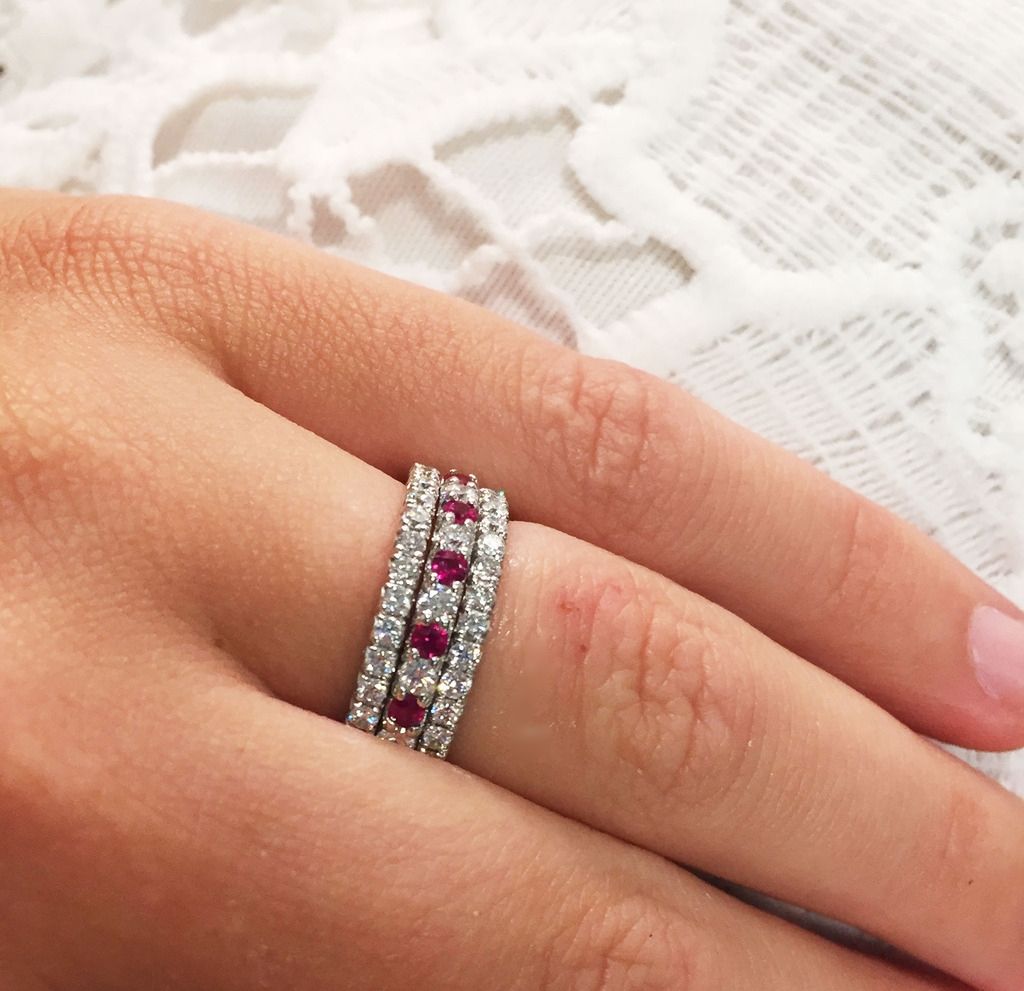 ~This combo is so cute~
Matching 14k rose gold diamond bands.  Sale price $315 each.
Natural .14ctw yellow diamond set into 14k yellow gold twisted with .16ctw diamonds set into 14k rose gold.  Sale price $1,495.
Matching .14ctw diamond 14ky gold bands.  Sale price $395 each.
.26ctw natural yellow diamonds twisted into 18ky gold.  Sale price $1,195.
Matching .38ctw twisted 14kw gold bands.  Sale price $1,125.
.95ctw emerald, .40ctw diamond 18kw gold eternity band size 6.25. 
Sale price $895.
Did we say that we have some amazing bands on sale??  🙂
(l-r)
.37ctw diamond in 14kw gold.  Sale price $1,495.
.09ctw diamond in 14kw gold satin band.  Sale price $465.
.18ctw diamond twisted 14kw gold band.  Sale price $795.
Save BIG on this consignment piece!
5.50ctw sapphire alternated by 1.50ctw diamonds in 16 grams
of 14ky gold, 8 inches. Was $1,995, now $1,595.
  Is the length too long?
This bracelet can be shortened by our in-house jeweler.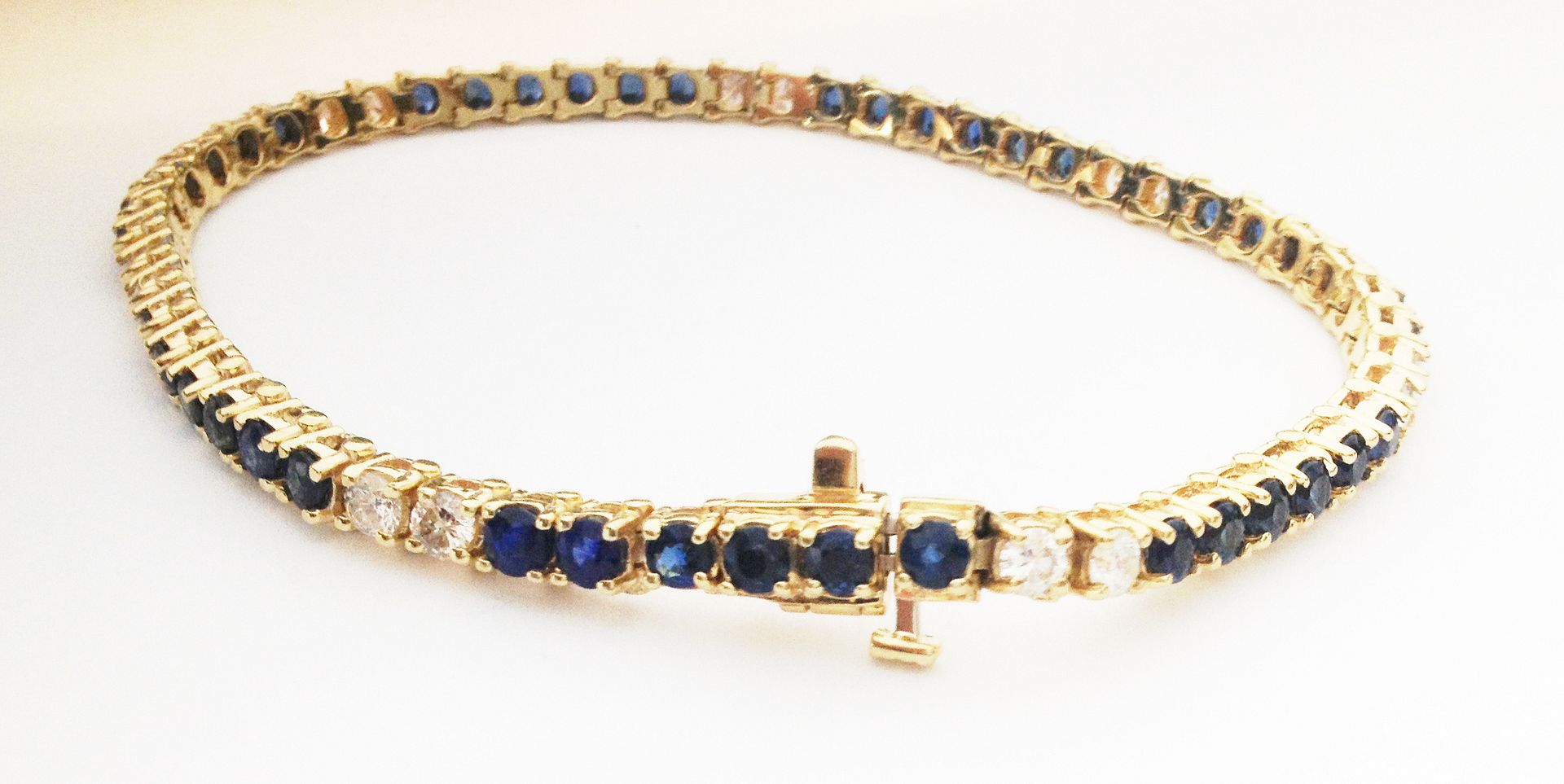 4ctw SI/I clarity GH color diamonds set into 18kw gold, 7 inches
with a safety chain.  THIS WEEKEND ONLY $3,195.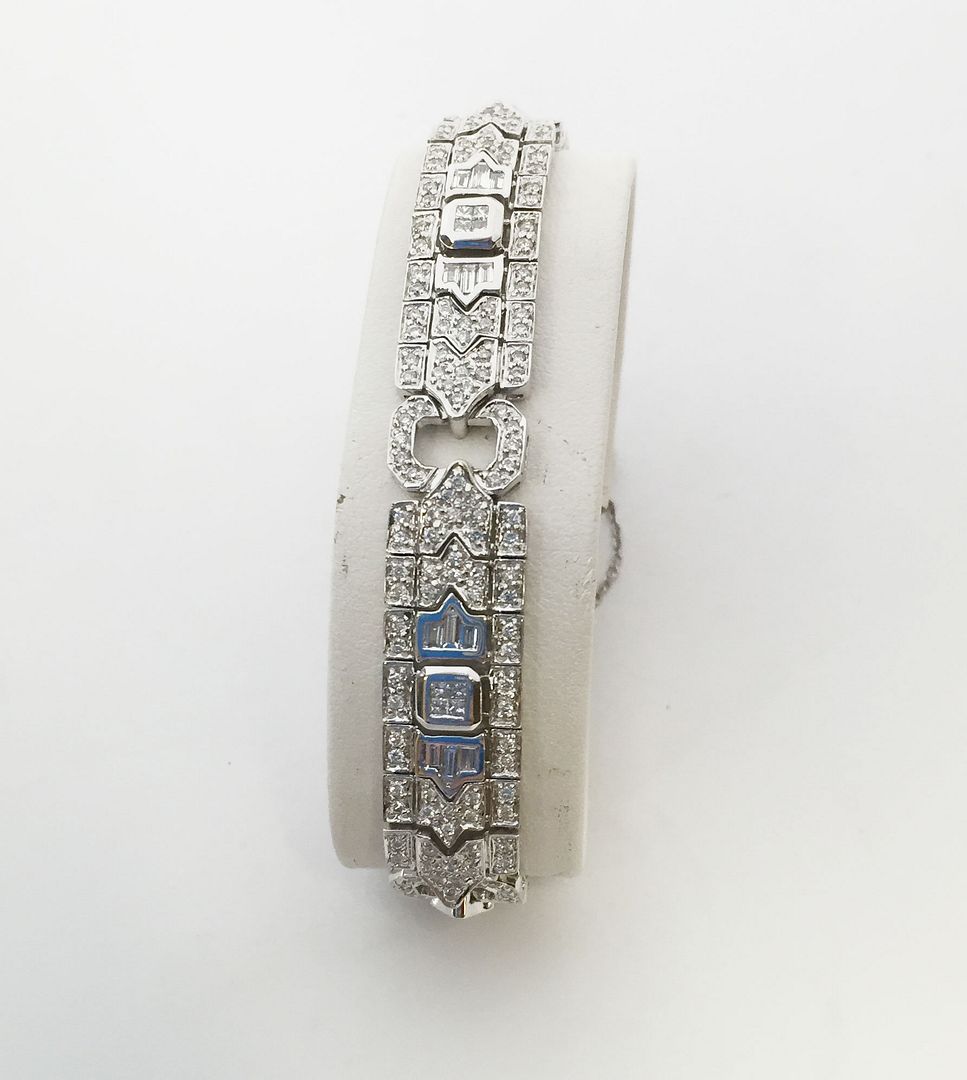 Looking for a gemstone that you can wear year round? 
Try the fantastic precious gemstone, emerald. 
2.75ctw VS to SI2 G-H diamonds and 1ctw emeralds
in platinum, 7 inches. $7,995.
6.87ct emerald with .80ctw diamonds in 14kw gold,
25% off price is $6,745.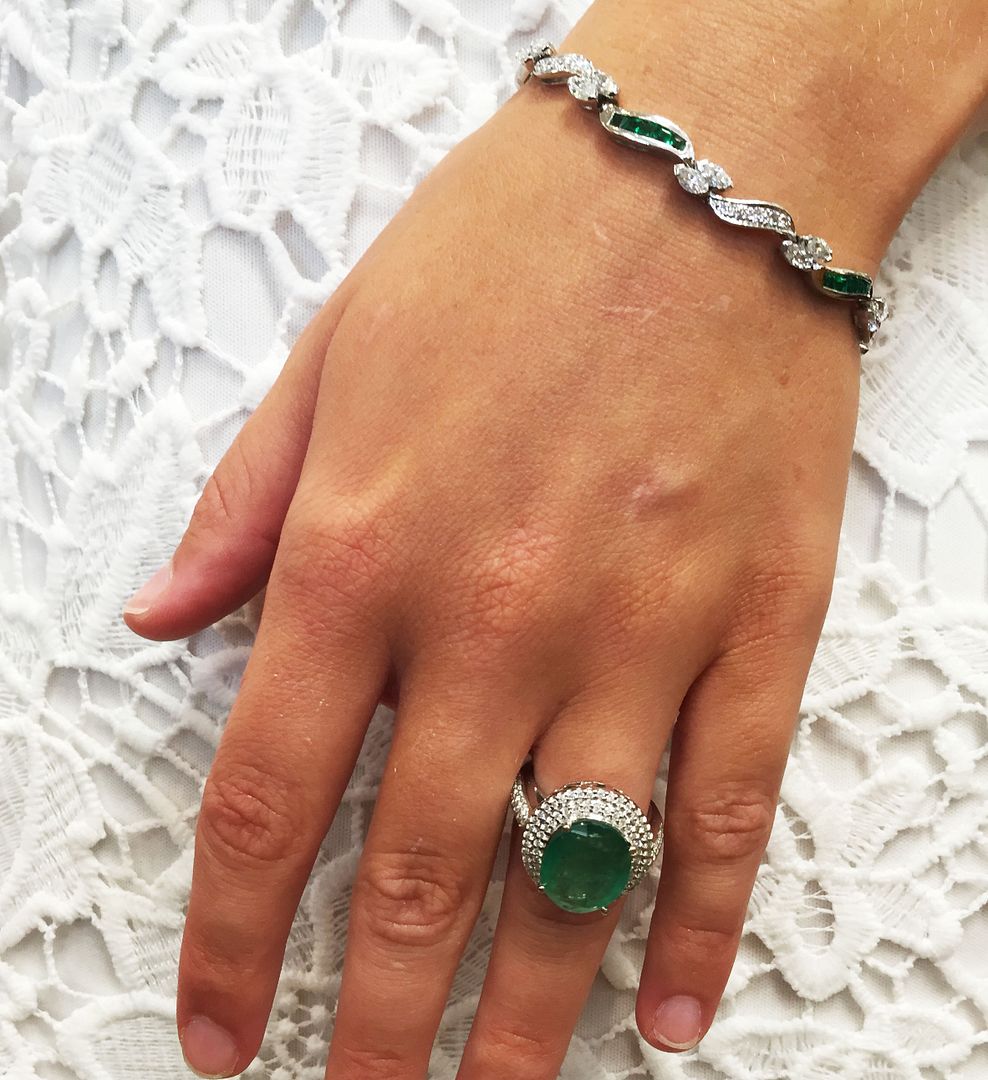 Emerald ovals set into 18ky gold eternity band, size 7.5. 
Sale price $635.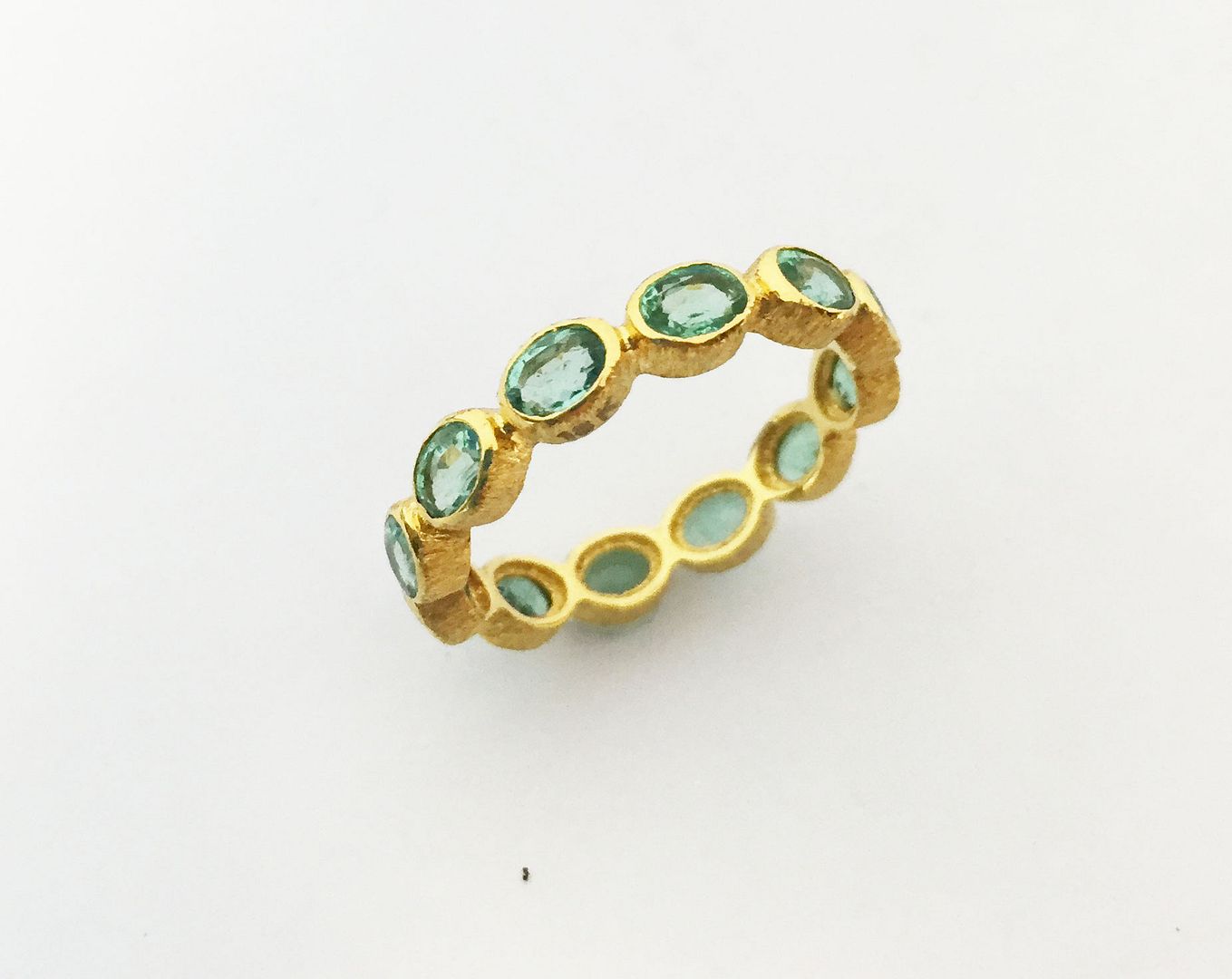 Don't let this one get away…
A new arrival that is 25% OFF this weekend ONLY.
.84ct emerald, accented by .50ctw diamonds set into 18k two-tone gold ring.  Sale price $3,435. Financing available.
This natural druzy bracelet is so nice!  Just in on consignment and 20% off through this weekend.  Sale price $235. 
Look at all the different colors
and sparkle in this bracelet.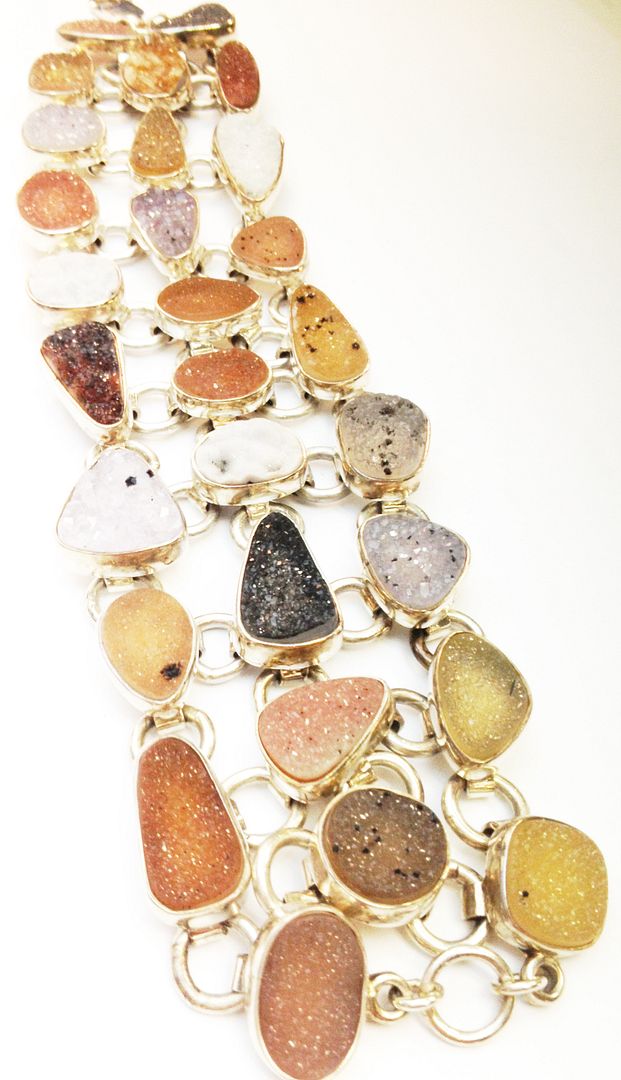 David Yurman rings are 20% OFF this weekend.  
Lapis and diamond ring $795.
Smoky quartz and diamond ring $795.
Pink tourmaline diamond ring $635.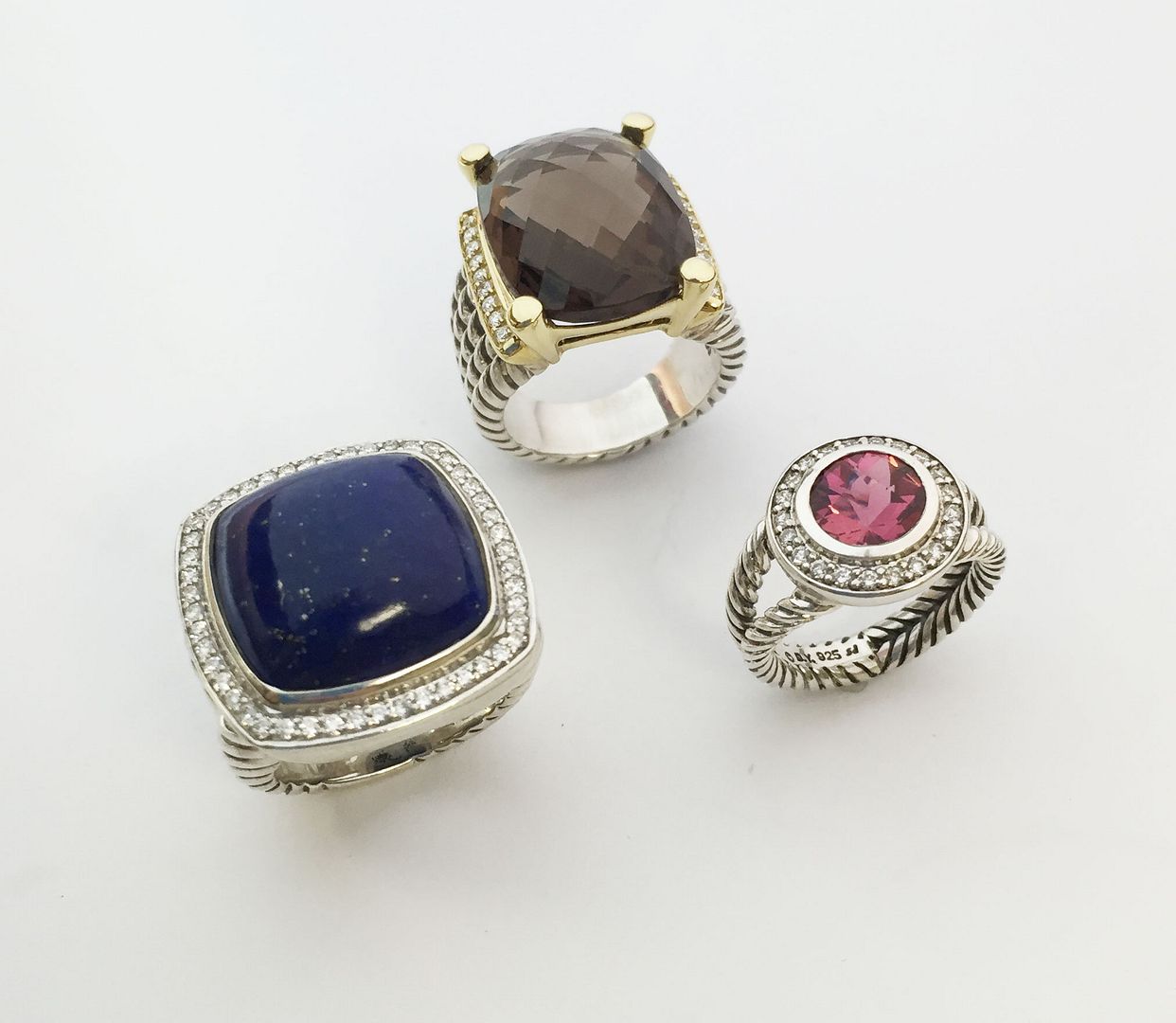 David Yurman diamond crossover band $395.
The Charles Garnier designer line is 20% off.
This Lapis woven cuff bracelet in 18ky gold vermeil is a huge look
for less at only $485.
We love this Charles Garnier 42 inch sterling silver necklace. 
Sale price $275.
Judith Ripka canary crystal pieces JUST IN.
Ring on sale for $305.
Enhancer on sale for $235.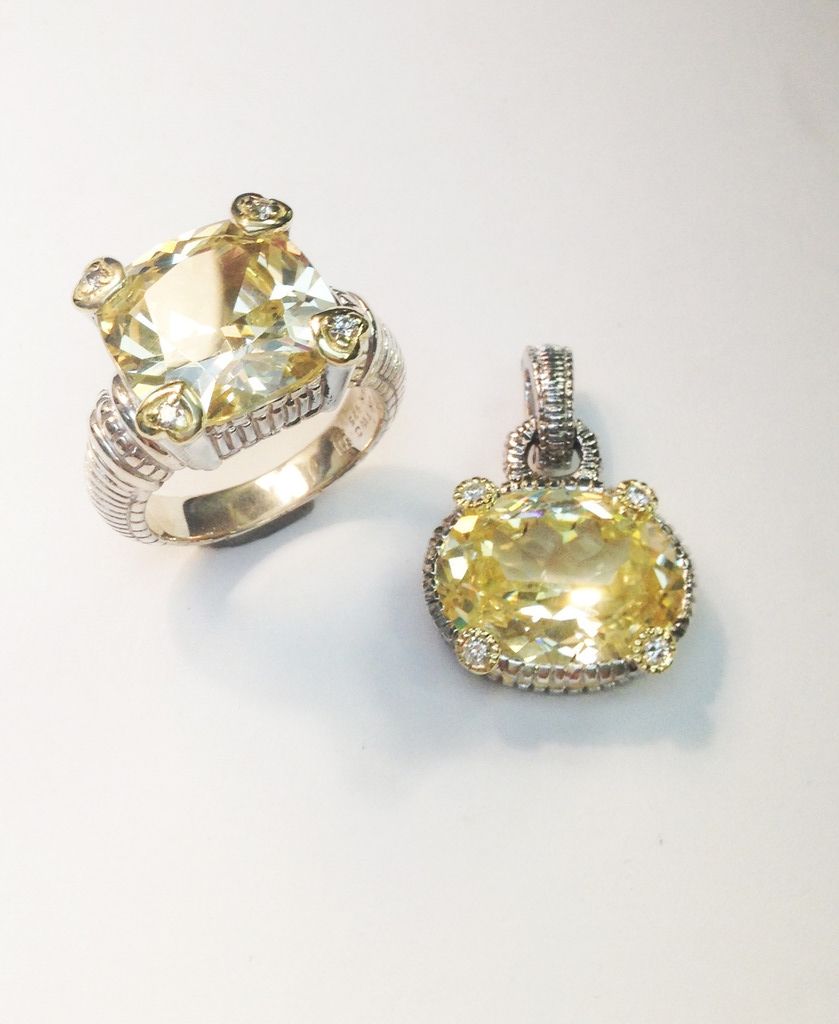 All designer lines on consignment start at 20% OFF like these
JOHN HARDY pieces.
 Kawung sterling silver and 18ky gold ring.  Sale price $360.
Kawung necklace in sterling silver 21 inches.  Sale price $435.
Kali twist ring in sterling silver.  Sale price $220.
Tiffany & Co. 20% OFF
Loving heart necklace $75.
Infinity diamond necklace in platinum $1,095.
Cha-cha round pendant with chain $195.
Your chance for HUGE savings on these dangle earrings this weekend only.
25% OFF of these 3.75ctw SI-I clarity G color diamond earrings in 18kw gold.  ONLY $2,835.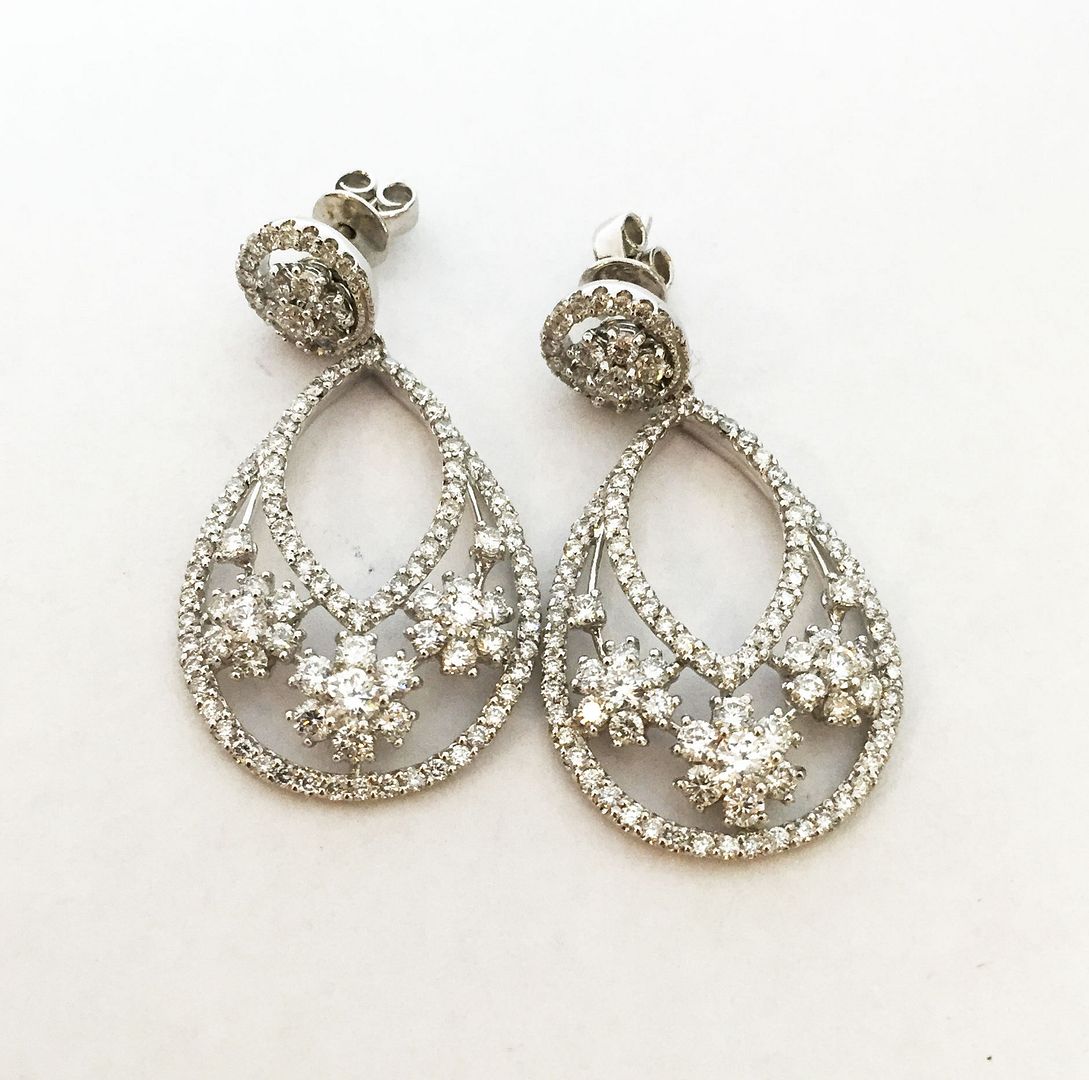 ~WE HAVE A FULL CASE OF JEWELRY THAT IS 50% OFF~
Diamond earrings in 14kw gold. 
Sale price $907.
 .79ct round center with 1.11ctw diamonds in 18kw gold. 
Sale price $3,495.
Art Deco style ring with .54ctw diamonds set into platinum. 
Sale price $2,050.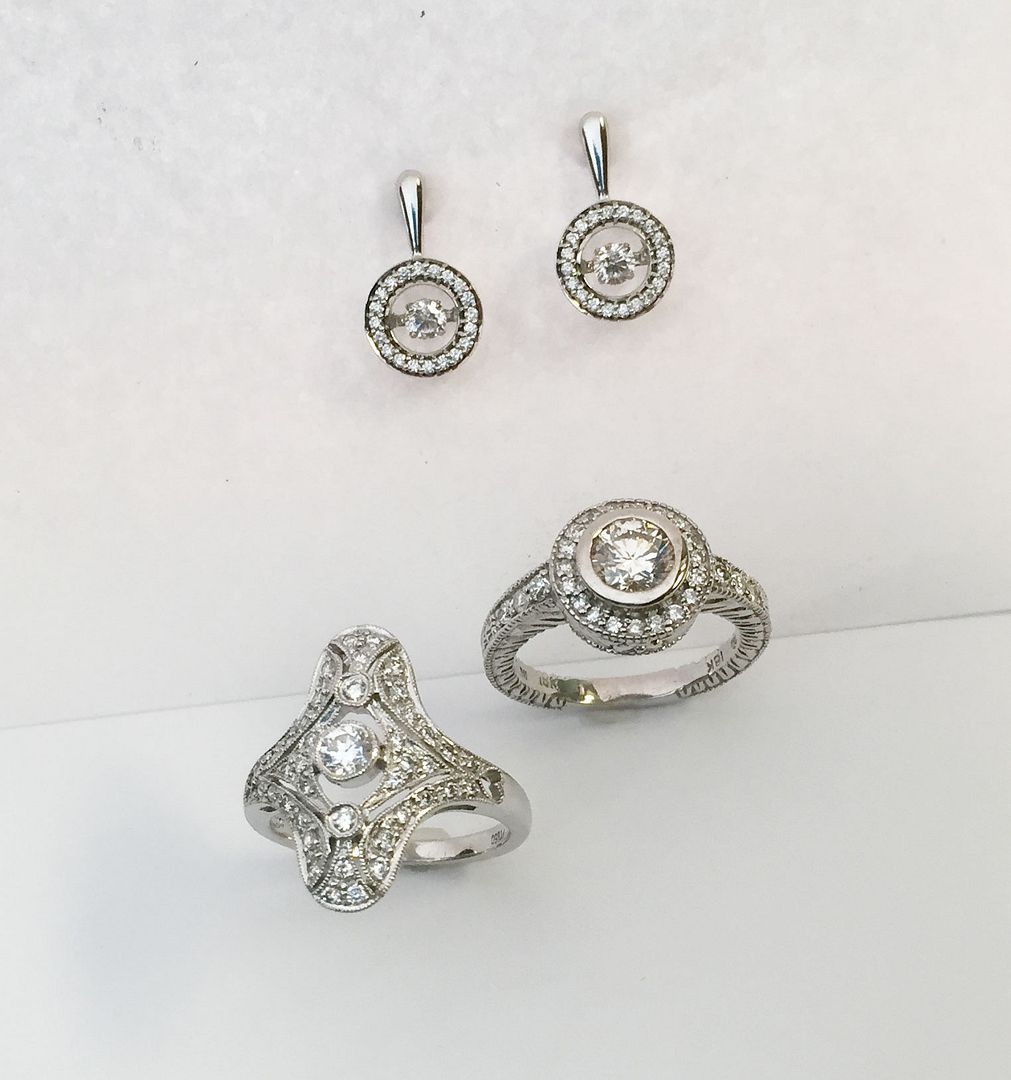 Allison-Kaufman Co. jewelry is all 30% off.
1.63ct London blue topaz with a .17ctw diamond halo
in 14kw gold, 18 inches. Sale price $787.
 7.40ct citrine 3.52ct blue topaz and .12ctw diamond pendant
in 14ky gold, 18 inch.  Sale price $1,615.
.95ctw natural yellow diamond .16ctw diamond necklace in
14kw gold, 18 inches.  Sale price $1,995.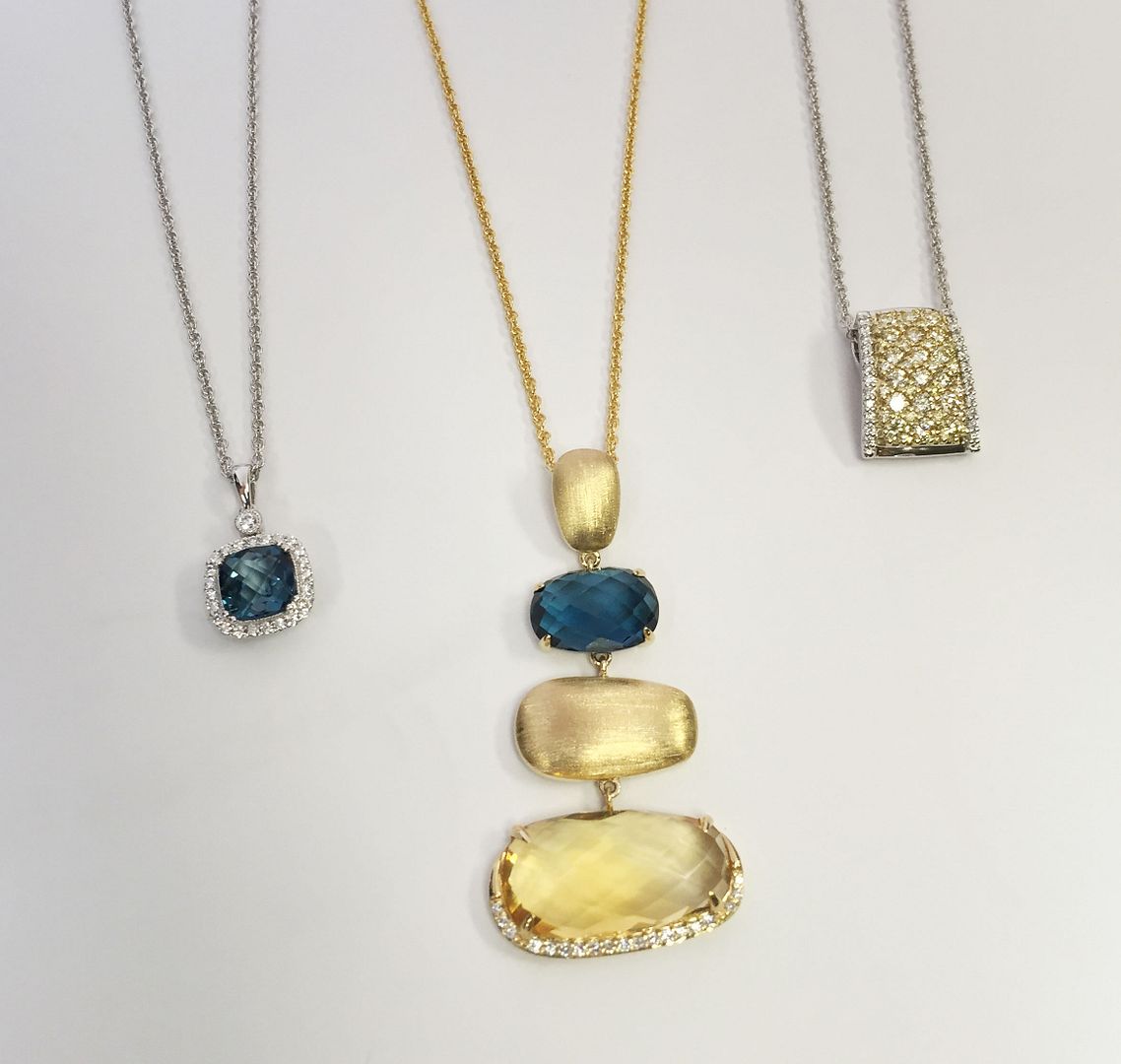 ~20% OFF~
Green amethyst round faceted into silver and 18ky gold.  Sale price $475.
Amethyst cushion cut set into silver with 14ky gold accents set with diamonds. Sale price $235.
Nina Nugyen is 20% OFF
Bracelet is moonstone and turquoise $555.
Earrings are druzy and turquoise $315.
Necklace is turquoise $195.
~BIG SAVINGS~
Reduced by consignor and ON SALE this weekend.
New Orleans designer, Mignon Faget ring with a round champagne tourmaline set into 14ky gold, 10 grams of gold.  Sale price $525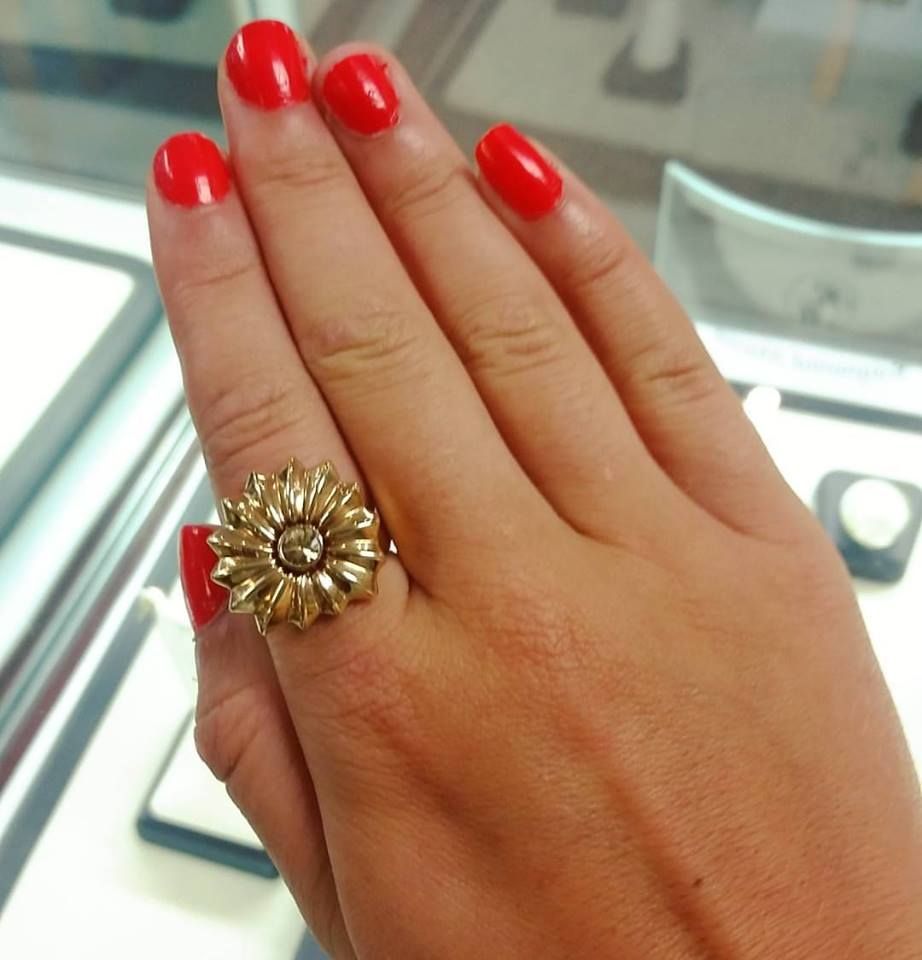 1ctw diamond antique 14ky gold dangle earrings.  Was $1,395. 
This weekend only $875.
Get these before they are gone…
Antique .30ctw old European cut diamond stud earrings
in 14ky gold, only $395.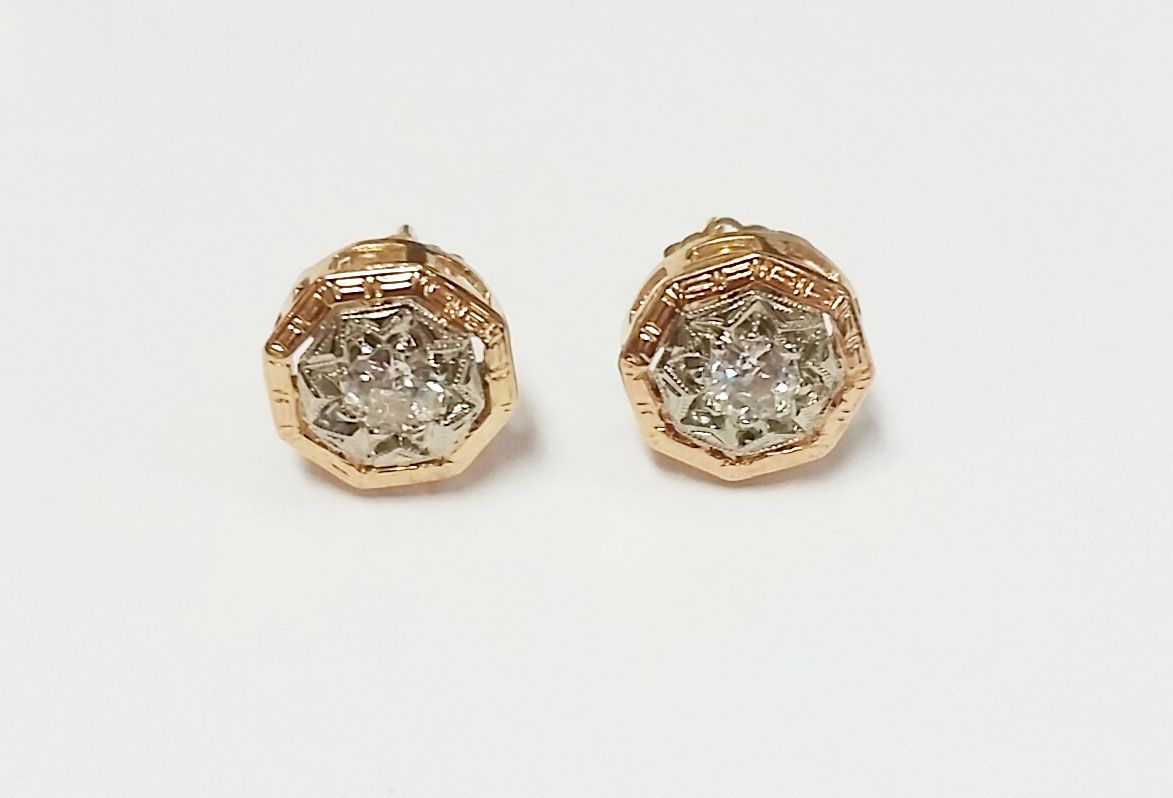 Diamond studs in 14ky gold clustered into a pear.  Sale price $345.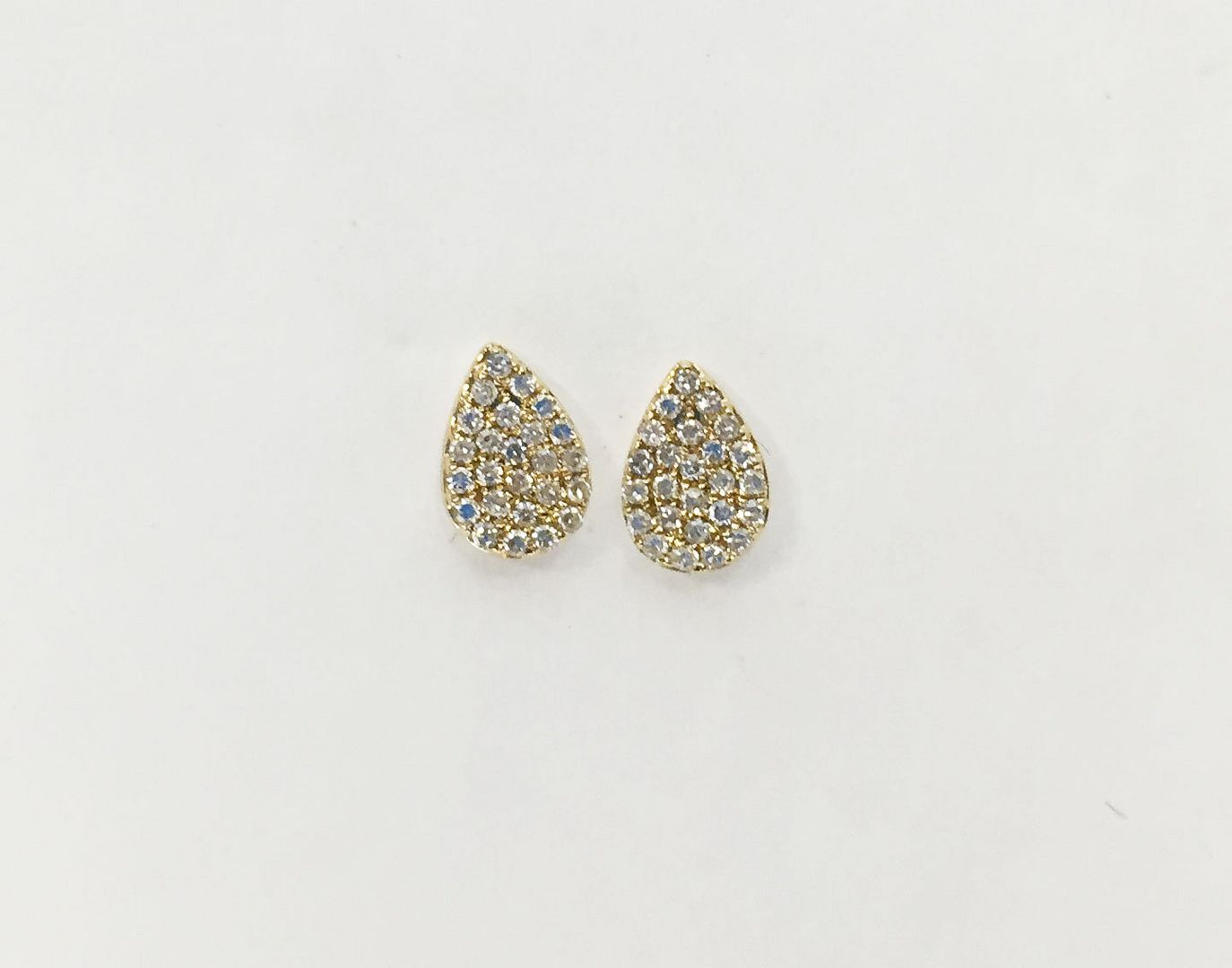 18kw fluted bezel, sapphire dial Date Just Oyster Perpetual,
Rolex jubilee band.
Year 2003, comes with box, papers and all links. Also comes with a
one year warranty on the movement and has been authenticated
#4969817 and #79174 
Snatch this deal of a lifetime for only $4,395.
This is a STEAL…
Michele Deco watch with .59ctw diamonds in a gold tone
stainless steel casing and band. 
No links, papers or box but this watch has been authenticated
and is in EXCELLENT condition. 
It also comes with 10 leather bands and is priced to sell at only $1,195.
And for the GRAND FINALE…
 Get this 1999 Rolex Explorer II for just $3800!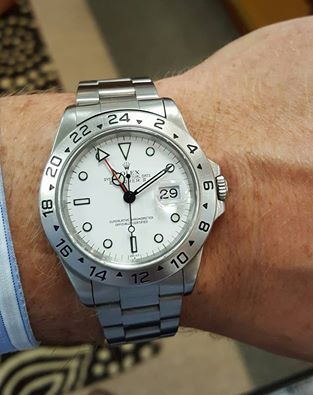 I have the simplest of tastes…
on the BEST will do.
Oscar Wilde
Come see us this weekend!