That was then…
But this is NOW!
If you have your sights set on a BARGAIN,
come shopping at the world's most fun
TRADING POST…
Home Again & Lumina Gem!
Just in…a HUGE CONSIGNMENT of coastal white home furnishings
from a rarely used home in Landfall!  All items are like-new!
Table with eight chairs by American Woodcrafters, a true value at $1,495.
As shown 96×42 (reduces by 28″ when butterfly leaves are stored)
American Wood Crafters sweater cabinet $450
44x22x71
Haverty's high-boy dresser $525
45x20x56
Haverty's bedside tables, two available, $245 each
26.5×18.5×29
Literally just in…a luxurious NORWALK genuine leather sectional in super current gray.  It retailed for $5,000, our price just $1295.  115″W
The sectional looks great with this brand new market sample
industrial coffee table for $212. 47.5×27.5×15
We also have the matching end table for $148.50.  24x24x20
Okay, get this bargain shoppers…we have the original receipt on this PAIR of buttery soft genuine leather recliners that were purchased just one year ago…they cost $3,000 EACH, OUR PRICE JUST $895 EACH. 30″W
Just loving this…not sure why…just so mesmerizing
and so many great colors,  $52 41×29
A pretty look…blue updated wing chairs $395 each, 30″W
Euro pillows sold, sorry!
Coffee Table $195, 38″ diameter
This lovely floral art is a STEAL at $72.
29×41
Just gorgeous…golden cabinet, a lot of look for $795. 70x18x34
Just in on consignment…a  handsome dining set in rich wood tones for 6, $895.  82×41 as shown with 18″ leaf
Unique console in rustic wood with white over wood overlay, $475
59×16.5×30
Elegant floor mirror in linen with nailheads, $275
31.5×71
Mirror mirror on the wall…we've got the best mirrors of them all!
(t-b) $42, 27″ diameter , $32, 25″ diameter,
$32, 24×22
A rich look…geometric design mirror $95, 27×40
Such cute and handy pieces…
Left cabinet $95, 17.5x14x30
Right side table $75, 23.5x15x24.5
The kids can do their worst to this sofa, and it'll clean right up!
Microfiber sofa $425, 82″W
Additional pieces not shown….Loveseat $375  Chair $225
Dramatic island style queen four-poster bed, $895
Sorry, bedside table is sold. 
Green modern accent chairs, $345 each. 27.5″W
We have a pair of these sizeable and colorful
prints that are nicely framed for $125 each, 35×38.5
And here is the companion, $125, 35×38.5
These are so rich in person…
oversized gray tufted 30″ barstools $165 each, not sold separately.
Super dramatic wall hanging in earth tones, $125, 41″ square
Pair of MAITLAND SMITH lovebirds, a steal at $62, 13″H.
Gold side table $85, 27.5x11x27.5
We are calling this the 'story-time' chair…it has an Alice in Wonderland vibe… by high end maker Lee Industries, $395, 40″ W
Also from MAITLAND SMITH, the top of this accent table
is actually a tray, $325. 32x22x27
Get a FABULOUS DEAL on this precious monkey lamp
with a brand new shade, just $32, 23″H
Cozy queen sleeper sofa in a rich denim fabric, $995.  76″W
A modern take on the ever so classic wing chair
in a calming shade of blue! $465 each.   28″W
We LOVE this pair of cobalt blue chevron lamps with burlap shades,
just $82 each, 23″H.
Want designer looks for less?  
This mirror retails for $279 at Ballard Designs…
But check out our version
for just $125, 39″ diameter
Large Italian pottery platter in pretty fall colors,  $42, 22″ diameter.
Another fun chair in great condition, $325, 37″W
DEAL ALERT.  Great quality 24″ counter stools, $68 each.
Three available (not sold separately)
A gorgeous accent piece, large burnished silver
decorative platter, $68, 20″ diameter
Handpainted high quality dresser, $495, 45×23.5×41
We've got some great items in the store for your
COLLEGE BOUND kiddos!
For your baby girl diva…uber glam mirrored chests, 
left to right, $220.50, 30.5x16x32
$157.50, 20×15.5×23
$225, 20x16x32
Urban modern laundry basket, $42, 19x19x26
Inspirational life art, $16, 15.5×13.5
Seize the day canvas, $12, 10.5×13.5
Does anyone love Causeway's crab omelets
as much as we do?  Causeway Cafe watercolor, $52, 23×18
A storm is brewing…dramatic beachside art canvas, $72, 30×40
Huge collection of accent glasses and dishes
in cobalt and turquoise,
 $4-$10.
Serene vintage-look bathing beauty figurines, $6 each.
Looking for some extra $$$?  Take matters into
your own hands…consign with Lumina Gem!
Here's how to rustle up some FAST CASH…
1. Bring in any David Yurman bracelet
2. Put it on consignment
3. Get $$$$$$ fast
We have a LONG LIST of shoppers looking for
ANY style of David Yurman bracelets
and all other designer brands as well.
And now for the SIZZLING SUMMER SALE Deals….
Don't let this piece of art get away…we just love this one…
Van Cleef & Arpels signed made in Paris set with chrysoprase and diamonds set into 18ky gold.  Size 6.5 (cannot be sized)
Sale price $2,395.  Oh, how I wish this was a size 7…
.
These Cassis designer rings are set with diamonds in 18kw gold.
Heart ring sale price, $955.
Open ball ring sale price, $955.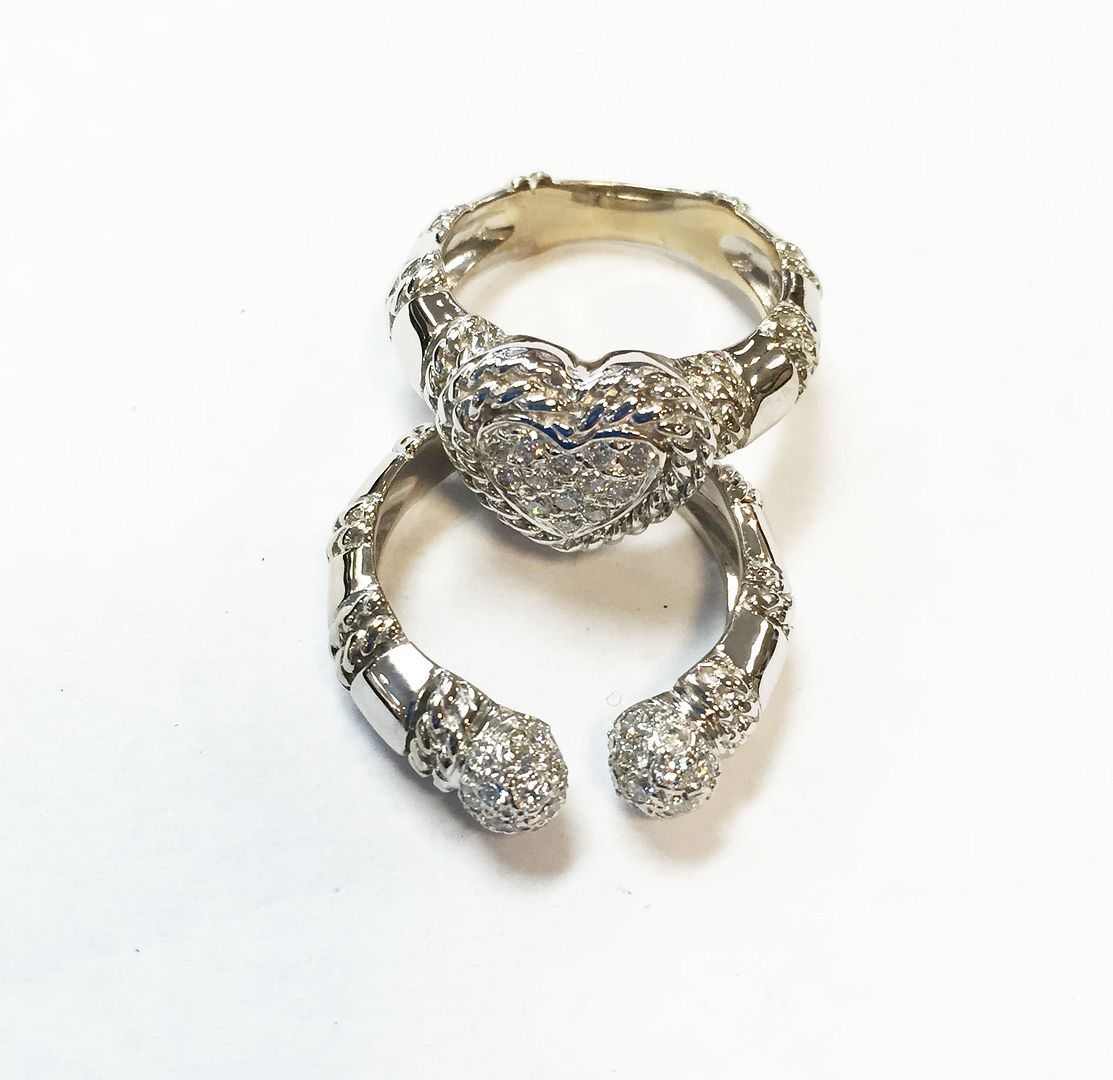 14kw gold bracelet, 10mm, 10 grams.  Sale price $395.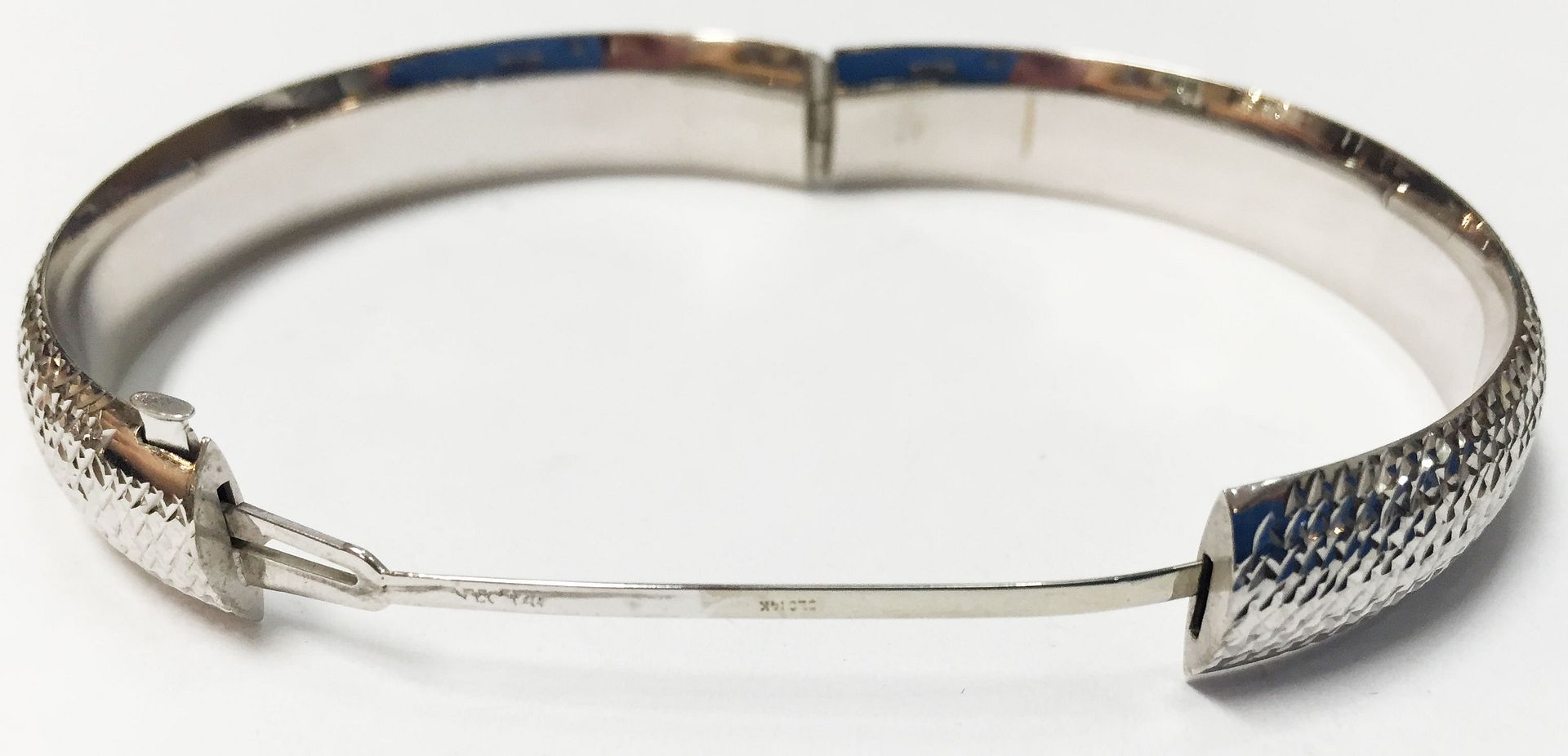 Such a BIG look for less…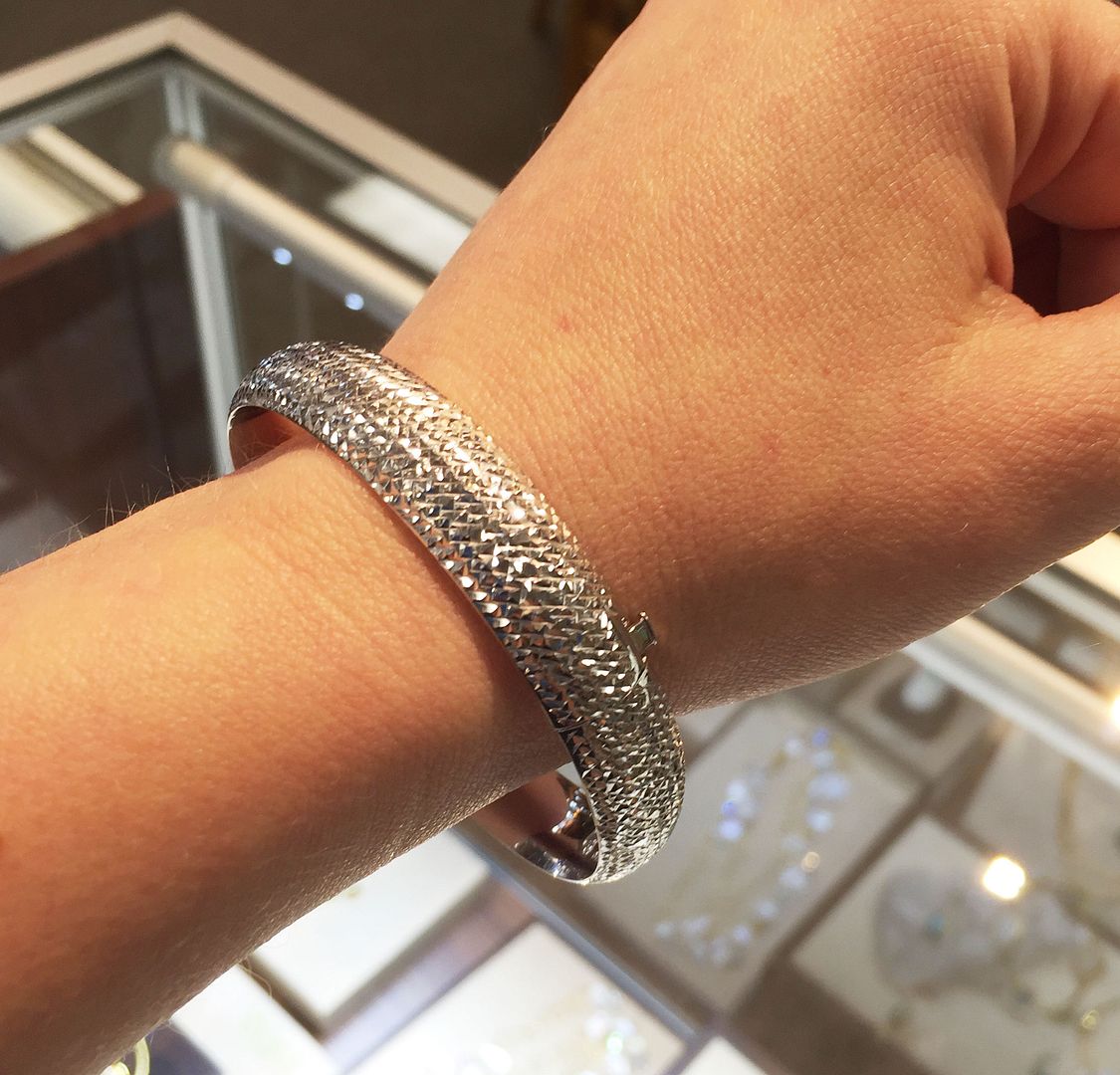 A hinged Italian 14ky gold cuff with blue topaz faceted on the end caps. 
Sale price $235. This is a STEAL.  
4.09ctw H-I color, SI2/I1 clarities set into platinum. 
Sale price $23,795. MASSIVE.
Approximately 2.50ctw diamonds set into 14k white and rose gold. 
Sale price $2,395.
Antique 22ky gold dangle earrings, 15.9 grams. 
UNREAL sale price $835.
Hammered, vintage 18ky gold, 3.5mm, 12.7 grams, 1.25 inches hoops.
  Sale price is $635.
We love these J-Lo style 2.25 inch, 14ky gold hoops.
Sale price $155.
Antique 18mm decorative ball 18ky gold earrings.  Sale price $475.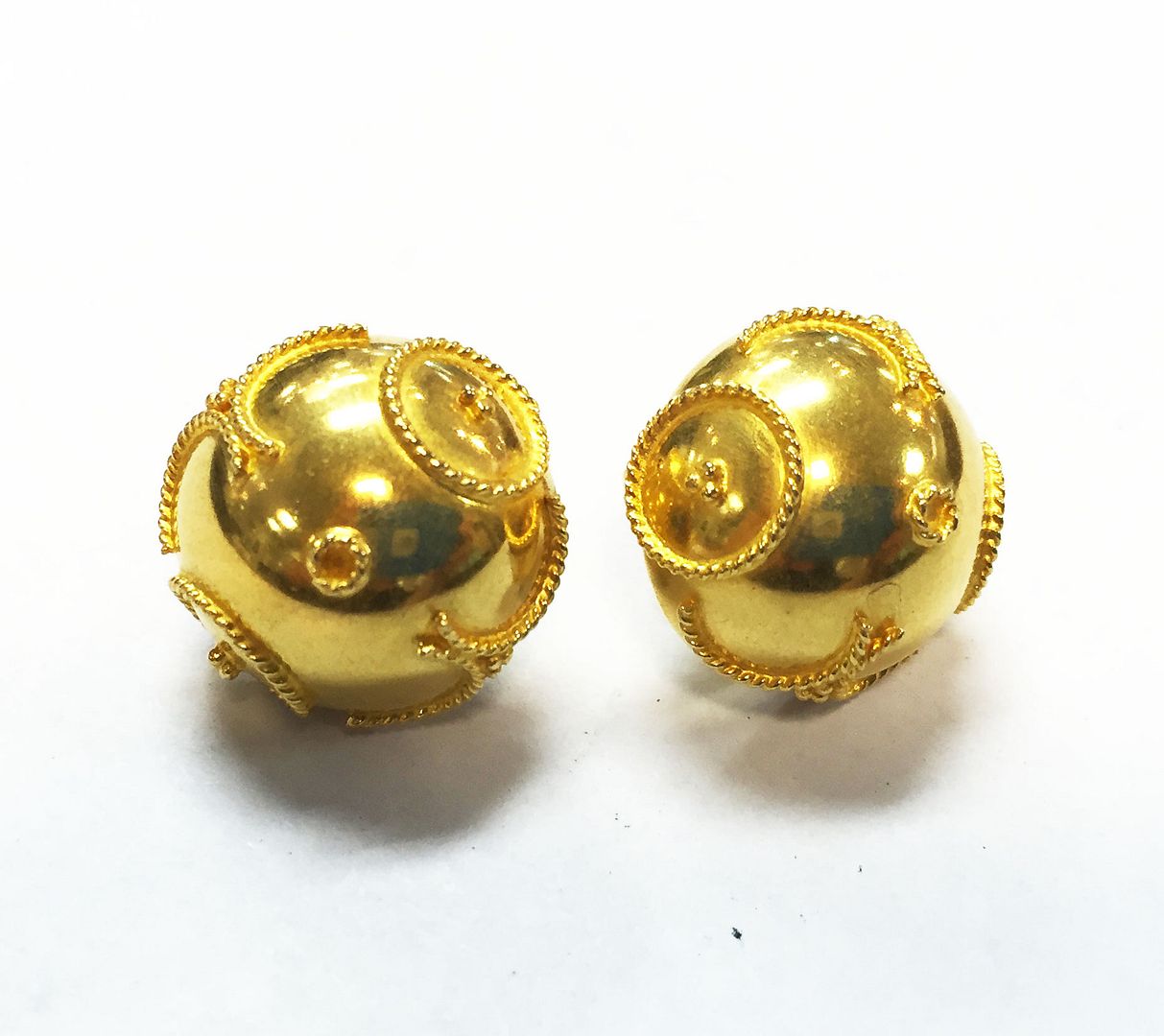 Check out this retro piece… 
40.00ctw multi gemstone (amethyst, blue topaz, green tourmaline, peridot, citrine, rhodolite garnet) set into 18ky gold, size 7.25 inches. 
Sale price $1,195.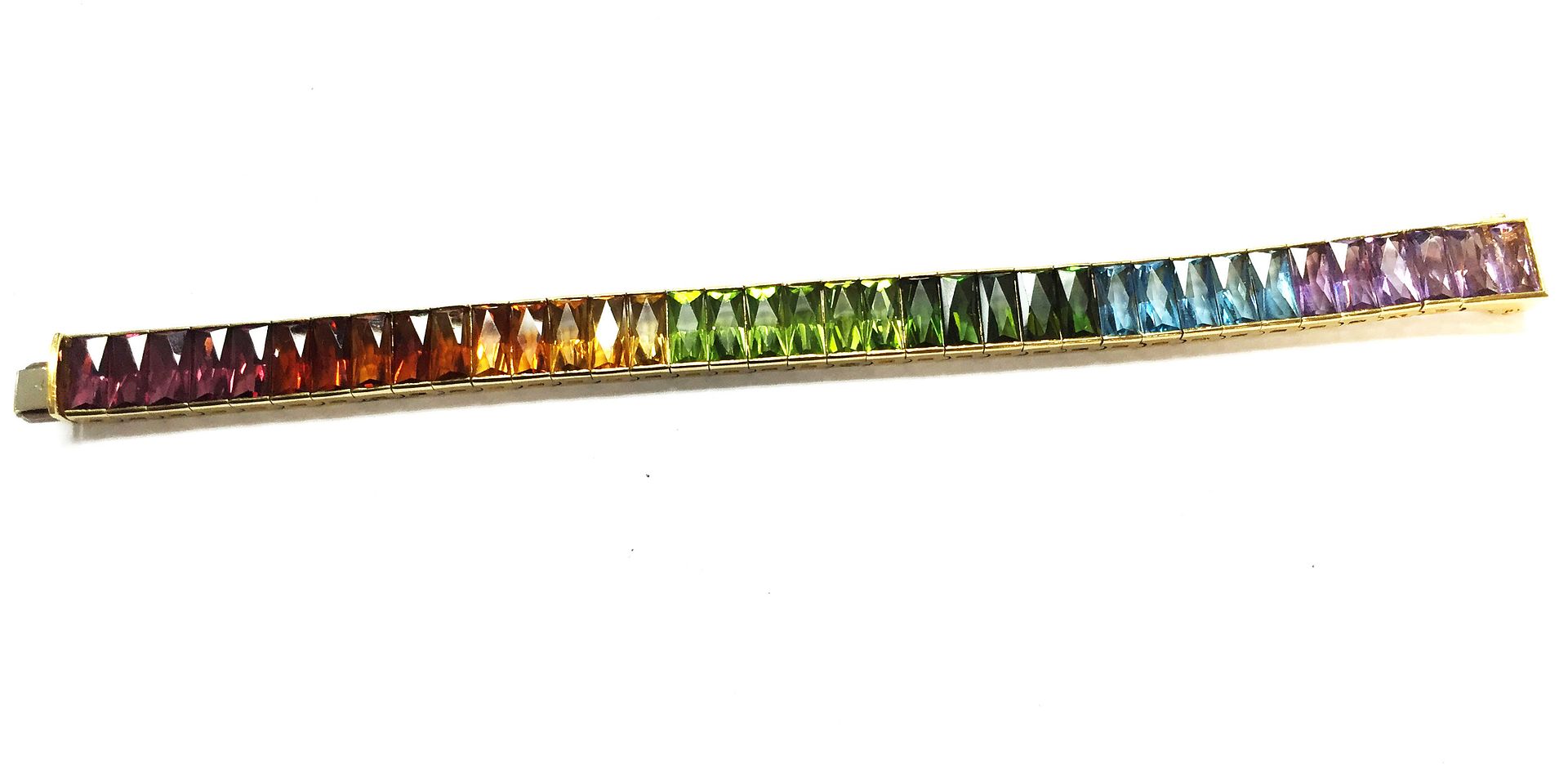 5.00ctw multi-gemstone (blue topaz, peridot, amethyst, citrine, rhodolite garnet) with .40ctw diamonds in 18k yellow and white gold. 
Sale price $795.
11.5 to 16mm south sea pearl necklace with a .50ctw diamond 18kw gold clasp, 19.5 inches.  Sale price $2,715.
11mm Tahitian pearls accented by .50ctw diamonds
set into 18ky gold. Sale price $795.
 12mm Tahitian pearl in a handmade .50ctw diamond 18ky gold slide pendant.  Sale price $1,035.
 11.75mm Tahitian Pearl set into 18ky gold.  Sale price $955.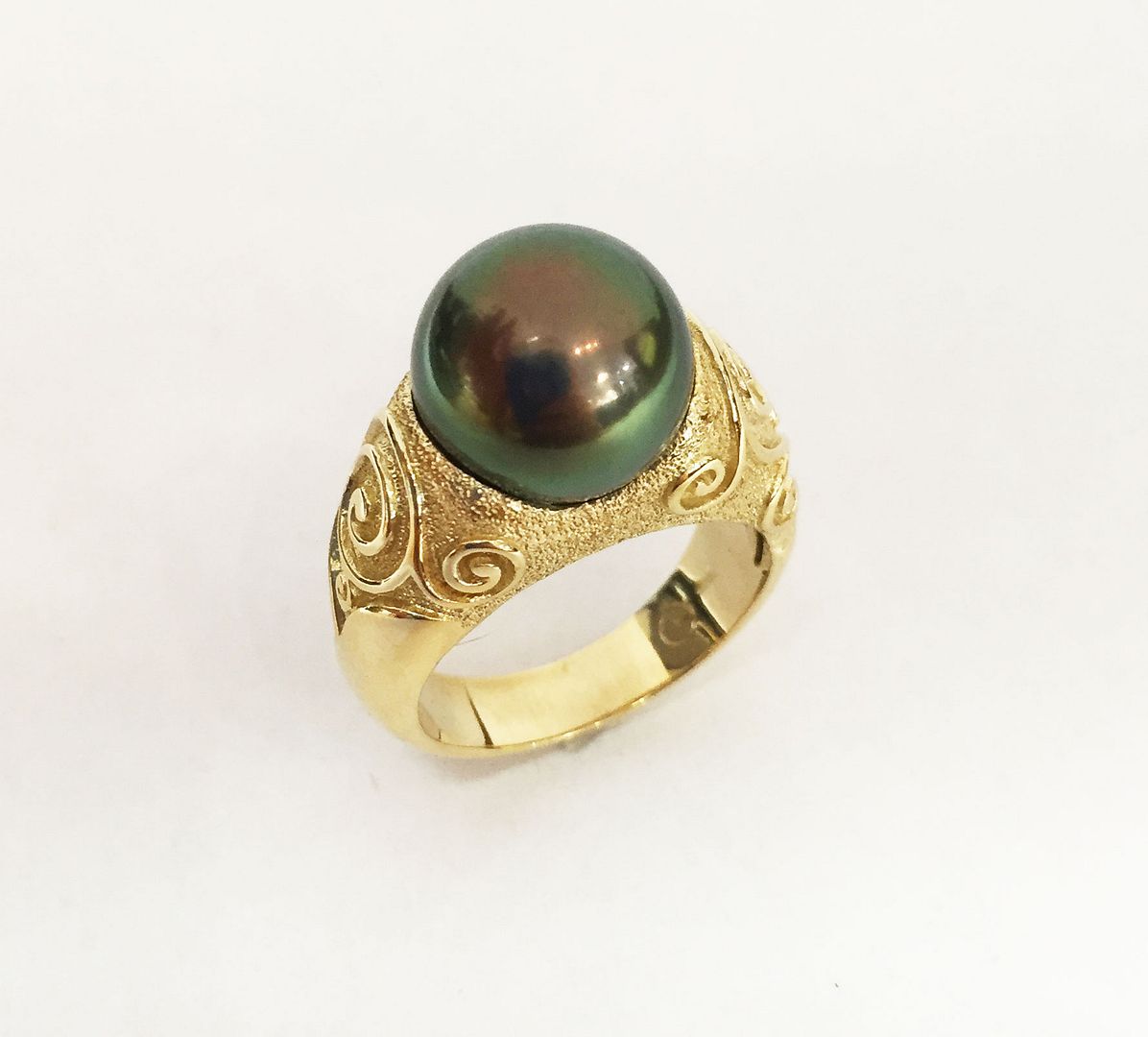 We have some truly MAGNIFICENT PIECES…2ctw rubies set into a locking
clasp on a hand-woven 18ky gold 46 grams bracelet.  Sale price $2,955.
.30ctw round in the dangle accented by .30ctw sapphires and .20ctw diamonds throughout in 14k two tone gold leverback.  Sale price $2,200.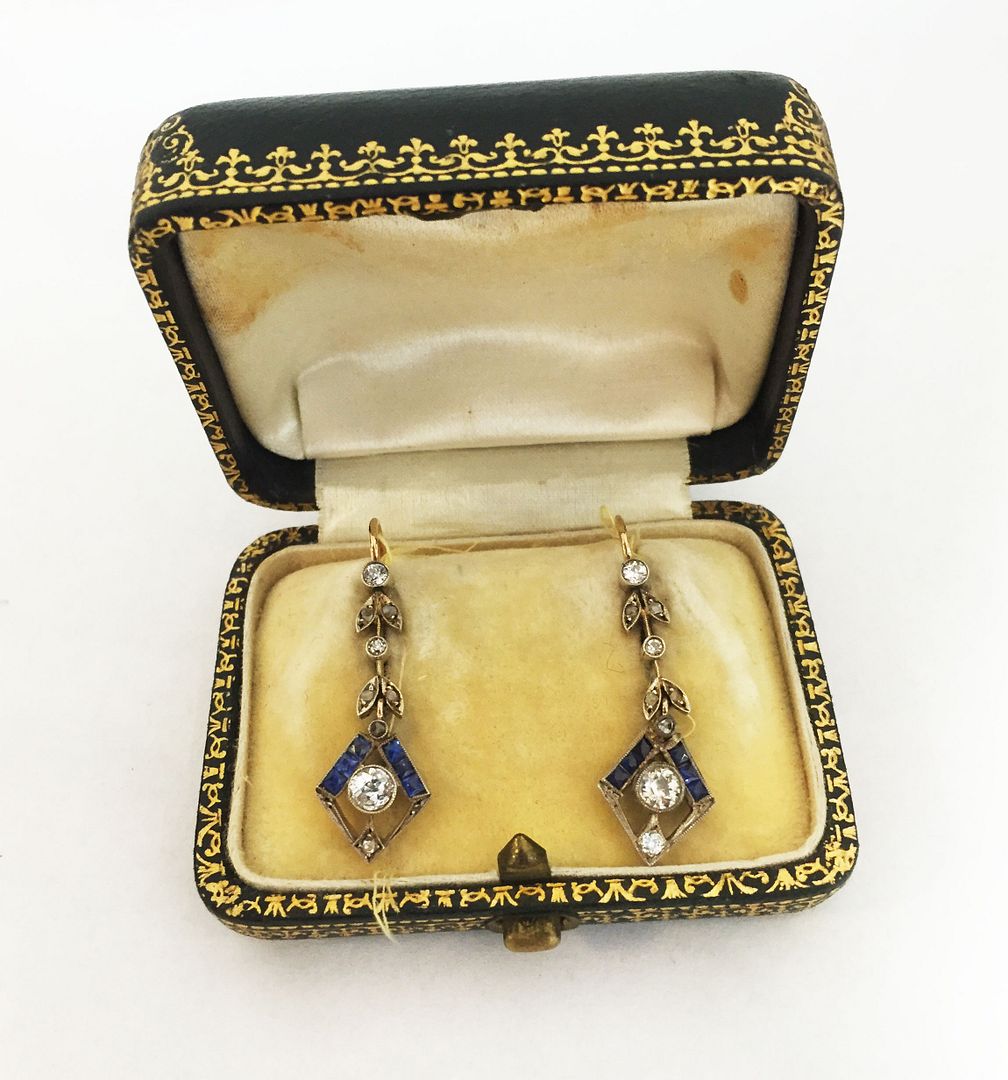 Sapphire and diamond antique 18ky gold ring.  Sale price $955.
Pink sapphire and blue enamel 18ky gold pendant.  Sale price $1,195.
 .50ct Old European cut diamond set into 18kw gold Edwardian ring
with black enamel work.  Sale price $1,595.
Jade cluster in 14ky gold.  Sale price $475.
Jade 14ky gold brooch.  Sale price $775.
Art Deco antique ring with .80ct diamond with .20ctw diamond accents and .10ctw sapphire trillions set into platinum.  Sale price $3,835.

A handmade antique piece with pearls, diamonds, and blue sapphires
in 18ky gold.  Sale price $2,875.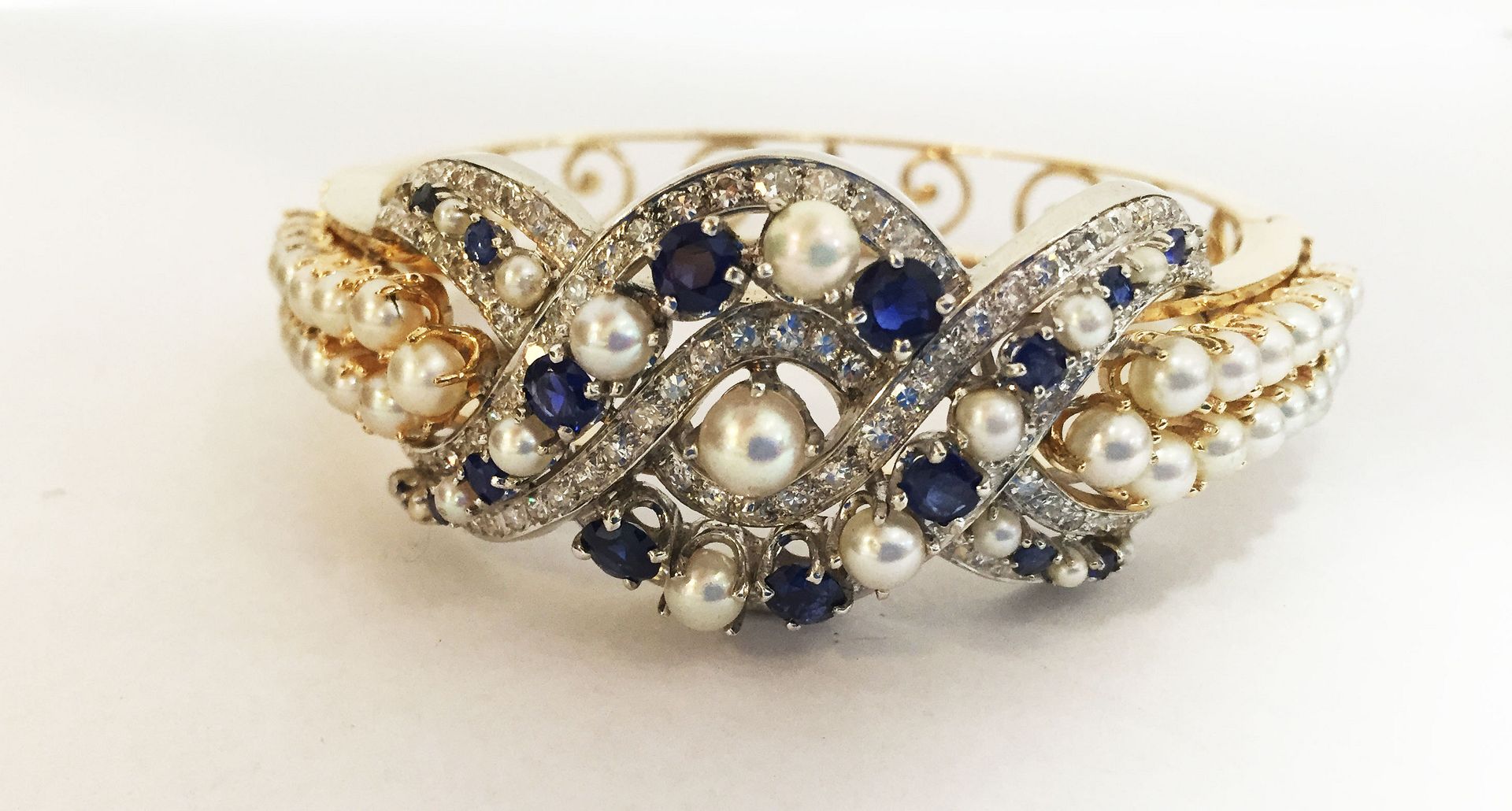 .50ctw diamond three stone ring in 14ky gold.  Sale price $595.
1.00ct diamond center .10ctw diamond set into a platinum
antique ring.  Sale price $5,435.
All Roman + Jules designer semi-mounts are 25% OFF
 .75ctw diamond semi mount in 14kw gold.  Sale price $2,295.
 .61ctw diamond semi mount in 14kw gold ready for a pear
cut diamond.  Sale price $1,795.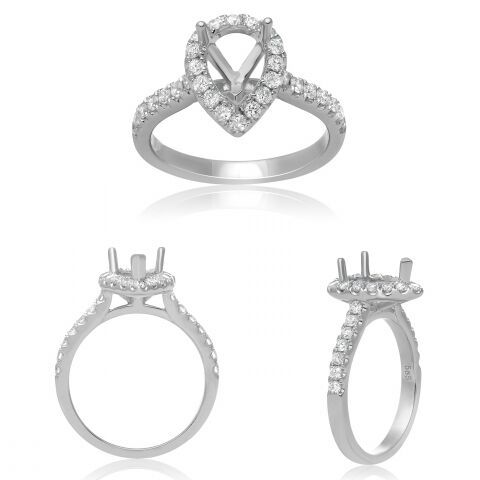 .45ctw diamond semi mount in 14kw gold ready for an emerald
or cushion cut diamond.  Sale price $1,395.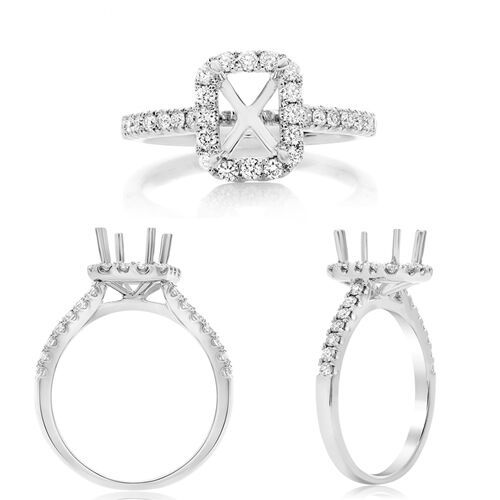 .25ctw diamond semi mount in 14kw gold ready for
a round brilliant diamond.  Sale price $975.
 .72ctw diamond semi mount in 14kw gold ready for
an oval diamond. Sale price $2,125.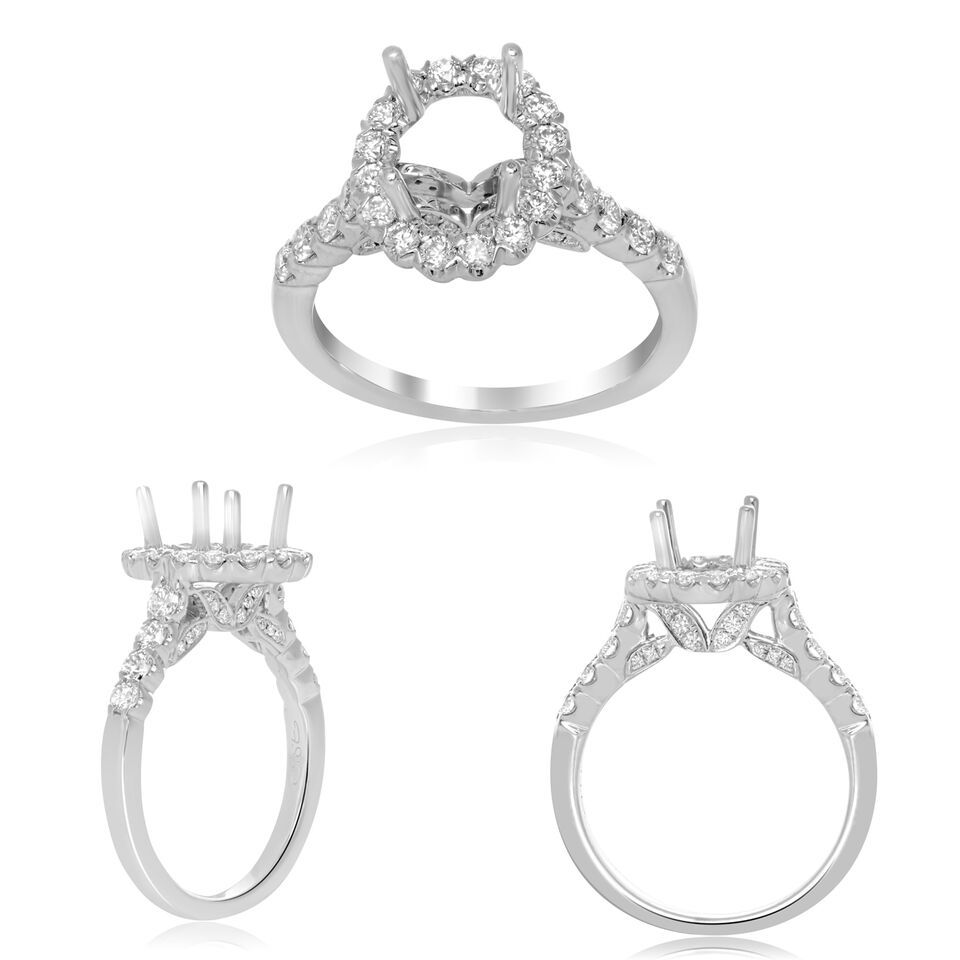 ~Consignor Reduced & On Sale~
1.50ct natural blue sapphire oval, 1.30ctw diamonds set into platinum.
Was $5,395.  Now $3,435.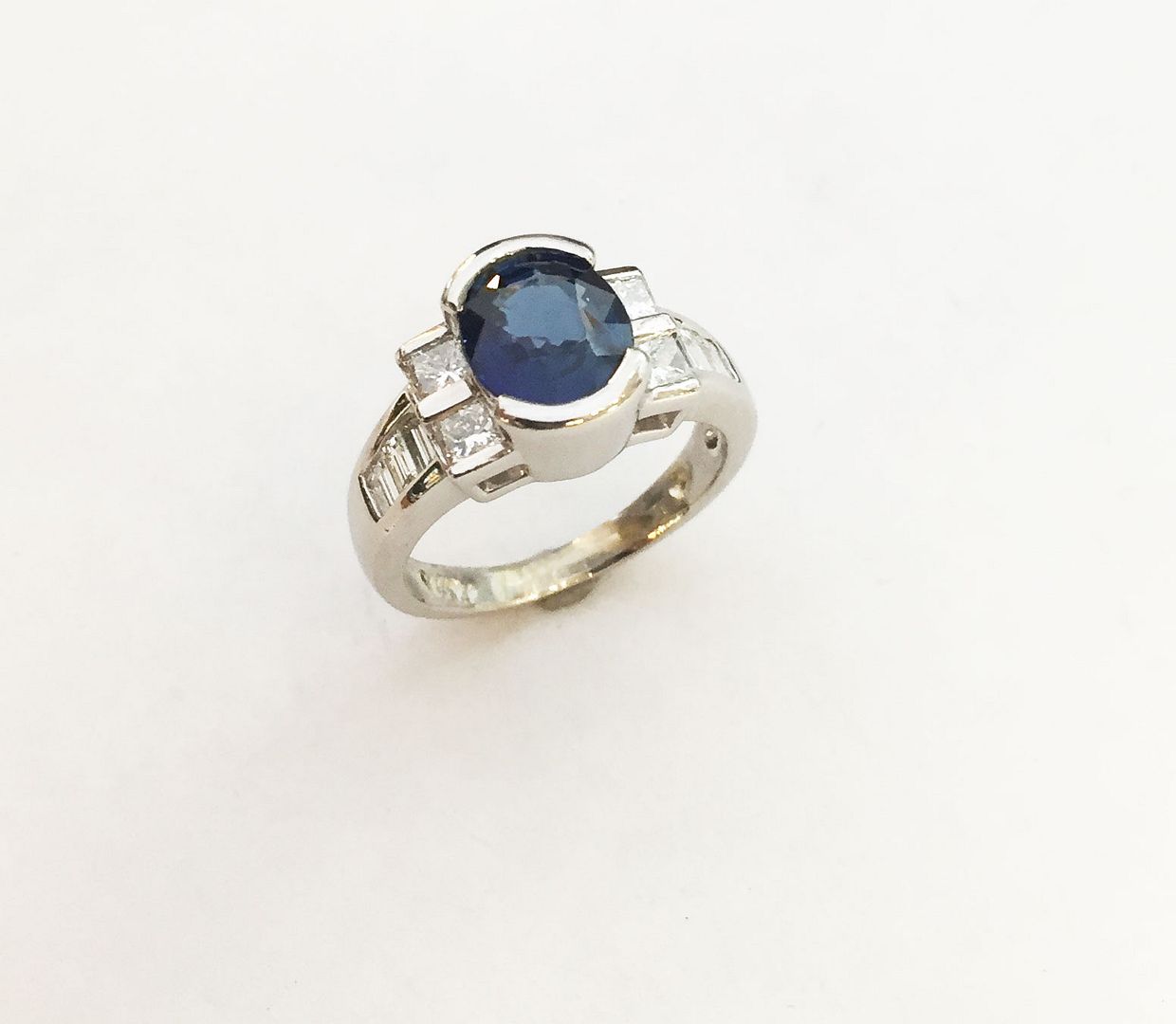 Sapphire and diamond 14k yellow and rose gold brooch. 
Was $1,295.  Now $715.
18ky gold square cufflinks.  Was $695.  Now $385.
3.00ctw VS1 clarity F color diamond brooch with 9mm south sea pearl
in 18k yellow gold.  Was $4,995.  Now $2,395.
REDUCED AGAIN!
Consignor reduced even more…
Started at $1,795.  Last week was $995. Now only $895!
Set your sights on a bargain…
come see us this weekend!