Yo, VIP, let's kick it!
The ICE is positively blinding around here…
it's DIAMOND WEEK at Lumina Gem!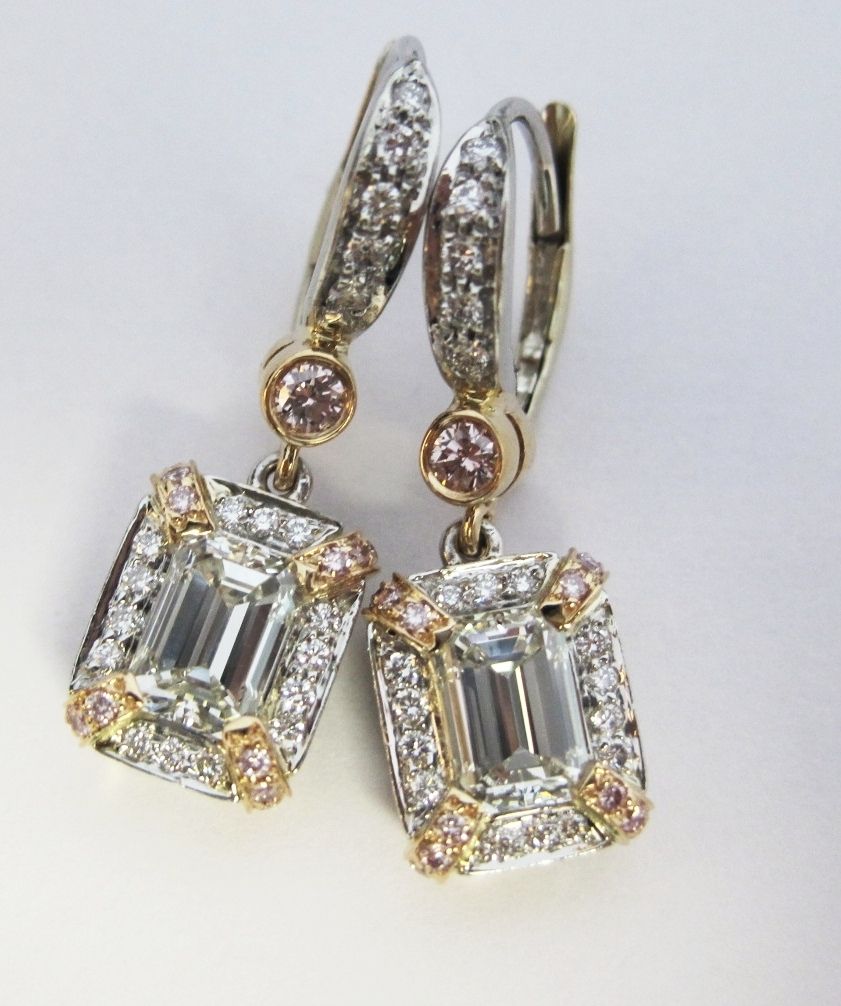 And for the 'icing' on the cake, we received a whole truckload of High Point market samples!
Let's get this party started!
This is the BIGGEST BADDEST SECTIONAL that we've ever received.
We are all POSITIVELY IN LOVE with it!
Here is another view that gives you the idea of the scale of this baby.
It's a brand new showroom sample in nubby ivory for $3,295. 169×103
And the good stuff just keeps on coming…another market sample
sectional in gray and beige, $2,295. 100×121
Super clean, super modern, and a super deal at $995 for the set. 72×40
It's not a great picture, but we have the coordinating buffet, too.  $695, 60×17.5×60. It definitely has modern lines, but the finish make
it warm and inviting.
The abstract is BIG and BOLD and very rich in person.  $425, 60×40.  
This ROBIN BRUCE brand sectional, in great condition, retailed for $3,100, our price is $1,295. Gold tables, $140 for the large, $100 for small.
This absolutely will not last…turquoise queen bed, $525,  
Beach girl art, $195, geometric chairs, $425 each.
This 'chofa' has a secret…it's also a QUEEN SLEEPER. It's from Klaussner,
and is a brand new market sample, $995, 80″W. 
The ULTIMATE accessory for your surfer dudette…
Pottery Barn full length mirror, $145. 19×72
This huge scale chair & a half is covered in SUNBRELLA!  They can
do their worst on it and it'll clean up beautifully.  $475, 53″W.  
Fun accent chest, $295, 26.5×13.5×31. 
This is such a pretty storage bench, it's covered in linen with leather and nailhead trim, $295. 47.5×23.5×18
An iconic and sizeable Warhol Marilyn reproduction…$125,  24×56.
A soft and pretty coastal scene in a rich gold frame, $68.
A generous scale, 37×37.
Look at the lines on this baby…brand new accent chair
in a neutral beige,  $245. 29×33
This is a GREAT chest…it is a nice combination of silvertones,
gold and wood, $295. 34x15x33
A tasteful coastal vignette…soft beach scene art framed in black, $245, 
peacock inspired teal lamps, $142 each. 
Isn't this fun?  Some would say it's simply enchanting…
art on wood, $135. 23×38.5
Need a futon for summer guests?  Here you go!  
Pale green frame, $295.79″W
A pair of classic dining chairs in solid wood with a rich black finish, $72 each.  Not sold separately.  19″W
Just in…this two tone desk in great condition from Haverty's retails for $1299, our price $595. 65x34x31  Geometric chair, $130. 20″W
Burgundy and gray is a cutting edge
and unexpected color palette!  
Shown here is a great gold tone chest with a black frame, 
a steal at $245. 30x14x30
A handsome gray bench with button tufting, $195.
45x21x17
Burgundy pairs so nicely with gray!
 Market sample chair, $175. 32″W
There's something in the water…$125.  24″ diameter
For the world traveler, a whimsical chest with
a French city theme, $275. 36x14x36
A SUPER NICE outdoor wicker set, heavy and good quality, with
SUNBRELLA cushions, $650 takes home the whole set! Excellent condition.
A clean and classic sofa from Michael Nicholas with down blend cushions
in soft gray, $595.  61x42x40
This modern accent chair has flecks of blue,
beige and gray, $225.  27″W
Check out this FUN button tufted lime ottoman, $225.
35x37x15.5
ON SALE!  This Paula Dean louvered queen bed retails for $1,430,
we have it ON SALE NOW for $595.   
By quality maker CHARLESTON FORGE, this attractive iron and wood corner
baker's rack retails for $1,500, our price $595.  37x24x80
An original by Peggy Vineyard, we like the colors
in this vibrant abstract, $125.    24×34 
We don't know what this wonderful nautilus art with a black background has not sold, but our loss is your gain…come STEAL IT for $95.    33×33
Mid-century modern fans, we have four of these GREAT dining
or accent chairs for $145 each.   Sold in pairs only. 21″W
A little touch of coastal in black and white, $24 each.  20.5×18 
BRAND NEW market sample SLEEPER by quality maker KLAUSSNER, 
in a durable tweed, $795.   78x34x33
Hand-made by a local craftsman, this fun 'anchor' motif
shelf with hooks is well made and sturdy, $75.  23.5×10 
This storage cube has a fabric top that reverses to a wood top, $72
Matching pillows, $18 each.  17.5×19
Planning to 'Hang 10' this weekend?  
Surf WB on wood…$95.  23×31 
We like the soft green color of this three drawer chest, $295.
35x13x35 
Sleek, yet affordable…pair of faux croc 30″ barstools just $72 each.
Not sold separately. 
This is a cool storage ottoman.  It's on casters and the top reverses to a solid
wood surface if you prefer.  $175. 34″ diameter x 16″H
Modern and funky!  Gray oversized chair
on chrome industrial legs, $295. 38.5″W
See something you like?
MAKE A RUN FOR IT!  WE OPEN AT 10.
Boy running art, $95.  23×31 
NOW is the time to consign!
Sales are always brisk in the spring, so if you've been thinking 
of paring down some of your furnishings, give us a shout!  
Put on your shades…
because our deals on diamonds are blinding…
~DIAMOND is the birthstone for the month of April~
Get some bling in that ring. David Yurman diamond 18kyg and sterling
buckle ring, size 6. Only $665.  FREE SIZING.
~ONE OF A KIND~
1.35ctw diamonds in the center; 2 ovals, a half moon, tapered baguette, pear, emerald, and trillion cuts.  1/33 inch band accented with .50ctw diamonds on the edges in 14kw gold. $4,995.
1ctw black diamond band in 18kw gold, size 7. Only $525.
Everyone loves a crossover band with diamonds.
David Yurman "crossover" diamond ring.  Size, 7.  Only $1,275.
FREE SIZING
A deal that you do not want to miss out on!
2.20ct VS1 clarity J color for only $15,995.
DEAL OF THE WEEKEND!
THIS WEEKEND ONLY, if you'd like a different setting for the stone, we are offering a free in-stock setting up to $3,000 when you purchase this ring.
And in case you didn't know…WE OFFER FINANCING…..
This set is so CLASSY and ELEGANT.
High-end jewelry designer Makur 18k two-tone gold necklace and earring.
16 inch necklace.  Only $1,195. Dangle earrings,  $995.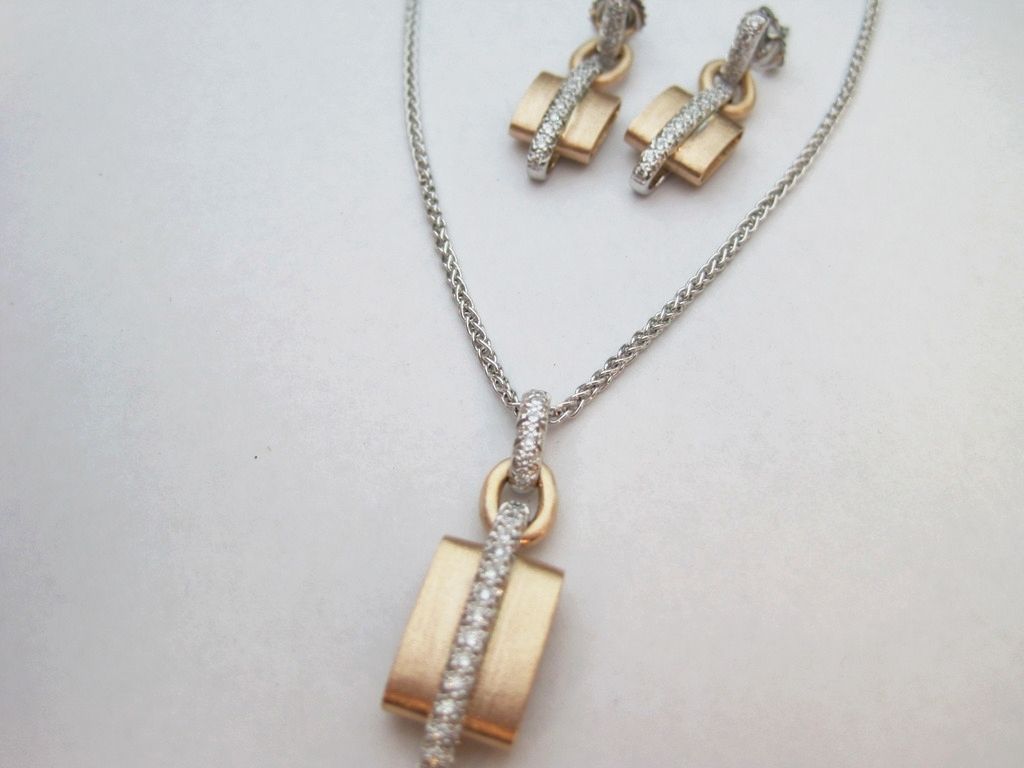 Want a diamond necklace that can be worn every day?
 Miera T. designer circle 14k gold necklace, 16 inch.  Only $395.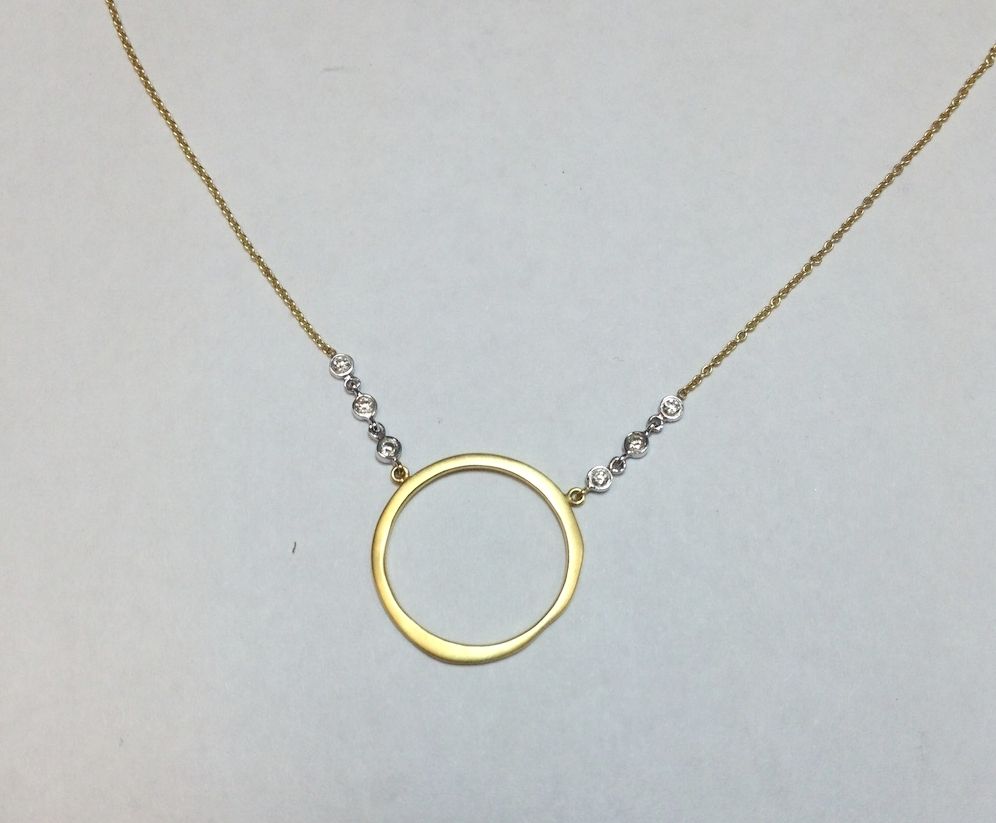 Here's an everyday look that's bright with ICE.
1.50ctw SI2 clarity H-I color diamond circle pendant in 14kw gold, 18 inch. Only $1,995.
These studly-studs can be seen by the astronauts is space…
4.09ctw SI2-I1 clarity H-I color diamond stud earrings with platinum screwbacks.  $27,900.
Want the best of the best for much less?
Charles Krypell designer pink and emerald cut diamond earrings set into platinum and 18k gold.
Retail price $20k, we have them for $10,195.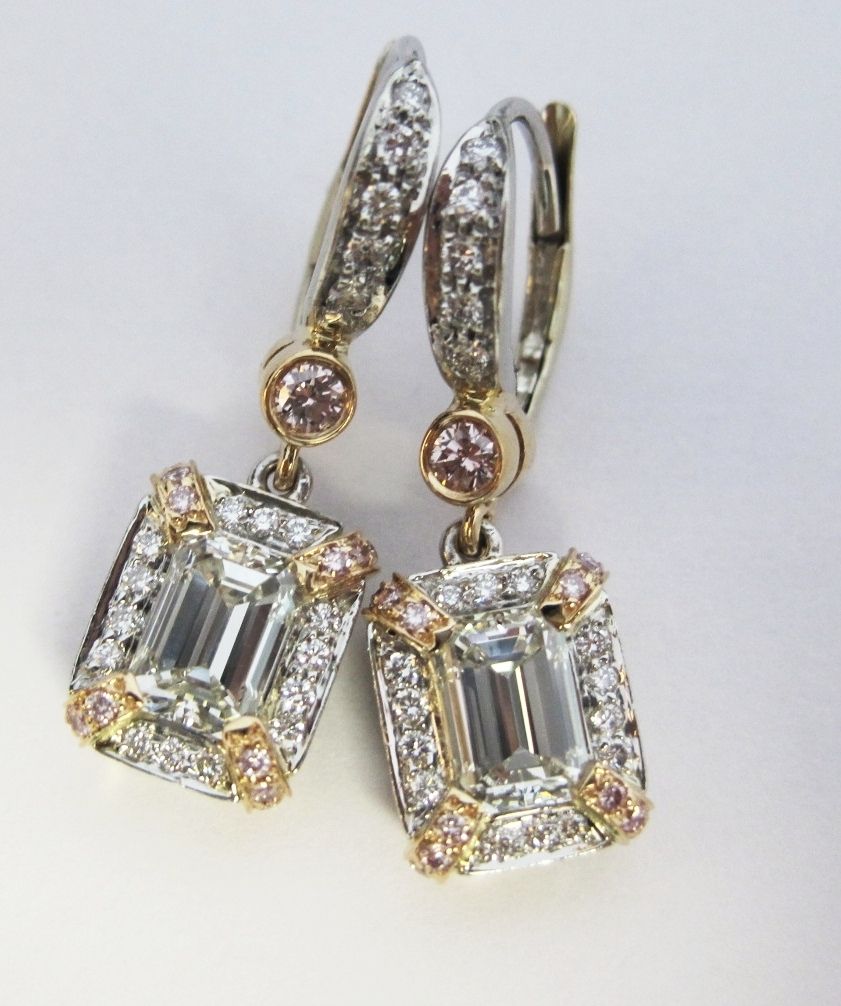 Get the matching Charles Krypell bracelet, 7.25 inches. 
Price is 50% off of retail at $16,650.
.80ctw black diamond earrings, 14kw gold omega backs. Only $415.
Get a 4ctw look for less with these 1.30ctw diamond
cluster studs in 18kw gold. $3,355.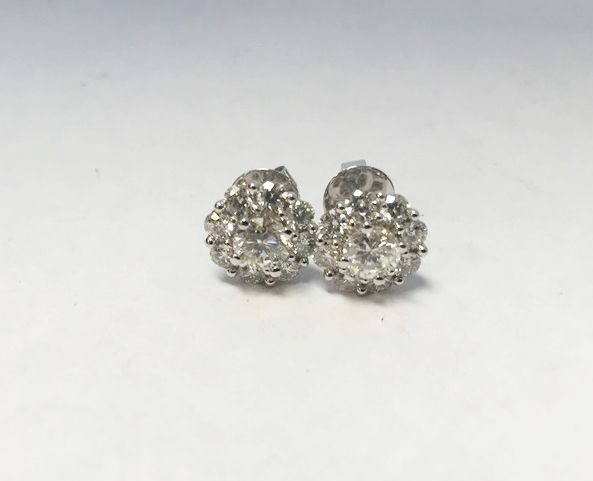 Dangly and delicious! Piero Milano designer .42ctw diamond 1 inch
dangle 14k gold earrings. Only, $1,075.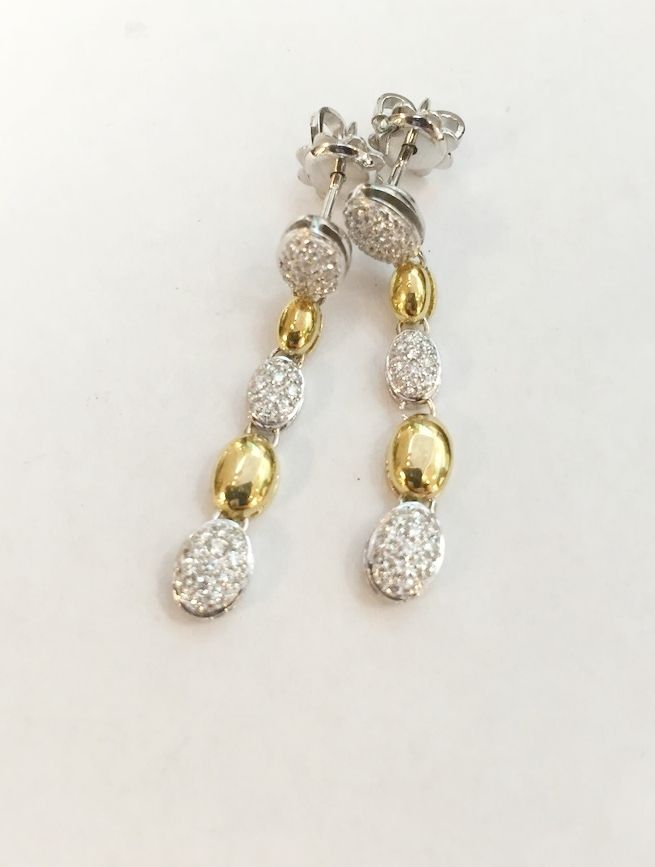 A rich and regal trio. 
Allison-Kaufman Co. .48ctw 14k gold necklace, length 16 inch. $5,295.
Matching .36ctw diamond 14k gold bracelet, 7.5 inch. $2,895. 
Tony Maccabi designer 4ctw smoky quartz accented by .45ctw diamonds in 14ky gold  earrings. $1,995.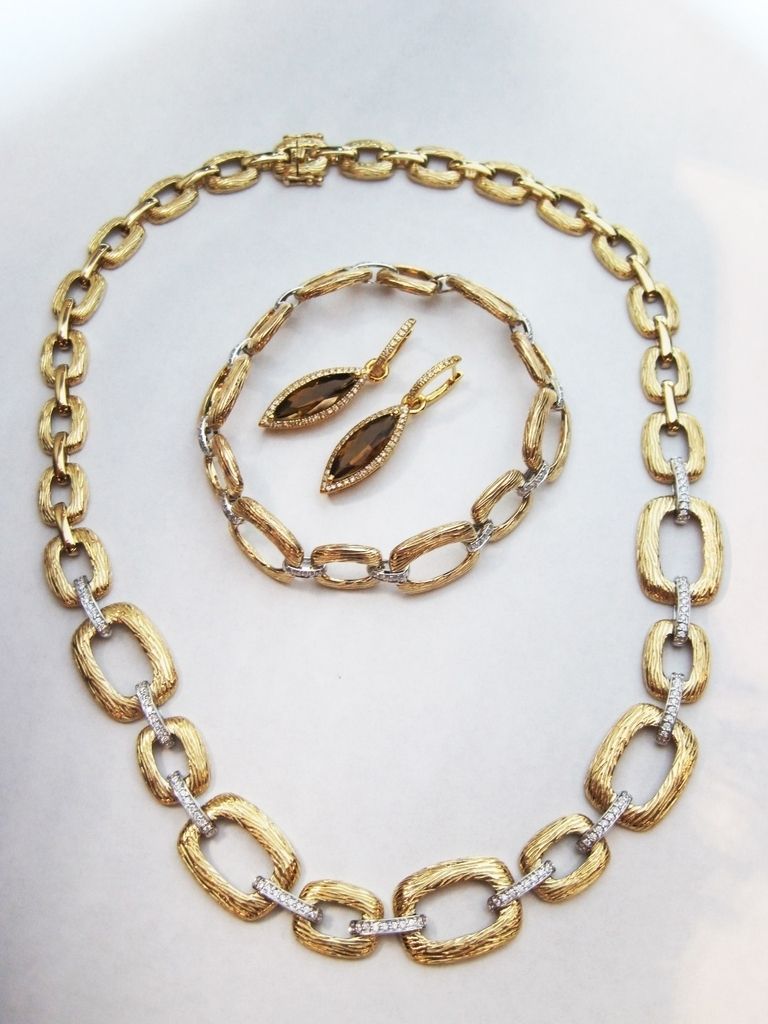 Morganite is often used in engagement rings because of its diamond-like brilliance.
 Allison-Kaufman Co. 1.34ct morganite accented with .31ctw
of diamonds  in 14kr gold, size 7. $2,125.
Tony Maccabi .11ctw diamond triangle necklace
in 14kr gold, 17 inch. $725.
Such a STEAL that you can buy all THREE.
Circle diamond 14kw gold necklace, 17 inches.  Only $365.
Antique style diamond 14kw gold pendant.  Only $395.
Roberto Coin heart diamond 18kw gold necklace, 18 inches.  Only $435.
Allison-Kaufman Co. designer black diamond ring in 14k brushed gold. 
Only $1,195.
This Allison-Kaufman piece is a such a unique diamond necklace.
Halo accented .33ctw diamonds .17 center diamond SI1 clarity, G color. 14kw gold, 18 inches. Only $1,545.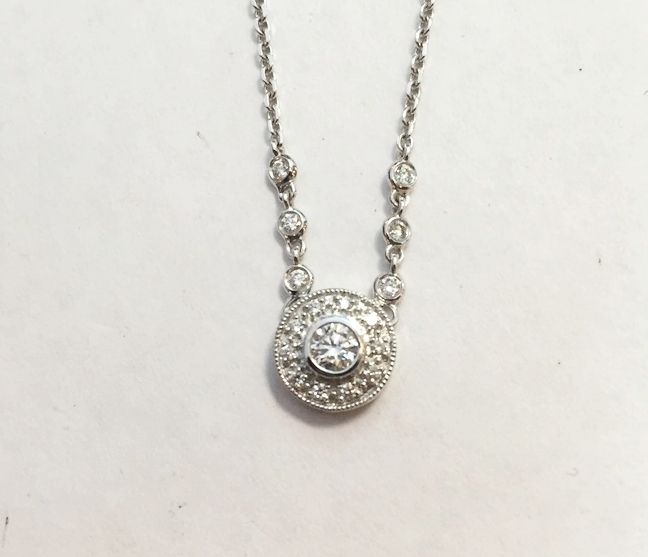 Floating .64ct diamond necklace in 14kw gold, 17 inches. Only $2,195.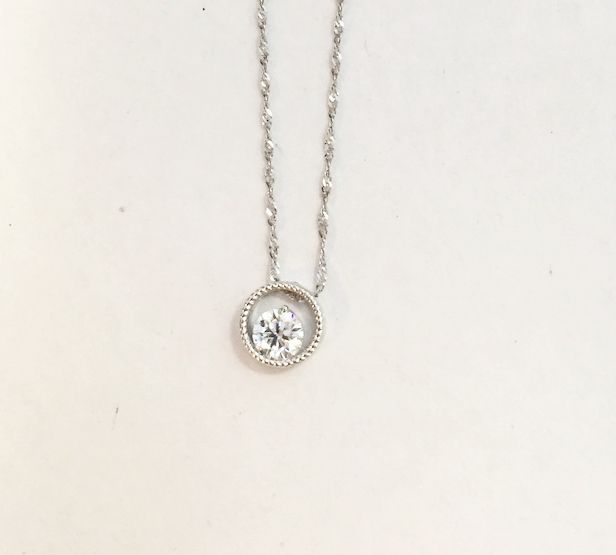 Love vintage? 
This filigree .50ctw art deco diamond necklace in 18kw gold
is so fancy, 18 inches.  $895.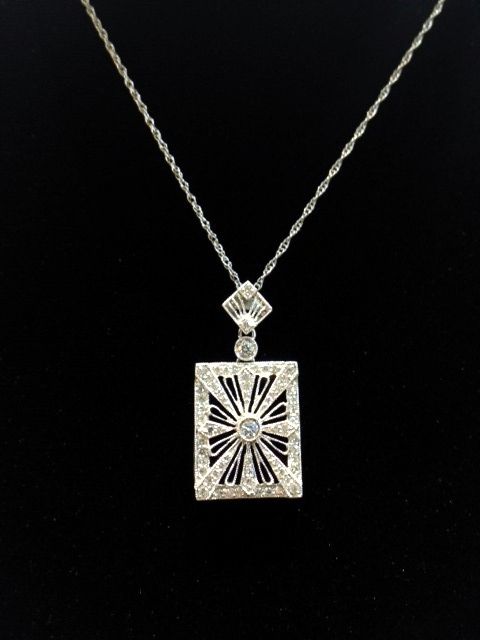 This necklace is so UNIQUE.
Allison-Kaufman Co. set with a diamond slice accented by black diamonds in 14kw gold, 18 inches.  Only $2,145.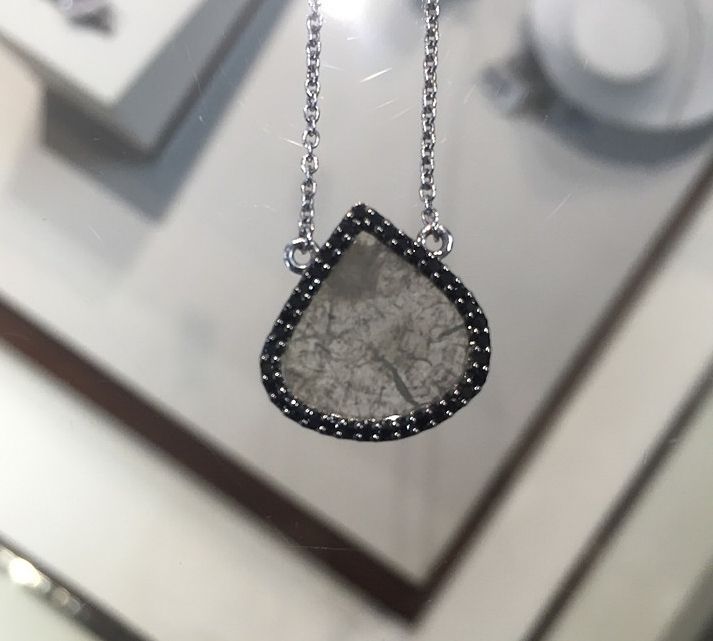 Another unique Allison-Kaufman designer necklace.
Set with champagne, chocolate, fancy yellow diamonds in a pear shaped 14kw gold necklace, 18 inches.  Only, $1,435.
An Allison-Kaufman piece that is back by popular demand, the "Sun Ring".
.64ctw of cognac diamonds accented with .56ctw of diamonds set in 14kyg.  Only, $3,995.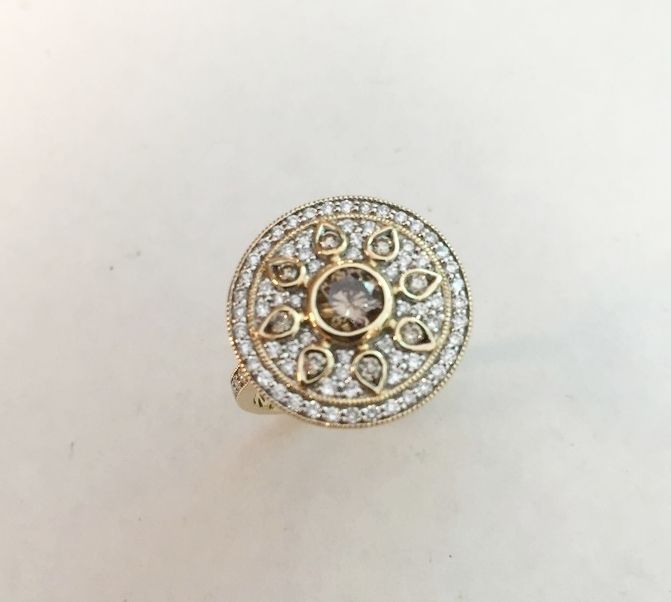 We have the best selection of bands at COMPETITIVE PRICES.
.45ctw SI clarity I color diamonds with .24ctw natural, fancy yellow diamonds in 14kw gold.
Retails for $3,600, we have it for only $2,835.
Nothing looks better with diamonds than BLUE SAPPHIRE. 
2ctw sapphire princess cuts and 1.75ctw diamond princess SI-I clarity G-H color platinum eternity band, size 5.75.  $3,595.
A great gift idea that you can keep adding to throughout the years…
STACKING DIAMOND BANDS.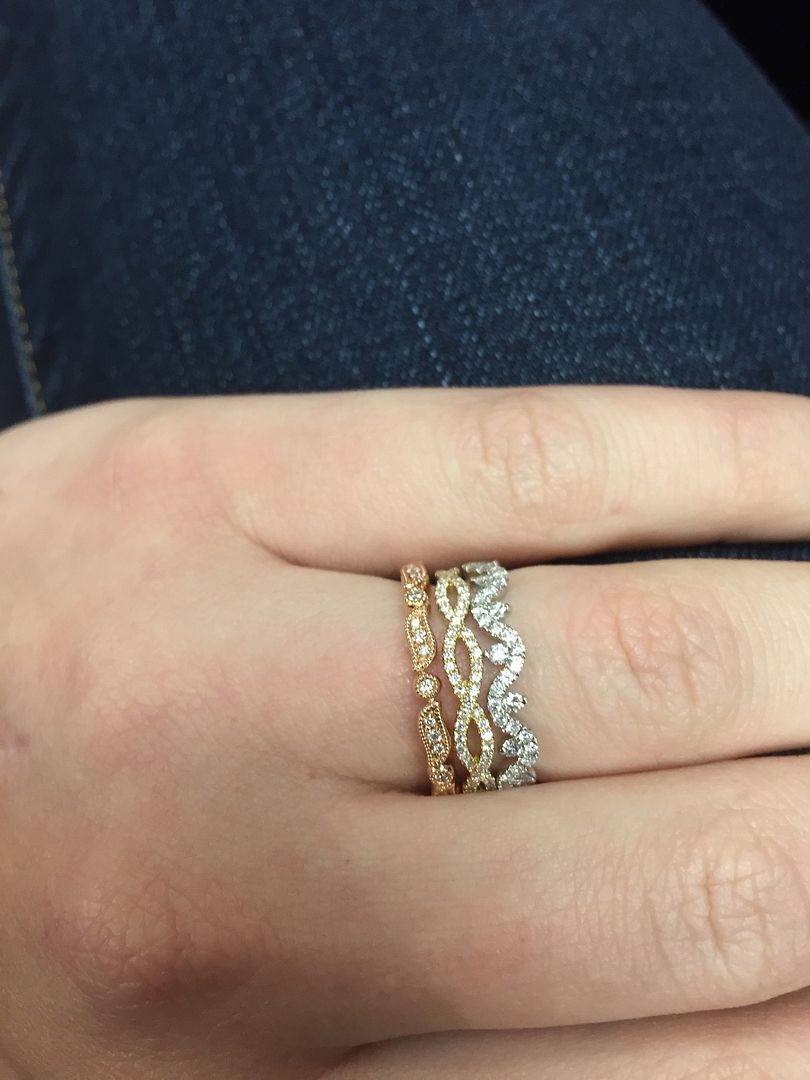 Top to Bottom:
 .38ctw diamond vine wedding band in 14kw gold, size 6.5. $1,495.
.19ctw diamond twist band in 14ky gold, size 6. $805.
.07Ctw wedding band in 14k rose gold, size 6.5. $855.
WE OFFER FREE SIZING WITH ANY PURCHASE OF OUR BANDS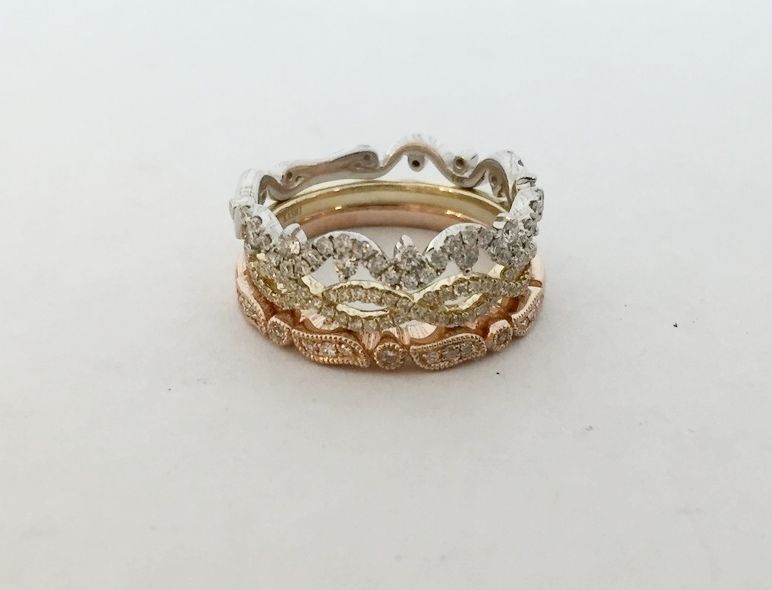 Get that STACKED look with one band.
.25ctw diamond two row wedding band in 14k white gold, size 7. $1,295.
Love rose gold?
.09ctw SI1 clarity G color diamond band in 14k rose gold, size 6.5.
Only $625.
Nothing says, "I LOVE YOU" like a diamond engagement ring.
.73ct SI1 clarity G color GIA certified round diamond with .30ctw diamond accents in 18kw gold, size 6.5. Only $5,975.
FREE SIZING WITH ANY DIAMOND RING PURCHASE
This WEDDING SET is so SWEET.
1ctw engagement 14kw gold ring, SI2 clarity, E color.  Only $1,095.
Matching diamond band.  Only $545.
Three stone rings represent the past, present and the future.
.71ct center 1.51ctw SI2 clarity H color three stone diamond engagement ring in 14kw gold, size 6. $4,200.
YOU CAN ALWAYS COUNT ON US TO HAVE MORE THAN JUST DIAMOND JEWELRY…. LITERALLY JUST IN!
OF COURSE WE HAVE SLANE…
Blue topaz Grace earrings. Only $250.
Vintage David Yurman enhancer in 18ky
gold and sterling silver.  Only $595.
The uber classic David Yurman 10mm 18ky gold and sterling silver
chain, 16 inch.  Only $1,195.
David Yurman oval locket in 18ky gold and sterling.
  Opens with two frames.  Only $265.
Don't get 'iced' by high prices…
…shop at Home Again & Lumina Gem!
Have a great weekend!
Just a note…we are closing early today at 5pm to get a jump
start on Azalea weekend festivities.  🙂
We apologize for any inconvenience.