Want to know something that
FEELS REALLY GOOD?
It's the first time of the year when you 
hit the beach and get your toes in the sand!
It is so true… the ocean does have healing properties, 
so head down to the beach and
LET THE SEA SET YOU FREE!
And after the beach, come shopping at the place where
flip flops and sandy feet are always welcome… 🙂
The store is full of BEACHY stuff this week like this super cute beach
sign on wood that's almost bigger than Ashley… $125.  44X18
Another cute one, available in two sizes!
18X30, $92, 28X48, $195
Check out this SUPER NICE pub set with 6 stool by high end maker Legacy.  
Just $995 takes it home! 54″ square as shown, including 14″ leaf.
Very good condition.
We also received the coordinating buffet…if you don't want to use the wine storage feature, it also comes with a regular shelf.  $595. 61″x17″x38″.
We LOVE this gorgeous black cane king bed…
it's exquisite and a DEAL at $595.
Here is a closeup of the carved headboard detail. 
Bargain time! Just $395 takes home this king
sleigh bed in like new condition. Uttermost gold console, $340. 
Groovy orange lamps, $125 each. 
Good news…we received a TRUCKLOAD of market samples yesterday!
Just one example…look at this settee in a durable tweed with
a Mid Century Modern vibe, $295. 45WX34HX31D
The chair that could pull your whole room together,
with blue, orange and green, $275.  Brand new market sample. 30″W
UTTERMOST GOODNESS. 
Tall buffet lamps in gold with black shades,  $156 each, 47″H.  
Floor lamp, $248, 64″H.  So elegant…
Guys typically hate throw pillows.  Am I right?  
But here are a couple that even he will like…$42.50 each.
Suitable for indoor or outdoor use.
We have four of these awesome X-back barstools that the consignor
literally never sat in… $145 each, must be bought in pairs.  
All of the items in this vignette work nicely together
for an instant designer room!
Espresso king size bed with storage, retails for $1,300, SALE PRICE $525.
Oversized blue art $125, mosaic floral chair $195.
Super nice pair of counter stools from Haverty's in terrific condition,
$125 each, not sold separately.
More fun outdoor pillows, they are flying out of here… $42.50 each.
Get lots of storage in this fun lime green bench, $225.
50.5″WX19″DX17″H
We just received a large shipment of coastal canvases.
 Talk about PUNCH! Don't you just love him?  We do!
Blue crab art, 36″WX 24″H, $125.
We really like this coastal white table…it has SO MANY — USES.  
A bar,  a media center,  a sofa table.. you decide.  $345. 50″x18″x32″. 
Navy and white fish and crab pillows, love love love, $42.50 each. 
Useful white storage cabinet 17″x11.5″x63″, just $95. 
JUST IN…Big shipment of FUN WB plaques on wood,
14″x9″ $28 each.
Navy and white…always a classic, 28″ square, $125 each.
Brand new market sample tufted chaise with nailhead trim,
67″X31″WX35″, $425.
GOING GOING ALMOST GONE…original sea turtle art 33″x27″, $50.
This wonderful dresser retails at Z Gallery for $1,199,
our price $795. 70″x19″Dx35″,
Coordinating nightstand, notice the cool pulls.  
Retails for $499, our price $295. 27″x18″,29″. In like new condition.
We like this folding top table; use it as a desk, dining table or sofa table.
37″ open, 18.5″ closed, 57″W, it's a super buy at $295.
Brand new market sample sofa in gray by Michael Nicholas with
down blend cushions, it retails for $815, our price  $595. 74″W, 45″D, 30″H
Gray and white slipper chair in like new condition, 26.5″W, $175.
~~COLLEGE KID SPECIAL ~~
This slipcovered sofa in blue twill is in otherwise good shape, but there is definitely some fading, so we PRICED IT TO MOVE at $295.
83″W, 41.5″D, 31″H  Sorry, pillow is sold.
The scale of smaller round coffee tables are
super functional with sectionals, and this is a great one at $225.  32″D
This beautiful mirrored console has a minor chip on the bottom of the door…so it's price to MOVE!  It retails for $1,370, our price, $495. 40.5″x22″x40″.
Isn't this super cute?
Window fish art 28″W, 20″H, $125
Ocean and boat themed abstract art canvas ,
40″W, 30″H, $145
This lovely mahogany table by the Milling Road Collection for BAKER 
 would make a GORGEOUS bar.  $325. 38″x21″x38″.
So much fun…red crab art, 40″W, 30″H, $145
DEAL ALERT
This handsome media cabinet in dark espresso retail for over $1,000,
come STEAL IT for $250!
Vibrant and happy, you can hook Mr. Fishy Fishy for $125.
 36″W, 24″H
Fishy fishy art # 2 , 36″W, 24″H, $125
We don't take many glass tables, but we liked the old Charleston look
of this classic coffee table,  56″W, 30″D, a great buy at $225.
Heavy and good quality. 
Handsome storage bench with a tone on tone Greek key pattern, $225. 
Brand new showroom sample, 50.5″WX19″DX16″H
This won't last…sea turtle art, 40″W, 30″H, $145
This is the nicest set of candleholders…they are sizable
and the largest is 17″ high.   $72 for the set.
So life-like…pier art 27″W, 33″H, $95
We had this demilune console in before, and it flew out of here.  
Take it home for $265. 48″x16″x33.5″.
If you can't make it to Europe this summer, take home this
nice country road art instead, $125. 47.5″x36.5″.
These shell pillows are great indoors or out, $42.50 each
You can't see just how rich this sideboard is…it has a dark brown finish with hints of deep gray shot through it…63″L, 33.5″H, 18″D, $825
This art is much more vibrant in person…custom framed tropical scene
in a rich gold and black frame, $125. 36″ square.
Want to jazz up your dining table?  How about these nice wood and rattan
chairs at either end?  Just $75 each. 20″W.
Pair of pretty pastels…say that three times real fast… 🙂
$125 each. 30″x26″.
This 46″ round outdoor mosaic table WILL NOT LAST at $145. 
GOING GOING ALMOST GONE…
Come get these wicker tables on final markdown.
End tables, $40 each, coffee table, $75. 
Just an FYI, if you have any outdoor furniture to consign,
NOW IS THE TIME!
These Brown Jordan chaise lounges are sporting
brand new outdoor cushions, $225 each.  
Know what we love just as much as the sea?  SUNSHINE!
It's time to get that color back into your life, 
and we've got you covered…
This Michael Christoff designer tanzanite ring
is perfect for Spring and Summer.
4.02ct tanzanite and 2.57ctw diamonds in 18kw gold. $5,795.
1.43ct aquamarine cushion cut accented by .33ctw diamonds
set into 14kw gold.  Only $835.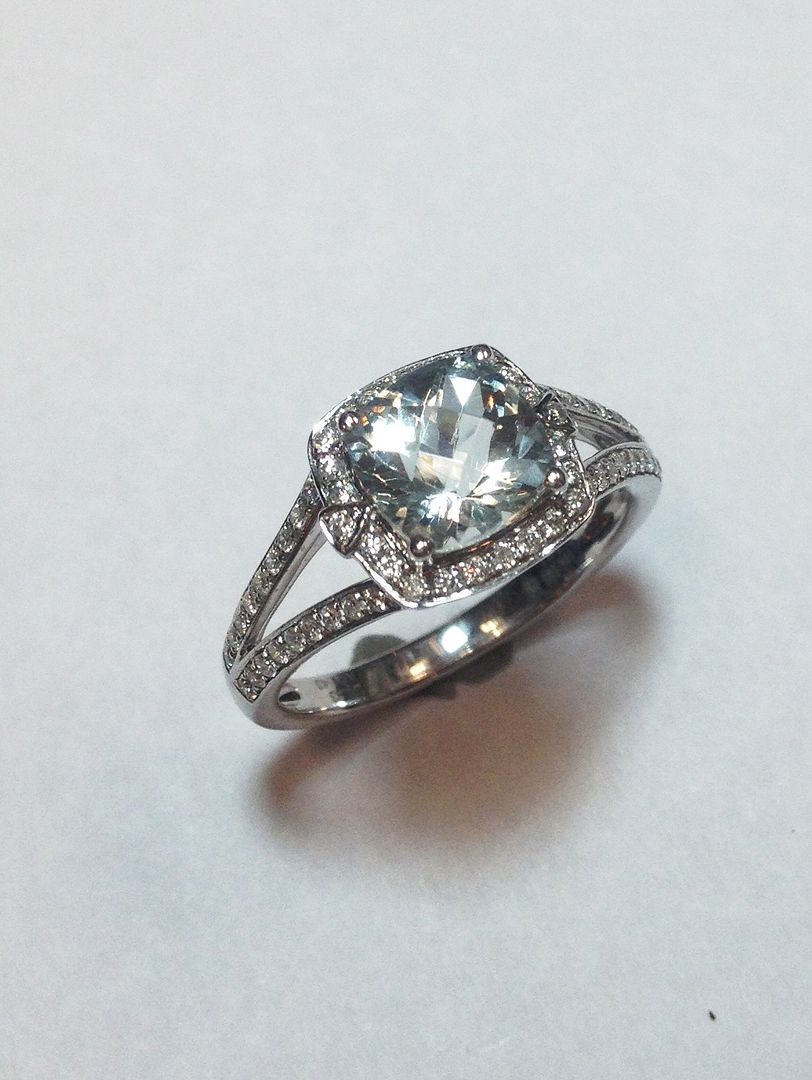 Look at the color in this emerald ring!
1.07ct emerald and .54ctw diamonds in 18kw gold. $2,795.
JUST IN…
Two Maralago designer larimar pieces
Larimar can only be found in Dominican Republic, and
Maralago is the finest larimar jewelry designer in the world.
20x15mm larimar cabochon, sterling silver with 14kt accents.  7 inch. 
Only $295.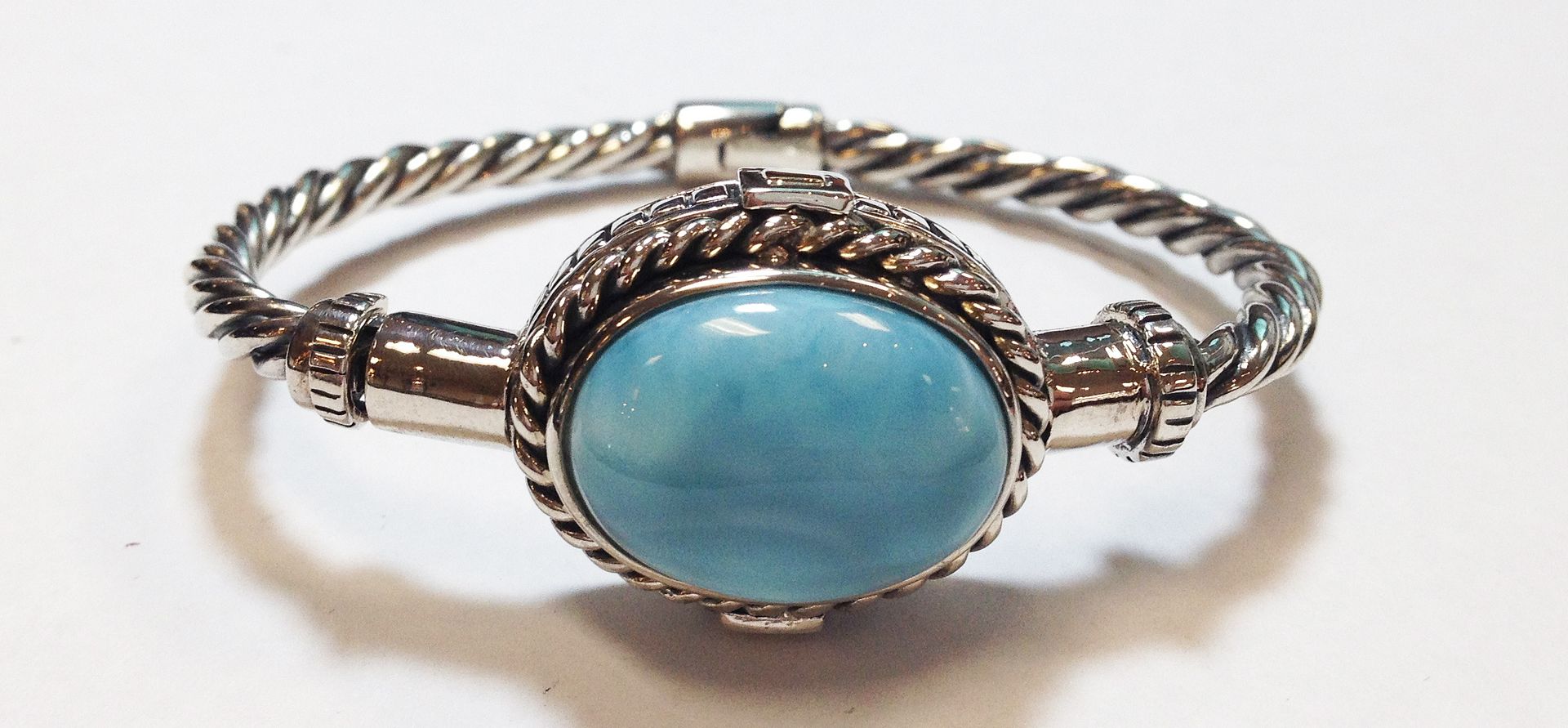 The natural design in this Maralago piece looks like the ocean.
Pear shaped larimar, 2 by 1.5 inches.  Bali style sterling silver adjustable necklace 16 to 17.5 inches.  Only $395.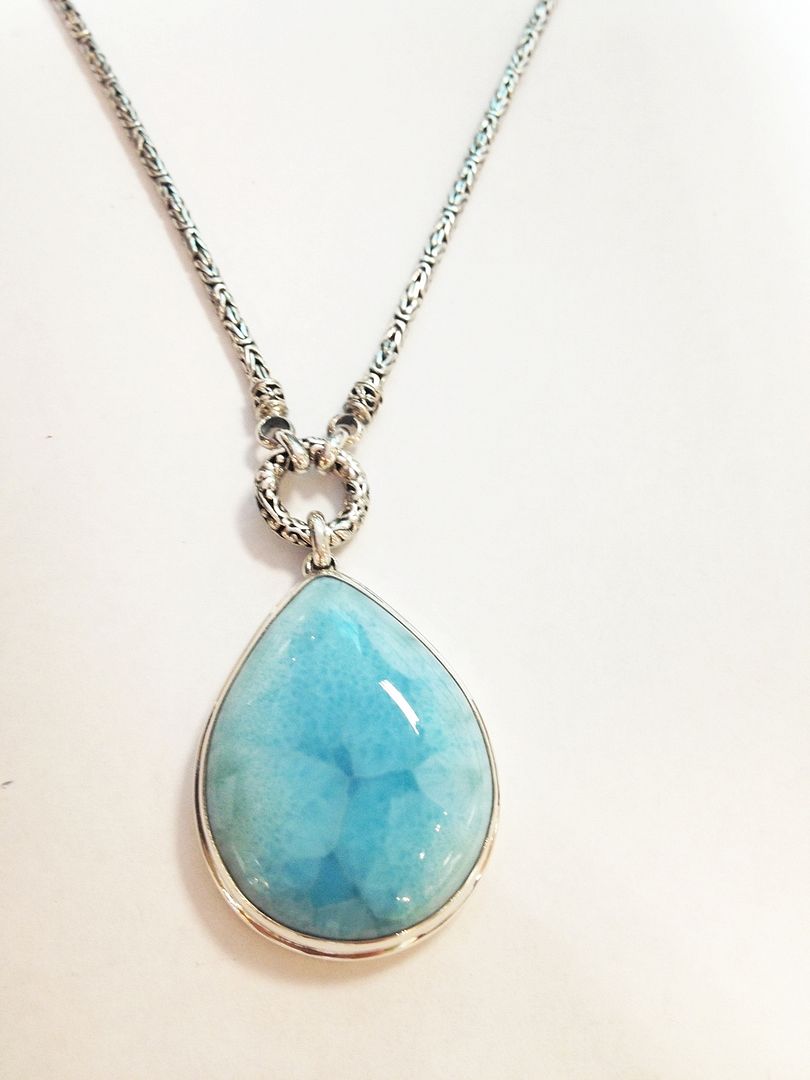 Show your love for the sea with these shell pendants.
Scallop slide pendant, 17.8 grams of 14ky gold.  1.5 inches.  Only $695.
Sand dollar pendant, 6.9 grams of 14ky gold.  1.25 inches.  Only $295.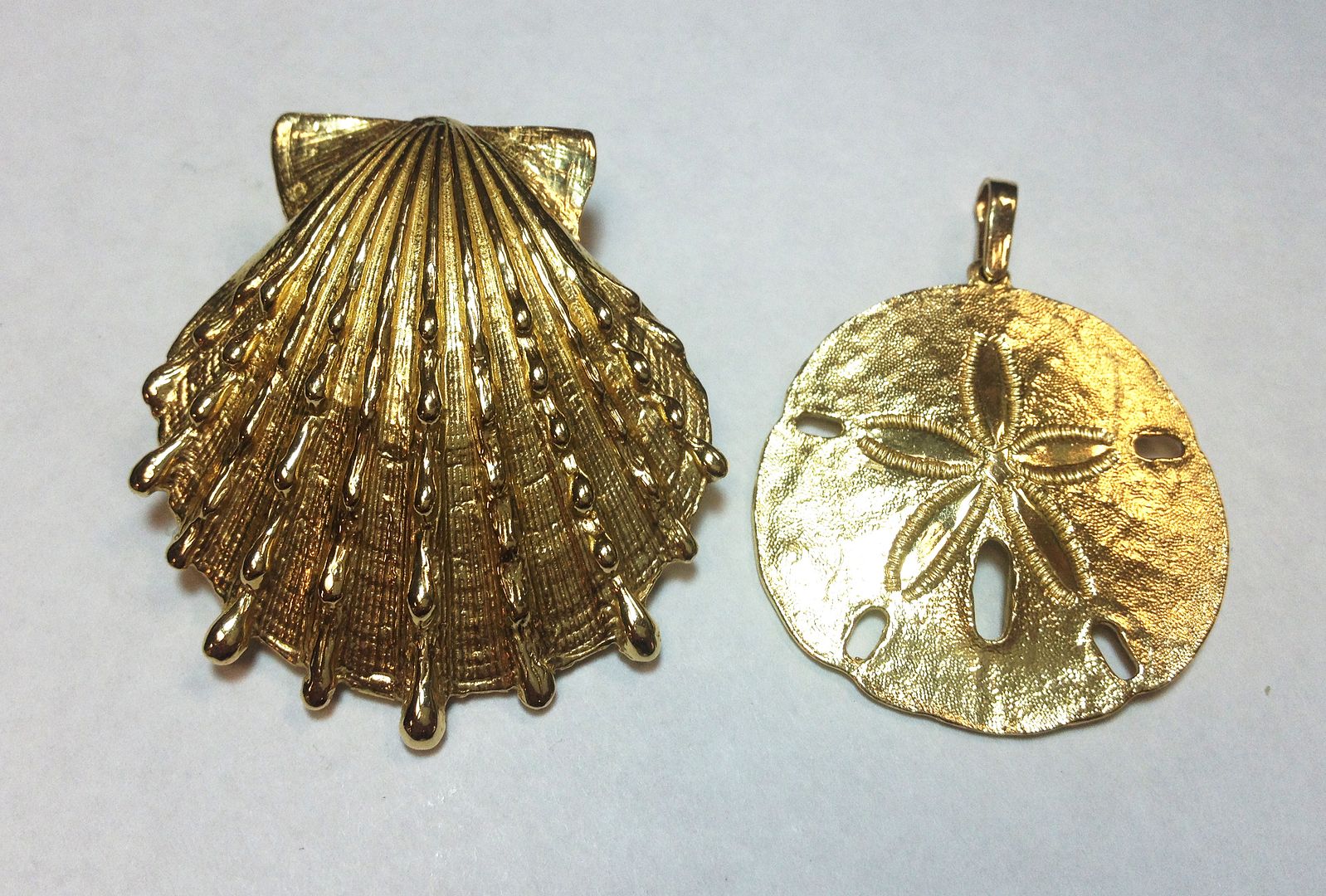 The golden color that citrine displays looks so good in yellow gold. 
22ct citrine bezel set into a raised slide pendant with .36ctw diamonds, crafted out of Italian 14ky gold with a substantial mesh 18 inch chain. 
Only $995.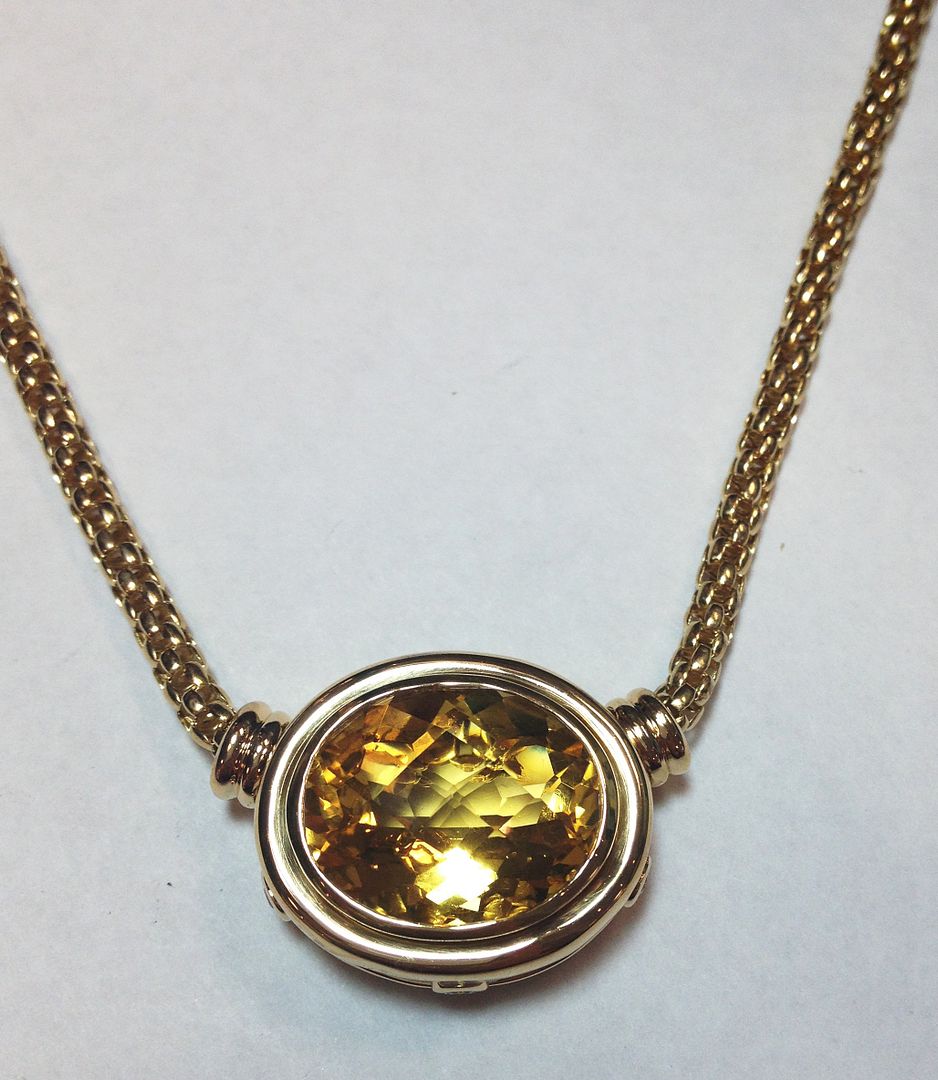 2.50ctw iolite and citrine princess cuts set into a 1/2 inch wide 14ky gold cigar band.  Only $395.
Pearl jewelry is organic beauty from the sea.
Prices here ranging from $95 to $295.
Get a deal on these pieces.
Mabe pearl set into onyx overlay set into a 14ky gold enhancer
that will fit up to a 7mm chain or strand of pearls. $295.
Imperial Pearl Company is considered more fine than Mikimoto.  This strand features 6.6mm Akoya pearls, 18 inches, finished with a locking 18ky gold clasp set with a diamond.  $1,595.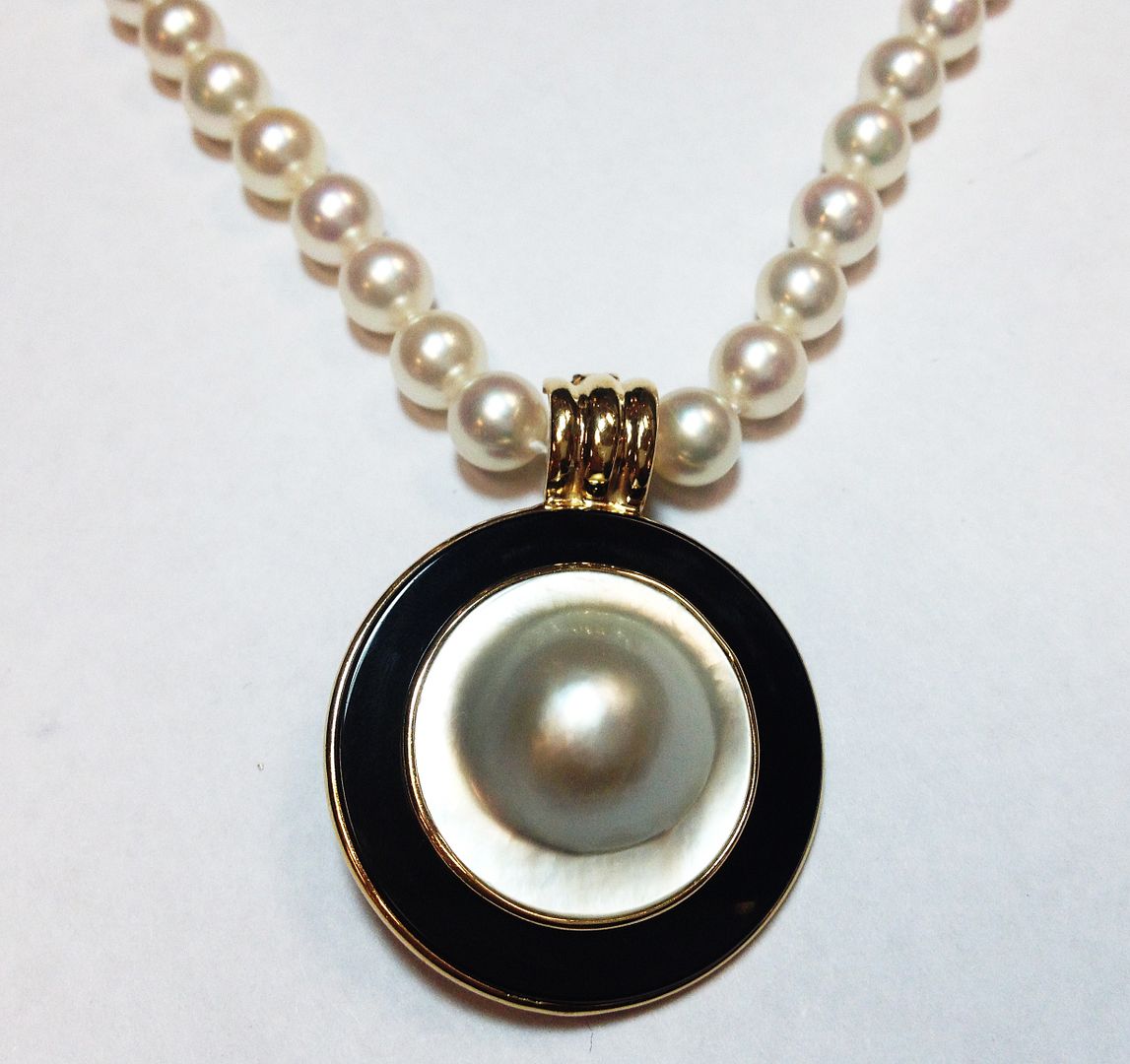 Look at the lustre on these Imperial designer pearls.
RARE…Paloma Picasso Tiffany & Co. "Daisy" collection in sterling silver with 14ky gold vermeil.  Only $245. Can you say GARDEN PARTY???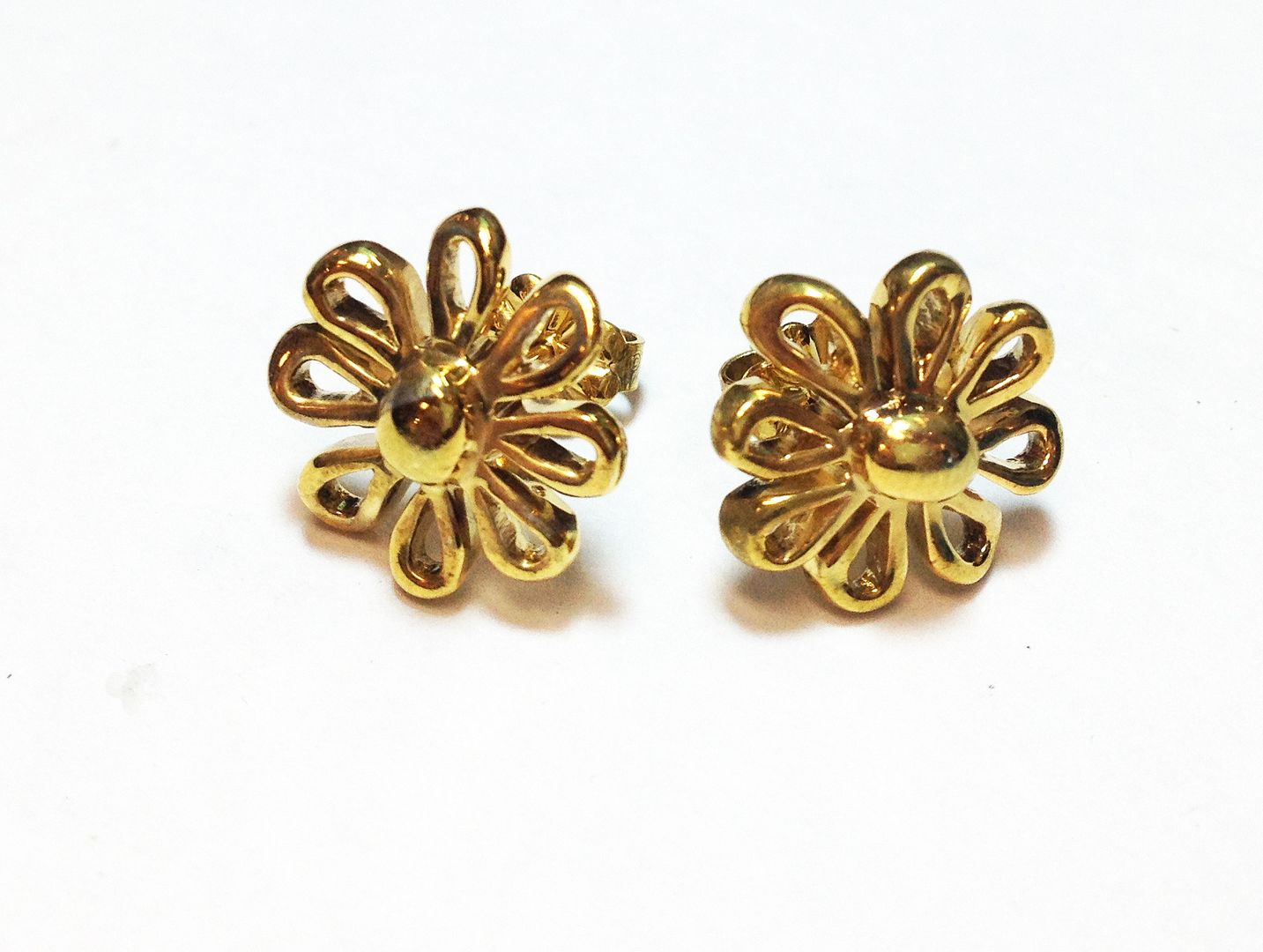 April's birthstone is the glistening DIAMOND.
RARE…Movado "Ono" collection 5ctw diamonds set into an 18ky gold,
size 7 inch. $9,995. STUNNING…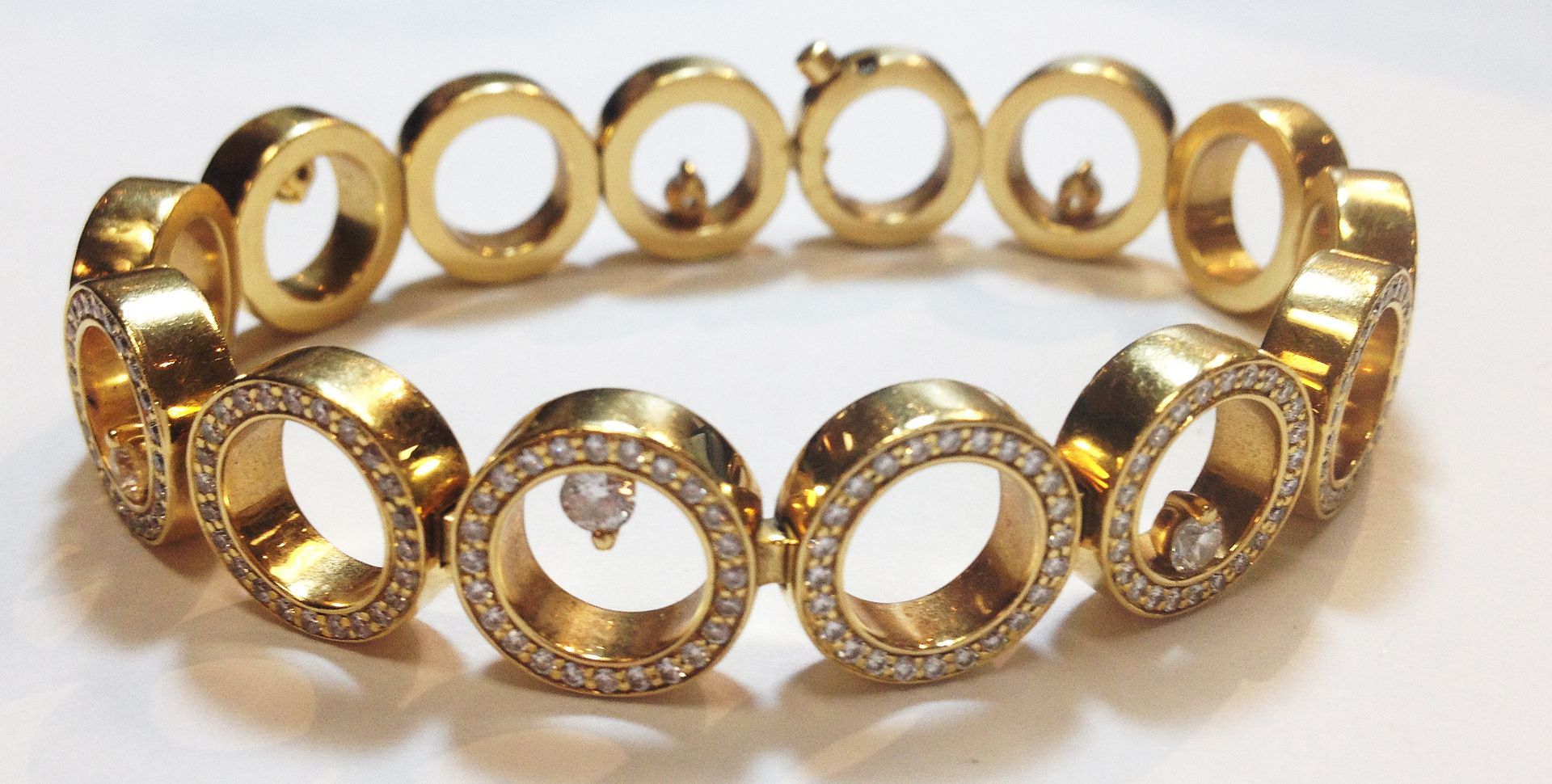 A STEAL that you DO NOT WON'T TO MISS!
.73ct SI1 clarity G color GIA certified round diamond with .30ctw of accent diamonds in 18kw gold. Size 6.5. Only $5,975.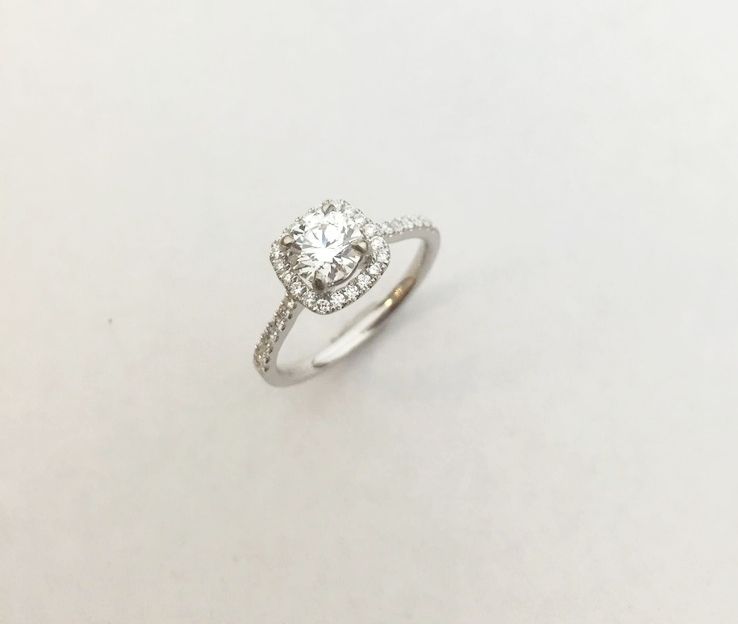 Classic buckle diamond earring huggies in 14ky gold. $645.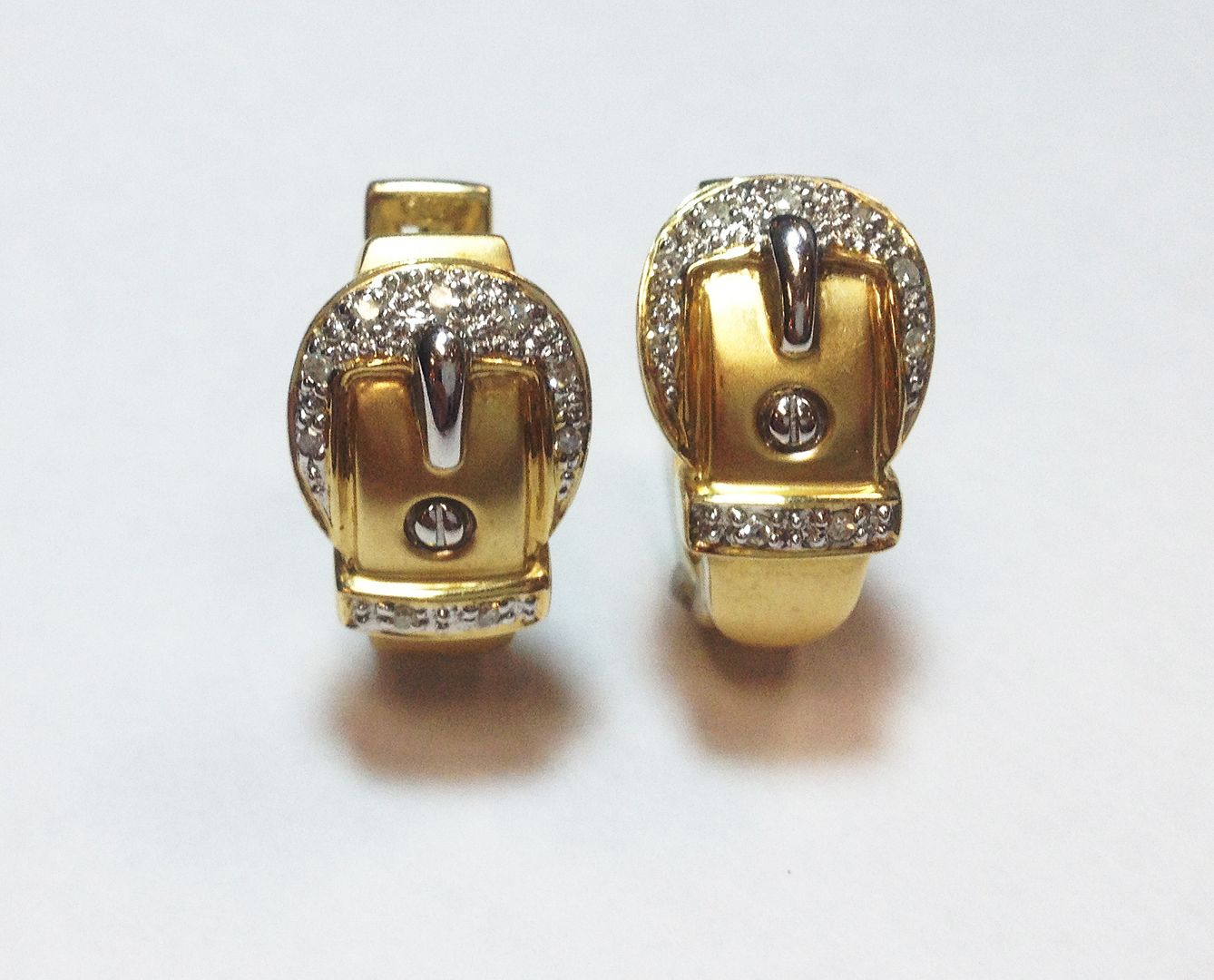 Lovely 1ctw diamond dangle earring in 14ky gold,  $945.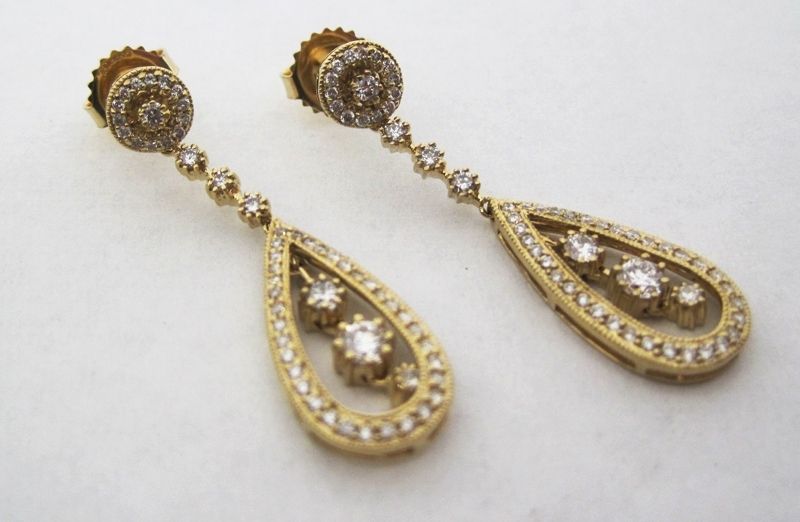 We are fully stocked with diamond earrings
for that April birthday girl.
Inside-out diamond hoops are on every girls wish list. 
Prices range from 1ctw $1,495 to 3ctw $6,295.
Come in to see the HUGE selection that we have in diamond studs…
here is just a peek.  (l-r)
1.24ctw in 14kw gold.  (SI/I clarity, H/I color)  $2,795.
1.48ctw in 14kw gold. (I1 clarity, H color)  $2,395.
1ctw in 14kw gold. (SI/I clarity, H/I color) $2,595.
1ctw in 14kw gold.  (VVS1 clarity, G color)  $2,995.

 DIAMOND NECKLACES TOO….
1.33ct diamond pendant set into 14kw gold with an 18 inch chain. 
$7,995.
Diamond bracelets in all price ranges for that special lady.
Prices ranging $675 to $3,995.
Jeannie's fave…this diamond band will look great with a tan.
1.75ctw diamond pave set 4 row band in 14kw gold, size 6.5.  Only $2,395.
GET GARDEN PARTY READY
with a statement piece of jewelry.
Angie Bassett necklace with a painted floral porcelain medallion
and sardonyx faceted beads, 16 inches.  Only $175.
These gorgeous Katharyn Zava handmade
pieces are great for the GARDEN PARTY.
Turquoise necklace, $275.
Crystal bead necklace, $95.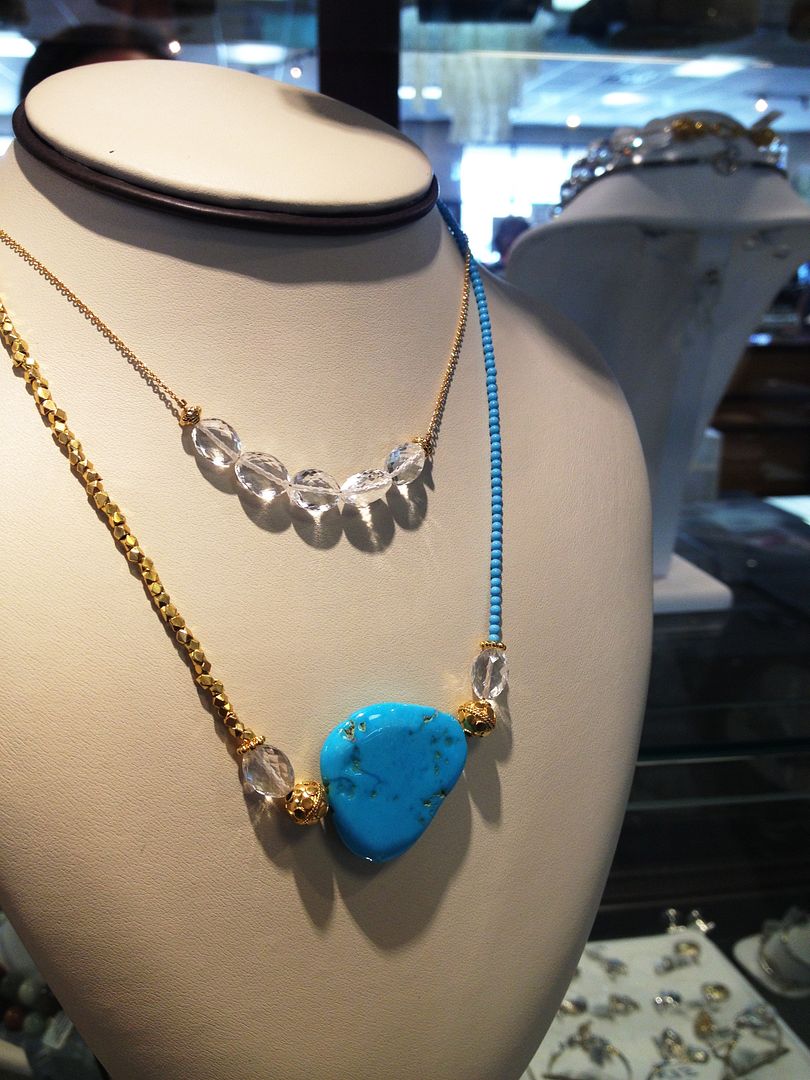 Katharyn Zava carnelian agate with 22ky gold vermeil beads, 17 inches.  $215.  Switch designer carnelian agate bead necklace, 36 inches.  $165.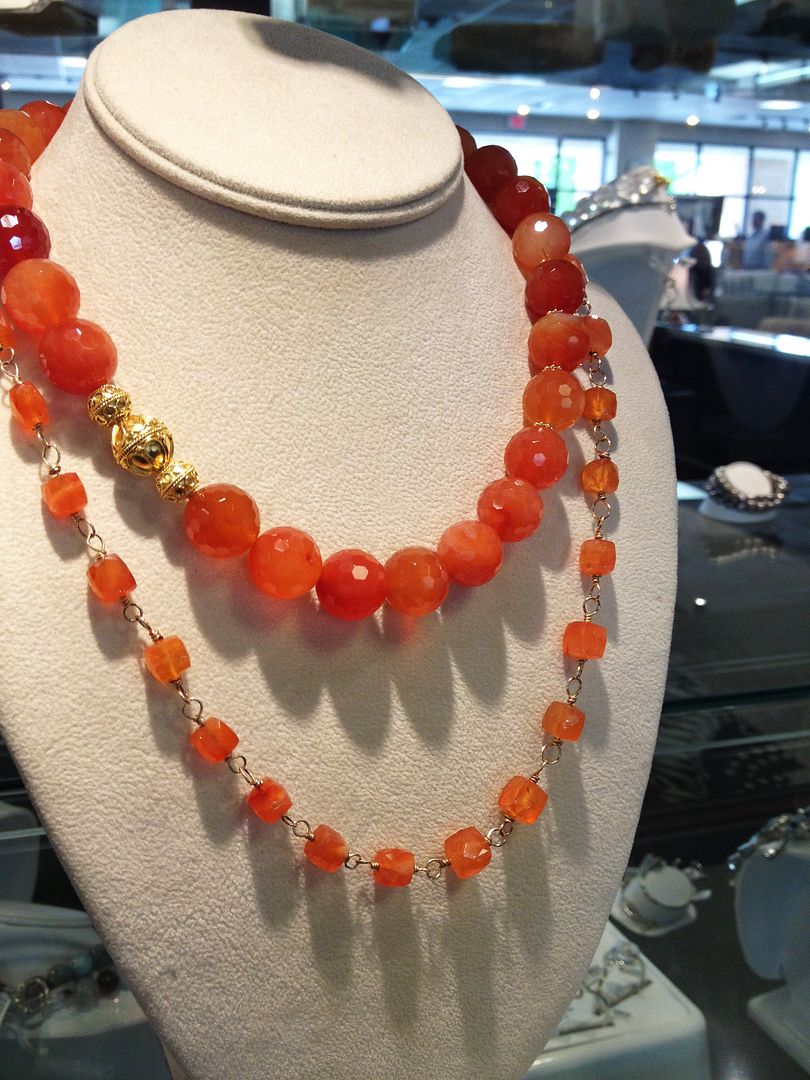 ~MORE KATHARYN ZAVA~
Crystal bead necklace with 22ky vermeil clasp, 17.5 inches.  $195.
Paua shell, labradorite and sterling silver beads, 23 inches.  $195.
Native American handmade signed RMT with a lapis, turquoise and malachite set into a sterling silver cuff with 14ky gold accents.  Comes with artist information and original packaging. Only $95.
LAST CALL!  CONSIGNOR MUST SELL!
This ring is a steal of a deal with a center VS1 clarity, IJ color 2.17ct radiant cut diamond accented by 1ctw emeralds set into platinum.
  Started at $24,900, Now only $13,495.
~JUST REDUCED BY CONSIGNOR~
Antique Belmont 2ctw diamond 14kw gold watch in excellent working condition.  Was $3495, now $1,875.
Another Reduction in Pricing…
Ladies Tag Heuer mother of pearl accented with diamonds on the marker
and a calendar in stainless steel case.  Was $2,195, now $1,495. So rich.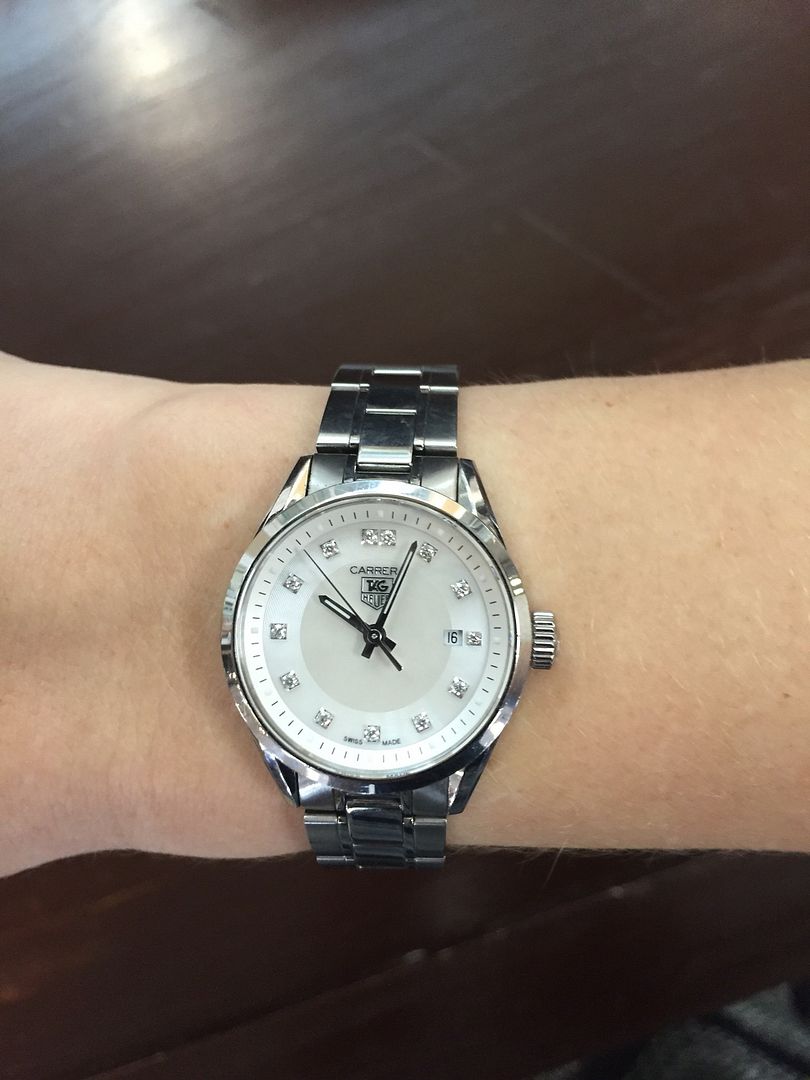 Have a great weekend everyone, and thanks
for reading our email.  
~~~~~~~~~~~~~~~~~~~~~~~~~~~~~~~~~~~~~~~~~~~~~~~~~~~~~~~~~~~~