Have you adjusted to daylight
saving time yet?
Or do you feel like you're never going 
to catch up on your sleep? 
Why fight it…
It's SUPER SLEEPER WEEKEND!  
All sleepers are 10% OFF!
Just in time for a great nap…
a new shipment of SLEEPERS is in!
Brand new red queen sleeper, 10% off, just $895
this weekend only! 84″ W. Poppy art, $72.
Another great queen sleeper, this one in a soft turquoise,
take it home this weekend for $895. 82″ W. 
The sleeper looks great with this large tin art,
we love the color!  $145. 36×36″ Sq. 
DEAL OF THE WEEK…
Load up throw pillows, kick back and relax in this deep seated
oversized POTTERY BARN sofa, $695. 95″ W.
CUTE  zebra upholstered Queen Anne style footstool,
$52. 23.5×20.25×20. 
This swivel glider sits so comfortably, it's no wonder it's one of our best sellers. The contrasting welt and skirt give it such an elegant tailored look. Two available, $595 each. 30.5″ W.
This super luxurious Italian leather modern chair
retailed for $1,800, our price $495. In great condition.
Oooh la la, you could really glam up this Art Deco 3 drawer chest.
Check out those legs and picture frame molding.
Retails for $1200, our price $495. 34.5×17.5×36.
More SLEEPER GOODNESS!  This brand new queen sleeper in neutral tan is
10% OFF this weekend, so just $895 takes it home!  SCORE. 80″ W.
We also have two coordinating chairs for the sofa, in a soft khaki
and blue stripe, brand new for $495 each. 35.5″ W.
This is such a unique Tiffany style chandelier with a sea shell motif,
look how the light shines through, $245. 36″ H without chain.
 This large scale desk has a great 7′ length, allowing plenty
of room to work. We like the unique Art Deco lines.
~~IT IS A STEAL AT $245.~~
It's a SLEEPER CHOFA and it's 10% off! Get the best of both worlds with this sleeper, chaise combo!  The reversible ottoman has storage too!
$1075 this weekend. In a durable taupe tweed.
Do you like beachy looks?  We've got beachy looks!
Abstract art canvas, $145.  Fish prices start at $25 each.
Coastal king headboard, $295, starfish chest, $295, 
pair of blue chairs, $382 each, pillows $19 each. 
'Cause girls just want to have fun… look at our new display
of sandals, wedges and jewelry in bright springy colors!
Let your tootsies fly free for only $12 each. Sizes 6-9.
This metallic green and coral lily pad art was a huge hit a few weeks ago,
and we were able to get 2 more!  $245. 50″ Sq. Phone orders accepted.
This tray is actually taller than it looks in the photo and
would make a lovely bar! A steal at $75. 32×21.5×29.5.
Speaking of BEACHY, we have TWO of these super cool
marlin lamps for $145 each. 31.5″ H.
This bright and cheery ottoman and pillows will incorporate all your coastal colors with it's fun and fresh paisley pattern. This won't last long!
Ottoman, $295, 48x23x16. Pillows, $22 each. 
DEAL ALERT!
Coordinating console and side table set in an attractive dark wood with bamboo inlay; console just $145, 59×18, side tables just $85 each. 
Another fresh spring look! We love the updated wingback look paired
with the transitional trellis pattern, brand new for $525 each. 28″ W.
Have you always wanted a hanging pot rack?  
Here you go!  Just $125. 42x18x15. 
TREND ALERT! This orb pendant will add visual interest to your space while providing an easy transitional style.
The consignor paid $639, our price $335.
From super high end maker LEXINGTON, you can pick up this classic
celery sofa with coordinating pillows for just $695. 85″ W. 
Need somewhere to sit down and do your taxes?  I know. Yuck.
But a least you can do them in a happy place!
 Marlin triptych on wood, $225,  blue designer lamps, $75 each, 
solid wood desk, $265,  seagrass chair, $62, 3 available. 
We say that you never know what you'll find
at Home Again, and this just proves it …come meet the amazingGIANT POTATO GARDEN SCULPTURE.  
It retails for $750, our price $225. 20×28.
Anybody out there from Idaho? 🙂
ON SALE!  This wonderful pie safe retailed for $3,000,
our sale price is now just $695. 62x24x65.
Easy to re-paint if you need a different finish.
Need a happy spot to relax?  These brand new swiveling starfish
chairs are super fun at $525 each. 36″ W.
This folk art inspired mirror in reds, greens and beige has such
an interesting and rich look, $195. Large scale, 30×40.
Monkeys are at play on this Braxton Culler chair, just $325. 30″ W.
This ginormous chevron octopus was done by a local artist,
we love the detail.  Marked down to $195!  Massive, 51×47.
This turtle is being shy right now, but with the weather warming up,
he is sure to come out of his shell soon!
Hanging turtle wind chime, $62. 38″ H.
Don't forget…ALL SLEEPERS are 10% off this weekend.  
Take home this soft green queen sleeper for just $895 this weekend! 82″ W.
Want to know a secret?
We are SO PROUD to announce that we are Wilmington's
new exclusive dealer of ALWAN VAHAN.
We'll have our first shipment in about
4 weeks and will keep you posted!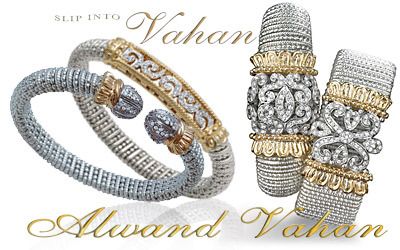 In the meantime, look at our amazing new arrivals!
David Yurman oval link cable pieces in sterling silver and 18ky gold,
both come with original pouch.
Necklace: 12mm, 18inch. Retail, $2950. Buy here, $1,995.
Bracelet: 10mm, 7.5inch. Retail, $1,200. Buy here, $795.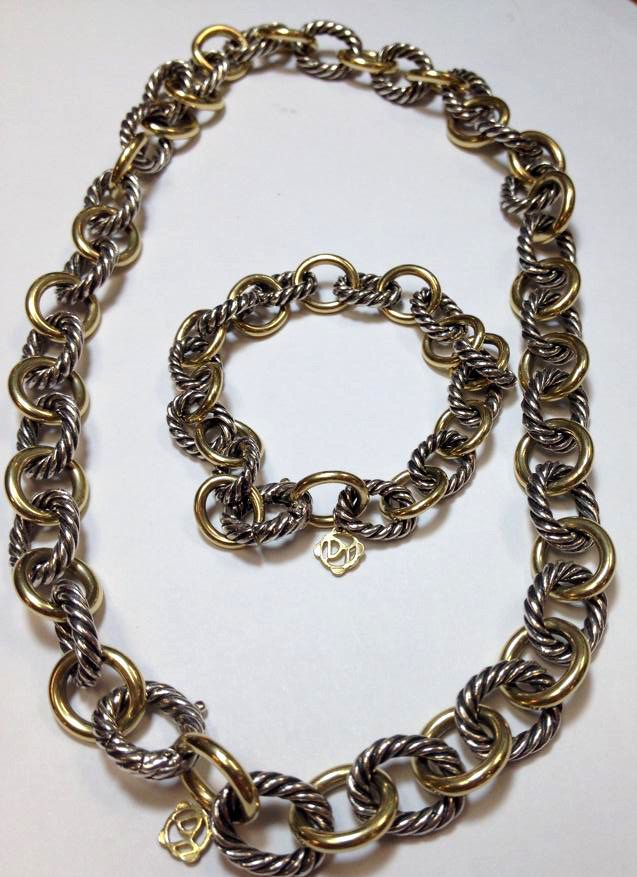 David Yurman cable 5mm buckle cuff.
Retail, $750. Buy here, $495.
~Look at these bracelets together…
at such a great deal, you can buy them both~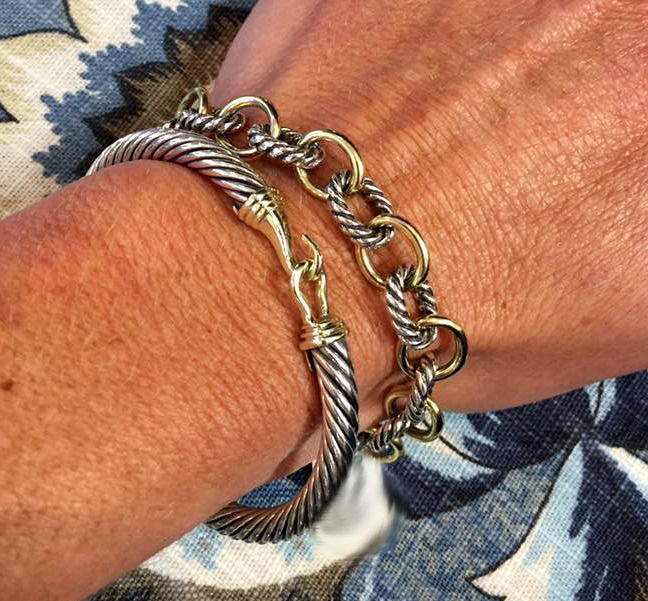 True retro style…everyone should have a scarab style vintage bracelet.
Natural multi-gemstones set into 14ky gold, 7.5 inch. $595.
12mm cabochon labradorite set into an antique 18ky gold leaf ring.
So much fire and life for $965.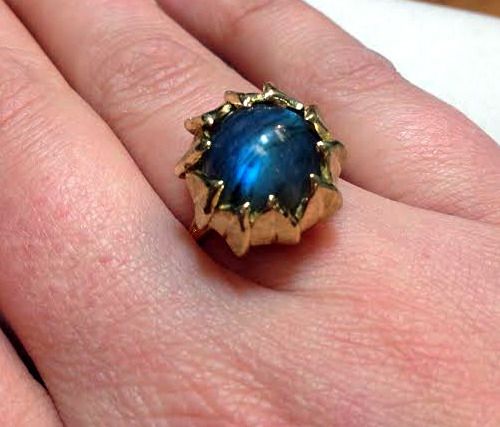 David Yurman Bijoux, chalcedony, pearl and quatrefoil,
48 inch sterling silver necklace. Only $695.
So rich looking… pheasant feather 14Ky gold brooch,
signed be McKoy, the artist.  $995.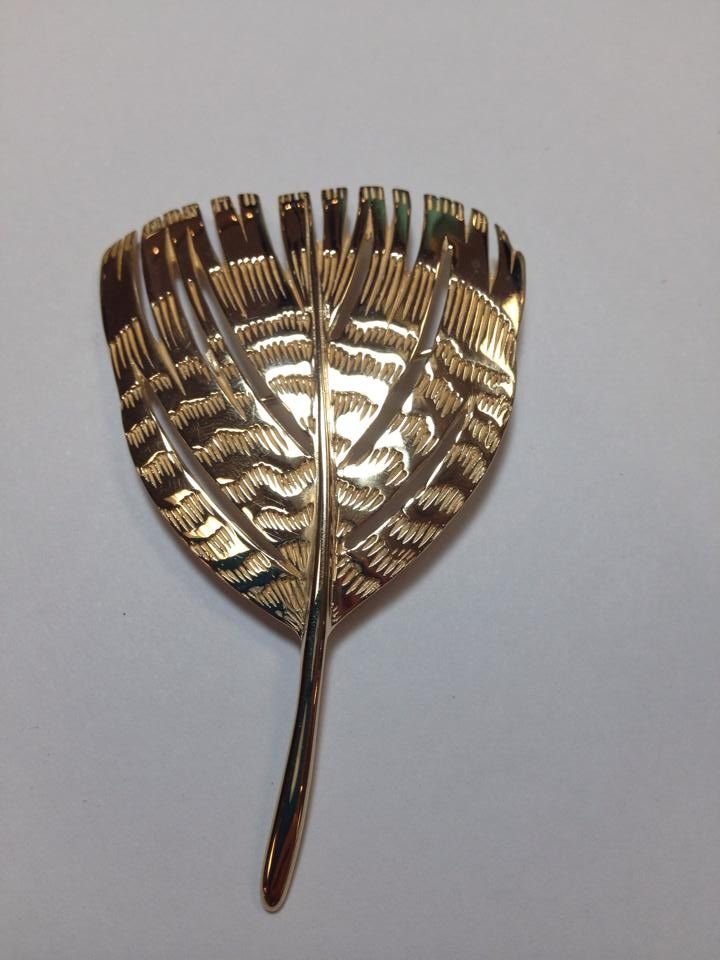 Classic Roberto Coin hinged 18ky gold hoops, a super deal at $895.
.75mm rose gold box chain, 14k rose gold, 18 inch.  Only $195.
Pineapple 14k tri-gold pendant.  Only $295.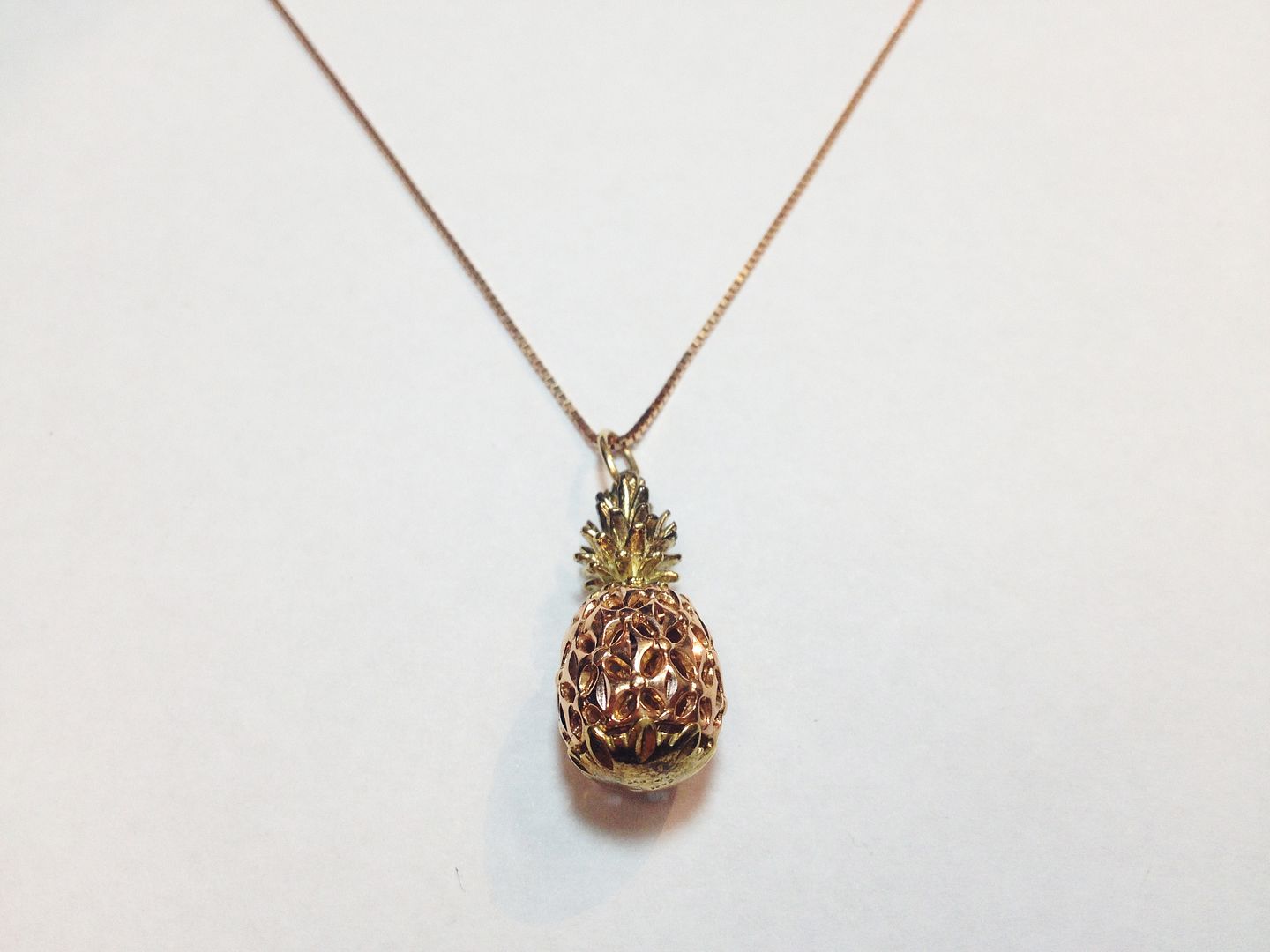 ~David Yurman rings~
(l-r)
Blue Topaz with diamonds.  $495.
Blue Topaz in 14ky gold and sterling silver.   $375.
Morganite (pink beryl) and diamonds.  $525.
~John Hardy pieces~
(l-r)
Blue topaz and diamond earring.  $695.
Iolite and diamond bracelet.  $795.
Blue topaz and diamond ring.  $595.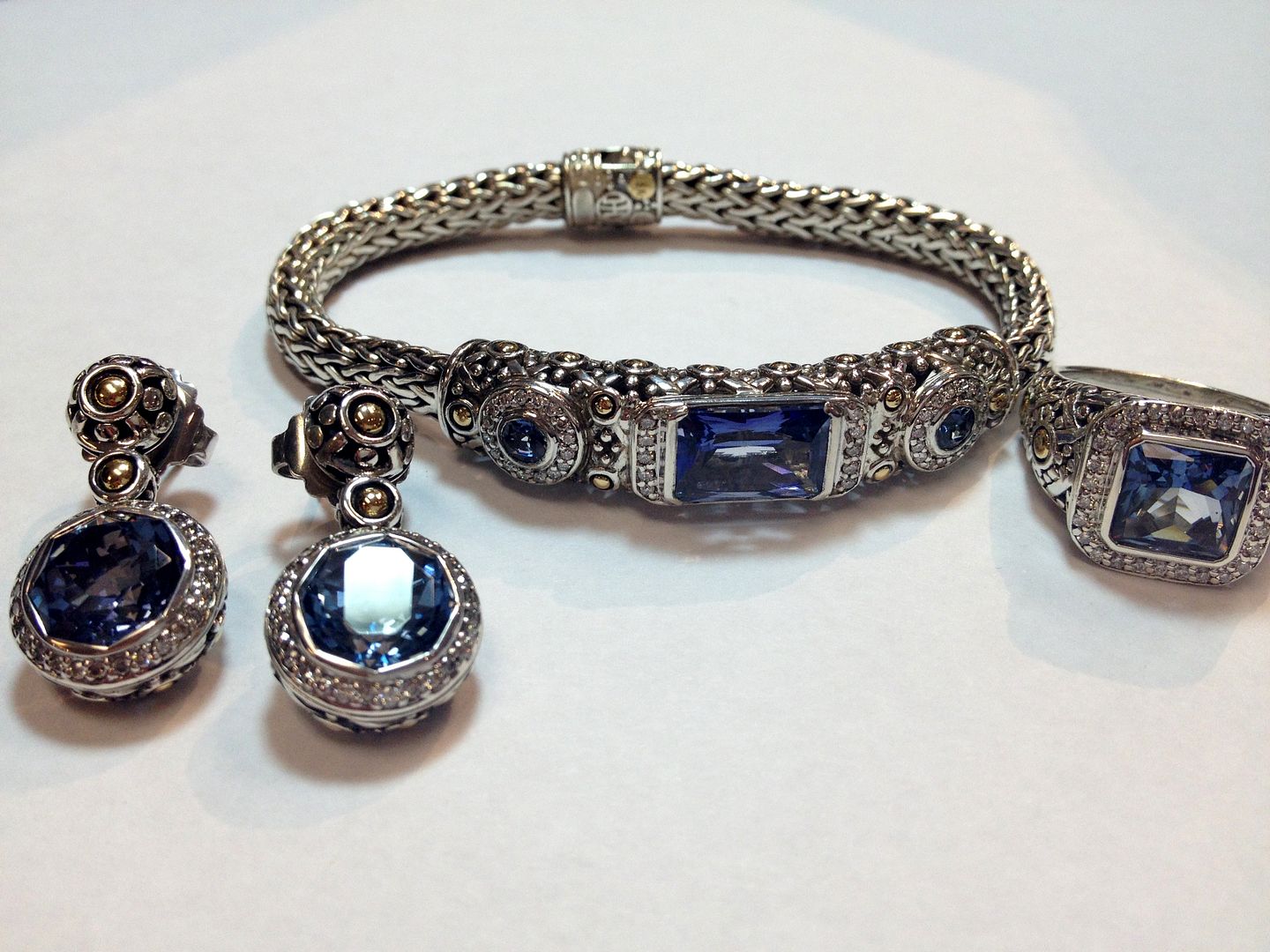 ~David Yurman diamonds and pearls~
(l-r)
Diamond, crossover ring.   $1,275.
Pearl ring.   $395.
Diamond buckle ring.  $665.
Coral, the "Sea's Garden" makes for glorious,
vibrant pieces of organic jewelry.
Katharyn Zava faceted coral, 24ky vermeil beads and clasp,
18 inch necklace. Only, $175.
14x9mm Italian red coral in 18ky gold earrings. Only $625.
4.75mm pink coral and 14ky gold beads, 44 inch.  Only $195!
Katharyn Zava labradorite beads, blush color keisha pearls, 24ky vermeil beads and clasp, 24 inch necklace.  $145.
Katharyn Zava turquoise and rice pearl with hammered 24kyg
vermeil links, 24 inch.  A great look for only $155.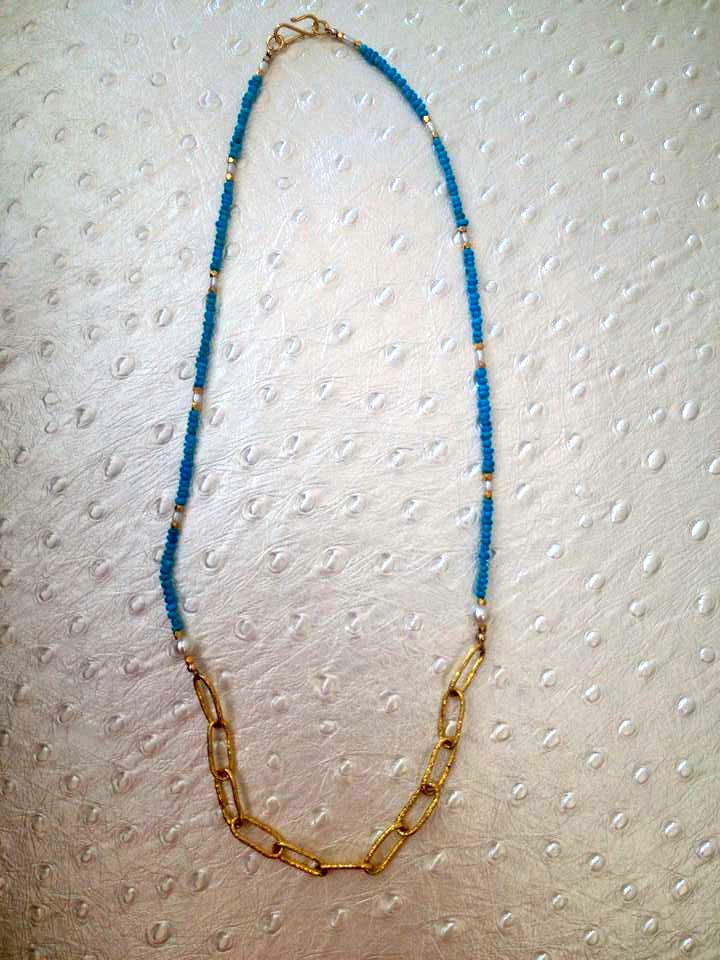 So unique…10ctw diamond, Canadian leaf
18ky gold earrings.  Only $625.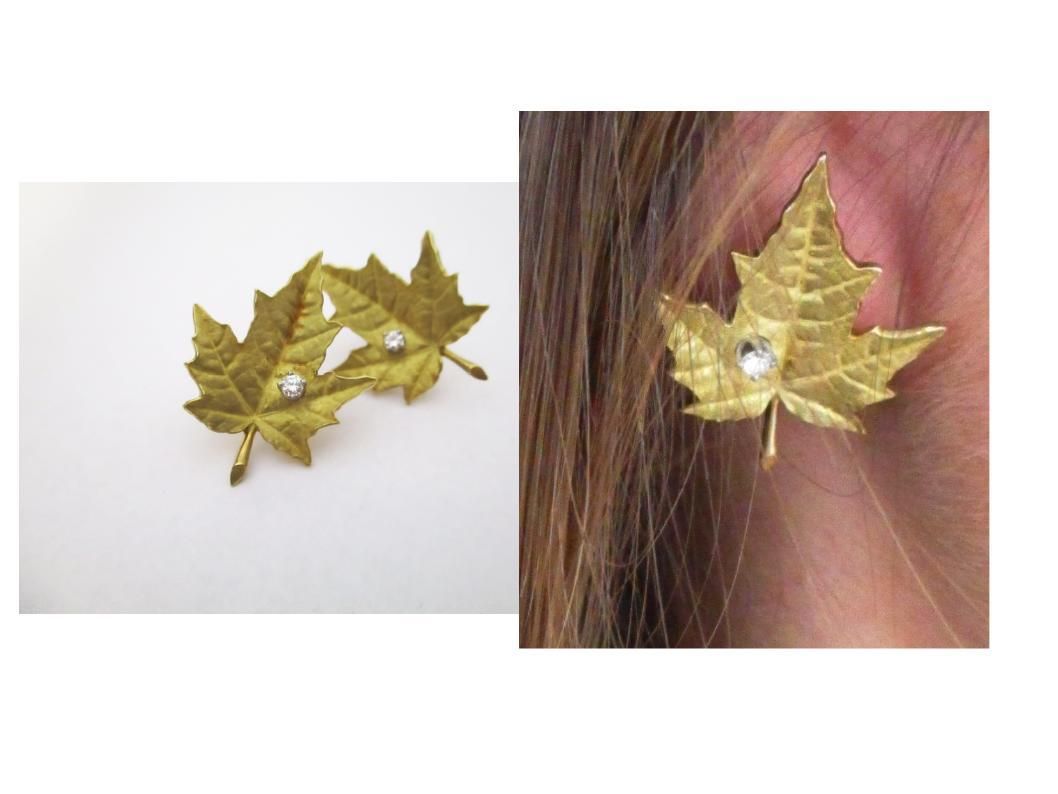 Marco Bicego .23ctw VS clarity G color diamonds set
into an 18kw gold lariat style necklace.  Only $995.
14kyg knot style, 16 inch necklace.  A super deal at $265.
~Don't forget about those beloved March babies,
their birthstone is AQUAMARINE~
Tony Maccabi 1.90ct aquamarine cushion, .17ctw diamond hammered
14kw gold ring.  Only $1,245.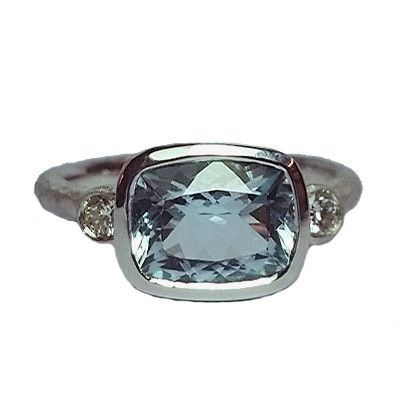 Marco Bicego aquamarine briollete alternated by smooth pear
shaped 18kw gold accents, 16 inch.  Only $745.
3.69ct aquamarine accented with .46ctw of diamonds in 18kwg.
Size 6.75. $2,425.
Allison-Kaufman on consignment!  1.05ct aquamarine cushion,
.30ctw diamond 14kw gold ring.  $1,595.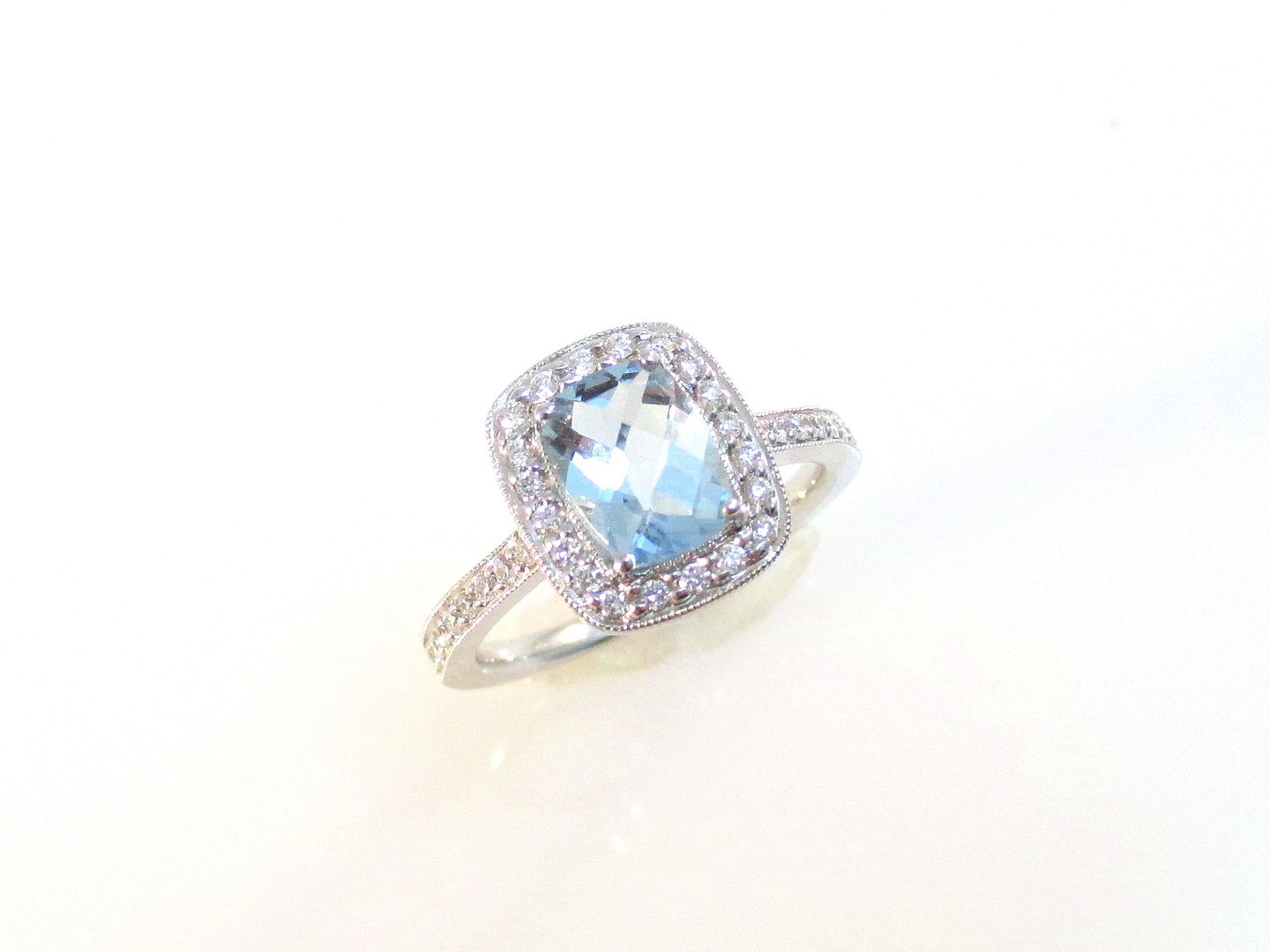 Lovely…Tony Maccabi 2.70ct aquamarine accented by .40ctw
diamonds in 14k rose and white gold.  Only $2,425.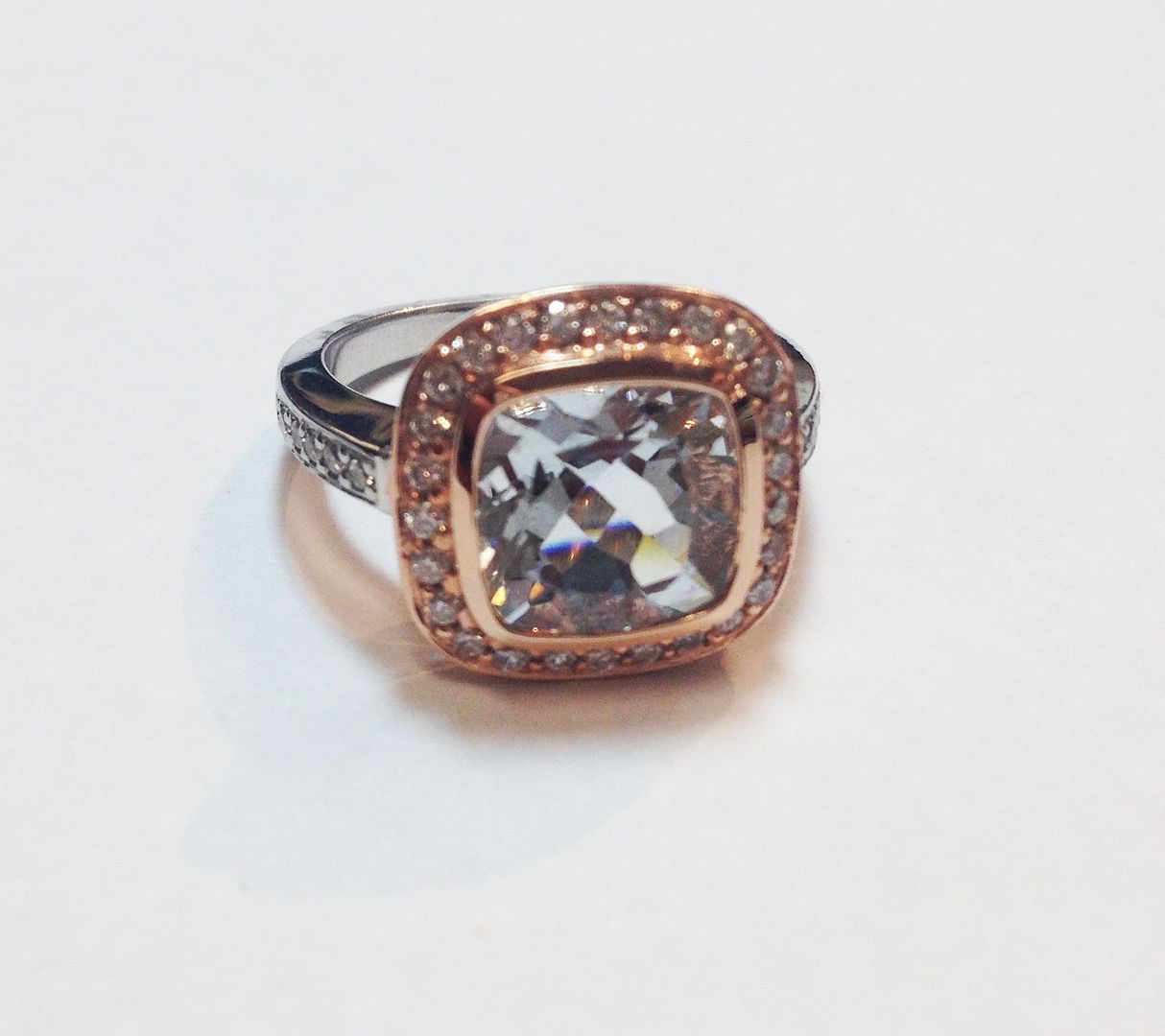 ~April is just around the corner,
and the birthstone is the beloved DIAMOND~
Allison-Kaufman .33ctw diamond 14kw gold necklace.  $1,545.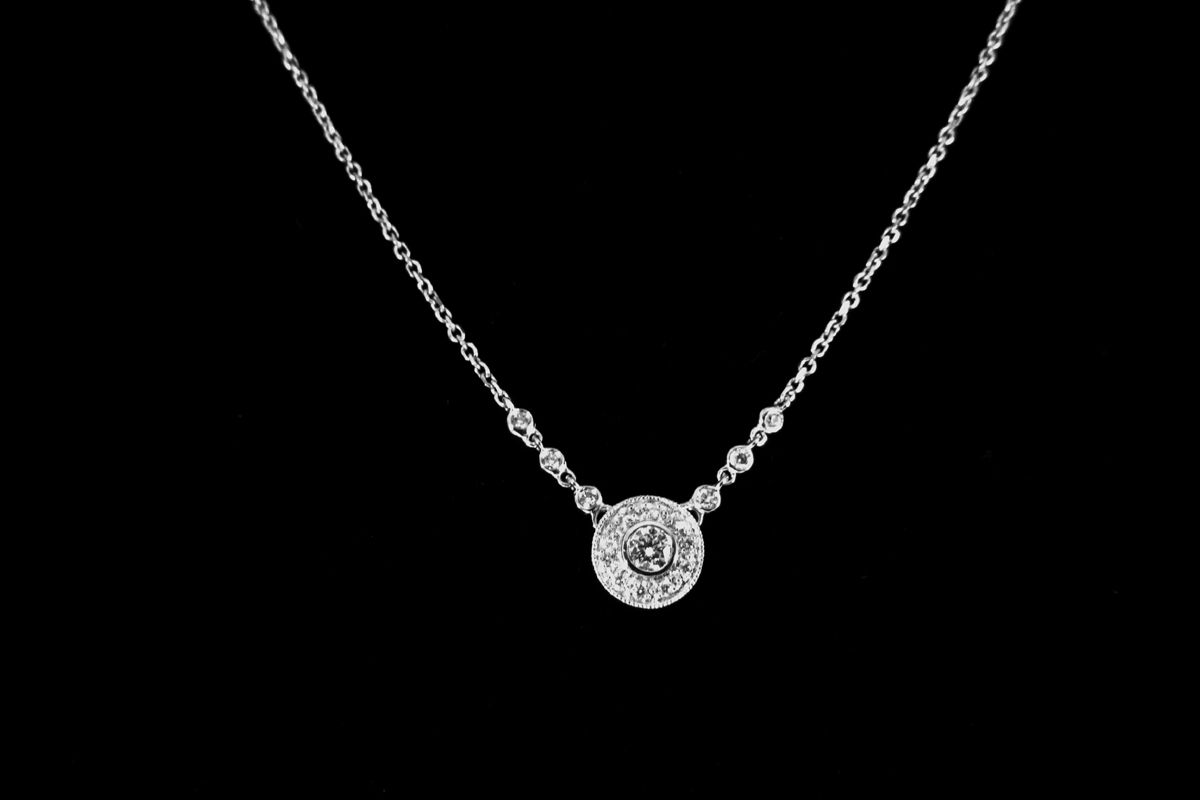 We have the inside outside diamond hoops with a secure
and easy locking release button hinge. 
We have 1.00ctw to 3.00ctw ranging in prices from $1,495 to $6,295.
~~~~~~~~~~~~~~~~~~~~~~~~~~~~~~~~~~~~~~~~~~~~~~~~~~~~~~~~~~~~
Thanks for reading our email.
Come see us this weekend
(after you catch up on your sleep!)
~~~~~~~~~~~~~~~~~~~~~~~~~~~~~~~~~~~~~~~~~~~~~~~~~~~~~~~~~~~~
INTERESTED IN CONSIGNING WITH HOME AGAIN?
Here is everything you need to know.
We accept items on consignment for a period of 90 days and
our consignors receive 50% of the selling price.
As a general rule, anything we accept must be in 'like-new' condition, less than 5 years old, and current in style; ie you could buy a similar item in an upscale furniture or décor store.
For larger items, such as a dining set or sofa, it is always best to email or bring in photos first to make sure we can accept it. Once we have accepted your item(s), if you need assistance bringing it to the store, we can recommend delivery companies for you to contact. Their rates vary based on the number of items and location, and typically start at $65.
If you have a large volume of merchandise, such as a model home or entire estate, one of our associates will be happy to conduct an on-site visit by appointment.
All items we accept are placed on our sales floor immediately,
so please make sure your items are thoroughly cleaned prior to bringing them in.
Here are a few more details about the items we accept.
Wooden furniture, including dining, bedroom and accent furniture, must be mostly solid wood with no missing hardware. It must be in excellent working condition, with only slight scratches or imperfections in the finish.
Upholstered items, such as sofas and chairs, must have no stains, rips, tears, odors, pet hair, noticeable fading and must be from smoke-free homes; in other words, in excellent condition. The age of the upholstery item we accept will generally be 5 years or less.
Decorative accessories, art and lamps must be clean, in excellent shape, and have no major chips, scratches or imperfections. We are always happy to accept 'knick-knacks' such as small picture frames, candlesticks, bookends, serving platters, etc.
We accept chandeliers on a limited basis if they are current in style and their original retail value was $500 or more.We accept holiday decorations on a very limited basis, and only if they are valued over $75. We accept patio furniture of all kinds provided that it is in excellent condition; ie no rust and the cushions must not have substantial fading and wear.
Sorry, we cannot accept the following items:
Antiques & collectibles
Traditional or 'country' style furniture
Window treatments, bedding or mattresses
Rugs
Full size beds
Furniture that must be refinished or repaired
China, silver, or crystal
Toys, juvenile furniture or juvenile art
Electronics or appliances
Clothing
We accept consignments Monday – Friday, 10am to 5 pm.
Consignments are accepted on Saturdays by appointment only.
INTERESTED IN CONSIGNING WITH LUMINA GEM?
Here is everything you need to know.
Lumina Gem offers the finest selection of consigned jewelry. Since we are a full-service jewelry store, we are able to knowledgeably evaluate your items and do the necessary cleaning and repair work to present your jewelry in like-new condition. This allows us to present your jewelry in pristine condition and get a higher amount for you.
When you consign with Lumina Gem your jewelry is offered in our heavily secured, fully-insured cases to hundreds of visitors each week. We take pride in our jewelry and offer our consignors the best location to sell jewelry with an educated staff, online jewelry store, social media exposure, and local TV and magazine marketing. An added benefit of consigning your jewelry with us is that you never have to jeopardize your personal safety by selling to strangers.
When you consign with Lumina Gem we provide you with a contract with full colored pictures of your items that indicates a fixed amount that you will receive once the item sells, not a percentage. This allows us to have periodic sales and promotions that does not affect the amount that you receive. We consign jewelry for a period of one year, and ask for a minimum consignment period of four months, to allow us to recoup our investment in cleaning, refurbishing and marketing of your jewelry.
In addition to consigning jewelry, we also offer a jewelry brokering service.  If you want a quick turnaround of cash for your jewelry, have inherited jewelry that you wish to liquidate, or have a style that we cannot sell easily in our cases, this may be a good option for you.  Here is how it works:  We offer pictures and a description of your jewelry to our network of wholesale jewelry brokers, and then communicate to you the highest offer we have received.  At that point, if you choose to sell your jewelry, our brokerage fee is 20% of the sales price.  Please understand that if you brokering your jewelry, you will receive a wholesale offer, not a retail offer.