fish don't fry in the kitchen.
beans don't burn on the grill.
Took a whole lotta tryin',
just to get up that hill.
now we're up in the big leagues.
gonna get my turn at bat.
as long as we live, it's you and me baby.
ain't nothin' wrong with that.
We're MOVIN' on UP! 
Lumina Gem has been chosen to be the
exclusive dealer in Wilmington 
for the national jewelry brand VAHAN!  
Just ask our own Megan how much she loves Vahan…
she's been stacking up their awesome bracelets for ages!  
Starting your own Vahan collection is
MORE AFFORDABLE than you might think.
This 6mm diamond encrusted bangle in14ky gold and
sterling silver is only $1,375.
But whether it's jewelry or furniture, 
we've always got what a girl wants…for less!
You will NOT BELIEVE that this sectional is made out of SUNBRELLA.
We didn't…we actually called to double check!  The fabric is so soft…but oh so durable!   Notice the classic tailored skirt and rolled arm with a modern tufted back. Brand new market sample for $2,295. 124×101.
Black glass oval coffee table, $156, 48″ L.
Another great sectional, this one with a comfy chaise,
featured in a sage green microfiber.
In excellent condition for $795. 120×87.
Split leather ottoman, $396, 46″ Sq. 
This dining set is hand crafted by New England artisans for
Saloom Furniture, it retailed for $2000, our price $895.
54″ plus a self storing butterfly leaf.
This drum pendant came to us new in the box from the consignor.
We have seen a lot of drum pendants, but none quite this glamorous.
A deal at $292. 18-22″ DIAM. Similar ones retail online for $500+.
Orange has made a comeback in a big way, and we especially love
it against neutral transitional pieces for a major POP!
Brand new trellis chairs, $425 each. 28.25″ W.   Pillows $18 each. 
We ADORE these faux croc orange leather lamps
on a lucite base, $145 each. 27″ H.
We have never had art in the store this LARGE, we are LOVING it!
Got a BIG space?  Create a BIG impact, $475. 80×60.
Can be hung vertically or horizontally. 
This is a show stopper! From the champagne finish to the mirrored fretwork doors, there is so much to love about this console. There are holes in the back to use for media storage as well. $895. 70x18x34.
Bring some vibrance in your space with this colorful abstract koi on canvas, $265. 60×40. Lamps, $72 each. 31″ H.
This will be the conversation piece you have been looking for!
Goose feather floor lamp, $72. About 57″ H. 
Check out the painted detail on this gorgeous chest. Dress up your hallway
or use it for additional bedroom storage, $445. 39x20x32.
Unique metal backs give these barstools a cathedral look.
Sold as set, priced at $85 each. 31″ H. 
This demilune console and side table has a unique inlay design.
The console is priced to reflect some minor scratches
on the top, $125, 50″ W. Side table, $75.
Fig jam, strawberry jam, grape jam, store all your jams
in this awesome jam cabinet, $95. 22.5×13.5×51.5.
Get this great Pottery Barn pedestal table with four chairs and
an added custom glass top for $695. 45″ Di.
A great sized desk in a coastal white, $275. 54×30.
Seagrass chair, $62. 
Everyone needs some extra room in the kitchen. Get this two tone distressed black and cherry kitchen island for just $595. 70×26.5×37.
Just in…brand new showroom sample sofa and loveseat in luxurious white leather! Sofa, $795, loveseat, $595. 65-82″ L.
You will find yourself wondering what to name
this sweet and whimsical cow, $95. 39″ Sq.
Get a great deal on this rolled arm nailhead sofa,
in great condition for $595. 85″ L.
Great storage in an attractive red, come grab this pair of storage ottomans 
for just $72 each. 24x18x17. 
Abstract horses in vibrant colors will POP off your walls, $195. 34.5″ Sq.
This white cane platform bed needs new paint job, so we priced it super low at $395. Coral motif club chair, $495, 35″ W.
Octopus Wrightsville Beach sign on wood, $145, 30×24.
This could easily be a marsh in Wilmington, it's so
tranquil with it's greys and blues. $245. 44×32.5.
Check out this DEAL!
$495 for this great hutch and cabinet! 59x18x89.
These lamps are so unique and sweet, check out the coastal motif
applique detail on the shades and shell fringe, $125 each. 29″ H.
Spring is in bloom, get this floral art on canvas for $45. 36×24.
SALE!  These West Elm chairs have been reduced to just $45 each.
Sold in pairs only. 17″ W.
Good looking wood and rattan screen, $175. Each panel is 18″ W., 72″ H.
It's not to early to be thinking about teacher gifts…and at just $4 each,
you can buy one for all of them!
Alwand Vahan is in the building!
Stacking these beautiful bracelets is the current trend
for celebrities across the nation…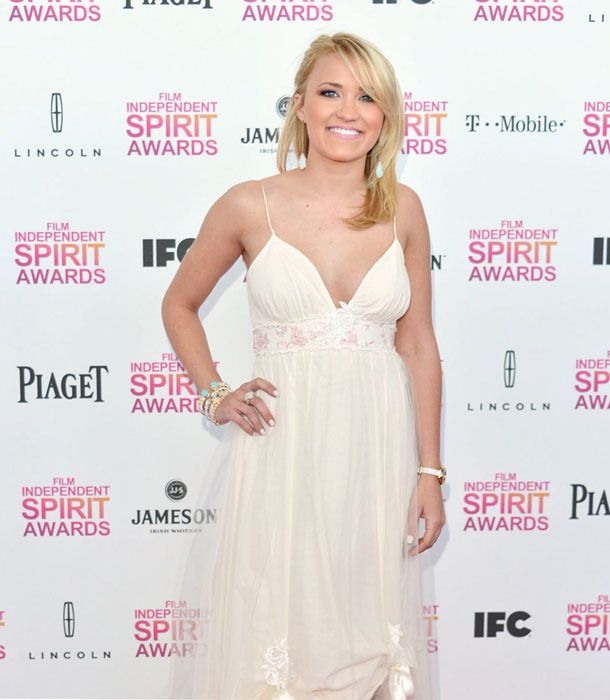 Our Alwand Vahan cases look so BEAUTIFUL!
Full of blingy goodness…
From left to right…some super HIGH IMPACT rings…
.19 ctw diamonds, 14ky, and sterling silver, $1,745,
London blue topaz with diamonds, $2,495.
.31ctw diamonds with 14ky accents, size 7, $2,795.
Here's a closeup of this bold beauty! $1,745.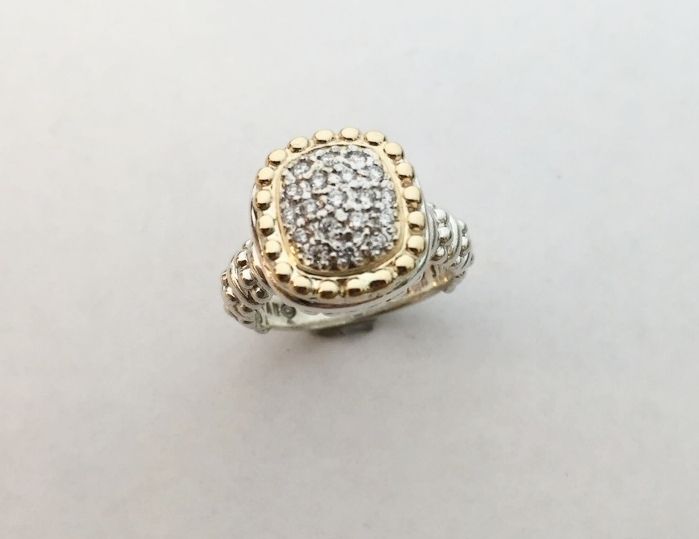 And of course, the bracelets…  
L.O.V.E. 
Top, .08ctw of diamonds…$1,925
Bottom, .24 ctw diamonds, $2,755.
It's been a great week for consignments, too.
David Yurman London blue topaz, diamond dangle earring.  $1,045.
David Yurman white agate Albion ring. Size 7.  Only $895.
John Hardy sterling silver and citrine earrings.  $195.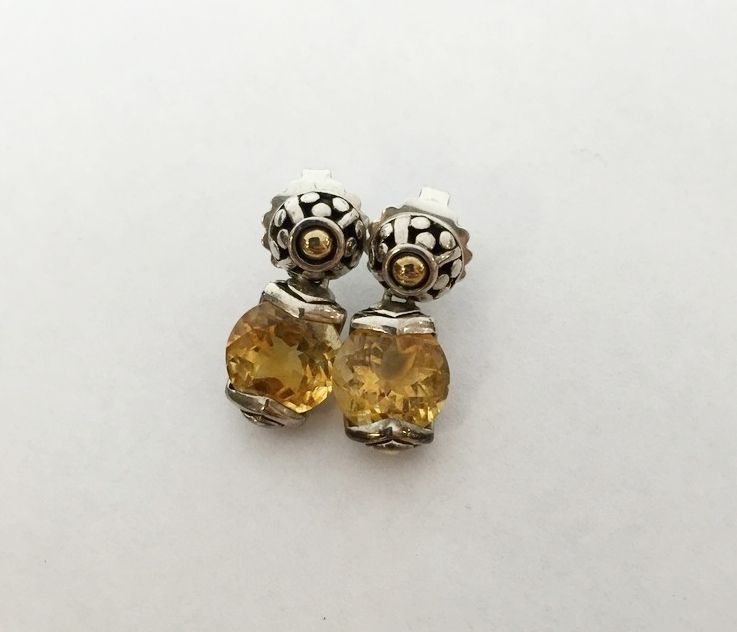 John Hardy sterling silver and 14ky gold necklace, 16 inch.  Only $595.
SLANE, SLANE, and more SLANE…
Feather openwork Slane ring, $235.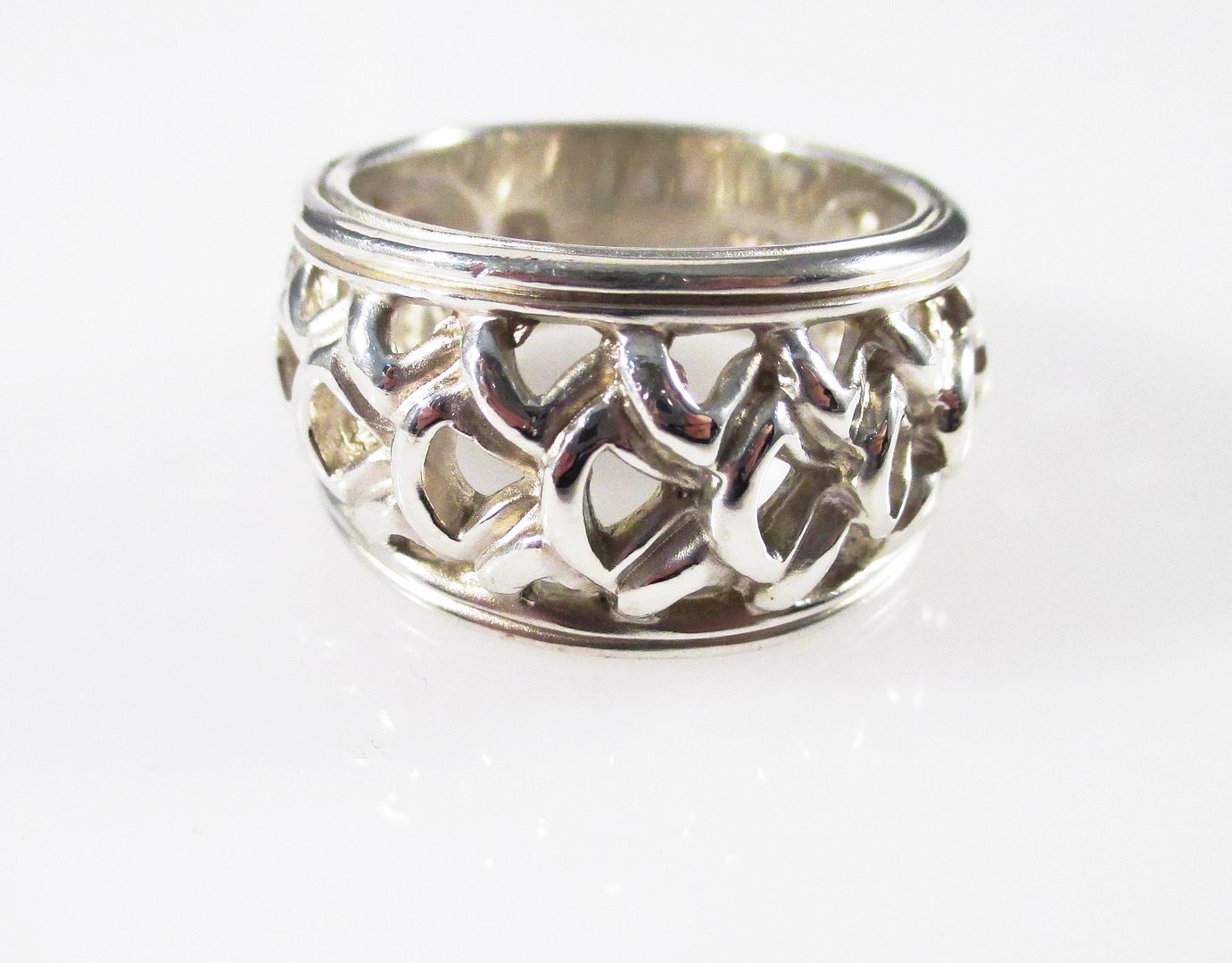 Small Slane Bee ring,  $295.
Le Vian necklace with 1.50ct amethyst, .22ctw diamonds accented
by pink sapphires in 14k rose gold, 18 inch. $695.
The Tiffany & Co. Somerset collection is just in! 
Necklace, 16 inch. $495. 
Bracelet, 7.5 inch.  $295. 
Ring, size 9.5.  $95.
From the Tiffany & Co. "Bean" collection,
these are fabulous graduation gifts!
9mm, sterling silver necklace, 16 inch.  $95.
9mm, 18ky gold necklace, 20 inch. $595.
Both pieces come with original pouch.
Don't you just love these love knot earrings?  
20mm omega back 14ky gold earring, $895.
Retired "Etoile" Tiffany & Co. with .38ctw diamonds set into platinum
bezel settings in 18ky gold hoops with omega backs. 
Retailed for $2,900, our price $1,595.
Looking for that classic look?
.50ctw diamonds set into 18ky gold huggies. $1,075.
Spring fashion ALERT!  Turquoise and coral are hot for 2016 Spring fashion.  Coral necklace, $175.  Turquoise necklace, $275.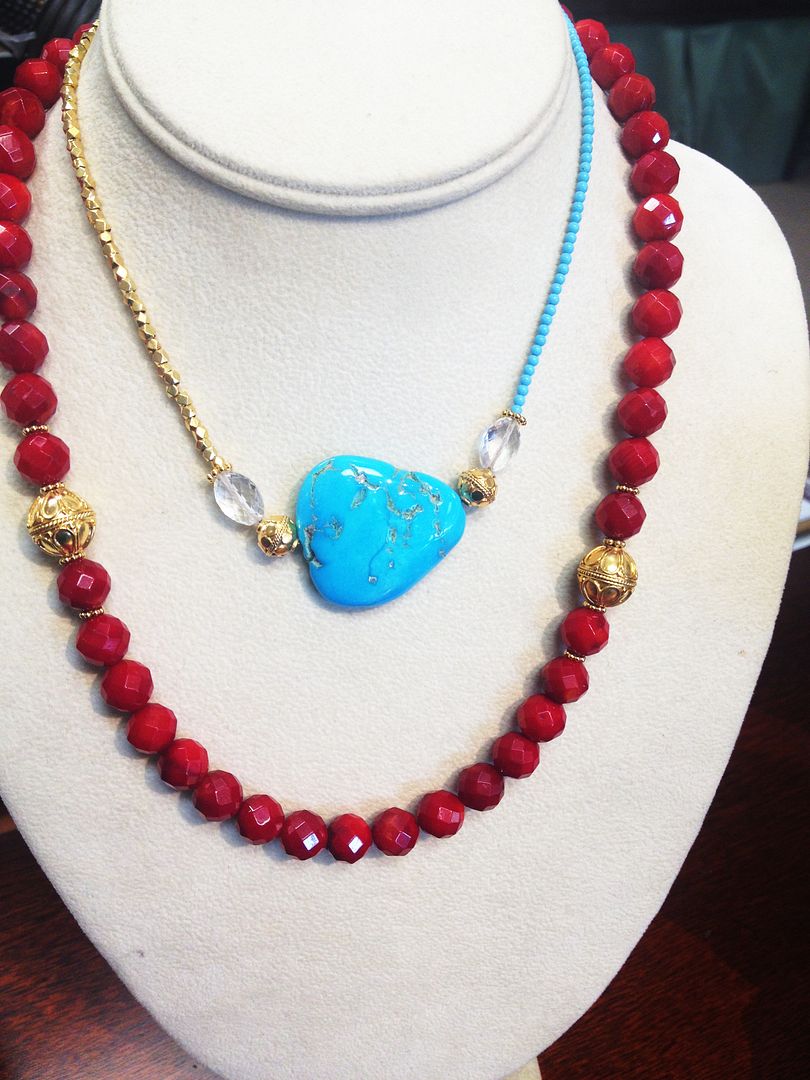 7.5mm to 8mm multi-color freshwater pearl knotted necklace, 18 inch. 
A super deal at $75.
Looking for an once in a lifetime deal?
3.15ctw emerald 14ky gold studs.  Only $995.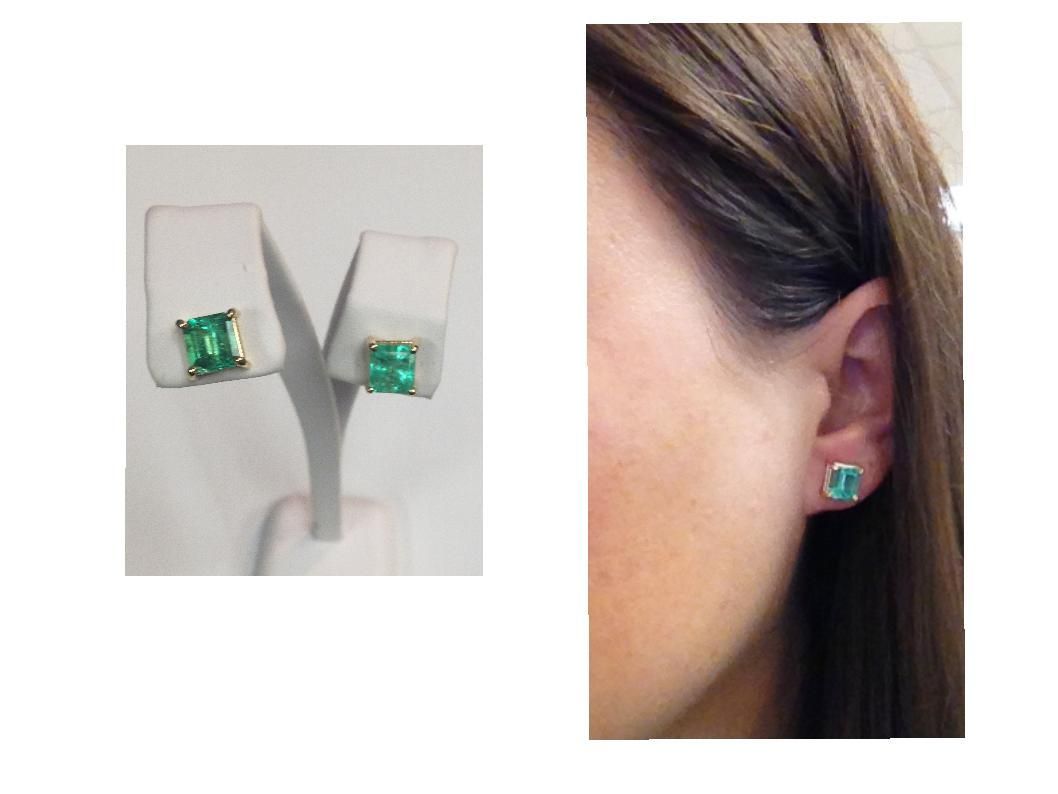 Don't let this one get away…
1.25ct emerald 14ky gold pendant, $595.
.32ctw yellow diamond by the yard 18k gold necklace
adjustable length, $1,795.
Citrine, peridot, and amethyst faceted dangle 14k gold filled earrings. 
Only $155.
Black onyx and 14ky gold bead necklace, 32 inch, $145.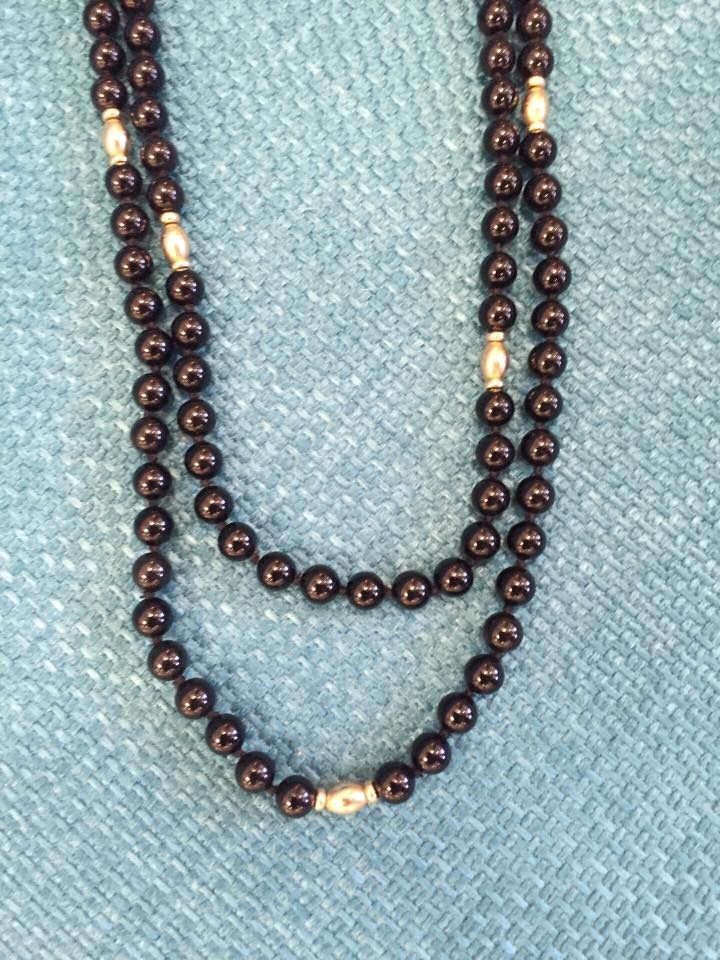 3ctw ruby and diamond 18ky gold bangle
with safety latch, 7 inch. $2,495.
Stack 'em up.  6.5mm, solid sterling silver bangles, $95 each.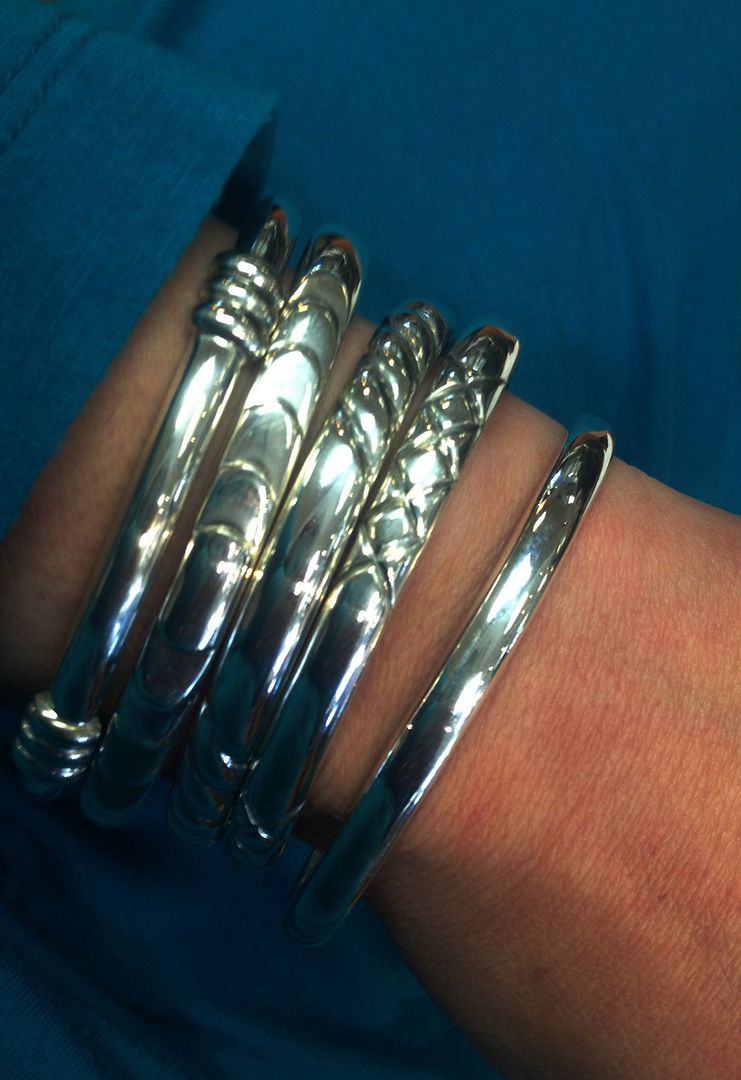 Handmade .40ctw ruby, 7mm wide 18ky gold band. 
Size, 6.5, $695.
3.20ct imperial topaz, .10ctw of diamonds in 14kyg. $805.
Curb link, 14ky gold, 17.5 inch chain,  $715.
Roberto Coin designer .26ctw diamond circle necklace in 18kw gold, 16 inch. Retails for $1,140, our price $675.
THE CONSIGNOR SAYS SELL IT!
The consignor asked us to reduce the price on this 3ct SI1 clarity H color
EGL certified princess cut accented with 1.91ctw set in platinum.
Hand written appraisal for $73,475, WAS $39,000. NOW, $32,995.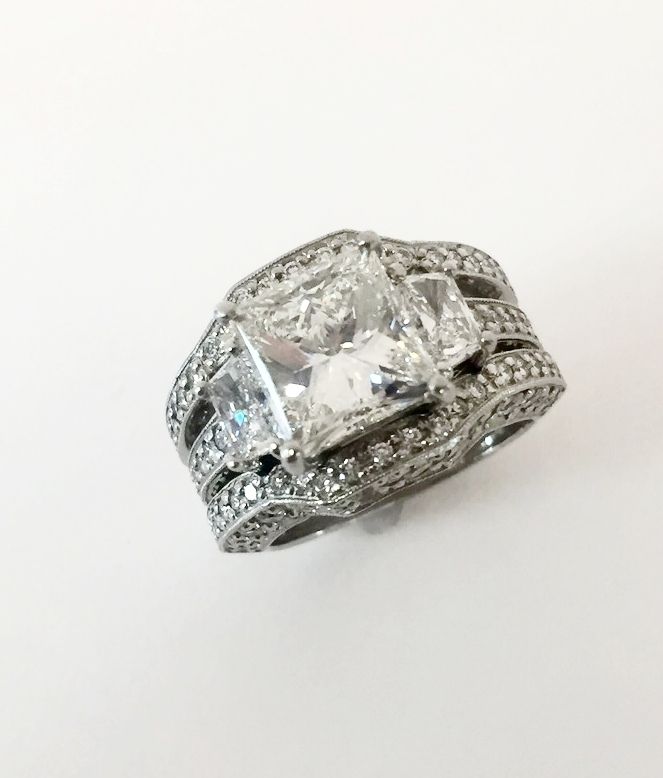 5ctw diamond SI1 clarity, H color vintage platinum "Disco" ring.  $4,695.
Much larger in scale than it appears in the photo. 
This antique ring has a BIG BANG for the BUCK. 
.33ct Old European cut center, 1ctw diamonds SI clarity F/G color
set into platinum.  Only $2,995.
STEAL of a DEAL.
1.83ct natural blue sapphire, .36ctw of diamonds in a
Princess Diana 14kwg setting.  Only $1,995.
Hello?  Is it true that Lumina Gem is the exclusive dealer of
Vahan in Wilmington?  Yes, we are George… get Weezie in here ASAP!
Thanks for reading our email and have a great week!
~~~~~~~~~~~~~~~~~~~~~~~~~~~~~~~~~~~~~~~~~~~~~~~~~~~~~~~~~~~~
Are you our fan on facebook?