Want to see the 
LATEST and GREATEST?
Here are just a FEW of the photos that our great customers
submitted last week showing us the fabulous rooms
they created with their Home Again finds!
To see even more of the entries, go to our website,
www.homeagainwilmington.com
Thanks to everyone who entered, we loved seeing your photos!
And the winner of our $200 Gift Certificate for
sharing their photos, (drawn at random) is
James W.
Here is the fabulous room James created with the
curio cabinet he found at Home Again!
Feeling inspired to update your home?  
Check out our new arrivals!
A truckload of High Point market samples is just in!  Here is one of
the awesome new sofas…fun stripe loose cushions sit on top of a
genuine leather frame with casters on the legs! $995. 95″ W.
Pair of companion giclee canvas prints, $125 each. 40″ Sq.
Pair of blue designer lamps with striped burlap shades, $132 each.
This brand new market sample armoire retails for $1,215,
our price $795! 28×80.
Look at all the storage and detail work inside!
Luscious genuine leather sofa in cognac, brand new for $1,195. 87″
We also have the matching loveseat for $995. 64."
This dining set is the true meaning of transitional…both modern and traditional combined! Notice the sawhorse style legs on the table.
$995. 76."
This sofa is SUPER NICE in person…in a durable heavy-duty
gray tweed, brand new for $995. 83."
Matching loveseat available for $795. 67.5."
A pretty coordinating chair to add to your
modern look…$395. 33.75″ W. 
And to finish your room, add this wonderful accent chair in
shades of gray and purple!  $395. 29″ W. 
This set is a WOWZA in person…four aqua chairs with nailhead trim
surround an elegant chrome dining table, just $795 takes it home.  54″ Diam. 
RICH pair of mirrored frame koi prints, super elegant,
$125 each. 19.5×24.
These chairs will make a dramatic focal point in your space with its detailed black frame and contrasting colorful floral fabric. $395 each. 27.75″ W.  
Brand new market sample accent chair in a
fun floral print, $325. 32″ W. 
Add elegance and drama to your bedroom with this gorgeous black bedroom set.  Full size four poster bed, $325.
Thomasville dresser with mirror/storage topper, $795. 69.5″ W.
Nightstand, $245. 30″ W. Palm round back chair, $175. 24.5″ W. 
Here is a closer look at the Thomasville dresser. It is SOLID, please bring
extra loading help or be prepared for a slight delivery surcharge. 
This dresser is STUNNING and so on-trend, please send us a picture to add to our Customer Pic page once you get it home! $495. 24×20.
Nice and narrow, with interesting grill-work, too! $425. 60×12. 
These over-sized french arm chairs with rush seats are classic
and timeless, $350 each. 29.25″ W.
This picture does not capture the large scale of these shell prints,
they are LARGE and would make a significant grouping on your wall.
$125 each. 32.25″ Sq.
From Paula Deen Home, similar buffets retail for $1,215, our price, $695.
Brand new market sample. 47×24.
A nice 3-piece dining set at a nice price, only $245! 35″ Di.
This wicker chair with coral cushions is a classic and in like-new condition, just $450. 34″ W. 
From Robb & Stuckey, come score this neutral and super well
made sofa for just $395. 83″ W.  
Need a large coffee table that everyone can gather round?
 Here you go!  $450. 50″ Sq. Matching end table available.
Also from Robb & Stuckey, this cane and wood plantation style chair
is a super deal at $395. 29.5″ W.
So handsome!  In a lovely cream finish and ready to display 
all your treasures for just $695. 72×83.5. 
Is jewelry storage a problem?  We've got the solution!  
Brand new market sample, $345. 24x18x48.
We call this the 'happy' vignette…it just makes you smile!
Abstract print, $112.50, (one is sold) 27.5×33.5."  Gourd style lamp, $65.
Demilune console in a white-washed finish, $325. 46″ W.
SPLURGE WORTHY…
This MASSIVE solid mahogany Guild Master chest was love at first sight when
we saw it in High Point, we just HAD TO HAVE IT. $1,895, 54.25×22.5×28.
The photo does not do it justice!
Here is Ashley standing by the chest so
that you can get an idea of the scale. It's GINOURMOUS! 
And the colors…too die for!
You dont need to fly to a Restoration Hardware store to get this
aviator look, we have it in Wilmington.
 Retails for $1,200+, our price $495. 27.5."
Have a narrow wall?  This wall clock might do the trick!
$28. 34×13.
This oversized ottoman in tones of beige and blue is in excellent condition, and could make a nice coffee table, too!  
$95. 40x26x17.
We typically do not take armoires but we were unable to pass up this handpainted beauty. $795 takes home, this true statement maker. 50.5×31.5×78.
~FRESH AND NEW DAVID YURMAN ON CONSIGNMENT~
David Yurman Albion rose quartz and diamond set.
Ring, $795.
Necklace, $1,195.
Bracelet, $ 995.
Don't forget that we are cleaning house, don't let these deals pass you by….
1.63ctw diamond SI clarity, I color studs in 14kw gold.  Only, $5,495.
~All of our new BRIDAL pieces are 25% off~
Engagement rings, bands, anniversary rings, right-hand rings.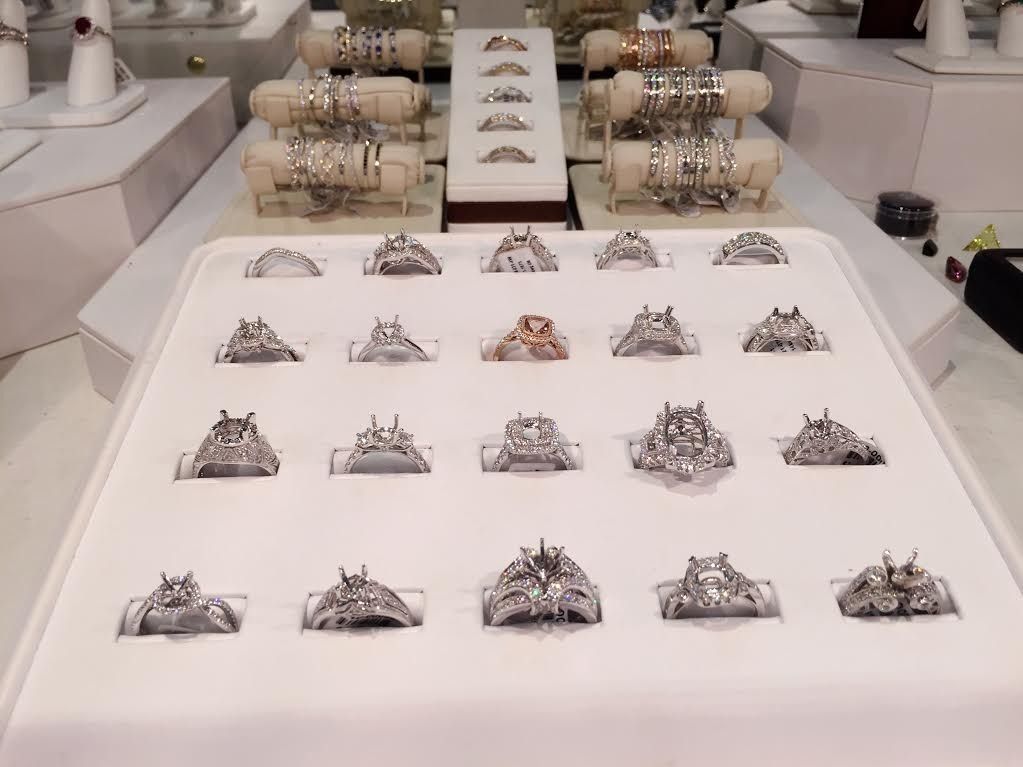 A new designer piece that is in the bridal case.
1.35ctw consisting of two ovals, a half moon, tapered baguette, pear, emerald, and trillion cuts set into a 1/33 inch band accented with .50ctw diamonds on the edges in 14kw gold.
Was, $4,995, Now, $3,745.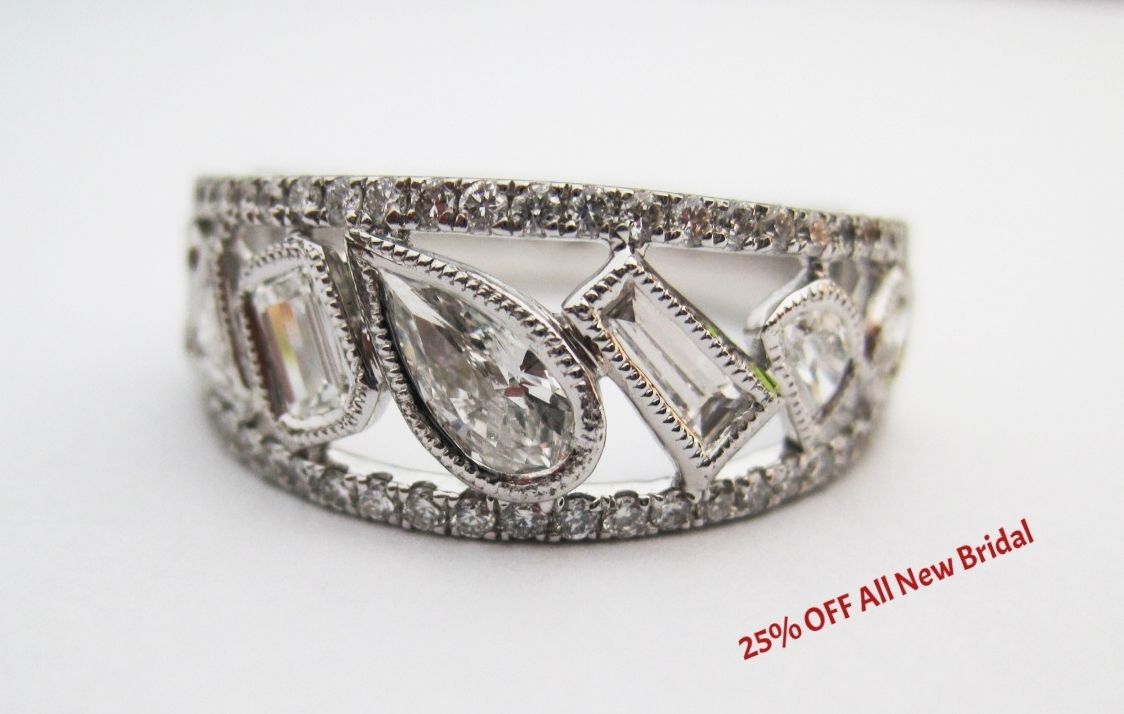 .84ctw semi mount in 18k white gold that can hold a 1.5ct to 2 ct cushion, radiant, or emerald cut diamond. Was $1,795, now only $1,345.
.15ctw wedding band in 14k white gold. Was $695, now $520.
This is a steal of a deal.
1.75ctw pave set diamonds in a 1/2 inch wide band in 14kw gold, size 6.5.
Was, $2,995, Now $2,245.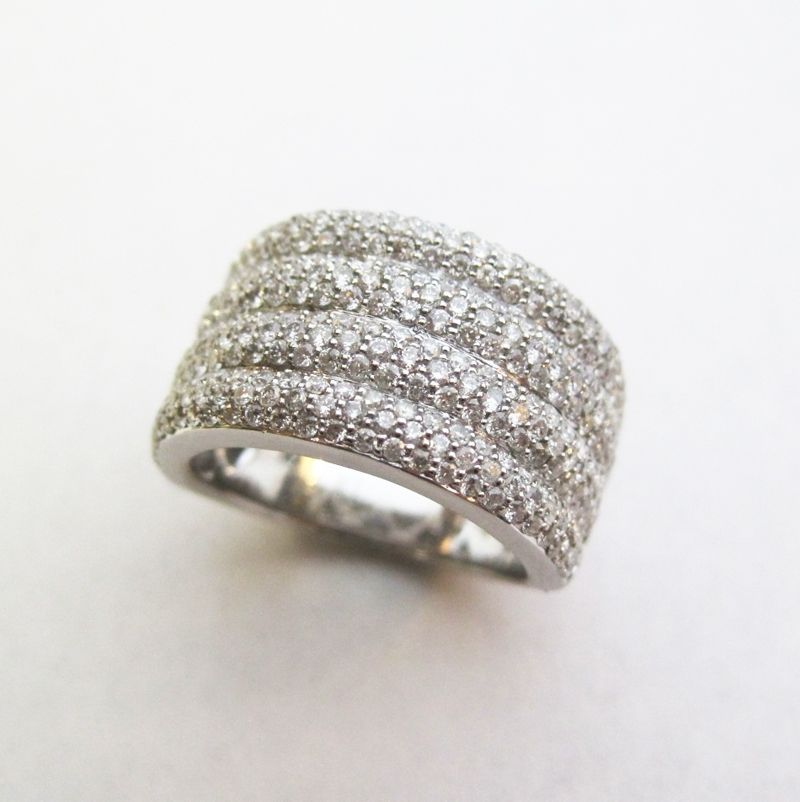 1.48ctw rubies accented by .54ctw diamond in 14kw gold, size 7.
Was, $3,765, Now, $2,825.
.33ctw round brilliant diamond SI clarity F color center diamond, .90ctw in 14k white gold. Only $2,895.
Matching Neil Lane wedding band with .25ctw of diamonds in 14k white gold. Only $1,025.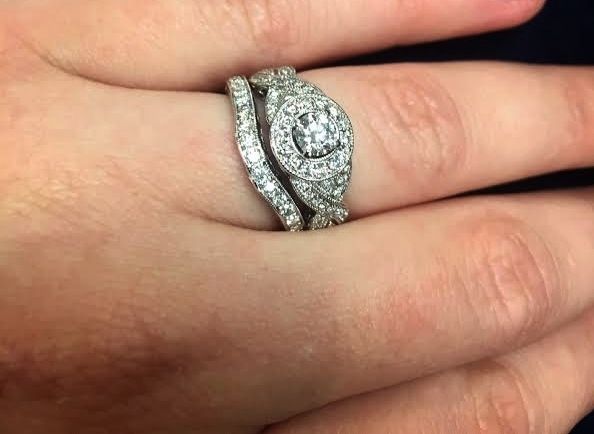 This will not last long!  .75ct GIA #6192783925 certified diamond, triple excellent cut, SI2 clarity, G color with a pink diamond halo and diamonds extending on the band weighing 23ctw in 14kw gold, $4,995.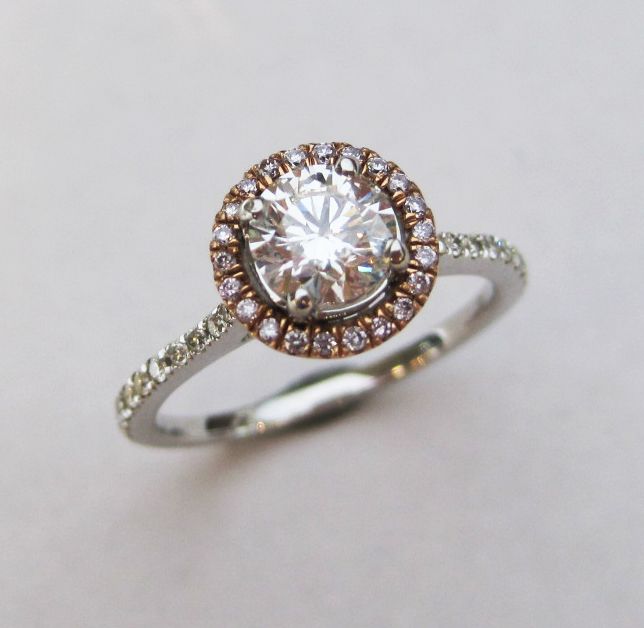 3ct EGL certified SI1 clarity H color with matching bands adding a total of 4.91ctw diamonds in platinum, Retail, $73,475, buy it here for $39k.
 Valentine's Day is right around the corner! 
1.25ct center VS2, 2.16ctw diamonds VS clarities, H to J colors.
Only, $7,645!
Say I LOVE U with this ring.
.50ct round brilliant VS2 clarity G color center with .25ctw in accent diamonds set in platinum. Only, $2,995.
Or this…
EGL certified radiant 2.17ct diamond accented by 1ctw emeralds in platinum, Started at $24,900, Now, $14,600.
Where else can you get a 14kw gold, 2.03ct diamond wedding set for $4,985. Center stone is .56ct SI2, G color.
4ctw emerald cut VS clarity, F color eternity band set in platinum.
Only, $7,995.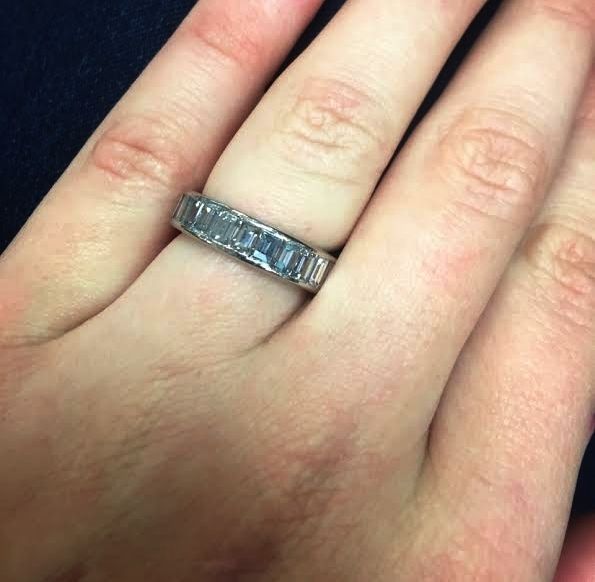 .28ctw fancy yellow SI1 clarity certified diamond accented in the center, .54ctw of diamonds in 14kw gold, $2,595.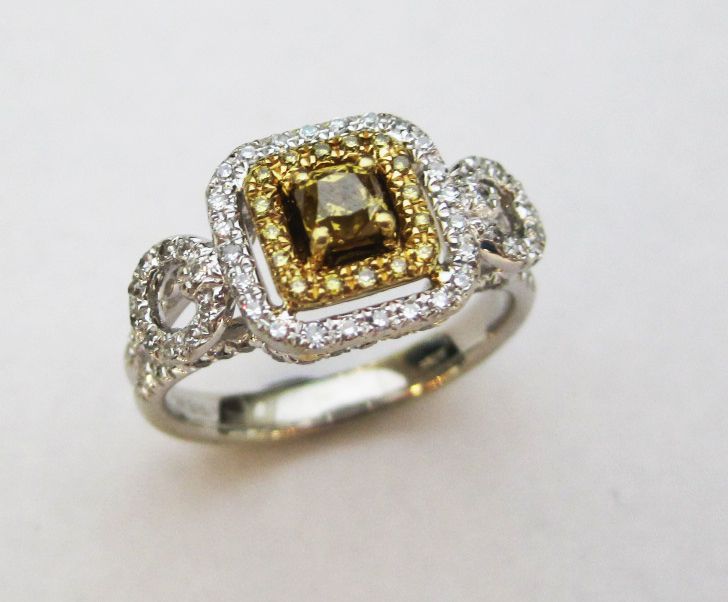 Scott Kay set with 1.36ct center SI2 clarity D color in platinum. $13,500. 
Bands .16ctw diamonds in platinum, $1,115 each.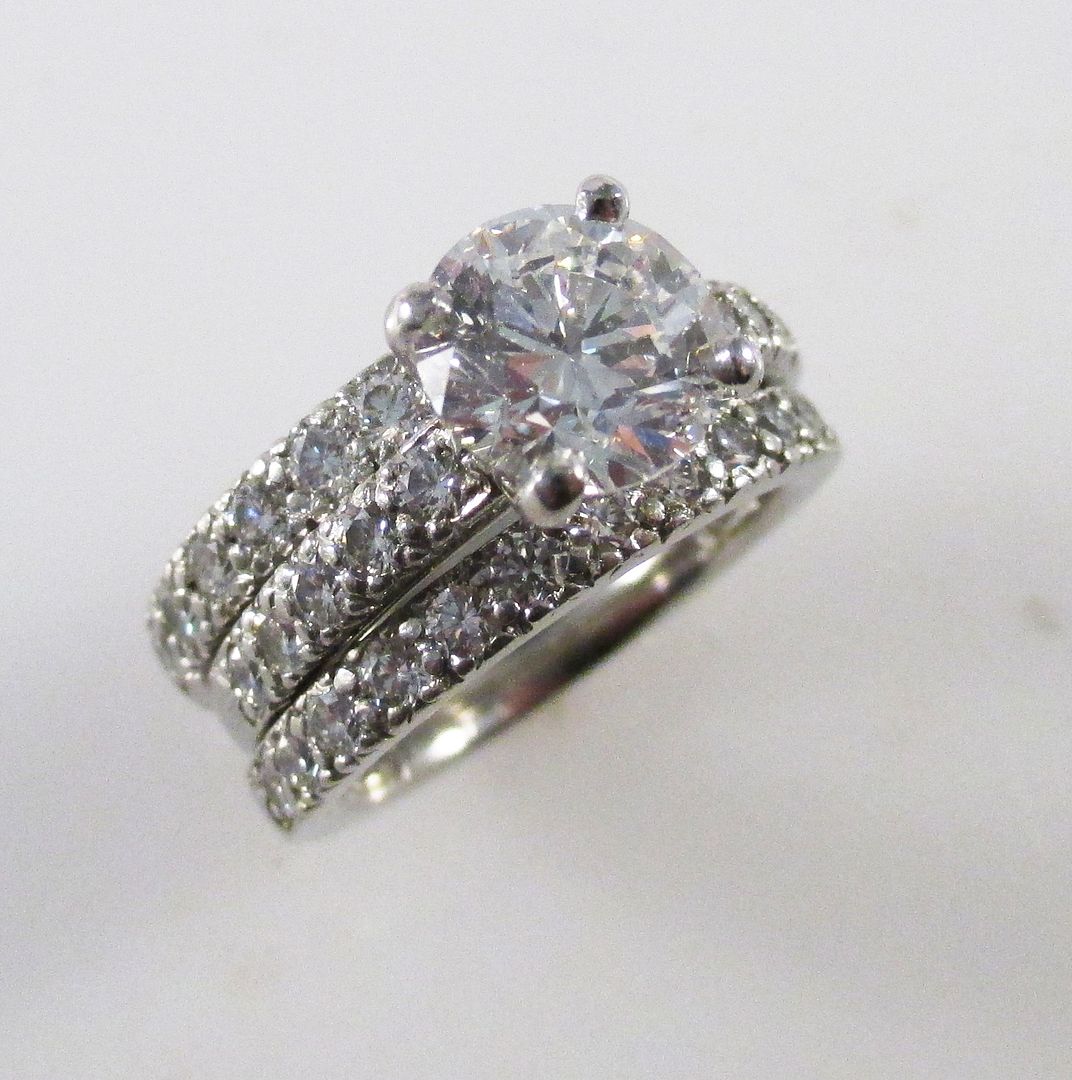 Still looking to consign any style of DAVID YURMAN or any top designer…Call us (910)256-1850 or stop in for some "FAST CASH".
Thank you for reading our email! Please come see
your friends at Home Again & Lumina Gem this weekend!
~~~~~~~~~~~~~~~~~~~~~~~~~~~~~~~~~~~~~~~~~~~~~~~~~~~~~~~~~~~~
INTERESTED IN CONSIGNING WITH HOME AGAIN?
Here is everything you need to know.
We accept items on consignment for a period of 90 days and
our consignors receive 50% of the selling price.
As a general rule, anything we accept must be in 'like-new' condition, less than 5 years old, and current in style; ie you could buy a similar item in an upscale furniture or décor store.
For larger items, such as a dining set or sofa, it is always best to email or bring in photos first to make sure we can accept it. Once we have accepted your item(s), if you need assistance bringing it to the store, we can recommend delivery companies for you to contact. Their rates vary based on the number of items and location, and typically start at $65.
If you have a large volume of merchandise, such as a model home or entire estate, one of our associates will be happy to conduct an on-site visit by appointment.
All items we accept are placed on our sales floor immediately,
so please make sure your items are thoroughly cleaned prior to bringing them in.
Here are a few more details about the items we accept.
Wooden furniture, including dining, bedroom and accent furniture, must be mostly solid wood with no missing hardware. It must be in excellent working condition, with only slight scratches or imperfections in the finish.
Upholstered items, such as sofas and chairs, must have no stains, rips, tears, odors, pet hair, noticeable fading and must be from smoke-free homes; in other words, in excellent condition. The age of the upholstery item we accept will generally be 5 years or less.
Decorative accessories, art and lamps must be clean, in excellent shape, and have no major chips, scratches or imperfections. We are always happy to accept 'knick-knacks' such as small picture frames, candlesticks, bookends, serving platters, etc.
We accept chandeliers on a limited basis if they are current in style and their original retail value was $500 or more.We accept holiday decorations on a very limited basis, and only if they are valued over $75. We accept patio furniture of all kinds provided that it is in excellent condition; ie no rust and the cushions must not have substantial fading and wear.
Sorry, we cannot accept the following items:
Antiques & collectibles
Traditional or 'country' style furniture
Window treatments, bedding or mattresses
Rugs
Full size beds
Furniture that must be refinished or repaired
China, silver, or crystal
Toys, juvenile furniture or juvenile art
Electronics or appliances
Clothing
We accept consignments Monday – Friday, 10am to 5 pm.
Consignments are accepted on Saturdays by appointment only.
INTERESTED IN CONSIGNING WITH LUMINA GEM?
Here is everything you need to know.
Lumina Gem offers the finest selection of consigned jewelry. Since we are a full-service jewelry store, we are able to knowledgeably evaluate your items and do the necessary cleaning and repair work to present your jewelry in like-new condition. This allows us to present your jewelry in pristine condition and get a higher amount for you.
When you consign with Lumina Gem your jewelry is offered in our heavily secured, fully-insured cases to hundreds of visitors each week. We take pride in our jewelry and offer our consigners the best location to sell jewelry with an educated staff, online jewelry store, social media exposure, and local TV and magazine marketing. An added benefit of consigning your jewelry with us is that you never have to jeopardize your personal safety by selling to strangers.
When you consign with Lumina Gem we provide you with a contract with full colored pictures of your items that indicates a fixed amount that you will receive once the item sells, not a percentage. This allows us to have periodic sales and promotions that does not affect the amount that you receive. We consign jewelry for a period of one year, and ask for a minimum consignment period of four months, to allow us to recoup our investment in cleaning, refurbishing and marketing of your jewelry.
In addition to consigning jewelry, we also offer a jewelry brokering service.  If you want a quick turnaround of cash for your jewelry, have inherited jewelry that you wish to liquidate, or have a style that we cannot sell easily in our cases, this may be a good option for you.  Here is how it works:  We offer pictures and a description of your jewelry to our network of wholesale jewelry brokers, and then communicate to you the highest offer we have received.  At that point, if you choose to sell your jewelry, our brokerage fee is 20% of the sales price.  Please understand that if you brokering your jewelry, you will receive a wholesale offer, not a retail offer