She DOES NOT WANT
the latest back massager…
She'd MUCH rather have a glitzy wallet.  $18.
And NOBODY WANTS a Shrek chia pet…  
Get them a staked beach drink holder instead…
…they'll love you all next summer! $10. 
Ahhh…the OBVIOUSLY RE-GIFTED lotion set…DON'T DO IT!
She'll know. No kidding. 
Get them their very own SOLO CUP koozie instead!  $10 each.  
The store is full of memorable and affordable gifts to make the season bright. Stop in and get THE PERFECT PRESENT from Home Again!
Coral motif necklace, $38.50 Glass knob hook $8. 
Red beaded hurricane $14.
And speaking of presents…
Lumina Gem has a great treat in store for you!
We're hosting a trunk show for Raymond Mazza Jewelry.
 This family has been in the jewelry business since 1909
and their styles are always exquisite.
Save the Date: RAYMOND MAZZA TRUNK SHOW
Wednesday, December 9TH, 2015
FROM 10AM TO 4PM
And while you're shopping, MAKE SURE to build your Lumina Gem
WISH LIST, and you'll be registered to WIN a Wrightsville Beach bracelet!
The drawing is December 19th!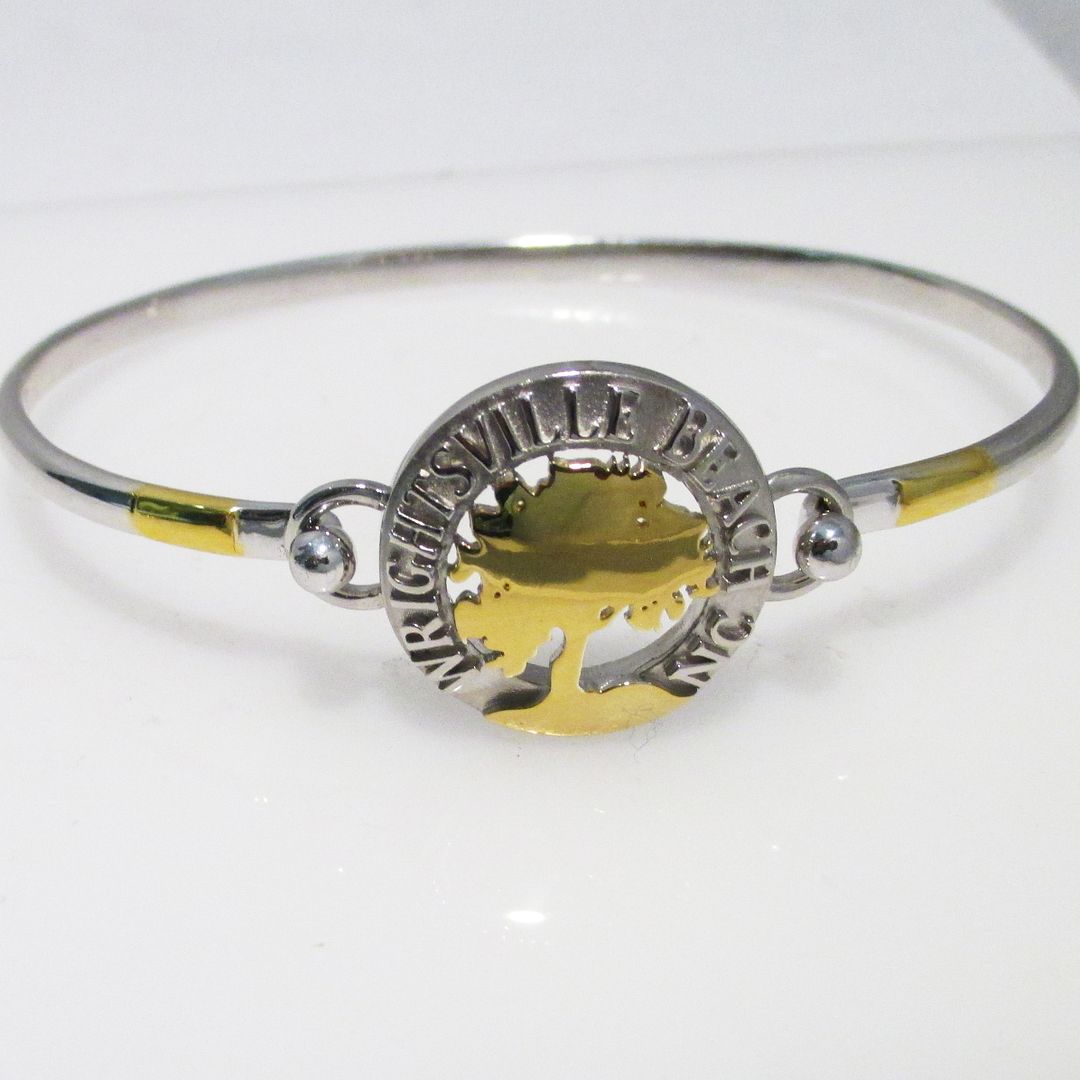 On with the HO-HO SHOW!
We like the lines on this soft white console, notice the hint
of the Victorian era,  $275. 57x19x30.     
SUPER SLEEK genuine leather modern chair in a soft dove gray, $375.
In excellent condition. 46″ W. 
If your little princess has outgrown her toddler bed, you can thrill her on Christmas morning with this white sleigh trundle bed that includes the mattresses for free.  This ensemble retailed for over $1,200, our price, $595. 
Pale aqua stressless style chair and ottoman, nice and roomy,
brand new for $575. 35″ W.  
This Fitz & Floyd serving bowl would look amazing on your
holiday table and it's a steal at $24. 
Take a close look at these super elegant mirrored lamps. In 6 years, we've
never had this sophisticated and unique style, $95 each. 37″ H.
The retail on this stylish round dining table is $599, our price $245.
48″ diameter as shown.  Additional 20″ included.
FESTIVE!  We have the 12 days of Christmas dinner plates by Mikasa.  
These retail for $45 each, our price for all 12 is just $125.
ON SALE. You can pick up this modern chrome and glass sofa table
for just $125. 47x16x27.5. 
These stunning chrome and black lamps retailed for over $700 each, but they've been reduced to just $145 each! Great size at 21Wx37H. Not sold separately.
Another nice sofa table, this one in washed wood with a copper look top,
PUT A BOW ON IT for $295. 50x20x30. 
This orchid painting is soft and sophisticated, $95. 27.5×39.5. 
Gather around this gorgeous iron leaf scroll glass top table
for just $165, indoors or out. 39.5″ diameter. Ornate silver chest, $396.
We don't take many oak items, but this classic two-sided partner's desk
(or console) in tiger oak is a true classic beauty at only $295!
PERFECT for your bonus room…this washed finish tv console
is a great deal at $195. 60×16.75×23.5.
We also have it in espresso. $195.
This whimsical art is MUCH LARGER than it appears in the photo,
and is a real statement piece, $395. 44.5×61.  
Looking for the perfect foyer piece?  Here you go.
 Notice all the carving details. $295. 56x21x31. 
Classic and elegant Kincaid poster bed in queen,  STEAL IT for $375.
Zebra wing chairs, $396 each. 26.5″ W.
Too cute for words! We just received this adorable Eiffel Tower inspired
tin garden obelisk, $72. 18×55.  Imagine it with a red bow on top.  
This shelf unit will hold all of your valued items in style…and you can even
put it on it's side to make a tv console.  $195. 31.75x12x60. 
ON SALE…handsome 4-panel rattan and wood screen, $125.
Each panel is 15″ W, 4 panels.  
Soft and serene shells to adorn your coastal home, $115 each. 28.5 sq.
Pink tool kits are nice…
But what we really want is JEWELRY! 
Save the date…ONE DAY ONLY
RAYMOND MAZZA TRUNK SHOW
DECEMBER 9TH, 2015 10am-4pm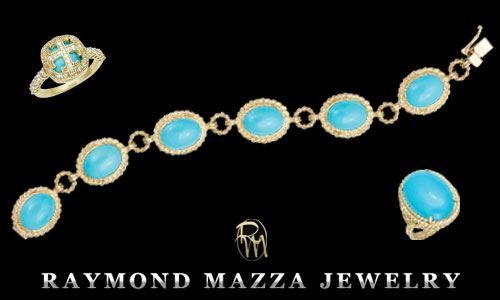 Take a peek at the Twilight collection with mother of pearl, abalone
and rock crystal quartz. Just a note, all items at the trunk show can be ordered
in sterling silver, gold and gold overlay.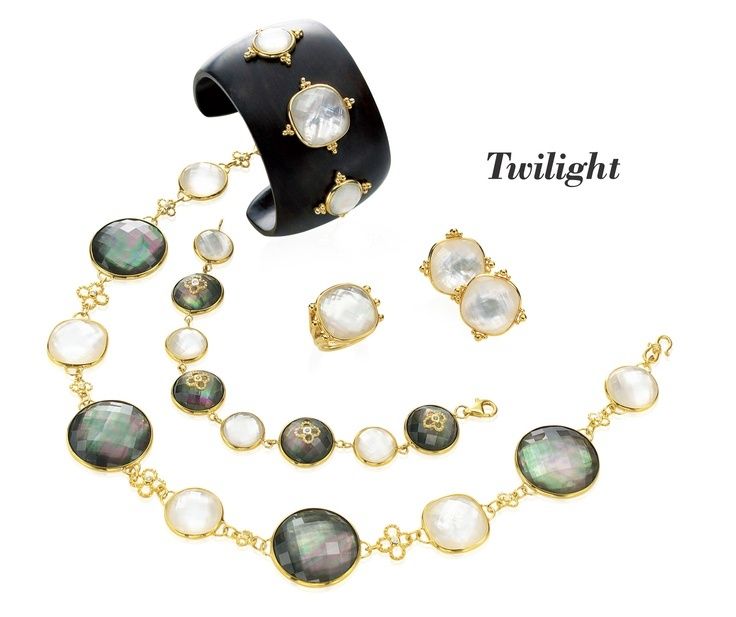 Raymond uses bright and bold gemstones like this labrodorite enhancer
and pink tourmaline.  
The finest of gemstones are hand selected like this cabochon aquamarine.
Check out the pristine quality of setting that are made right here in the USA.
And just a reminder, all items at the trunk show can be ordered in
sterling silver, gold and gold overlay.
Rope and nautical styles are Raymond's forte,
and all can be made to order in high or low settings.
Superior quality gemstones are set into well-made,
unique diamond jewelry. 
The South Sea pearls that Raymond uses are full of lustre.  
The "Intaglio" collection is carved out of Venetian glass and depicts of Greek and Roman scenes. All items at the trunk show can be ordered in sterling silver, gold and gold overlay.
The convertible earrings are nice to have and exchange when
pairing up with different outfits and seasons. 
Raymond Mazza designs is said to be the next Slane…
with their classic, heirloom pieces.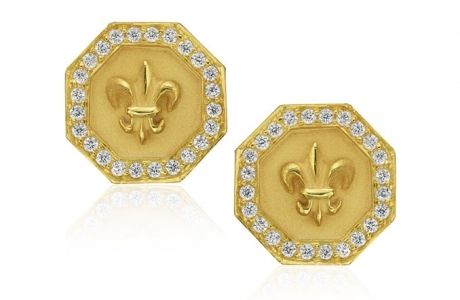 Raymond Mazza uses SLEEPING BEAUTY TURQUOISE
in all of his turquoise jewelry pieces.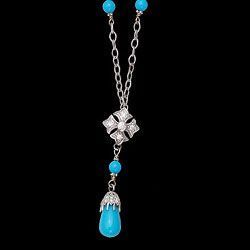 Just look at the quality of these earrings made of chalcedony set into a gorgeous rope design, which can be ordered in sterling silver, gold and gold overlay.
Now through Christmas we are offering 20% off of all diamond earrings…
that includes diamond earrings that have colored stones in them.
Allison-Kaufman Co. .20ctw sapphire and diamond accent hoops
in 14kw gold. Sale price $555.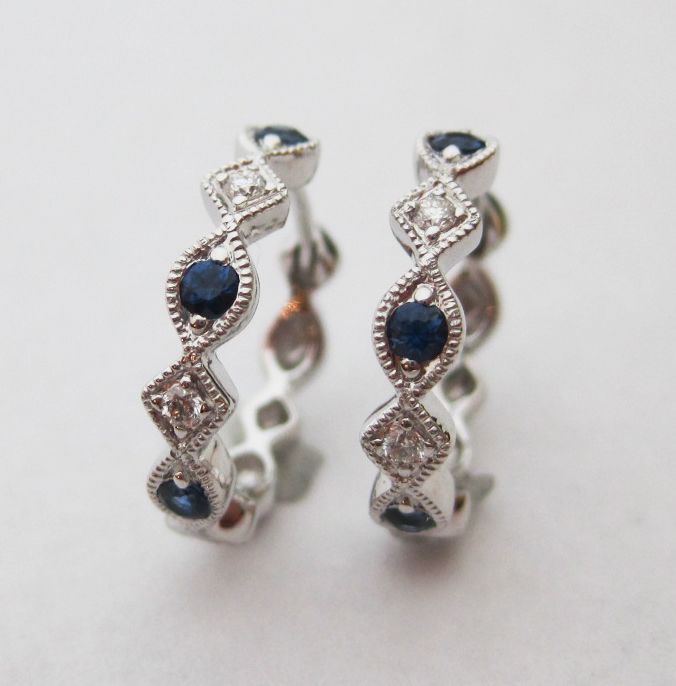 Brand new pieces, left to right:
1ctw SI clarity I color 14k white gold, $2,395.
2.11ctw VS2/SI1 clarity J color 14k white gold, $9,595.
1.48ctw I clarity H color 14k white gold, $1,915.
.75ctw I clarity H color 14k white gold, $955.
Never been worn before!  Every lady loves the lock and release, inside-out
diamond hoops.  Sale prices range from $1,195 to $6,295.
1ctw diamond dangle earring in 14ky gold. Sale price $1,275.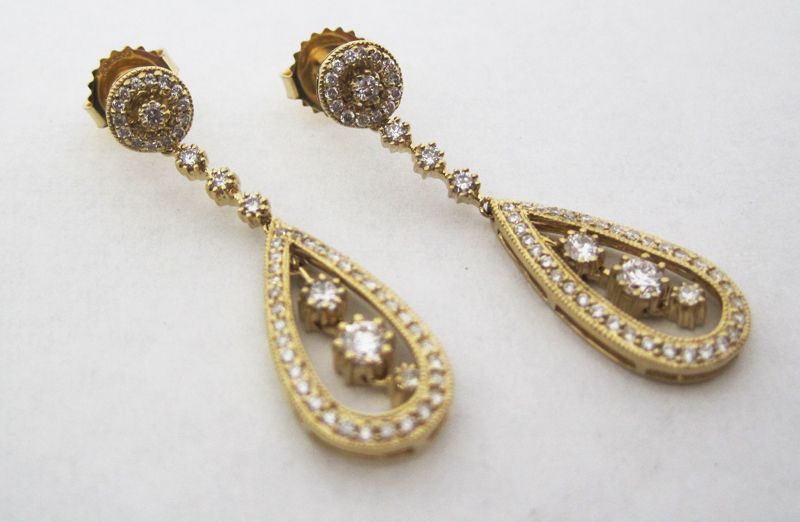 Natural pearl drop earrings with diamonds in 14w gold. Sale price, $265.
Just in time for Christmas…these bracelets are stunning!
Left to Right:
7ctw diamond round in 14ky, $9,995.
8ctw diamond round in 14kw, $12,995.
6ctw diamond round in 14kw, $8,995.
4.50ctw marquise and round diamonds in 14kw, $15,815.
3.80ctw diamond round in 18ky gold, $2,395.
4.50ctw round and baguette yellow diamonds, $5,995.
3.75ctw round and baguette diamonds, $5,895.
John Hardy sterling silver bracelet with a rectangular 22ky emblem.
It has a push lock, 7 inch. $795.
John Hardy Palu 22ky gold and sterling silver medium size hoops, $695.
Estate Slane Fenestra diamond earrings in sterling silver with omega backs.
These retail for $850, and are included in the diamond earring sale for only $355.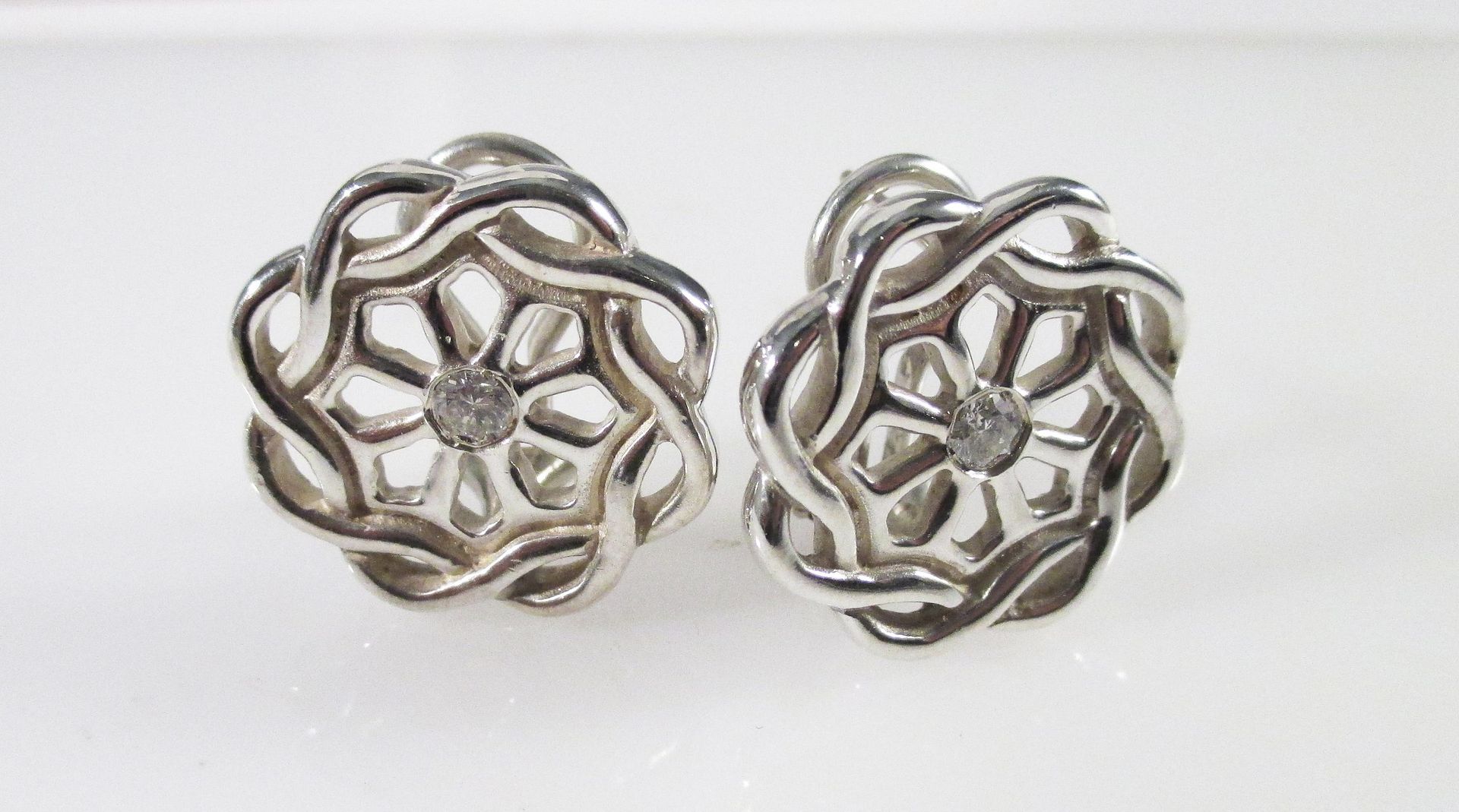 Estate Tiffany & Co. Elsa Peretti teardrop earrings.
Retail, $400, our price $225.
She will SQUEAL when she sees this!  Estate David Yurman 1 inch vintage
cuff with multi color quartz. Retail $2,200, our price $1,195.
HUGE Judith Ripka collection on consignment…
prices range from $50 to $195.
Estate Asch Grossbardt Picasso collection slide pendant with coral, turquoise, malachite with .25ctw diamonds in 14ky gold, 8.9 grams. $695.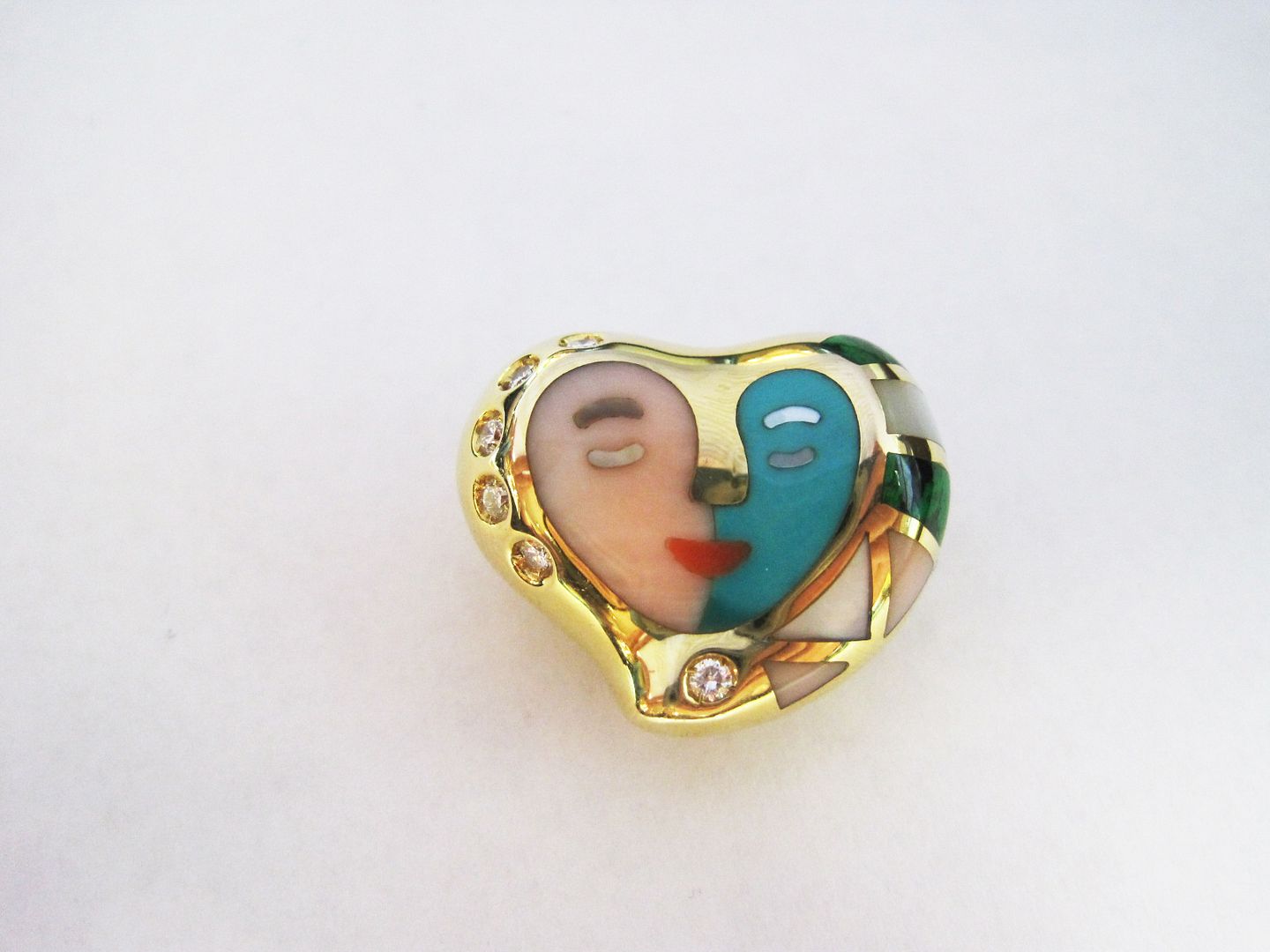 Is the a PANTHER FAN?  She will ADORE this estate 14k yellow gold
panther ring with diamond eyes, $345.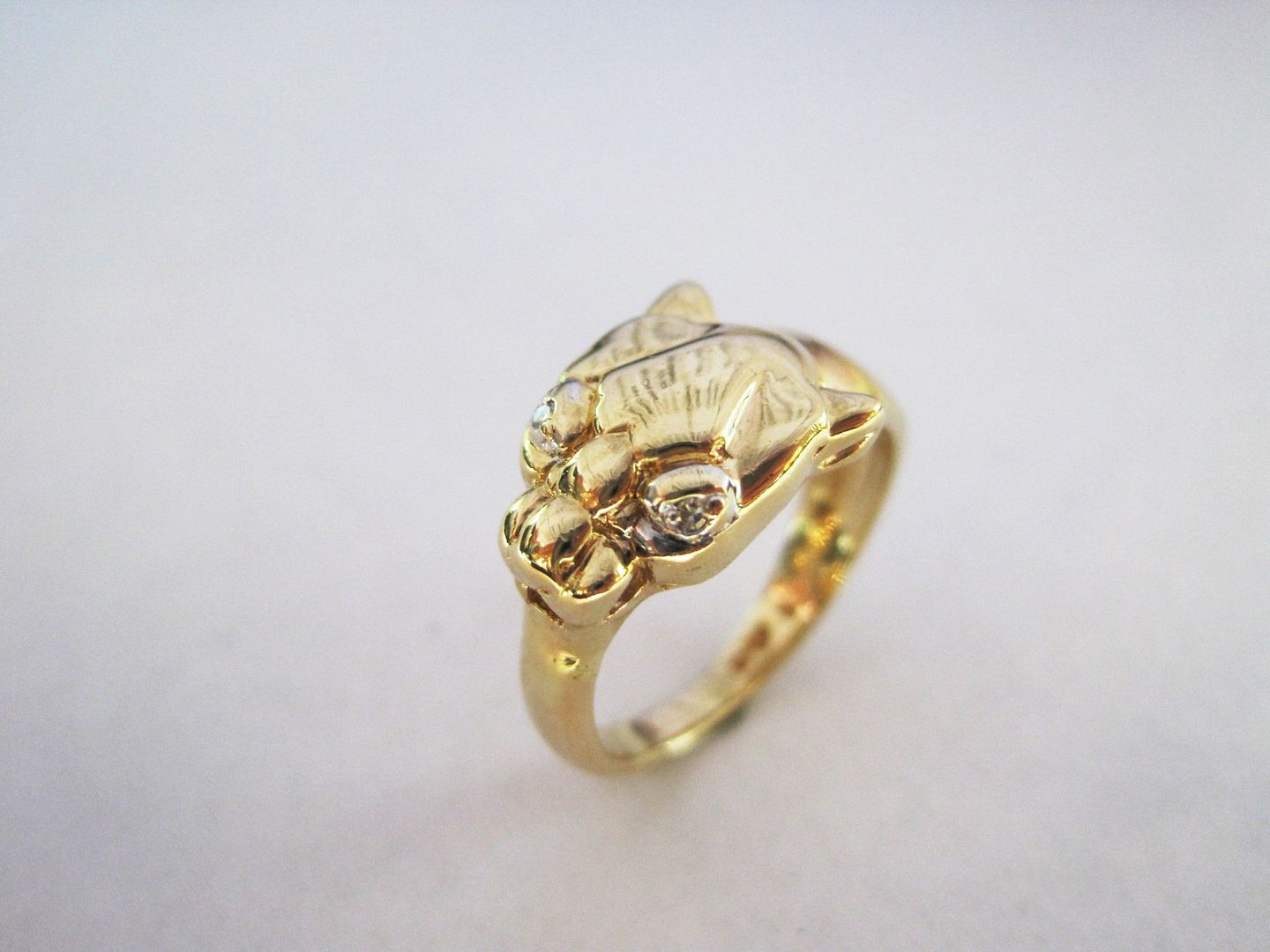 Lovely estate 14k yellow gold cuff with sapphires and diamonds. $595.
This estate 1.25ctw VS2 clarity G color band in
18kw gold is a steal for only $1,595.
We LOVE this estate 14k tri-gold set.
16 inch necklace, 16 grams. $995.  7 inch bracelet, 6 grams.  $425.
Earrings, 3 grams. $155.
The WOWZA.  Estate 14ky Italian fancy link collar,
18.5 grams, 16 inches. $4,445.
We might be going out on a limb here, but we are guessing
that he DOES NOT WANT any toe socks… 
How about a craftsman-made oyster knife instead?
There are 7 different species of wood in this collection, and they are
$125 each, which includes custom engraving with his initials.
(We are also offering the entire collection as a boxed set
for $750 if you want them all!)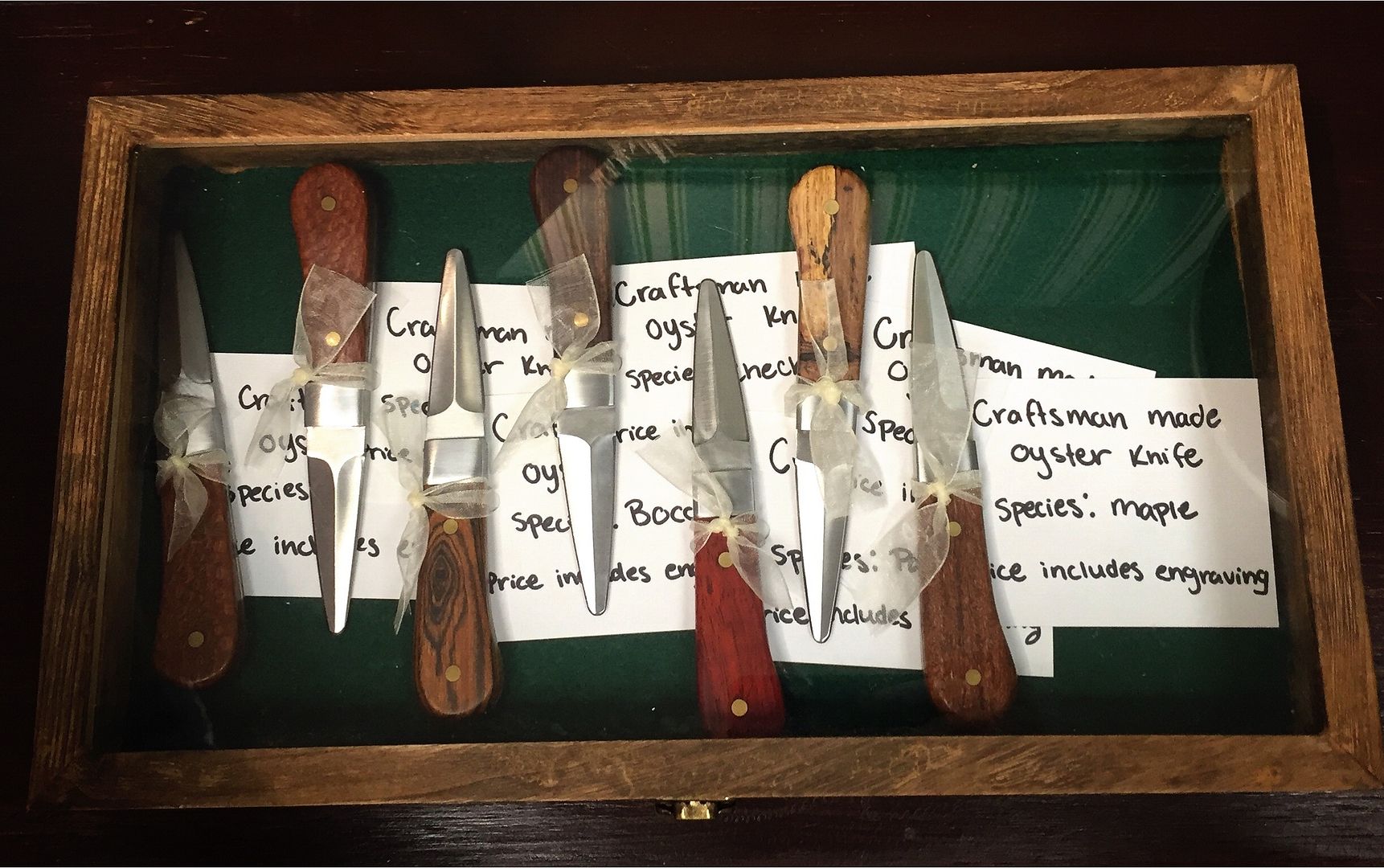 ~Carved red palm wood $125 with free engraving~
~Carved maple wood $125 with free engraving~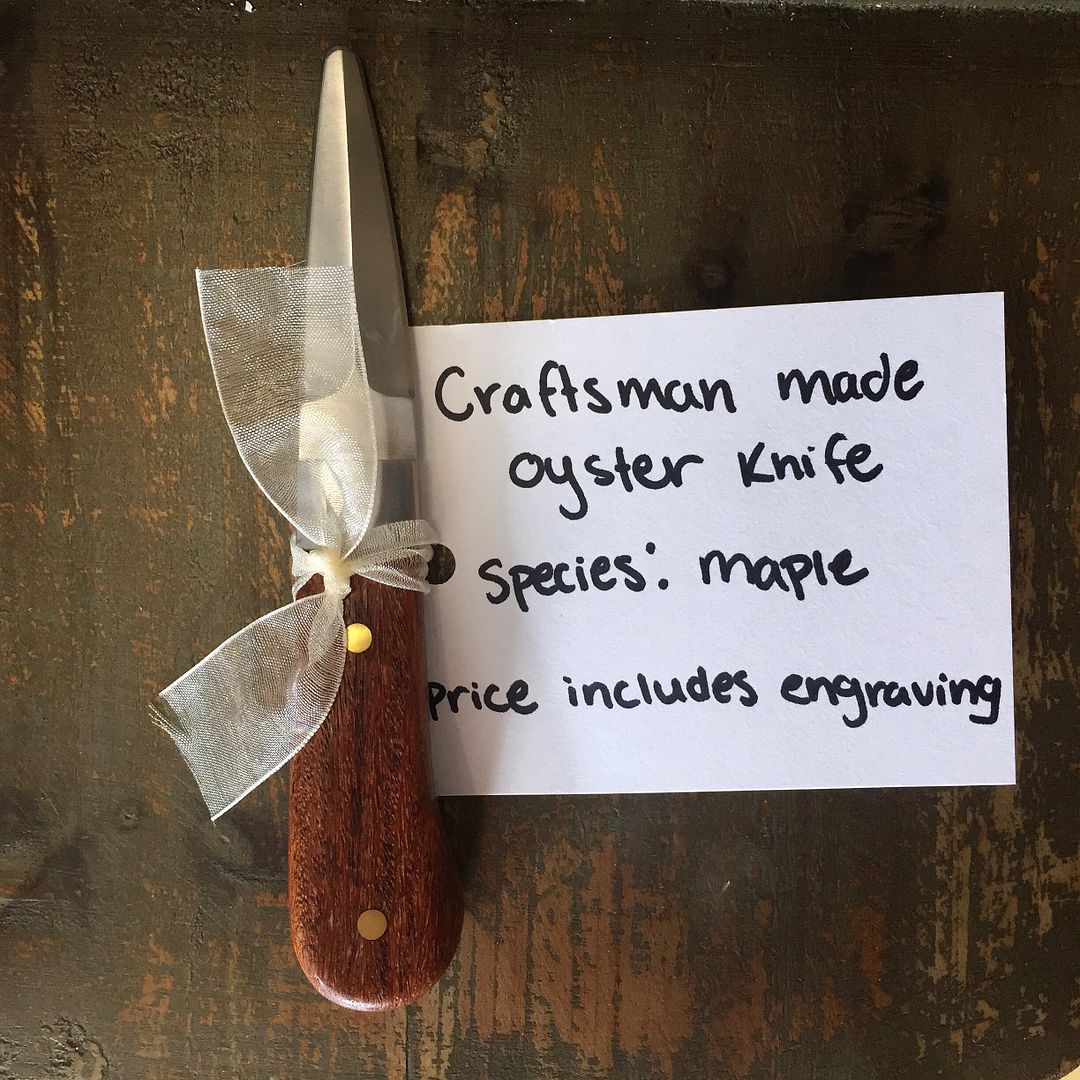 ~Carved leopard wood $125 with free engraving~
Ugly Christmas sweaters are so cliche…
Get them what they REALLY WANT
at Home Again & Lumina Gem. 🙂
Have a great weekend, and thanks for reading our email. 
~~~~~~~~~~~~~~~~~~~~~~~~~~~~~~~~~~~~~~~~~~~~~~~~~~~~~~~~~~~~~~~~~~~~~~~~~
INTERESTED IN CONSIGNING WITH HOME AGAIN?
Here is everything you need to know.
We accept items on consignment for a period of 90 days and
our consignors receive 50% of the selling price.
As a general rule, anything we accept must be in 'like-new' condition, less than 5 years old, and current in style; ie you could buy a similar item in an upscale furniture or décor store.
For larger items, such as a dining set or sofa, it is always best to email or bring in photos first to make sure we can accept it. Once we have accepted your item(s), if you need assistance bringing it to the store, we can recommend delivery companies for you to contact. Their rates vary based on the number of items and location, and typically start at $65.
If you have a large volume of merchandise, such as a model home or entire estate, one of our associates will be happy to conduct an on-site visit by appointment.
All items we accept are placed on our sales floor immediately,
so please make sure your items are thoroughly cleaned prior to bringing them in.
Here are a few more details about the items we accept.
Wooden furniture, including dining, bedroom and accent furniture, must be mostly solid wood with no missing hardware. It must be in excellent working condition, with only slight scratches or imperfections in the finish.
Upholstered items, such as sofas and chairs, must have no stains, rips, tears, odors, pet hair, noticeable fading and must be from smoke-free homes; in other words, in excellent condition. The age of the upholstery item we accept will generally be 5 years or less.
Decorative accessories, art and lamps must be clean, in excellent shape, and have no major chips, scratches or imperfections. We are always happy to accept 'knick-knacks' such as small picture frames, candlesticks, bookends, serving platters, etc.
We accept chandeliers on a limited basis if they are current in style and their original retail value was $500 or more.We accept holiday decorations on a very limited basis, and only if they are valued over $75. We accept patio furniture of all kinds provided that it is in excellent condition; ie no rust and the cushions must not have substantial fading and wear.
Sorry, we cannot accept the following items:
Antiques & collectibles
Traditional or 'country' style furniture
Window treatments, bedding or mattresses
Rugs
Full size beds
Furniture that must be refinished or repaired
China, silver, or crystal
Toys, juvenile furniture or juvenile art
Electronics or appliances
Clothing
We accept consignments Monday – Friday, 10am to 5 pm.
Consignments are accepted on Saturdays by appointment only.
INTERESTED IN CONSIGNING WITH LUMINA GEM?
Here is everything you need to know.
Lumina Gem offers the finest selection of consigned jewelry. Since we are a full-service jewelry store, we are able to knowledgeably evaluate your items and do the necessary cleaning and repair work to present your jewelry in like-new condition. This allows us to present your jewelry in pristine condition and get a higher amount for you.
When you consign with Lumina Gem your jewelry is offered in our heavily secured, fully-insured cases to hundreds of visitors each week. We take pride in our jewelry and offer our consigners the best location to sell jewelry with an educated staff, online jewelry store, social media exposure, and local TV and magazine marketing. An added benefit of consigning your jewelry with us is that you never have to jeopardize your personal safety by selling to strangers.
When you consign with Lumina Gem we provide you with a contract with full colored pictures of your items that indicates a fixed amount that you will receive once the item sells, not a percentage. This allows us to have periodic sales and promotions that does not affect the amount that you receive. We consign jewelry for a period of one year, and ask for a minimum consignment period of four months, to allow us to recoup our investment in cleaning, refurbishing and marketing of your jewelry.
In addition to consigning jewelry, we also offer a jewelry brokering service.  If you want a quick turnaround of cash for your jewelry, have inherited jewelry that you wish to liquidate, or have a style that we cannot sell easily in our cases, this may be a good option for you.  Here is how it works:  We offer pictures and a description of your jewelry to our network of wholesale jewelry brokers, and then communicate to you the highest offer we have received.  At that point, if you choose to sell your jewelry, our brokerage fee is 20% of the sales price.  Please understand that if you brokering your jewelry, you will receive a wholesale offer, not a retail offer