The holidays have gone to the dogs…
The Home Again & Lumina Gem dogs!  
Here are our precious poochies all 
decked out in their holiday finery. 
From our house to yours…
HAPPY HOWLIDAYS!
~~~~~~~~~~~~~~~~~~~~~~~~~~~~~~~~~~~~~~~~~~~~~~~~~~~~~~~~~~~~~~~~~~~~
And here is a deal that is certainly not a dog…Lumina Gem's
$2000 CASH giveaway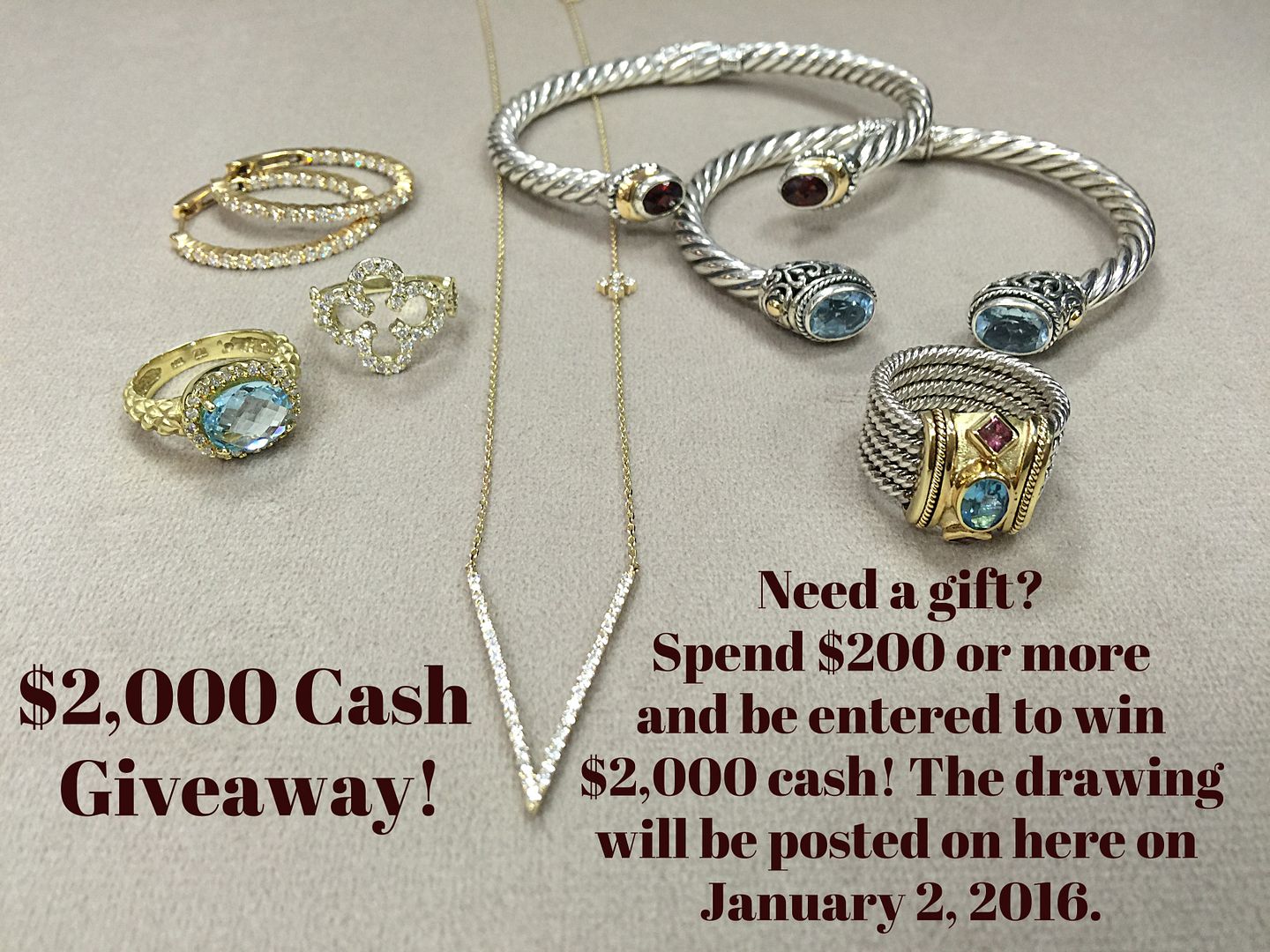 ~~~~~~~~~~~~~~~~~~~~~~~~~~~~~~~~~~~~~~~~~~~~~~~~~~~~~~~~~~~~~~~~~~~~~
On with the doggone good show…
you DO NOT want to miss it!
FOO DOGS were everywhere at market…and we are OBSESSED with them.
 In lime green, $52 each.  Can be purchased separately. 9×9.
Also in turquoise, $52 each. L.O.V.E. 10×10
Cause your poochie needs a holiday treat, too…we made a special purchase
of these great looking dogs bowls, $24 each. 8″ sq X 5″ h.
For the true dog lover, give her this unique Clever Carriage Co. handmade needlepoint handbag. Similar bags sell on Ebay for $225, ours just $72.
~By Appointment Only~
We are thrilled to be offering an ORIGINAL George Pocheptsov.
This painting is valued at $16,000, and we are offering it for $14,000.
If you have serious interest in securing this painting, please give us a call
to schedule an appointment, which we will arrange with the owner.  
This painting was obtained in 2012 during a fundraiser for the Carousel Center for Abused Children. Pocheptsov is shown here, along with his mother, at the event.
Art collectors…here is your chance! 
Your Home Again elves have been BUSY this week resetting the ENTIRE STORE! 
This week alone we received a giant showroom sample truckload, multiple home conisgnments, and a huge model home shipment. Brand names you love like Tommy Bahama, Ethan Allen, Drexel Heritage, and Braxton Culler just to name a few.
Bring a truck this weekend and load up on furniture and home decor,
just in time for the holidays! We've got more furniture than Santa has toys…
We scored an AMAZING DEAL on exqusite market samples
from uber high-end maker ALDEN PARKES. Shown here, a round crackle gold
mirror, a steal at $175. 35″ diameter.  Also available in silver.
Do you love jewel tones as much as we do? This is the set for you! Genuine
leather sofa in a RICH peacock blue with silver nailheads, $1,395. 86″ W.
Here is the matching loveseat and chair. Just in time for the holidays, plenty of seating for all! Loveseat $1,195, 63″ W. Chair $795, 40.5″ W. 
Here are two luxe round silver mirrors,
also from Alden Parkes.  $125 each. 28″ di.
This generously sized Alden Parkes bench in white with neutral upholstery retails for $2,500+…our price a crazy $495.
 If you like high-drama, this one is for you. 69×21.5. 
Luxurious Alden Parkes coffee table, $425. 
This coffee table SCREAMS quality when you see it. 36×43. 
We also have the matching sofa table…the top is a burnished gold,
and the legs are trimmed in silver.  $425. 60×18.5×34.5. 
A Home Again first…we've received lots of Eckornes stressless chairs over the years, but never a sofa.  The Manhattan model, in genuine black leather, retails for $3,500, our price $1,295. 85″ w.
A FRESH color pallette…abstract art, $195, 48″ square,
 green lamp, $82, white mirrored cabinet, $265. 
A nice accent chair in beachy upholstery, a brand new market
sample for $425. 31″ W.
Just in time for holiday entertaining…we like this gold bar with
black genuine stone shelves, $75. 28x12x34.
Because he needs a handsome chair…look at this market sample
beauty for $325. 28x31x35. 
VaVaVoom…need a statement piece for your modern home?  Here you go!
 This Herman Miller inspired Marshmallow settee retails online for $1,399,
our price, $495. 49.5″ W.  
Good looking houndstooth trunk with teal trim, $185.  
Makes a nice coffee table, too.  34x15x22.5.
We received over 50 new market sample lamps this week! This organic look
wood beauty with burlap shade is a score at $52. 26″ H. 
The room maker…coastal abstract in blues, green and gold, $155. 37.5″ sq.
GOLD IS IN…and what better way to get in style than with these
golden seashells, $15 each. 
This classic club chair in dark gray and burnt orange would be cozy
by the fire! $395. 29.5″ W.
Grand in proportion, we love this unique mahogany hutch,
and it has been reduced to $550! 68×21.5×87.
Modern, but not sterile…plush gray club chair, $425. 41x37x36.   
FUN!  We love the pink and orange color combination
on this classic slipper chair, $165. 28.5″ W.  
ADORABLE turquoise crackle accent chest, $295. 28x27x15.5. 
This mirror came in from the maker with gaps in the joinery…so if you are handy and can fix it, you can STEAL this amazing turquoise wood mirror for $65.  35×48. 
From Barbara Heckman, this neutral brand new market sample chair
with exqusite lines is a great value at $425. 32x34x36
We ABSOLUTELY LOVE the lines on this cool wooden bench,
come see it in person.  $265. 37.5×15.5.
We like the look of these white coral figurines, $14 each. 17″ H. 
A great looking and very current accent chair
with a washed wood frame, $195. 24.5″ W. 
Get this Pinterest inspired look for LESS with this gorgeous mirror,
priced at $292. 47″ square.
Store your holiday bounty in one of these handsome butterfly motif trunks, $65- $135. Flip top X-base dining table $425, 65.5×36. Tall ship model, $85.50. 30″ H. 
Lighting is one of the most impactful updates you can make to your home.
We received these brand new brushed silver light fixtures, some still in the box.
Get this transitional 8 arm chandelier for $295. About 27″ di.
We also have 3 coordinating pendant lights, 7″ diameter, $45 each,
and a 3-light wall sconce for $65.
You can configure these classic white wicker accent pieces any number of ways…get the set of 3 for $295. each piece is 30x18x30.  
Need extra seating?  We like the mosaic print on this classic
chair with a black frame, $195. 28″ W.  
FUNKY floor lamp shaped like a giant light bulb, $125. 65″ H.
Similar table lamp also available.

Nice media center in black at a NICE PRICE, just $295. 48x17x34. 
This art just draws you in…$295.  Very large, 44.5×24.5.
Don't miss out on this incredible deal! This pine secretary has just
been reduced to $295! 34x32x81. It would look amazing painted, too.
Santa is in the building!  But he's ready to go to his
new home for just $38. A generous 24″ H. 
Doggie treats are nice, but can I PLEASE 
have a Lumina Gem bag under the tree?  
And to sweeten the deal, we are giving away $2,000 CASH when you shop with us this holiday. Thank you for your continued support, we wouldn't be here without you!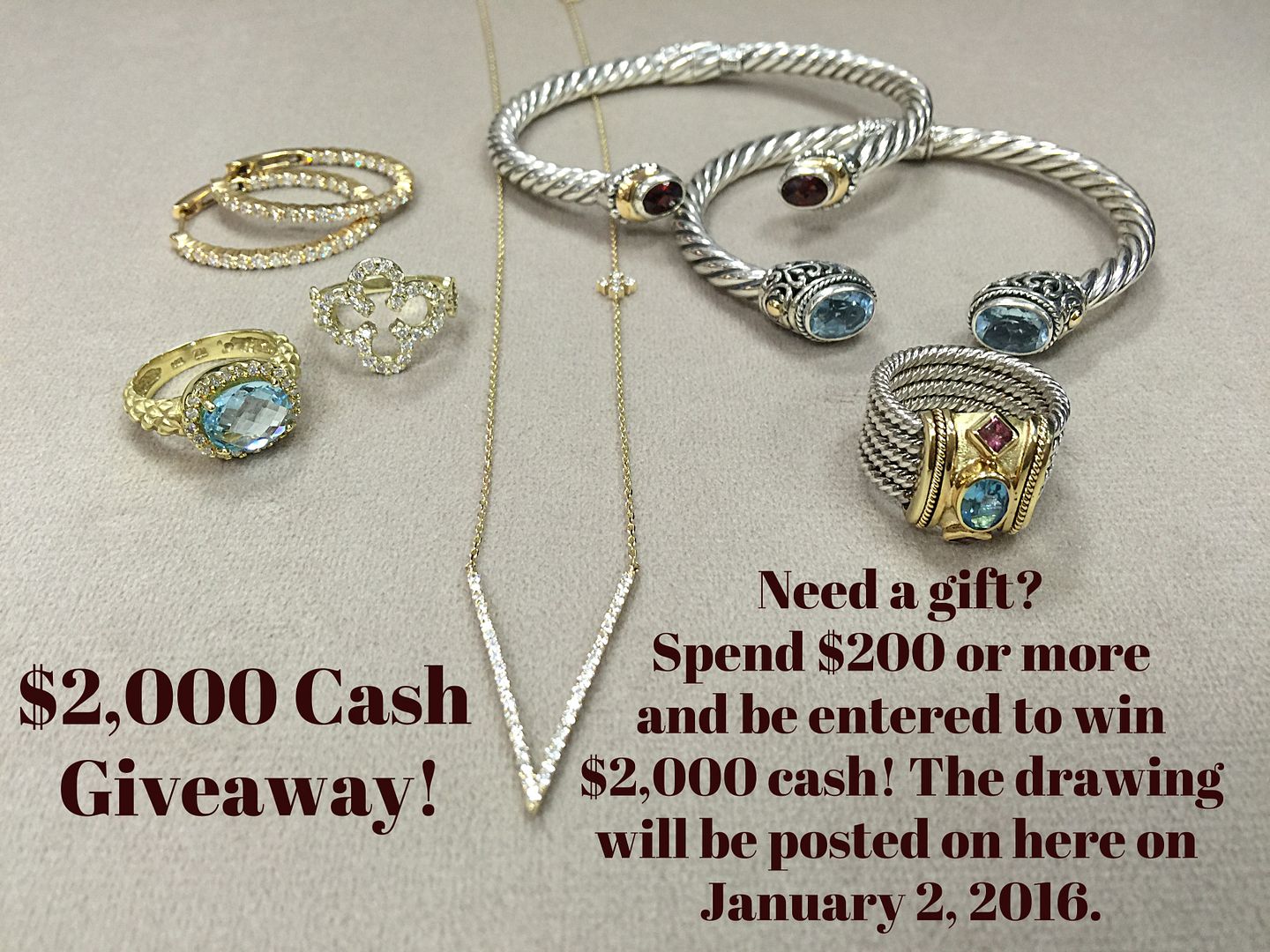 Come get these amazing deals before
Santa finds out they're here!
John Hardy in 22ky gold and sterling silver:
  Dot omega earrings, $395. 17.5 inch necklace, $895.
8 inch bracelet, $795.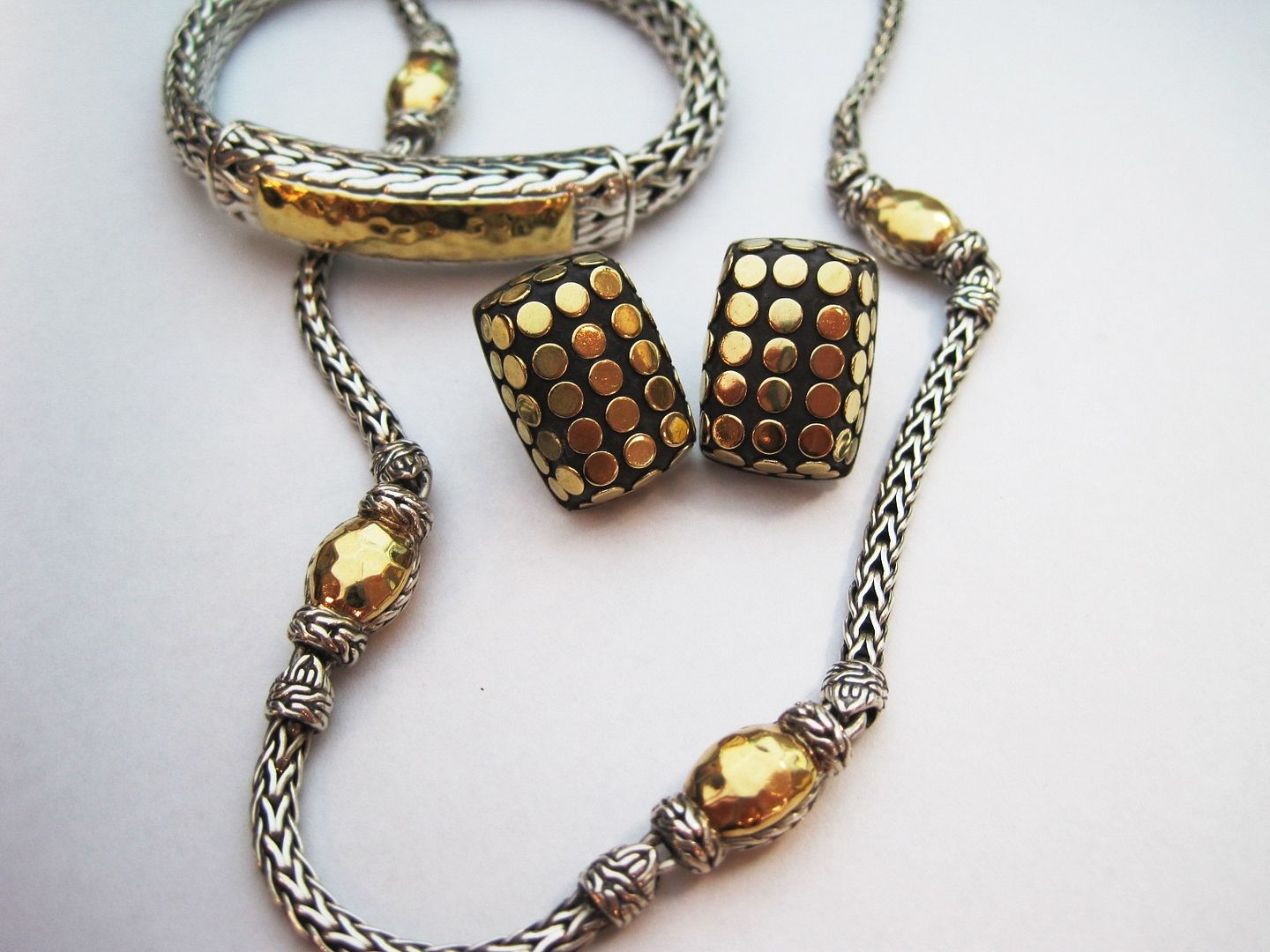 David Yurman sterling silver and 14k yellow gold:
7 inch two tone multi-strand necklace is only $1,595.
17 inch pearl necklace, $295.  Diamond pave oval ring, $595.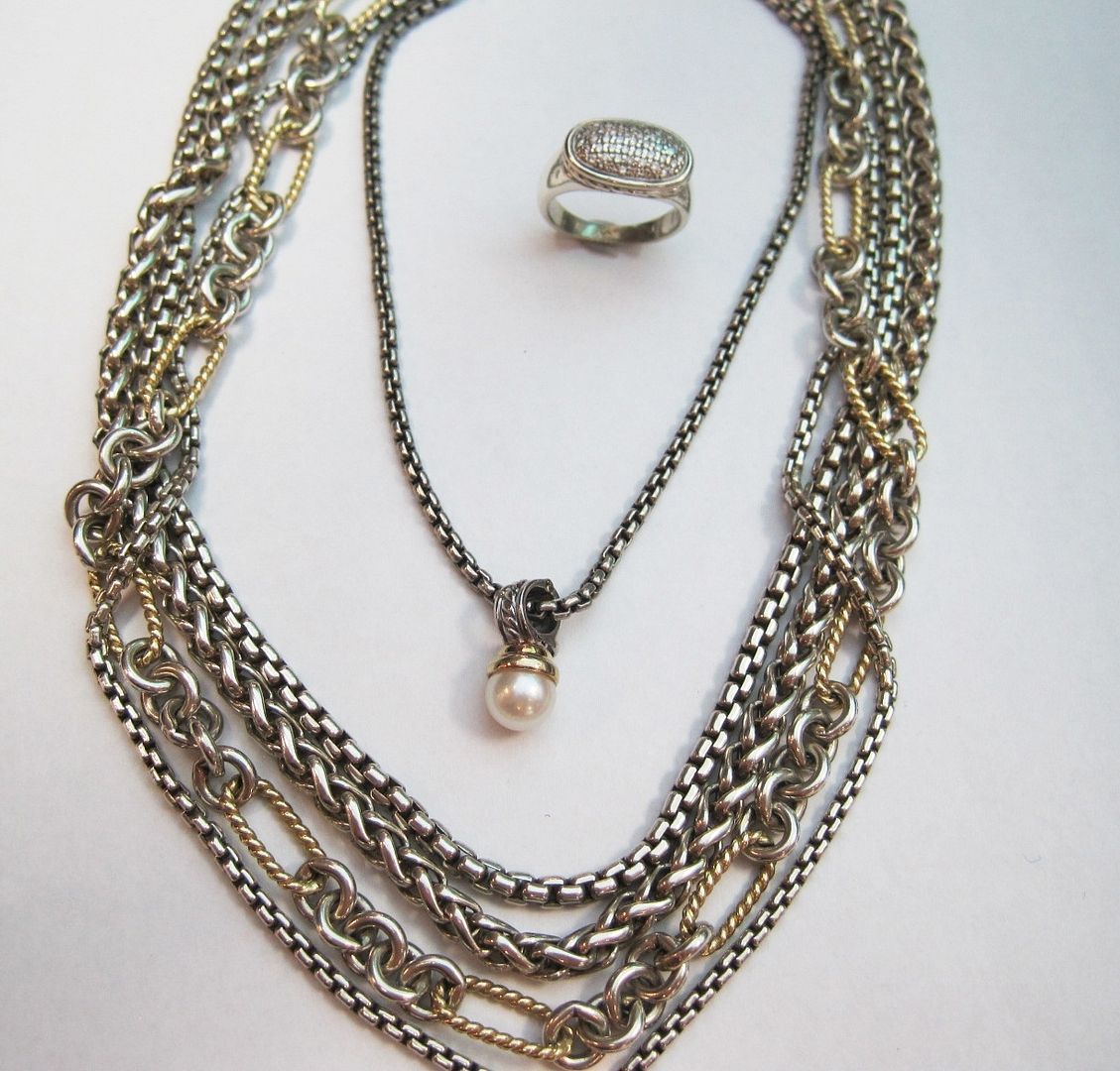 Indah Designs is a meaningful gift to give.  Made here in Wilmington NC
by local artist Camille Corbett.  Prices are just $30 to $88.
.70ctw Hearts on Fire VVS1 clarity H color princess cut center diamond
accented with a .35ctw halo and diamond band. Only $5,835.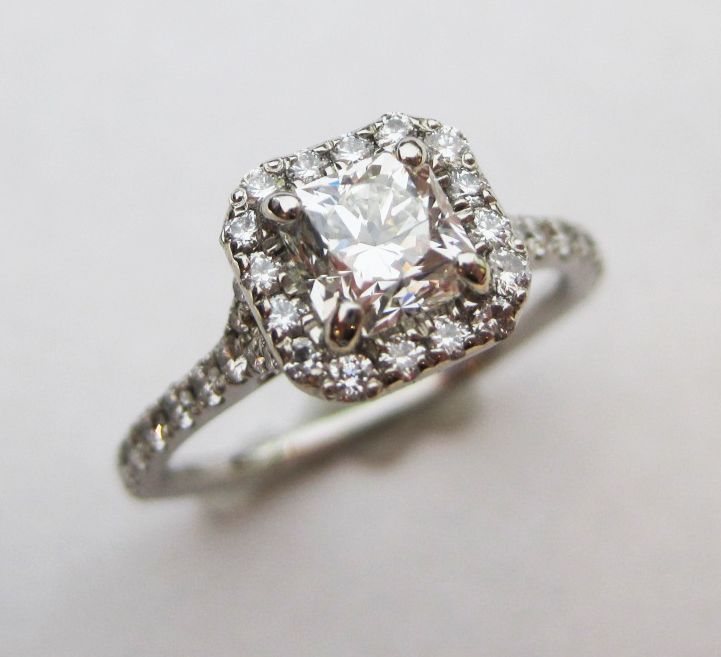 1.55ctw sapphire and .62Ctw VVS1 clarity G color diamond band
in 18k yellow gold.  $3,995.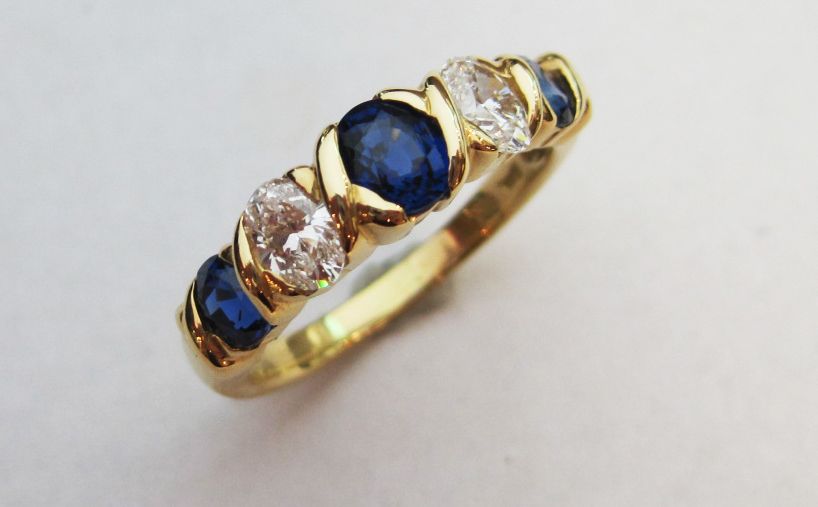 We have diamond bands of all shapes and sizes!
Prices range from $995 to $4,395.
Do you want gold?  We've got it!
 1ctw of I1 clarity H color diamonds bezel set accented by a three row
marquise link necklace, 16 inch, 32grams. $2,395.
Approximately 1ctw bezel set diamond ring in 18k yellow gold, $1,995.
14k yellow gold bracelets:
Mesh link 7 inch 8.36 grams,  $545.  Circle link 7 inch 10.5 grams, $625.
Rolo link 7.5 inch 10 grams,  $675.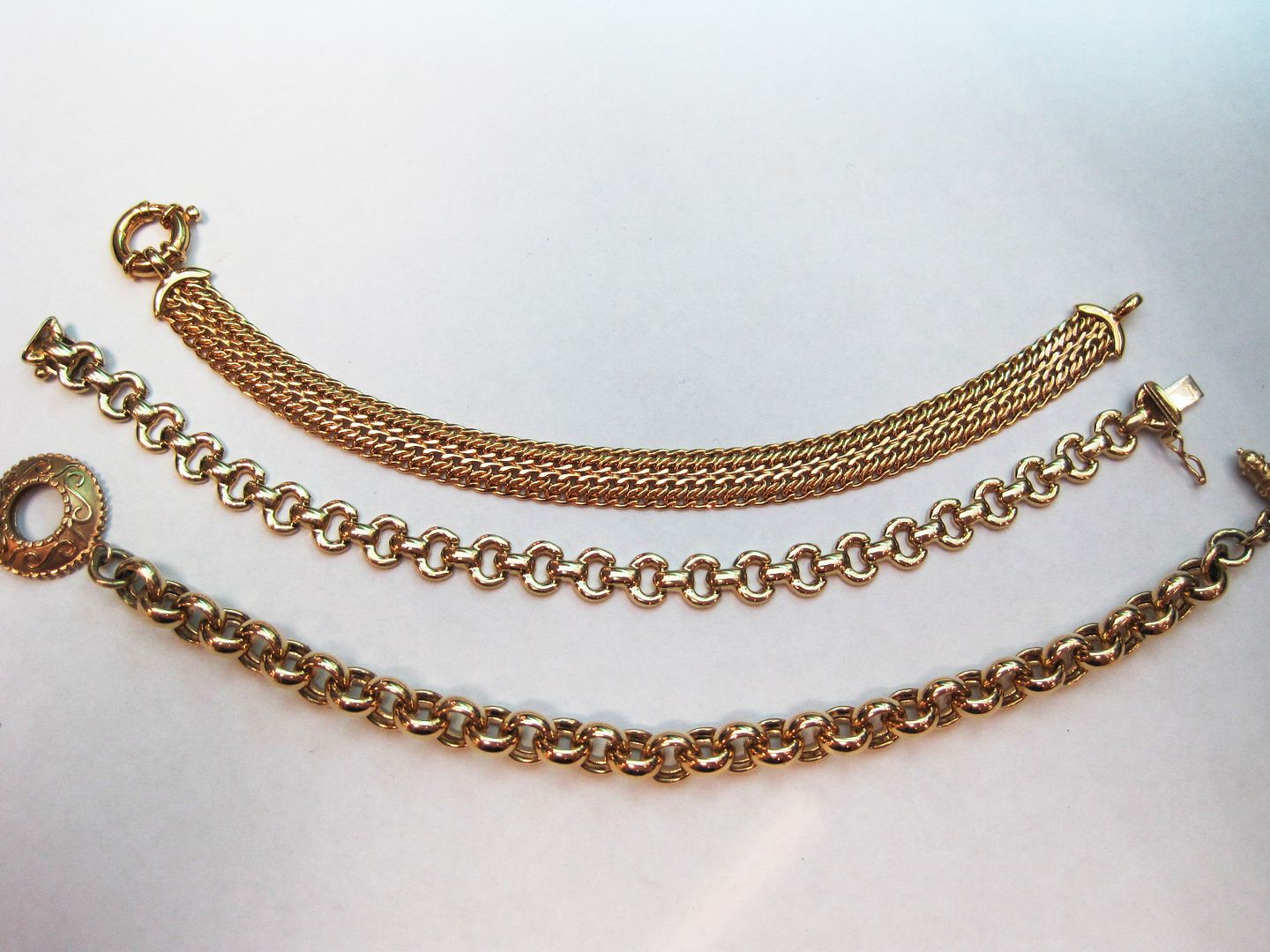 You can never go wrong with Akoya pearl studs!
6mm in 14k yellow or white gold, $115.
6.5mm in 14k yellow or white gold, $135.
7mm in white gold, $185.
8mm in 14k yellow or white gold, $245.
Freshwater pearl studs: 11mm in 14k white gold, $695.
~Assorted brooches are also pictured here~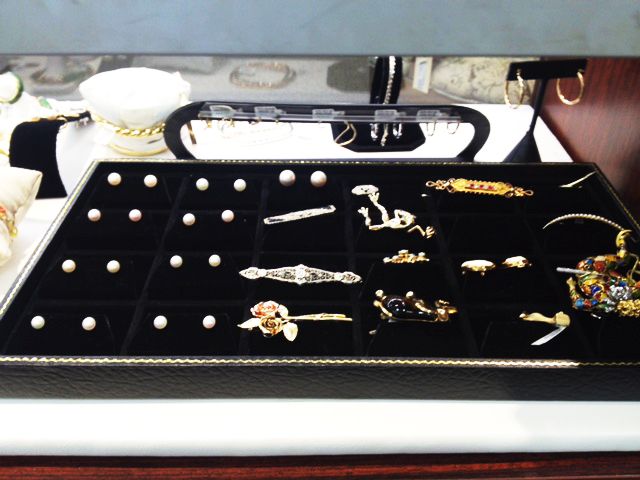 THE CONSIGNER SAYS "THESE MUST GO"
GIA certified 3.30ct fancy yellow VS1 radiant cut diamond accented with
1.92ctw of trillions and baguettes in 14k white gold.
Listed at $33,210, MAKE OFFER
The beloved Paisley 5.35ctw VS1-SI2 clarity I color diamonds in platinum.
List is $9,195, make an offer.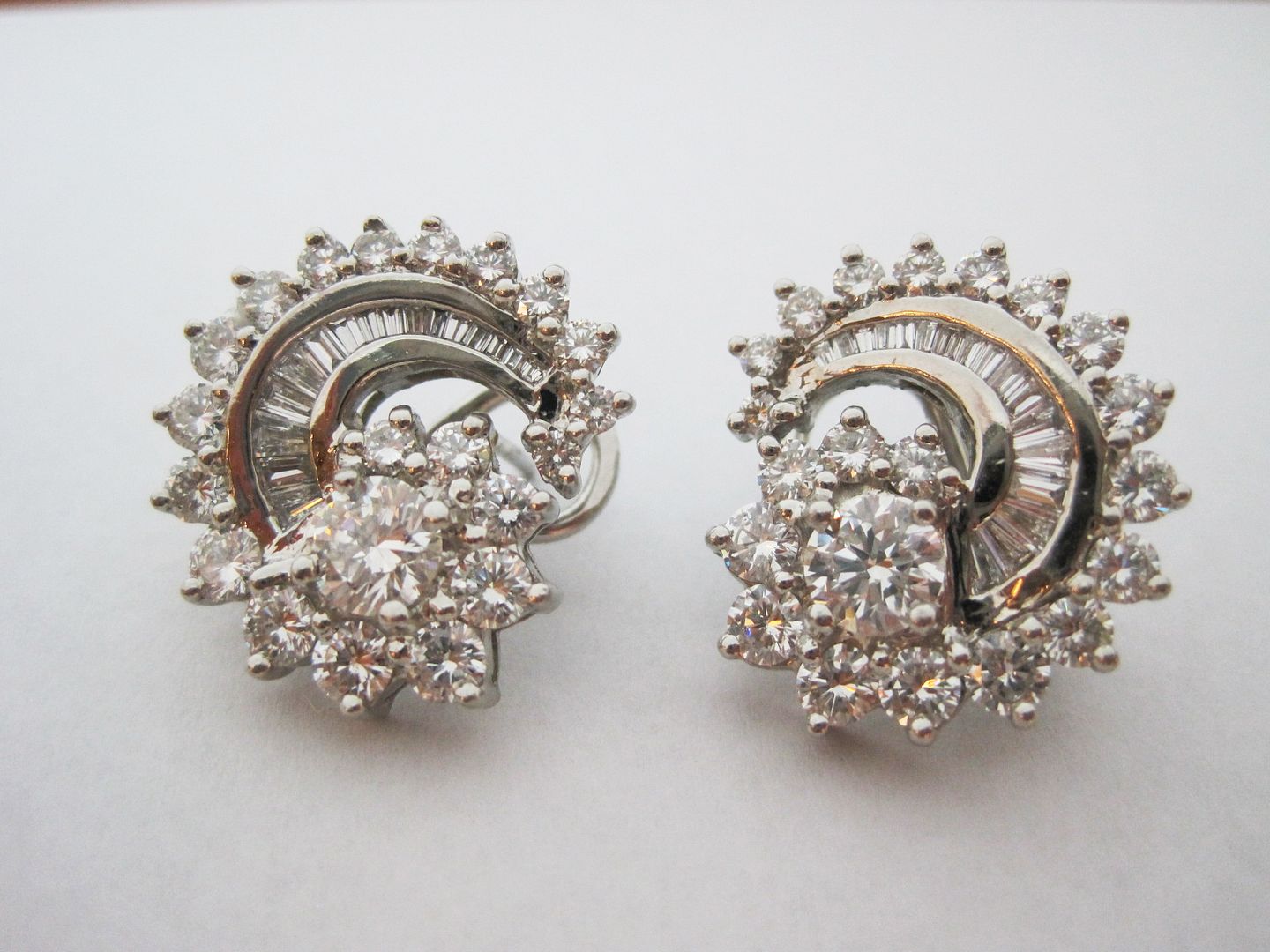 This statement bracelet must GO, 19.5ctw diamond VS clarity GH color in platinum.
Consignor listed for $39,900, MAKE AN OFFER.
Charles Garnier is a great gift idea and has a lifetime guarantee on the finish.
~Prices range from $65 to $645~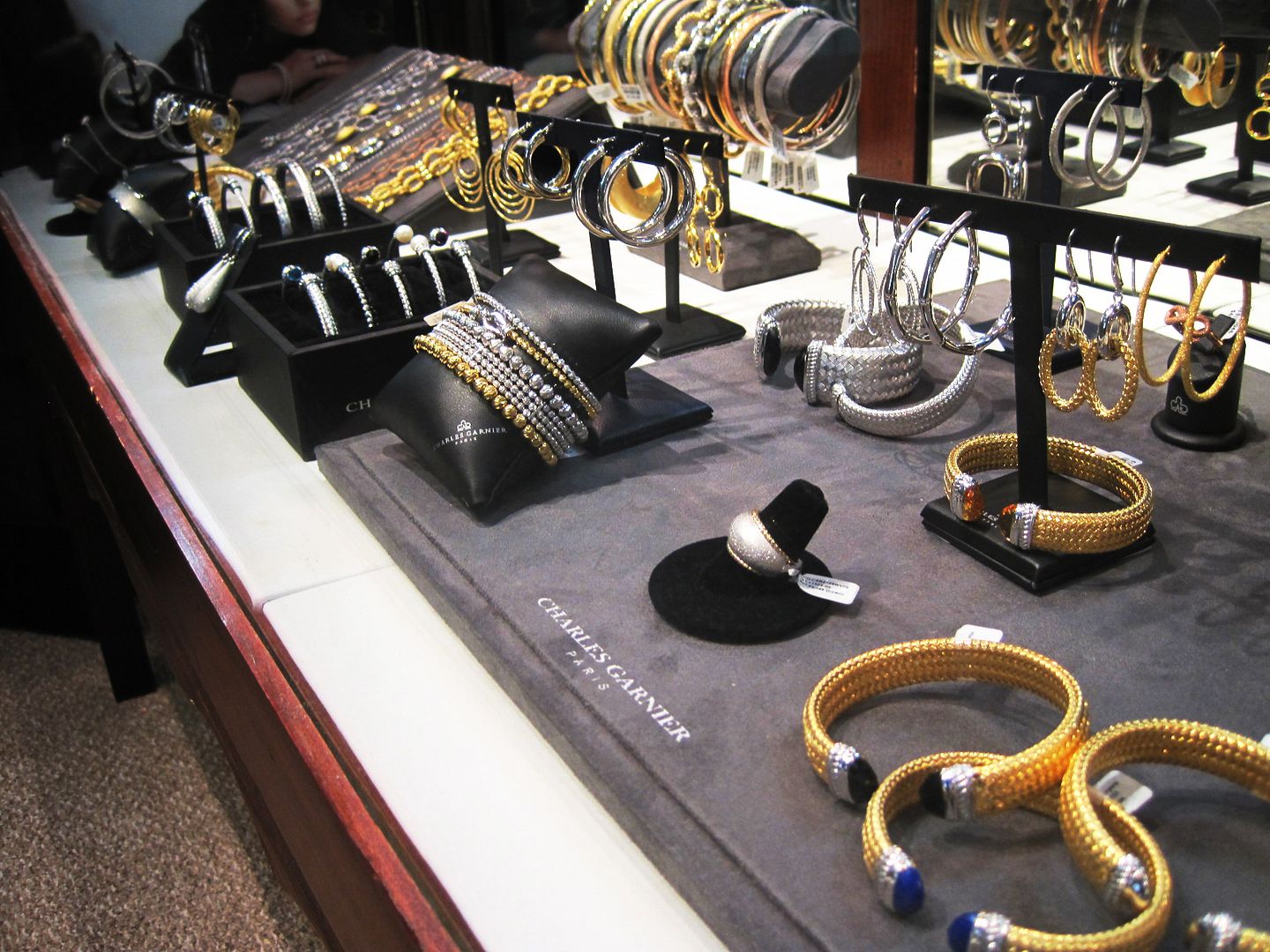 Tony Maccabi designer pieces are 20% off.
Sale prices are $575 to $3,195
THROUGH THE HOLIDAYS ONLY…
We've made a special arrangement with Michael Christoff Jewelry to offer you some AMAZING pieces at VERY SPECIAL PRICING.  
Don't forget that we offer deferred financing, too!
This 2.64Ct Paraiba tourmaline looks like the color of the Carribean ocean
and is accented by 1.74ctw diamonds set into 18kw gold.
Retail is $24,000, steal it for $5,995…No, we are not kidding.
1.29ctw blue sapphire oval is a majestic, royal blue color with
.79ctw diamonds. Retails for $8,100, our price $1,995.
 1.07ct emerald oval with .54ctw diamonds in 18kw gold. 
Retails for $11,424, our price $2,795.
A HUGE 5.28ct NATURAL RUBY oval with 1.39ctw diamonds in 18kw gold.
Retails for $37,000, get it here for $9,245.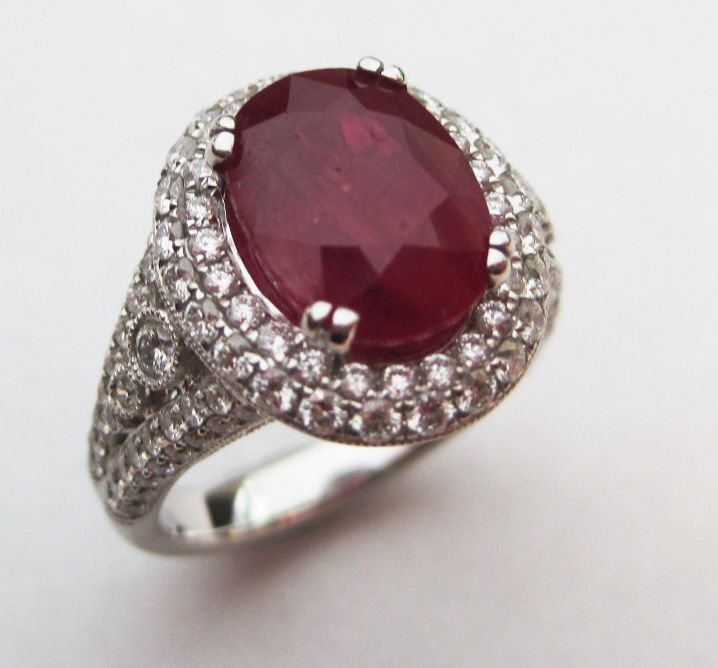 4.02ct Tanzanite oval with 2.57ctw diamonds in 18kw gold. 
Retails for $23,160, our price $5,795.
 1.90ct pink sapphire oval with .72ctw diamonds in 18k rose gold.
Retail $17,820. Our price $4,455.
1.73ct emerald oval with .87ctw diamonds in 18kw gold by M. Christoff.
Retails for $15,480. Our price $3,875.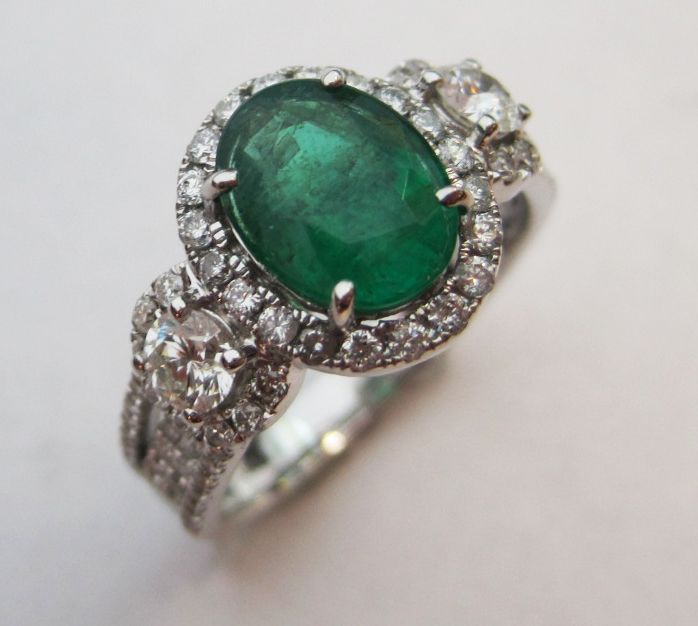 4.43ct Tanzanite oval with .59ctw diamonds in 18kw gold. 
Retails for $20,820. Our price $5,195.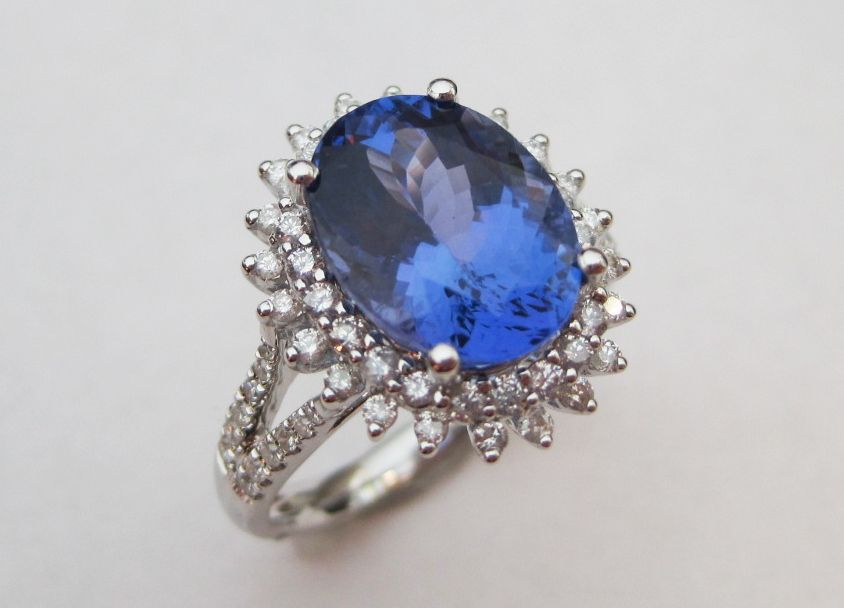 1.50ct Orange Sapphire oval with .76ctw diamonds in 18ky gold.
Retails for $8,200, our price $1,995.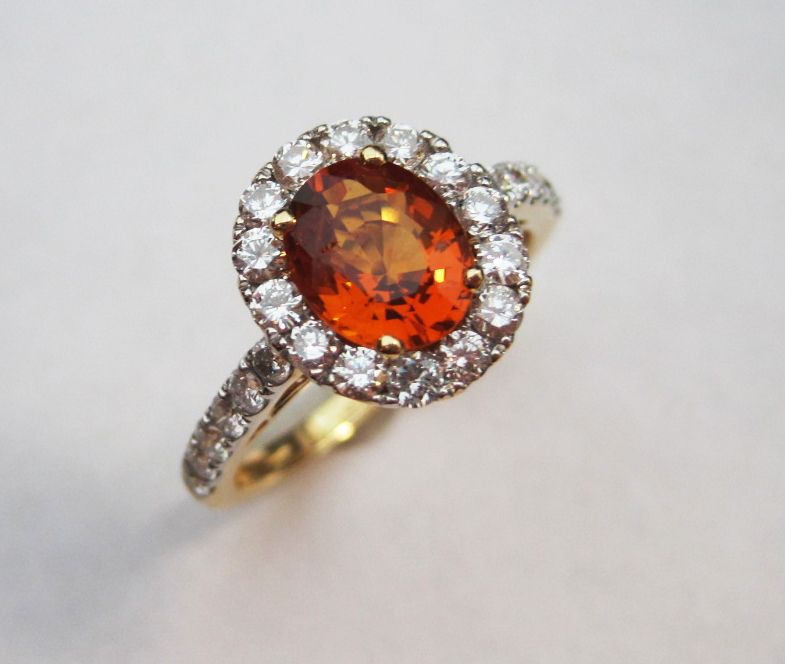 .85ct emerald with .82ctw diamonds in 18kw gold.
  Retails for $9,900, our price $2,495.
4.56ct Tanzanite cushion with 1.43ctw diamonds in 18kw gold.
Retails for $26,724, our price $6,675.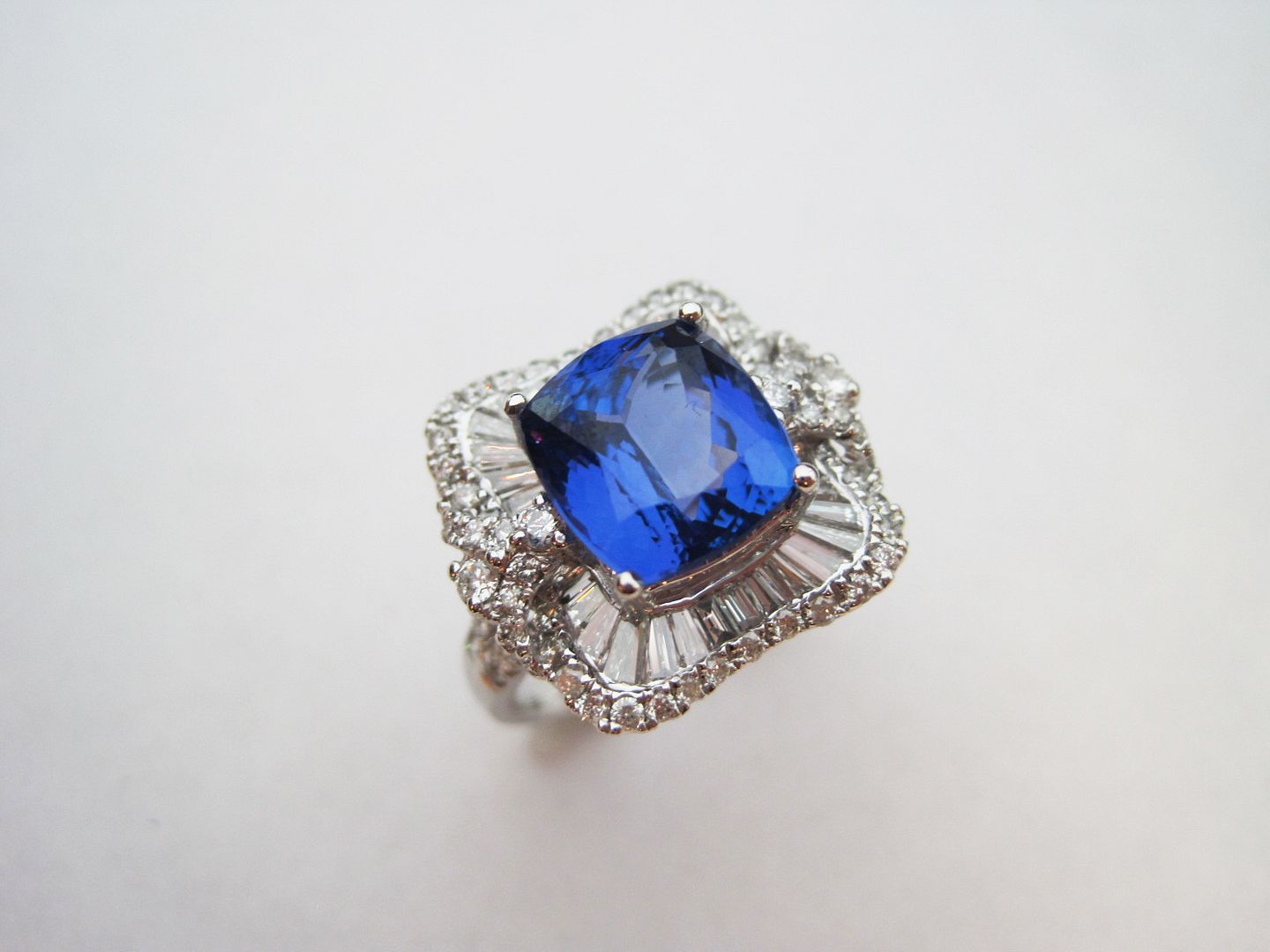 9.42ct peach tourmaline oval with 1.31ctw diamonds in 18kw gold.
Retails for $34,800, our price $8,695.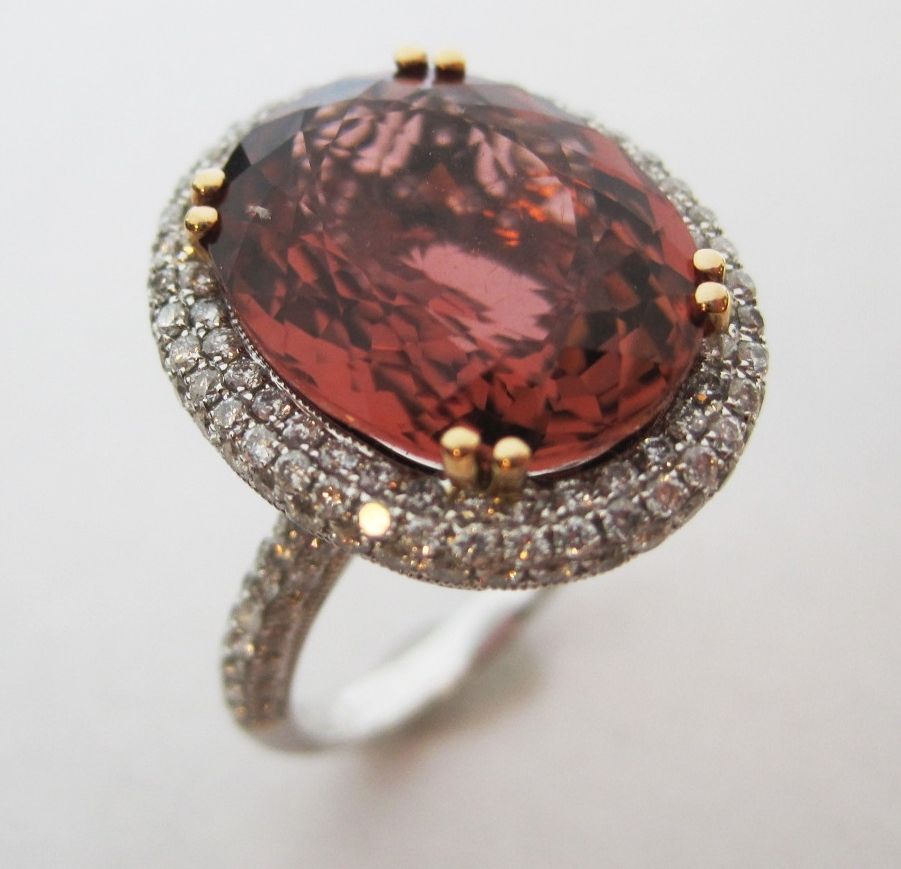 Don't forget all of our diamond earrings are 20% off now through Christmas! Sale prices are $220 to $9,595.
~~~~~~~~~~~~~~~~~~~~~~~~~~~~~~~~~~~~~~~~~~~~~~~~~~~~~~~~~~~~~~~~~~~~~~~~
Just a note…if you're looking to score some holiday dough, 
bring your unwanted gold and precious metals to JewelRecycle,
located inside Home Again.  Open MONDAY-SATURDAY 10-6.
~~~~~~~~~~~~~~~~~~~~~~~~~~~~~~~~~~~~~~~~~~~~~~~~~~~~~~~~~~~~~~~~~~~~~~~
Thanks for reading our email and
HAPPY HOWLIDAYS
from your friends at Home Again & Lumina Gem. 
~~~~~~~~~~~~~~~~~~~~~~~~~~~~~~~~~~~~~~~~~~~~~~~~~~~~~~~~~~~~
INTERESTED IN CONSIGNING WITH HOME AGAIN?
Here is everything you need to know.
We accept items on consignment for a period of 90 days and
our consignors receive 50% of the selling price.
As a general rule, anything we accept must be in 'like-new' condition, less than 5 years old, and current in style; ie you could buy a similar item in an upscale furniture or décor store.
For larger items, such as a dining set or sofa, it is always best to email or bring in photos first to make sure we can accept it. Once we have accepted your item(s), if you need assistance bringing it to the store, we can recommend delivery companies for you to contact. Their rates vary based on the number of items and location, and typically start at $65.
If you have a large volume of merchandise, such as a model home or entire estate, one of our associates will be happy to conduct an on-site visit by appointment.
All items we accept are placed on our sales floor immediately,
so please make sure your items are thoroughly cleaned prior to bringing them in.
Here are a few more details about the items we accept.
Wooden furniture, including dining, bedroom and accent furniture, must be mostly solid wood with no missing hardware. It must be in excellent working condition, with only slight scratches or imperfections in the finish.
Upholstered items, such as sofas and chairs, must have no stains, rips, tears, odors, pet hair, noticeable fading and must be from smoke-free homes; in other words, in excellent condition. The age of the upholstery item we accept will generally be 5 years or less.
Decorative accessories, art and lamps must be clean, in excellent shape, and have no major chips, scratches or imperfections. We are always happy to accept 'knick-knacks' such as small picture frames, candlesticks, bookends, serving platters, etc.
We accept chandeliers on a limited basis if they are current in style and their original retail value was $500 or more.We accept holiday decorations on a very limited basis, and only if they are valued over $75. We accept patio furniture of all kinds provided that it is in excellent condition; ie no rust and the cushions must not have substantial fading and wear.
Sorry, we cannot accept the following items:
Antiques & collectibles
Traditional or 'country' style furniture
Window treatments, bedding or mattresses
Rugs
Full size beds
Furniture that must be refinished or repaired
China, silver, or crystal
Toys, juvenile furniture or juvenile art
Electronics or appliances
Clothing
We accept consignments Monday – Friday, 10am to 5 pm.
Consignments are accepted on Saturdays by appointment only.
INTERESTED IN CONSIGNING WITH LUMINA GEM?
Here is everything you need to know.
Lumina Gem offers the finest selection of consigned jewelry. Since we are a full-service jewelry store, we are able to knowledgeably evaluate your items and do the necessary cleaning and repair work to present your jewelry in like-new condition. This allows us to present your jewelry in pristine condition and get a higher amount for you.
When you consign with Lumina Gem your jewelry is offered in our heavily secured, fully-insured cases to hundreds of visitors each week. We take pride in our jewelry and offer our consigners the best location to sell jewelry with an educated staff, online jewelry store, social media exposure, and local TV and magazine marketing. An added benefit of consigning your jewelry with us is that you never have to jeopardize your personal safety by selling to strangers.
When you consign with Lumina Gem we provide you with a contract with full colored pictures of your items that indicates a fixed amount that you will receive once the item sells, not a percentage. This allows us to have periodic sales and promotions that does not affect the amount that you receive. We consign jewelry for a period of one year, and ask for a minimum consignment period of four months, to allow us to recoup our investment in cleaning, refurbishing and marketing of your jewelry.
In addition to consigning jewelry, we also offer a jewelry brokering service.  If you want a quick turnaround of cash for your jewelry, have inherited jewelry that you wish to liquidate, or have a style that we cannot sell easily in our cases, this may be a good option for you.  Here is how it works:  We offer pictures and a description of your jewelry to our network of wholesale jewelry brokers, and then communicate to you the highest offer we have received.  At that point, if you choose to sell your jewelry, our brokerage fee is 20% of the sales price.  Please understand that if you brokering your jewelry, you will receive a wholesale offer, not a retail offer