The holidays are a time to
reflect on your BLESSINGS…
And here they are…
Casey…the jewelry repair wunderkind.
 We are grateful for his talent on a daily basis.
Megan…has she EVER been in a bad mood?  
Just how does one DO that?
Jamie…spunky, super sharp…and just plain nice.  
This girl will go far.
Jenna…the most giving and loving person you'll EVER meet.
Adore this girl.  
Jeannie…the lucky one who gets to be surrounded
by all these amazing peeps every day.  Blessed.
Brad…this man's passion for jewelry shines through.
But what's with the hair? 🙂
Shannon…a girl with big style…
and an even bigger heart.
Justin, fireman extraordinare,
we just feel better when he's in the building.
Jayne Ann…the quiet presence who just radiates goodness,
and she even likes to vacuum!
Ashley…Can a girl have a fan club?  
This one does, and it's for her sweet and sunny ways.
Amy…our design fireball.
 If we could bottle her energy, we'd rule the world…
Vanessa… lover of babies, dogs and older people.
This shows you her heart and it's a BIG one.
But our biggest blessing?  
That would be…
THANK YOU for allowing us one more year of making a living for our families and for being the BEST customers in all of Wilmington!
COOLIO ALERT…the best stocking stuffer ever.
Chanel inspired perfume bottle cell phone lanyards, $12 each. 
We have them for iphone 6 and iphone 6 plus, in clear and black.
 $12 each. She will LOVE YOU for this!  
THIS ONE'S FOR YOU…SAVE BIG!
It's the end of the year, and we decided to clear the decks
for a brand new year. NUMEROUS chairs and pieces of art, valued up to $450 each, now $25 -$75 each!  Clearly marked with orange stickers, get in quick for the best selection.  
Has Tommy Bahama always been out of your price range?
 Not anymore!  You can take home this beige model home sofa with
all the pillows for just $695, 86″ W.   
Look at this classic and lovely dining set with four chairs by Lexington,
a steal at $695. 70″ W (without leaf).
Imagine this rich library in your home of office for just $695. 89×90.5. 
More Lexington goodness, classic Bergere chair in a
durable upholstery fabric, $395. 32.5."
The one you've been waiting for…super chic linen chesterfield sectional
in pristine ivory linen, brand new for $1,695. 94X94.
Wow…you can make a room around this vibrant
metallic parrot art, $195.  59″X27.5″.
Add some character to your kitchen or dining room with this unique farmhouse hutch, $995. Retail $3,000. 62x24x65. Easy to re-paint to your liking.
Ethan Allen anyone?  This classic red paisley swivel glider chair and ottoman
from a model home can be yours for a song at $495. 35″ W. 
MORE Ethan Allen goodness! This king suite is featured in a gorgeous burlwood. Complete king bed retails for $2799, our price $895.
Dresser and round mirror retails for $2698, our price $895.
This coordinating bachelors chest has a stunning marble top, retails for $999,
our come and get it price $450.
You can buy this elegant gray tufted chair online for $342,
or snag it from Home Again for $295. Brand new condition. 32″ wide.
What fun…moo cow art, $235, large scale 52X42.
Put this stunning Alden Parkes bench at the end of your bed or anywhere else you want dramatic seating.  Retails for $2,500+, our price $495, brand new sample. 
French parquet tables never go out of style, and this solid wood beauty
is just $345. 52X38X19.
Just in..super nice dining set with a pedestal table and 5 iron chairs, $545.  Removable cushions reveal pristine rush seats, same tone as the table top. 48″ di. 
Get one or get them all for a dramatic impact! We love the contrast of black and gold together in these Alen Parkes round mirrors, $165 each. 26″ round. 
By Liz Claiborne Home, this wonderful accent chair from a model home
can be yours for just $295. 32″ W.
You've got to see this wave in person to understand how life-like it is…
it's like being inside a curl!  $345, large scale, 49X55.
This paisley bench is super nice, and guess what?  It has storage! $295. 56″ W.  
Modern white leather square button tufted chair, brand new market sample.  
The retail is $2250, our price $475. 33″ W.   
Cute as a button with it's single button tuft! This custom blue medallion
ottoman is just $295 and in like new condition. 48″ diam. 
Coordinating pillows, $24 each.
This canvas is a little pricey, but when we saw it at market, we had to have it.
The colors are just amazing, you can build a killer room around it!  
$495, large scale, 48X60.
We are guessing we won't get a white Christmas… but you can improvise with
this glittery white holiday arrangement for just $24. 28″ H. 
We love love love these orange geometric print club chairs,
and they are a great value at $295 each.  26″ wide.
Our art on wood prints are going FAST for gifts.  
This dramatic mermaid is $82. 10×59. Additional prints and sizes available. 
More great chairs…these super comfy pillow back club chairs
are in a durable dark tweedy taupe for $445 each, 30″ wide.  
Braxton Culler elegance!  You will not find a better deal on this glass top dining table with 4 chairs from a model home for just $695. 47″ di.  
Braxton Culler's 'Welcome to the Jungle' chair features a tailored quilted green micro suede and palm print back cushion, just $195 each. 2 available. 29.5″ W. 
Going, going GONE!  This extremely well made baker's rack has been
reduced to $350.  49X19X79.  
This is the perfect activity table for all those planes, trains, and automobiles. ThisPottery Barn Kids table retails for $398, your little one can have it for $145. 49.5×33.5. This will not last, phone orders accepted.
This is a RED HOT deal! This Bernhardt dining set has been reduced
from $1295 to $795! 78″ long, including 24″ leaf.
These shark fins are SO COOL!  
$55 for the large and $45 for the medium.
Hide all your unslightly cords and cable boxes in this attractive
Broyhill media chest with baskets, a steal at $245. 50″ W. 
Sometimes around the holidays you just want to TREAT YOURSELF.
We received a large consignment of glitzy clutches, brand new with tags still attached. They are priced at 50% off at $22-$48.
 Perfect for those fancy holiday parties. 
Pair your chairs with this elegant green washed
bombe chest, $375. 44″ W. 
Complete queen bed includes metal frame featured in a bronzy finish, $245.
We like this washed finish coffee table,
and it's a SCORE at $165.  46X28X18.
Another awesome coffee table, we love the oval shape, $345.  48X26X19.
Matching sofa table also available.
Imagine this wonderful hutch in your dining room when you're having your
holiday dinner…$895. Large scale, 59X18X89.  
Speaking of BLESSINGS…
…we've had consignments galore coming in this week.
And to top it off, Brad is giving $2,000 CASH away when
you shop with us this holiday!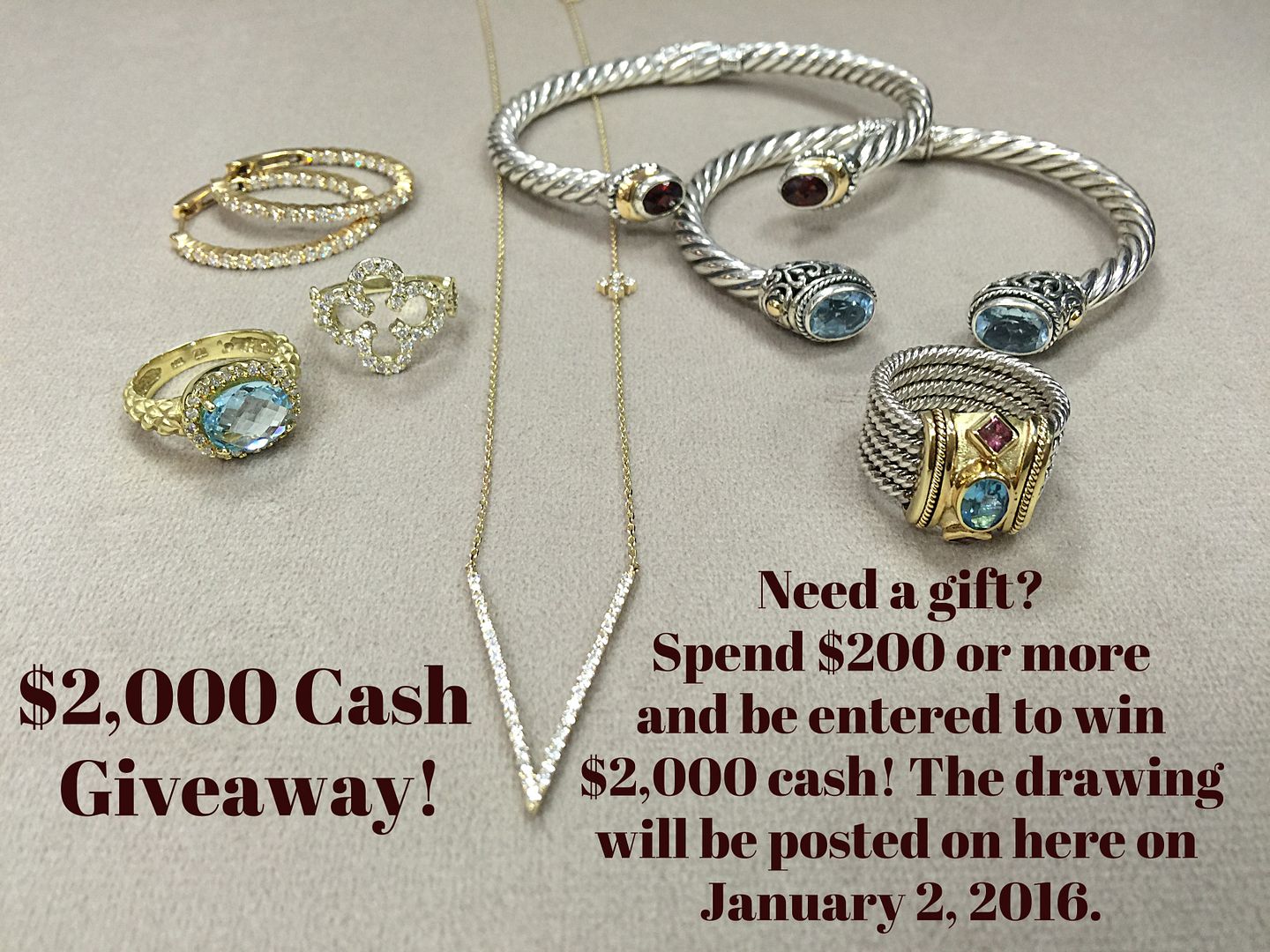 From canary yellow diamonds to ruby bands in 18ky gold…
take your pick, we've got em' all and for an amazing price!
Only 5 more days to take advantage of our 20% off
"anything diamond" earring sale!
When 1ctw is just not enough….how about 4??
4ctw SI2 quality H color diamond studs in platinum.
Were $27,900, now through Christmas $22,325 (We are also offering 12 mos deferred interest on any purchase this month, $1,992 including tax per month
with no money down)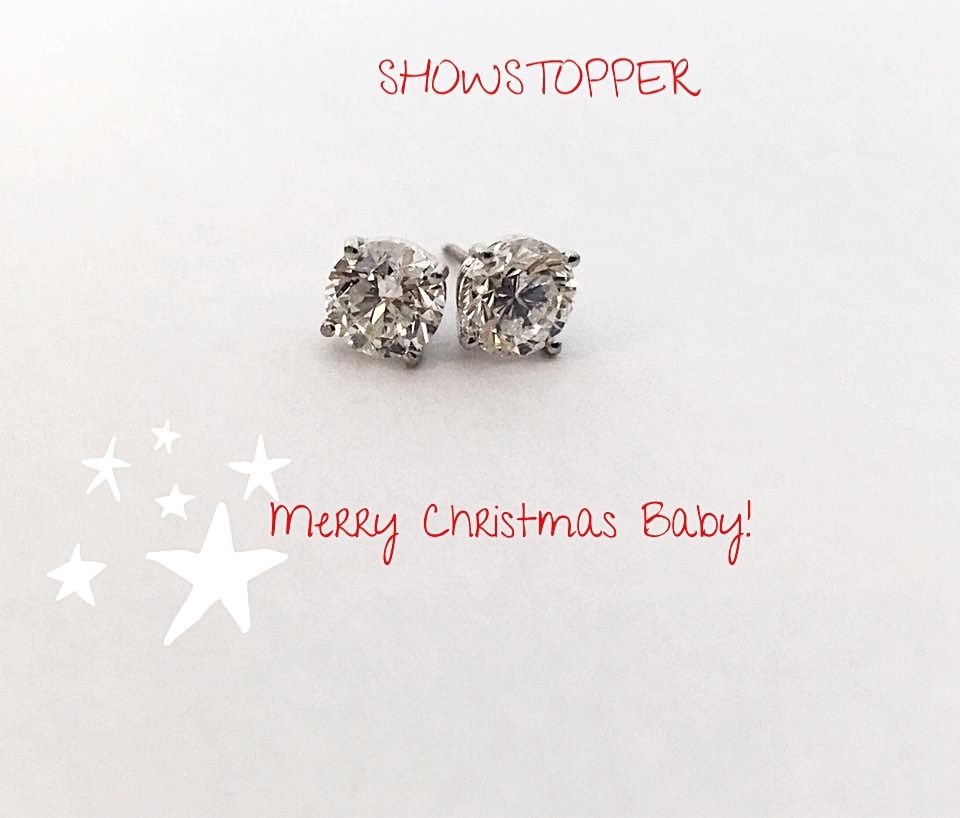 1.36ctw sapphires, .18ctw diamonds set into 18kw gold, SALE PRICE $795.
1.53ctw rubies, .36ctw diamond set into 14kw gold, SALE PRICE $795.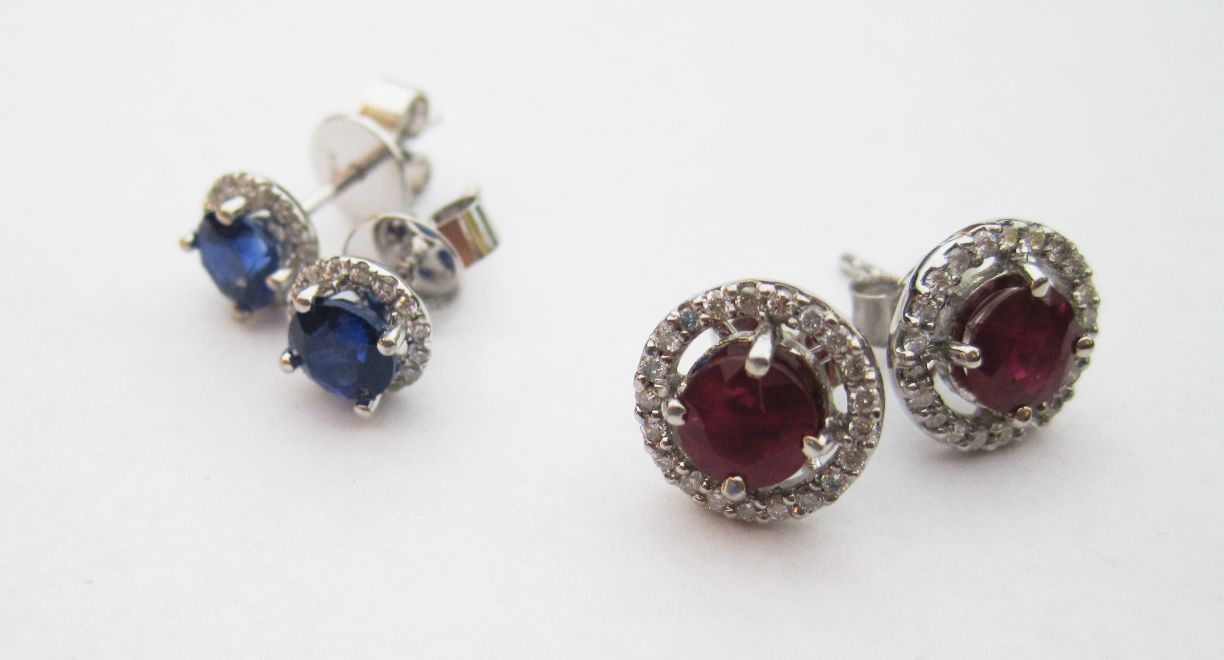 Count your lucky stars that these are under the tree…
1ctw diamond SI/I clarity round inside-outside hoops in 14kw gold. 
Was, $995, Now $795.
Wedding sets galore for the lady you adore…
.56ct SI2 clarity G color round brilliant diamond engagement ring
accented with .21ctw of diamonds in 14k white gold. $2,995.
Two matching bands with .25ctw of diamonds in 14k white gold. $995 each.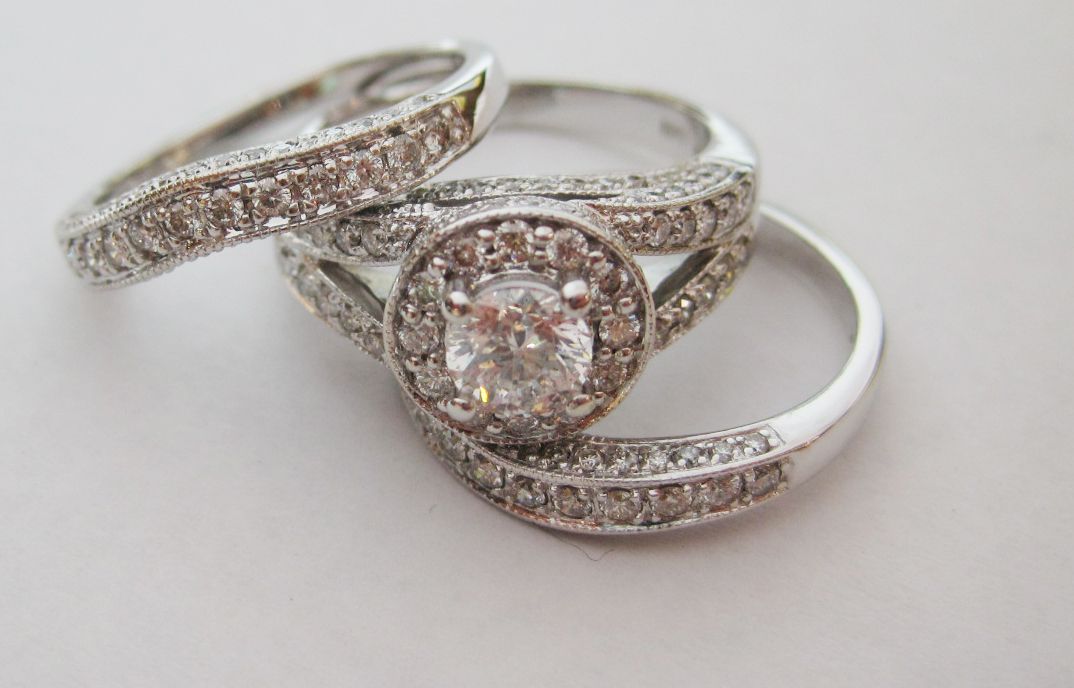 From bold to petite, we've got an beautiful assortment
of designer pieces on consignment…
David Yurman hematite, sterling silver and 14k yellow gold 16 inch necklace, $1,995. David Yurman petite albion diamond pave ring in sterling silver, $645.
~Jewelry designer EFFY is all the rage~
Circle link bracelet with diamonds and gold accents, $395.
Multi-gem locking cuff with gold accents,  $195.
Black diamond earrings with gold accents, $395.
Did you know we offer financing?
~Blue Zircon is one of modern birthstones for December~
1.10ct blue zircon round, .20ctw diamonds set into an antique
style 14kw gold ring, $495.
1.65ct blue zircon oval, .10ctw diamonds prong
set into a 14ky gold ring, $495.
~Looking for an elegant gift this season?  PEARLS, PEARLS, PEARLS~
A necklace from a Pinehurst, NC estate.  Coin pearls are set into this handmade 18kw gold necklace, only $995.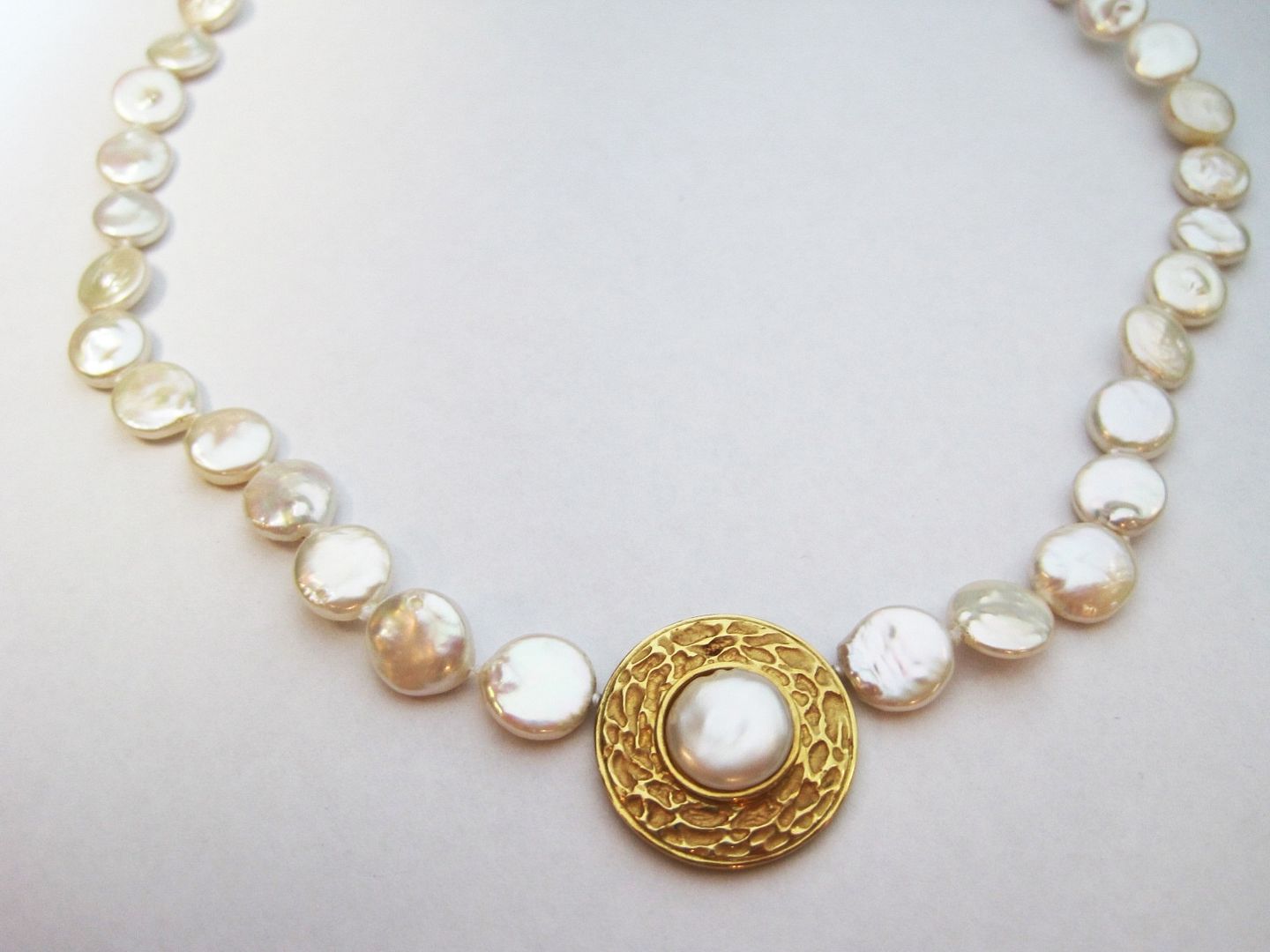 This Akoya pearl necklace will spark up any mood.  High lustre and fine quality 8mm to 8.5mm knotted into three strands, 16 inch, steal at $1,995.
These gorgeous pearls are strung onto this 14ky gold locking clasp
for added security.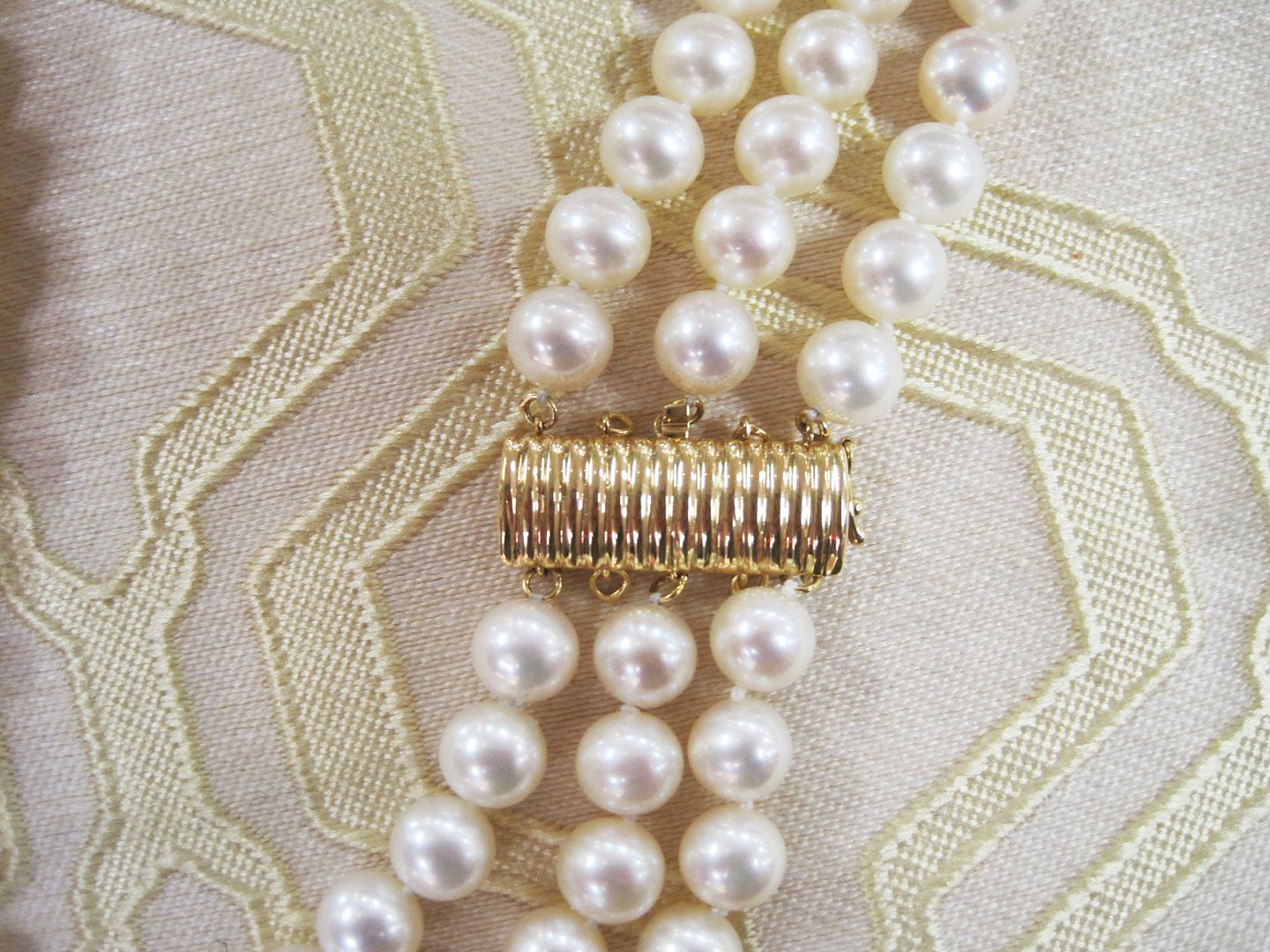 WOWZA! AAA South Sea pearl cradled into an 18ky gold custom setting with
2.40ctw yellow sapphires and topped with .82ctw diamonds, $2195.
Timeless bangles in 18ky gold, only $495 each.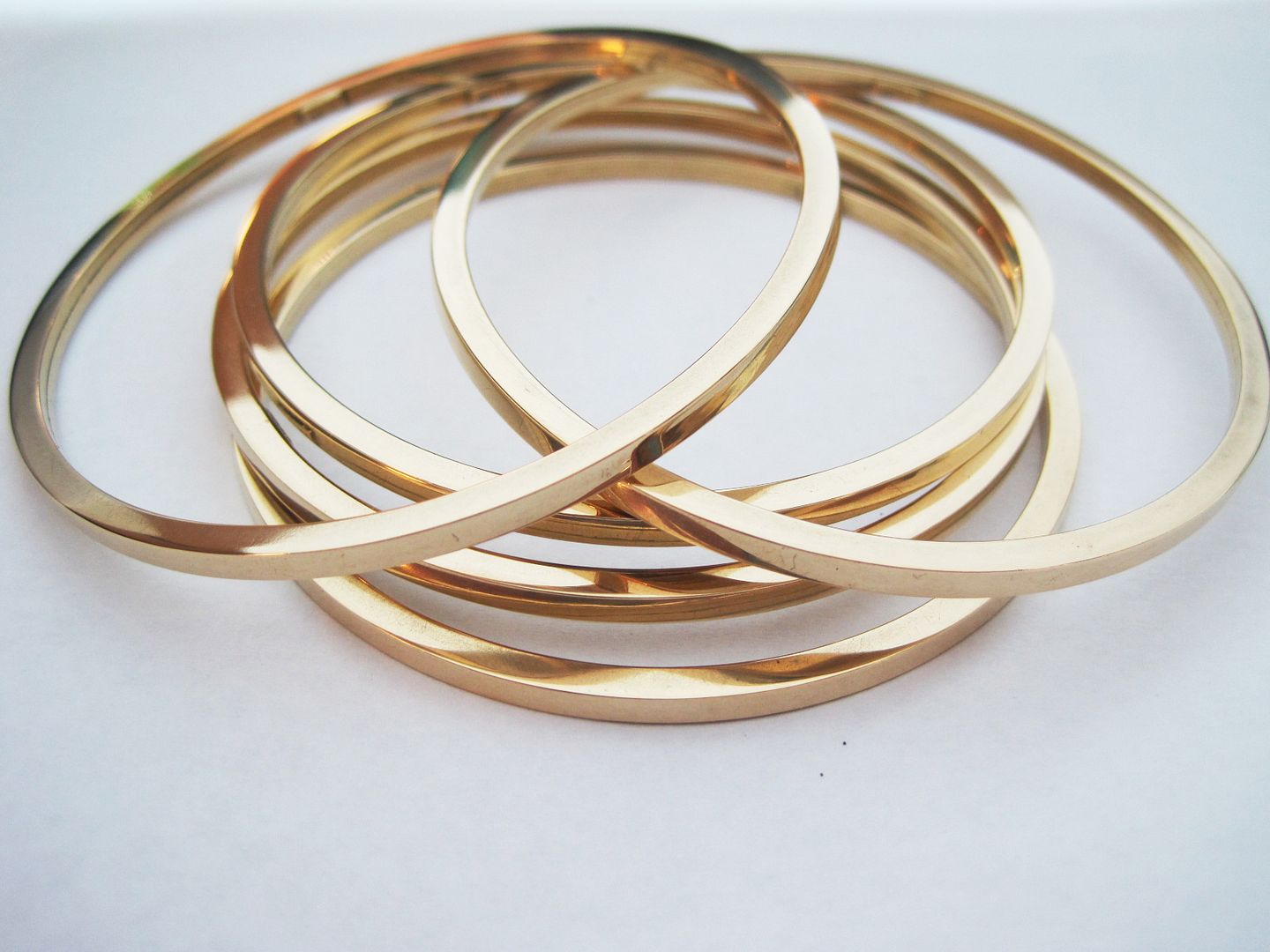 Square loop two-tone earring with a brushed yellow gold finish, only $325.
Onyx, emerald, ruby cabochons set into 14ky gold, only $395.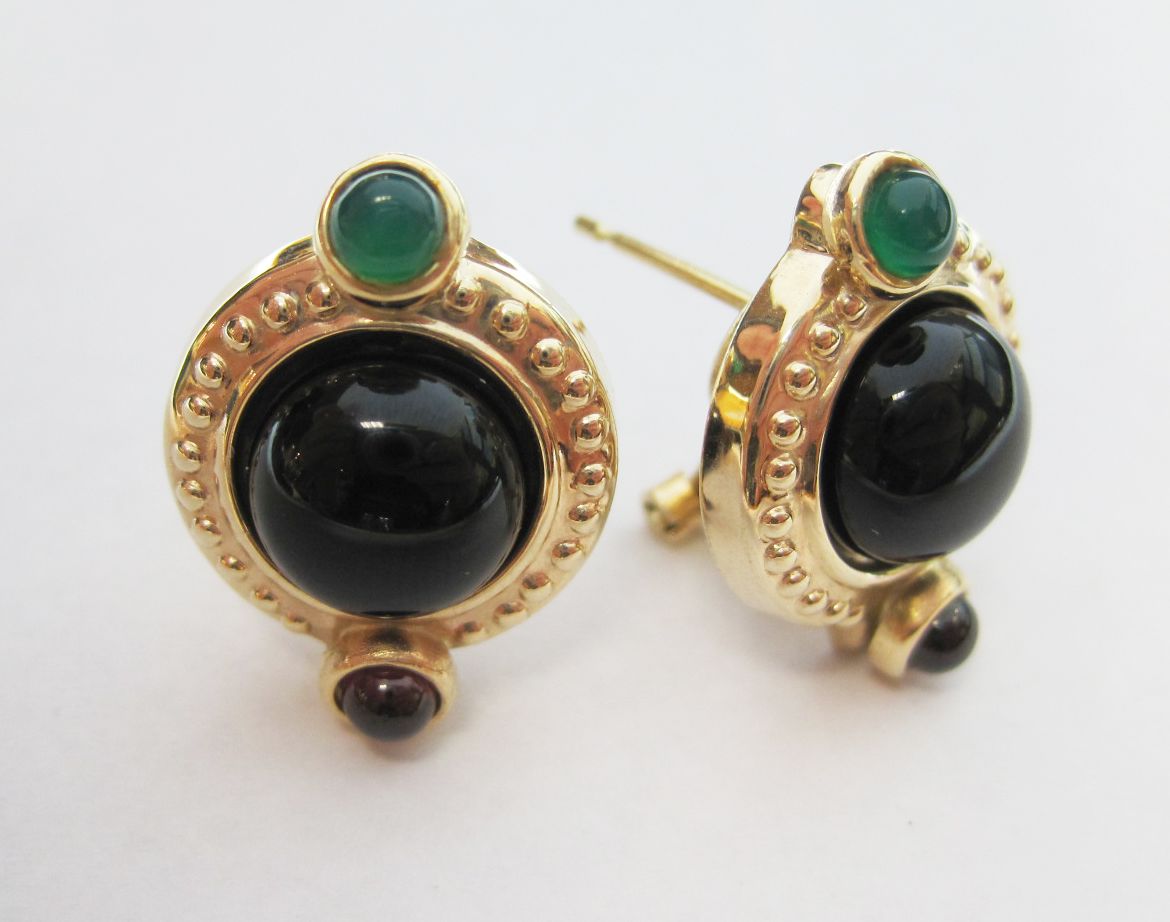 Onyx 32 inch necklace with 14ky gold accents, $195.
Onyx inlay, arrow shaped dangle 14ky gold earrings, $395.
3.5ct imperial topaz diamond slide pendant in 14ky gold, $895. 
Fancy oval link chain, 17.5 inch, $795.
A special Michael Christoff piece we have now through Christmas set with 3.51ct tanzanite pear, .56ctw diamonds set into 18kw gold, 16 inch. $3,885.
Another Michael Christoff piece set with 1.70ctw emerald ovals with 1.06ctw diamonds, set into 18kw gold earrings, $3,625.
(Now through Christmas, 20% off diamond earring sale for $2,895)
6ctw of natural rubies dangling with diamonds set into 14kw gold, $2,995.
(Now through Christmas, 20% off diamond sale price for $2,395)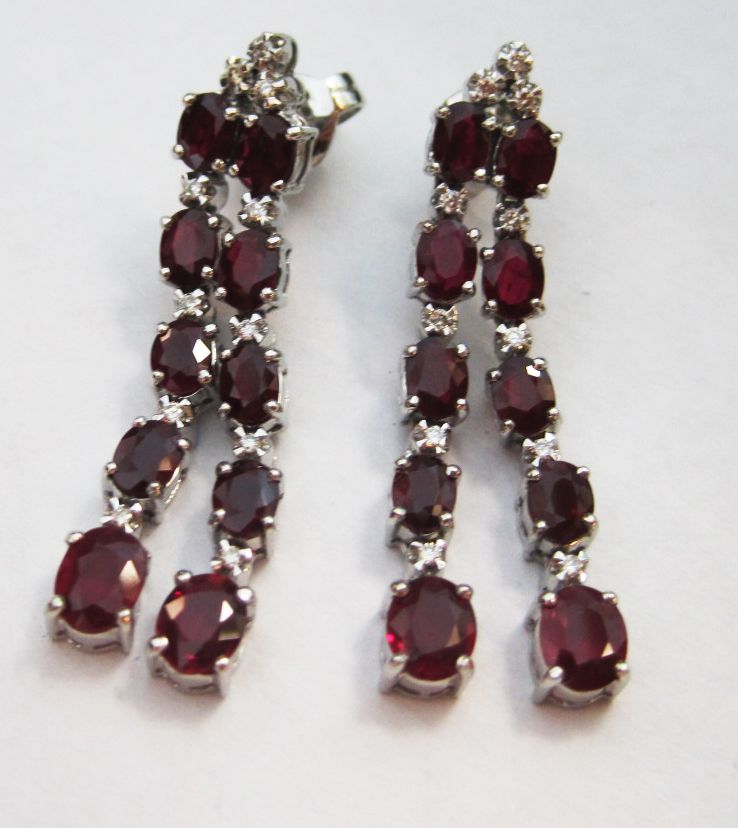 Looking for a modern look for less?
 3.53ctw emerald oval, .12ctw diamonds in a 14kw gold necklace, 17 inch, $1,495.
3ctw emeralds and diamond earrings in 14k white gold, $795.
(Now through Christmas, 20% off diamond earring sale, $635)
Diamond snowflake earrings, .43ctw diamonds in 18kw gold, $695.
Beaded sterling silver ring 1 1/2inch long, $100.
Tri gold oval hoops in 14k gold, 1 inch, $120.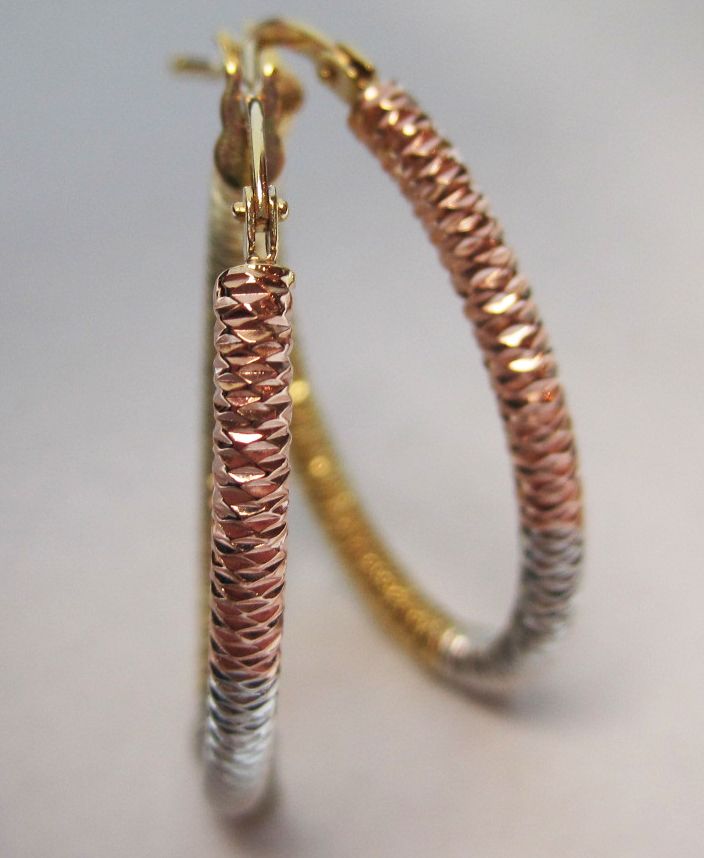 Want to give the gift that will take her breath away?
This 14k gold enamel Victorian era bracelet will certainly do the trick, $1,195.
The bow pin with diamond and sapphire in rose and yellow 14k gold, $1,195.
Make a wish with this 14ky gold dandelion diamond pin, $495.
Amethyst and pearl antique 14ky gold pendant/brooch, $995.
Jeannie's fave…2.5ct Tsavorite garnets set into a wide 3/4 inch 18kw
gold designer band ring accented by 1ctw yellow sapphires, $1,795.
~This Christmas give the glistening gift of yellow gold~
This lovely chain is a solid 18ky gold with fancy, textured links.
Measures 35 inches and weighs 28.2 grams, $1,895.
Reversible huggie .50ctw diamond earrings in 18ky gold, $1,195.
(Now through Christmas, huggies are 20% off, $955)
Puffed, two-tone X earrings in 18ky gold, $425.
~All of our designer Samuel B. is 25% off
through Christmas~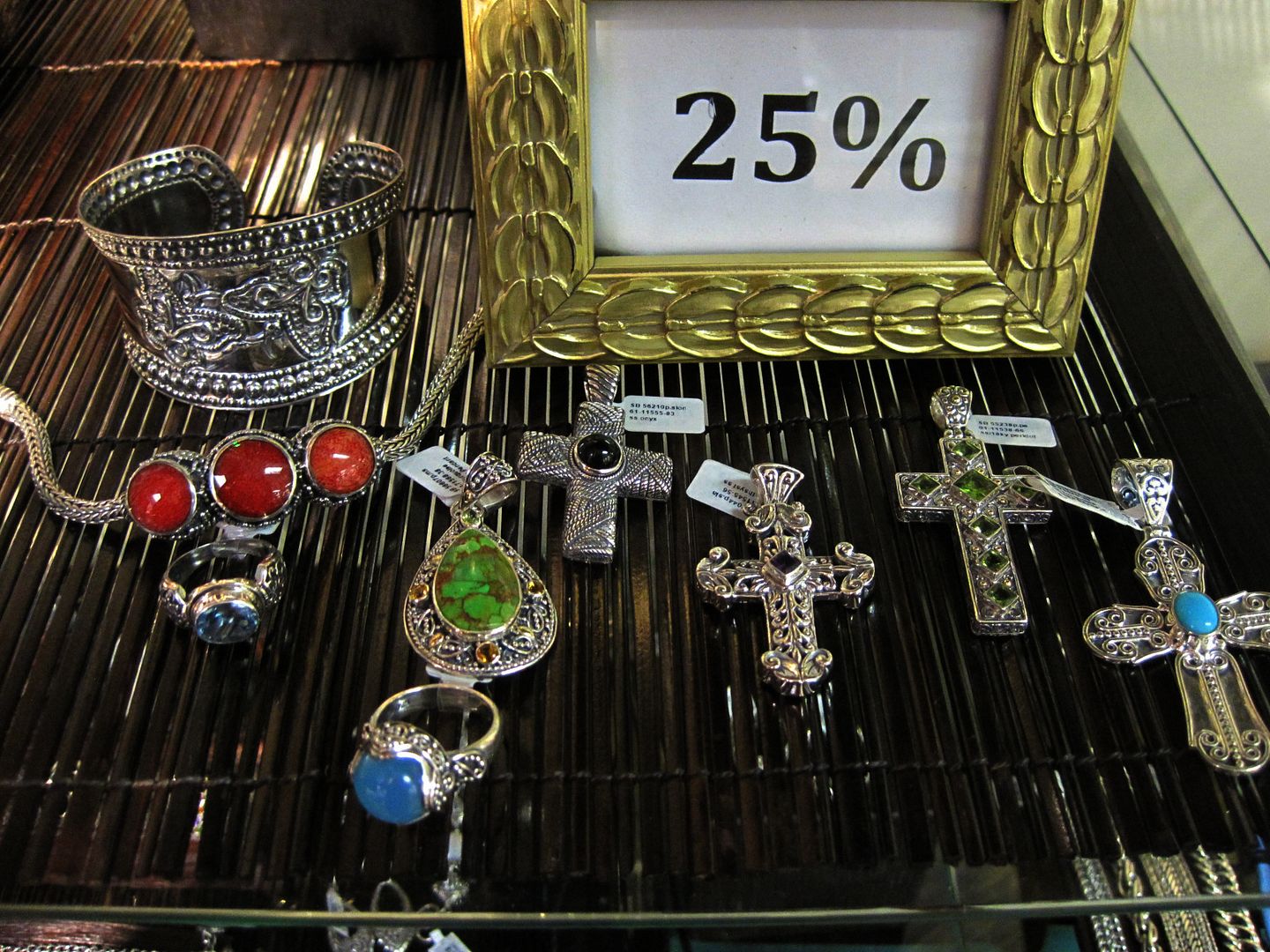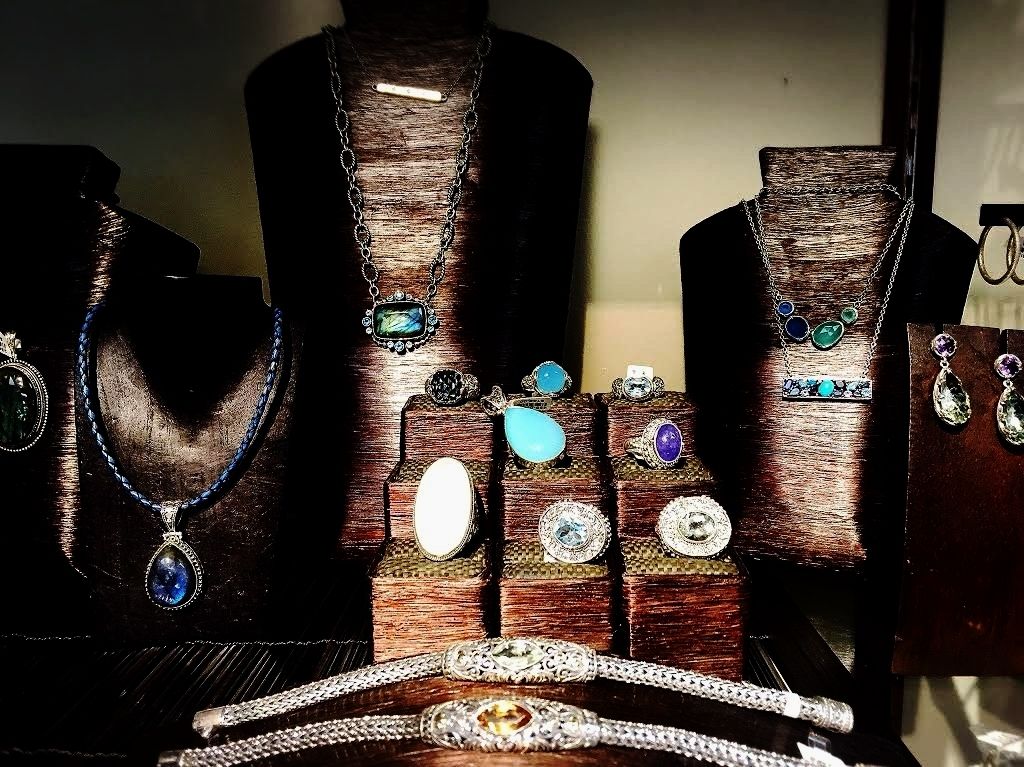 Thanks for reading our email…
and from our house to yours…
~~~~~~~~~~~~~~~~~~~~~~~~~~~~~~~~~~~~~~~~~~~~~~~~~~~~~~~~~~~~
Are you our fan on facebook?  
Here is an important FYI…
INTERESTED IN CONSIGNING WITH HOME AGAIN?
Here is everything you need to know.
We accept items on consignment for a period of 90 days and
our consignors receive 50% of the selling price.
As a general rule, anything we accept must be in 'like-new' condition, less than 5 years old, and current in style; ie you could buy a similar item in an upscale furniture or décor store.
For larger items, such as a dining set or sofa, it is always best to email or bring in photos first to make sure we can accept it. Once we have accepted your item(s), if you need assistance bringing it to the store, we can recommend delivery companies for you to contact. Their rates vary based on the number of items and location, and typically start at $65.
If you have a large volume of merchandise, such as a model home or entire estate, one of our associates will be happy to conduct an on-site visit by appointment.
All items we accept are placed on our sales floor immediately,
so please make sure your items are thoroughly cleaned prior to bringing them in.
Here are a few more details about the items we accept.
Wooden furniture, including dining, bedroom and accent furniture, must be mostly solid wood with no missing hardware. It must be in excellent working condition, with only slight scratches or imperfections in the finish.
Upholstered items, such as sofas and chairs, must have no stains, rips, tears, odors, pet hair, noticeable fading and must be from smoke-free homes; in other words, in excellent condition. The age of the upholstery item we accept will generally be 5 years or less.
Decorative accessories, art and lamps must be clean, in excellent shape, and have no major chips, scratches or imperfections. We are always happy to accept 'knick-knacks' such as small picture frames, candlesticks, bookends, serving platters, etc.
We accept chandeliers on a limited basis if they are current in style and their original retail value was $500 or more.We accept holiday decorations on a very limited basis, and only if they are valued over $75. We accept patio furniture of all kinds provided that it is in excellent condition; ie no rust and the cushions must not have substantial fading and wear.
Sorry, we cannot accept the following items:
Antiques & collectibles
Traditional or 'country' style furniture
Window treatments, bedding or mattresses
Rugs
Full size beds
Furniture that must be refinished or repaired
China, silver, or crystal
Toys, juvenile furniture or juvenile art
Electronics or appliances
Clothing
We accept consignments Monday – Friday, 10am to 5 pm.
Consignments are accepted on Saturdays by appointment only.
INTERESTED IN CONSIGNING WITH LUMINA GEM?
Here is everything you need to know.
Lumina Gem offers the finest selection of consigned jewelry. Since we are a full-service jewelry store, we are able to knowledgeably evaluate your items and do the necessary cleaning and repair work to present your jewelry in like-new condition. This allows us to present your jewelry in pristine condition and get a higher amount for you.
When you consign with Lumina Gem your jewelry is offered in our heavily secured, fully-insured cases to hundreds of visitors each week. We take pride in our jewelry and offer our consigners the best location to sell jewelry with an educated staff, online jewelry store, social media exposure, and local TV and magazine marketing. An added benefit of consigning your jewelry with us is that you never have to jeopardize your personal safety by selling to strangers.
When you consign with Lumina Gem we provide you with a contract with full colored pictures of your items that indicates a fixed amount that you will receive once the item sells, not a percentage. This allows us to have periodic sales and promotions that does not affect the amount that you receive. We consign jewelry for a period of one year, and ask for a minimum consignment period of four months, to allow us to recoup our investment in cleaning, refurbishing and marketing of your jewelry.
In addition to consigning jewelry, we also offer a jewelry brokering service.  If you want a quick turnaround of cash for your jewelry, have inherited jewelry that you wish to liquidate, or have a style that we cannot sell easily in our cases, this may be a good option for you.  Here is how it works:  We offer pictures and a description of your jewelry to our network of wholesale jewelry brokers, and then communicate to you the highest offer we have received.  At that point, if you choose to sell your jewelry, our brokerage fee is 20% of the sales price.  Please understand that if you brokering your jewelry, you will receive a wholesale offer, not a retail offer