Feeling a little…ummm…uncomfortable?
It may help to move around a little…
Bring in your friends & family today for a little
socializing and a little shopping!
We're open from 10-6.
~~~~~~~~~~~~~~~~~~~~~~~~~~~~~~~~~~~~~~~~~~~~~~~~~~~~~~~~~~~
But before you head out, please take a minute to 
V O T E
for Home Again as the Best Consignment/Resale-Decor 
CLICK THE LINK BELOW TO VOTE.
We would REALLY appreciate your support!
http://www.encorepub.com/encorebestof/BestOfFinalists/best_of_goods_serv.php
~~~~~~~~~~~~~~~~~~~~~~~~~~~~~~~~~~~~~~~~~~~~~~~~~~~~~~~~~~~~~~~~~~~~~~~~~~
On with the show,
we have lots of new goodies this week.
BRAND NEW seafoam sofa on consignment, never used, retails for $619, our price $495. 88x40x38. Coordinating loveseat available, $455. 65″ W. 
New with tags, coordinating floral accent chair retails for $499,
our price just $395. 
ON SALE!  Gorgeous detailed console
in ivory and green, $645. 68×13.5×36.5.
Futons never look this good! Notice the wood frame legs,
a great sleeping option for only $425. 77″ W.   
Soft and serene textural abstract art, $225. 48×36.
We love this bar/island it's so functional!  
On one side you have lots of storage… 
And on the other side, a pull down shelf to put stools around! $695.
We are showing the bar-island with rush set barstools,
3 available, just $62 each.
We love this STUNNING gold feather mirror, $245. 36″ round.
Gold antler lamps with dramatic black shades, now $100 each. 22″ H. 
You can make a wonderful coastal grouping with these intricate sea life
prints framed in black, $65 each. 18.25″ W.
Scalloped oval cocktail table by high end maker Sherill, $395. 48″ W.
Textural art is very hot right now…and you can
grab these teal sparrows for a song! Small $14, large $18. 
Classic and dramatic Alden Parkes bench in taupe and black,
$395. 69×21.5×29.5.
Fun fish diagram printed on canvas, $75. 32.25×48.
REDUCED! COME STEAL A BEDROOM FROM UNDER $300.
Cane queen headboard, $95, dresser, $195.
This bamboo display shelf is a great size
and a steal at $295. 61x17x78.5.
From Artistica, these genuine leather counter stools retail for $500 each,
our price $275 each. Not sold separately. 25″ seat height.
This is so cool…metal drum cocktail table, $245, 30″ round.
Smaller size available, $145. 22.5 round. 
Glamorous, yet neutral…below, gold metallic damask art, $195. 40″ sq.
Above, metallic high sheen flower art, $72 each. 24″ sq.
Wood and gold buffet lamp, two available,  $85 each, 41.5″ H. 
This ivory 4 glass door console is a beauty with it's ivory finish and
intricate design. Priced at $795. 70x19x32. 
New and pristine, this geometric ottoman is a transitional on-trend style. Retails for $400, our take it home price $325. 48.5×28.75×18.75. Coordinating pillows available for $26 each. 
Totally high-style, yet functional…
round gold mirrored side tables, $75-95. 16-20″ round. 
These companion prints have all the colors to bring your room together…
colorful framed circles, $95 each. 20×44.
Elegant French fluted bench with beige linen seat
and brown/black legs, $275. 52″ W. 
Large coastal landscape, $345. 50″ sq.
Bamboo lamps with braided seagrass shade, $135 each. 36″ H.
These white shell lamps are tasteful, yet very beachy,
 $125 each. 31.25″ H. 
So dramatic and vibrant…
nautilus framed art, $185. 33.5″ sq. 

Another great futon, this one in white with black and chrome accents
and a pull down cup holder!  $425. 72″ H. 
These tables sell quickly every time we get one in!  Great for your porch, pick up this unique locally crafted mosaic tile coffee table for $395. 42×30.5×18.
BAM!  Huge octopus hand-painted on chevron canvas, $345. 51×47.
Another good one…large and in-charge octopus
in navy and white, $225. 40×50.
The owner has said SELL!  We are offering this ORIGINAL
George Pocheptsov for $12,000, reduced from $14,000.  
Shown by appointment only, give us a call to arrange a viewing.  
Last chance to WIN our $2,000 CASH GIVEAWAY!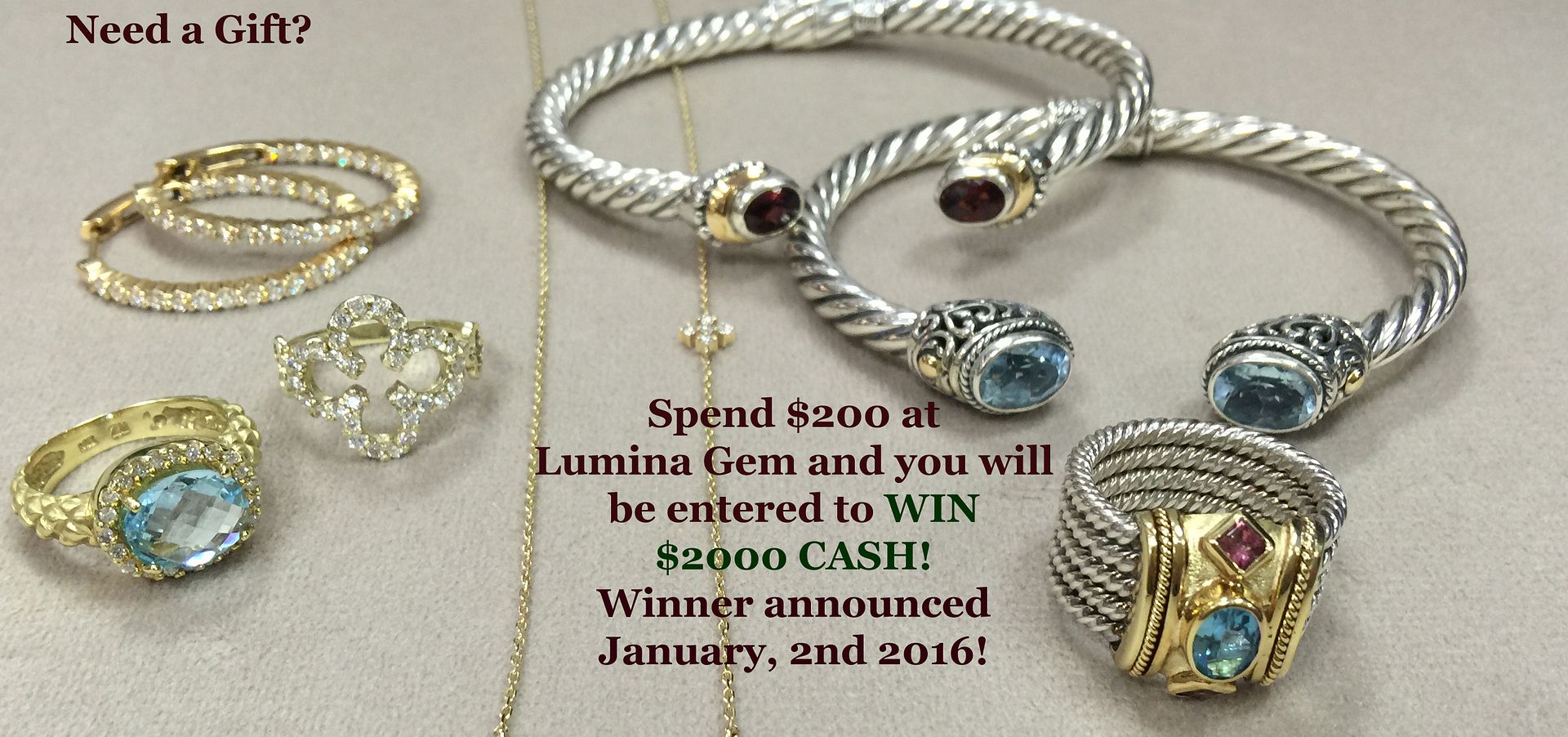 Spend just $200 at Lumina Gem and you are automatically registered
to win $2,000 in cash…drawing is January 2.  
Here are examples of the amazing and affordable items that
will qualify you in the $2,000 cash drawing.
Aquamarine and diamond ring in 14kw gold, $395.
Aquamarine earrings in 14kw gold, $295.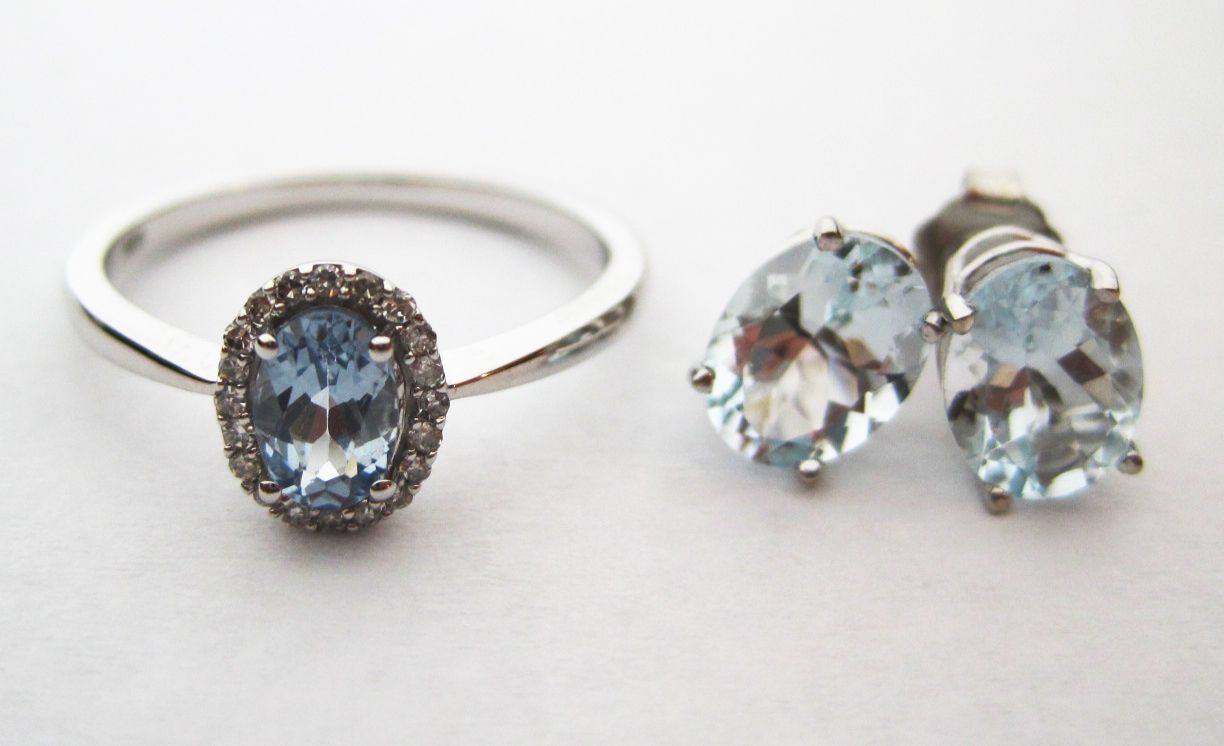 12ct blue topaz 14ky gold pendant, $395.
Blue topaz and diamond sterling silver earrings, $125.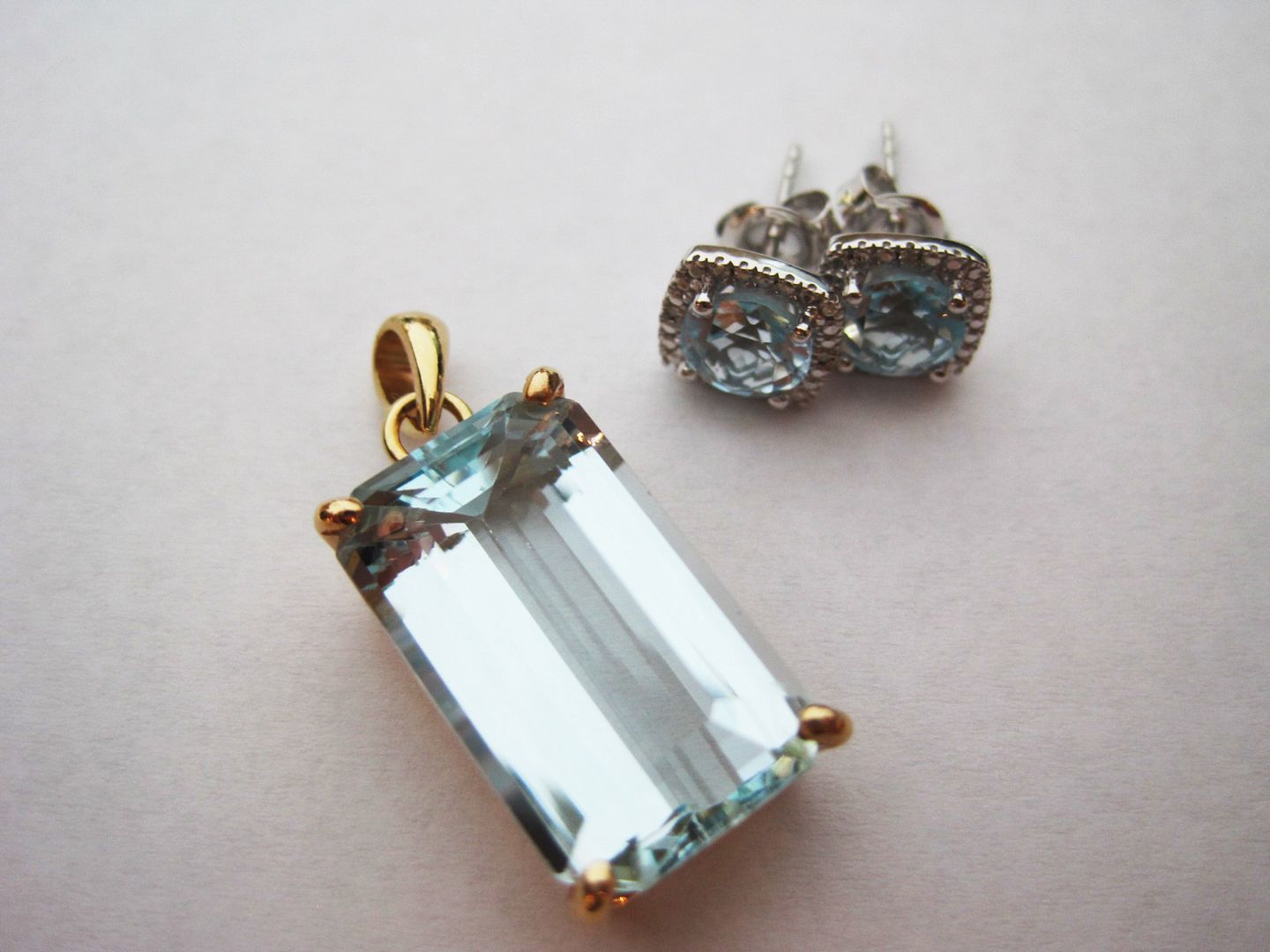 Any of these gorgeous gold and gemstone rings will qualify you
for the $2k cash win…prices ranging from $250 to $695.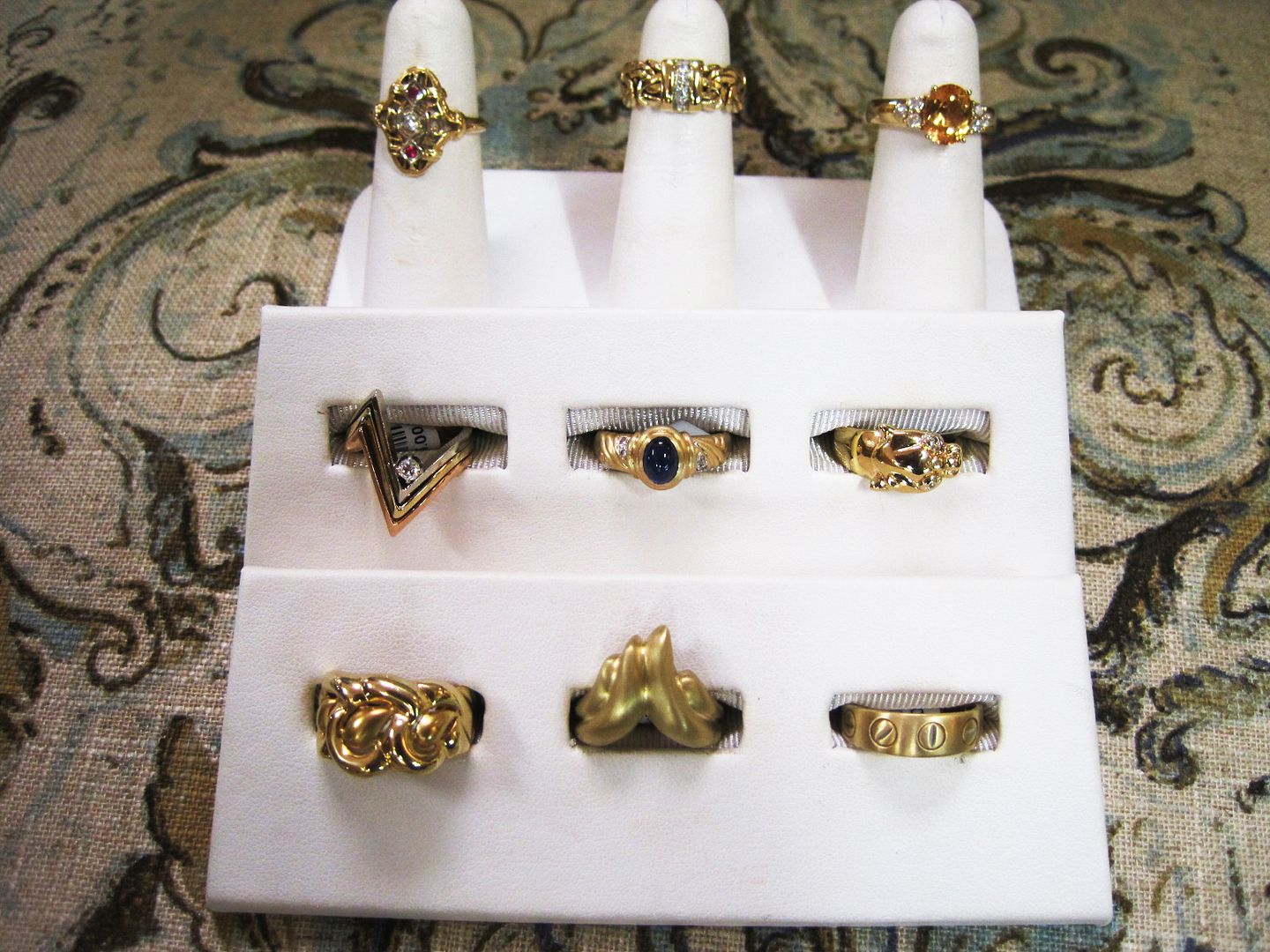 This unique necklace will get you well on your way to qualify for the drawing
for only $150, natural shell and sterling silver.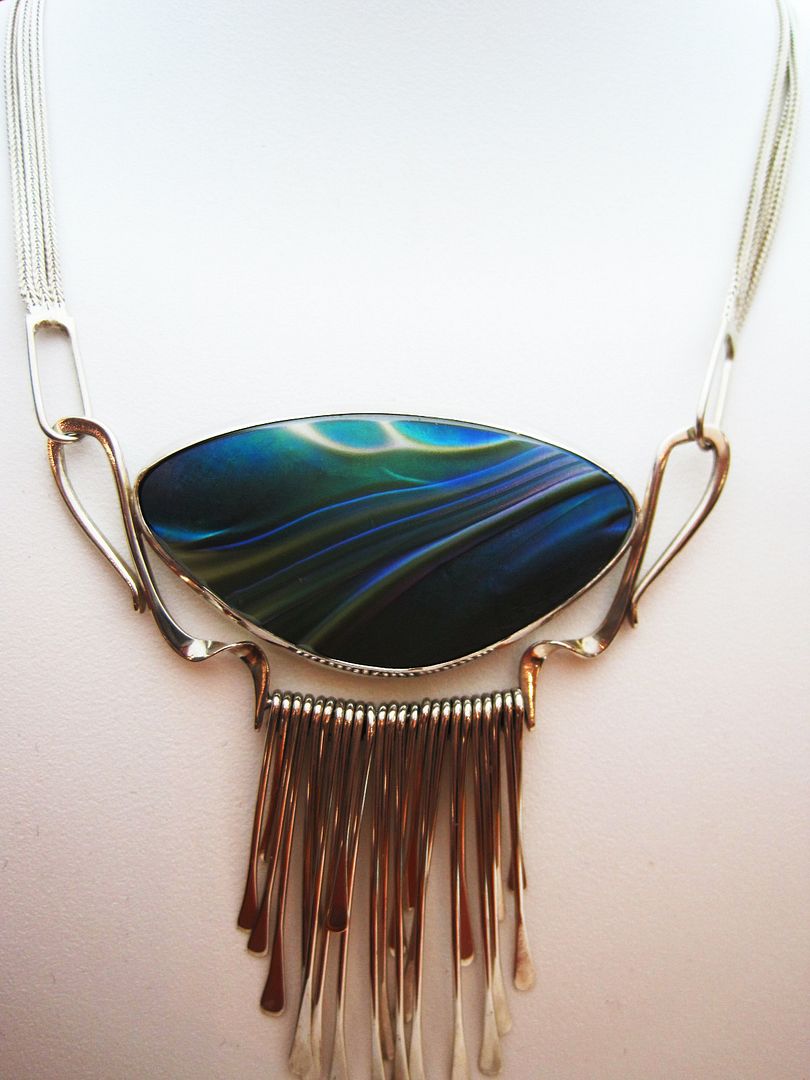 Diamond circle necklace in 14kw gold, $535. 
Diamond pendant in 14kw gold, $495. 
Roberto Coin diamond heart necklace in 18kw gold, $545.
~Buy any designer lines on consignment that adds up to $200
before tax and get yourself entered to win $2,000 cash~
Baccarat crystal bangle, $165.
Slane basket weave hoops, $225.
David Yurman diamond ring, $595.
Add these David Yurman pieces to your collection and get qualified
for the $2,000 cash giveaway, prices ranging from $265 to $295.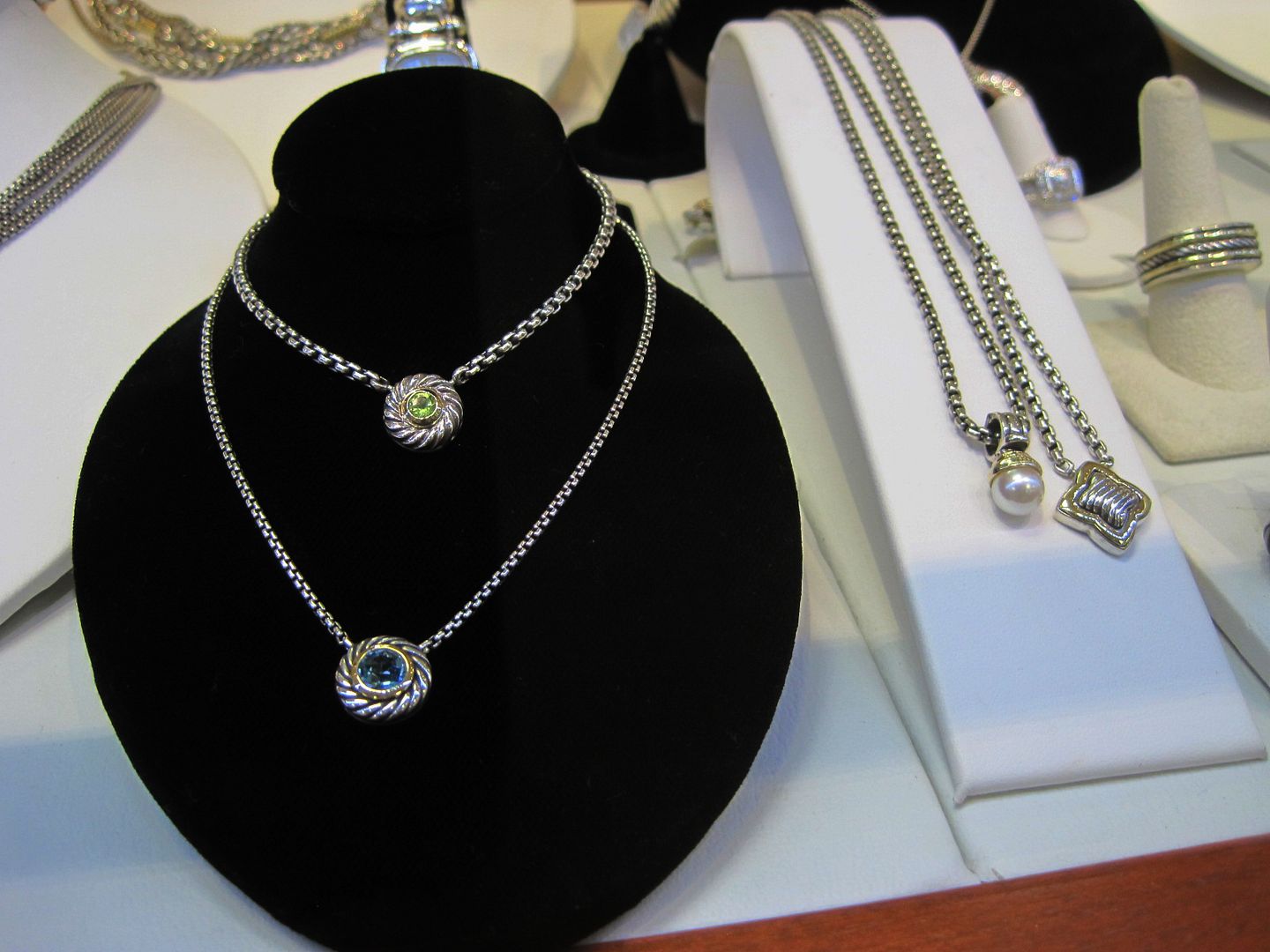 JUST IN!
Slane onxy bee ring, $595.
We have diamond studs set into gold at great price points,
.10ctw $275 to .25ctw $475.
The birthstone necklette by Nina Nguyen,
only $295 and are a perfect gift for 2016.
These David Yurman pieces would pay for themselves if you WIN the $2,000!
Diamond X, 4 strand sterling silver bracelet, 7inch. $1,095.
Diamond X, 3 row cable ring. $695.
Feeling a little sluggish?
Get MOVING with a visit to
Home Again & Lumina Gem!
~~~~~~~~~~~~~~~~~~~~~~~~~~~~~~~~~~~~~~~~~~~~~~~~~~~~~~~~~~~~
INTERESTED IN CONSIGNING WITH HOME AGAIN?
Here is everything you need to know.
We accept items on consignment for a period of 90 days and
our consignors receive 50% of the selling price.
As a general rule, anything we accept must be in 'like-new' condition, less than 5 years old, and current in style; ie you could buy a similar item in an upscale furniture or décor store.
For larger items, such as a dining set or sofa, it is always best to email or bring in photos first to make sure we can accept it. Once we have accepted your item(s), if you need assistance bringing it to the store, we can recommend delivery companies for you to contact. Their rates vary based on the number of items and location, and typically start at $65.
If you have a large volume of merchandise, such as a model home or entire estate, one of our associates will be happy to conduct an on-site visit by appointment.
All items we accept are placed on our sales floor immediately,
so please make sure your items are thoroughly cleaned prior to bringing them in.
Here are a few more details about the items we accept.
Wooden furniture, including dining, bedroom and accent furniture, must be mostly solid wood with no missing hardware. It must be in excellent working condition, with only slight scratches or imperfections in the finish.
Upholstered items, such as sofas and chairs, must have no stains, rips, tears, odors, pet hair, noticeable fading and must be from smoke-free homes; in other words, in excellent condition. The age of the upholstery item we accept will generally be 5 years or less.
Decorative accessories, art and lamps must be clean, in excellent shape, and have no major chips, scratches or imperfections. We are always happy to accept 'knick-knacks' such as small picture frames, candlesticks, bookends, serving platters, etc.
We accept chandeliers on a limited basis if they are current in style and their original retail value was $500 or more.We accept holiday decorations on a very limited basis, and only if they are valued over $75. We accept patio furniture of all kinds provided that it is in excellent condition; ie no rust and the cushions must not have substantial fading and wear.
Sorry, we cannot accept the following items:
Antiques & collectibles
Traditional or 'country' style furniture
Window treatments, bedding or mattresses
Rugs
Full size beds
Furniture that must be refinished or repaired
China, silver, or crystal
Toys, juvenile furniture or juvenile art
Electronics or appliances
Clothing
We accept consignments Monday – Friday, 10am to 5 pm.
Consignments are accepted on Saturdays by appointment only.
INTERESTED IN CONSIGNING WITH LUMINA GEM?
Here is everything you need to know.
Lumina Gem offers the finest selection of consigned jewelry. Since we are a full-service jewelry store, we are able to knowledgeably evaluate your items and do the necessary cleaning and repair work to present your jewelry in like-new condition. This allows us to present your jewelry in pristine condition and get a higher amount for you.
When you consign with Lumina Gem your jewelry is offered in our heavily secured, fully-insured cases to hundreds of visitors each week. We take pride in our jewelry and offer our consigners the best location to sell jewelry with an educated staff, online jewelry store, social media exposure, and local TV and magazine marketing. An added benefit of consigning your jewelry with us is that you never have to jeopardize your personal safety by selling to strangers.
When you consign with Lumina Gem we provide you with a contract with full colored pictures of your items that indicates a fixed amount that you will receive once the item sells, not a percentage. This allows us to have periodic sales and promotions that does not affect the amount that you receive. We consign jewelry for a period of one year, and ask for a minimum consignment period of four months, to allow us to recoup our investment in cleaning, refurbishing and marketing of your jewelry.
In addition to consigning jewelry, we also offer a jewelry brokering service.  If you want a quick turnaround of cash for your jewelry, have inherited jewelry that you wish to liquidate, or have a style that we cannot sell easily in our cases, this may be a good option for you.  Here is how it works:  We offer pictures and a description of your jewelry to our network of wholesale jewelry brokers, and then communicate to you the highest offer we have received.  At that point, if you choose to sell your jewelry, our brokerage fee is 20% of the sales price.  Please understand that if you brokering your jewelry, you will receive a wholesale offer, not a retail offer